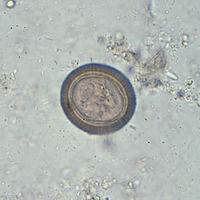 Egg of Pork Tapeworm Taenia Solium

A reader sent me the following:
January 20, 2015

Vicious tapeworm infestations growing worldwide

CNN Once you consume them, they can move throughout your body — your eyes, your tissues and most commonly your brain. They leave doctors puzzled in their wake as they migrate and settle to feed on the body they're invading; a classic parasite, but this one can get into your head.

"It had moved from one side of the brain to the other … very few things move in the brain," says Dr. Effrossyni Gkrania-Klotsas about a British man found to have a tapeworm moving inside his brain in 2013. This form of tapeworm had never been seen before in the United Kingdom. …

Pork tapeworms

There are many forms of tapeworm, three of which can readily infect the brain. From a public health perspective, there's one in particular to watch out for. "It's mainly the pork tapeworm that's the main brain one," says Helena Helmby from the London School of Hygiene and Tropical Medicine.

The pork species, known as Taenia Solium, can infect humans in two forms. The first is by eating undercooked pork from infected pigs, resulting in taeniasis — an adult worm residing in the intestine. The second, in the larval form, through contact with the feces of an infected pig or human, which can go on to infect many tissues. If the larval worm enters the nervous system, including the brain, it can result in a condition known as neurocysticercosis. Infection of this kind can often cause epilepsy once inside the brain. Almost a third of epilepsy cases in countries where the disease is native are people who have previously had neurocysticercosis, according to the World Health Organization.

Neurocysticercosis infection arises from poor sanitation and hygiene. "You can actually infect yourself," says Helmby, as poor hygiene, such as failing to wash your hands, could result in you eating the eggs of an adult worm living in your intestine. "Self-infection is common."

The global distribution of pork tapeworms is widespread with high numbers across Latin America, Africa and Asia, according to the World Health Organization. As a result of its higher prevalence and due to increased international travel, Gkrania-Klotsas has three patients in her care in Cambridge who have previously experienced neurocysticercosis.

Cause for concern?

Infections with pork tapeworms are common…

"I'm confident there will be more of this in the future," agrees Gkrania-Klotsas, who has seen patients infected without having traveled abroad. "People are getting infections without going anywhere."

Those who do travel, however, also need greater awareness when visiting regions where infections are commonplace.  http://www.news8000.com/health/the-worms-that-invade-your-brain/30809498
There are many health risks associated with the consumption of pork and other biblically unclean animals by humans.
Since pork is a major item that many who eat unclean animals consume, let's specifically look at some scriptural admonitions against eating it:
7 and the swine, though it divides the hoof, having cloven hooves, yet does not chew the cud, is unclean to you. 8 Their flesh you shall not eat, and their carcasses you shall not touch. They are unclean to you. (Leviticus 11:7-8)

8 Also the swine is unclean for you, because it has cloven hooves, yet does not chew the cud; you shall not eat their flesh or touch their dead carcasses. (Deuteronomy 14:8)

3 "He who kills a bull is as if he slays a man; He who sacrifices a lamb, as if he breaks a dog's neck; He who offers a grain offering, as if he offers swine's blood; He who burns incense, as if he blesses an idol. Just as they have chosen their own ways, And their soul delights in their abominations, 4 So will I choose their delusions, And bring their fears on them; Because, when I called, no one answered, When I spoke they did not hear; But they did evil before My eyes, And chose that in which I do not delight." (Isaiah 66:3-4)

3 A people who provoke Me to anger continually to My face; Who sacrifice in gardens, And burn incense on altars of brick; 4 Who sit among the graves, And spend the night in the tombs; Who eat swine's flesh, And the broth of abominable things is in their vessels; (Isaiah 65:3-4)

17 "Those who sanctify themselves and purify themselves, To go to the gardens After an idol in the midst, Eating swine's flesh and the abomination and the mouse, Shall be consumed together," says the Lord. (Isaiah 66:17)
So, in at least three books of the Bible, eating the flesh of pigs is prohibited–and the last two-three references above were prophetic–and still are to be fulfilled.
The Bible also teaches:
2…Listen carefully to Me, and eat what is good (Isaiah 55:2).
God did not intend pork to be a food for human beings.
There REMAIN health problems associated with pork.
Even the Church of Rome admits that early Christians did not consume pork (some details are in the article The New Testament Church, History, and Unclean Meats).  We in the Continuing Church of God do not consume pork.
Some items of possibly related interest may include:
The New Testament Church, History, and Unclean Meats Are foods considered to have been unclean in the Old Testament considered to be food in the New Testament? This article discusses this from the perspective of the New Testament. It also has a list of clean and unclean animals. It also answers the question, is pork healthy or is pork dangerous? There is also a sermon-length video on this: Christians and Unclean Meats.
American foods that gross out foreigners A study done in the Fall of 2014 found out which foods that non-USA Americans considered weird or gross that Americans eat. This video discusses those foods, ingredients in some of those foods, and warns against consuming 'that which is not bread' (Isaiah 55:2). Dr. Thiel also warns about synthetic vitamins and some of the issues associated with them. He also discusses something promoted by the late Seventh-day Adventist, Dr. John Harvey Kellogg. This is a video. A partially related written post is titled American 'foods' that gross out foreigners.
Obesity, processed foods, health risks, and the Bible Does the Bible warn about the consequences of being obese? Is overeating dangerous? Is gluttony condemned? What diseases are associated with eating too much refined foods?
Eating Right, Eating Too Much, and Prophecy Are there disadvantages to being overweight? Is junk food really bad for you? Does the Bible discuss overeating and/or obesity? Is overeating having an effect on the US military? What are the ramifications of personal and national health for overeating? What should you eat? This is a sermonette-length YouTubevideo.
GMOs and Bible Prophecy What are GMOs? Since they were not in the food supply until 1994, how could they possibly relate to Bible prophecy? Do GMOs put the USA and others at risk? Here is a related YouTube video GMO Risks and the Bible.
Chimeras: Has Science Crossed the Line? What are chimeras? Has science crossed the line? Does the Bible give any clues?
Ten Simple Rules that Lead to Health Herbert Armstrong gives his opinions on this.
Does God Heal Today? What does the Bible teach? Herbert Armstrong tries to explain this.
UK Study Supports Daniel Diet Daniel and his companions looked better eating more vegetables and avoiding strange meats. Has modern science confirmed this?
The Bible, Christians, and the Environment How should Christians view the environment? Does the Bible give any clues? What are some of the effects of air, water, and land pollution? Is environmental pollution a factor in autism and death? Do pollutants seem to double the autism risk? What will Jesus do? A YouTube video is available titled Air Pollution, Autism, and Prophecy.
Which Is Faithful: The Roman Catholic Church or the Continuing Church of God? Do you know that both groups shared a lot of the earliest teachings? Do you know which church changed? Do you know which group is most faithful to the teachings of the apostolic church? Which group best represents true Christianity? This documented article answers those questions.
Where is the True Christian Church Today? This free online pdf booklet answers that question and includes 18 proofs, clues, and signs to identify the true vs. false Christian church. Plus 7 proofs, clues, and signs to help identify Laodicean churches. A related sermon is also available: Where is the True Christian Church? Here is a link to the booklet in the Spanish language: ¿Dónde está la verdadera Iglesia cristiana de hoy?
Continuing History of the Church of God This pdf booklet is a historical overview of the true Church of God and some of its main opponents from c. 31 A.D. to 2014. Two related sermon links would include Continuing History of the Church of God: c. 31 to c. 300 A.D. and Continuing History of the Church of God: 4th-16th Centuries. In Spanish: Marque aquí para ver el pdf folleto: Continuación de la Historia de la Iglesia de Dios.