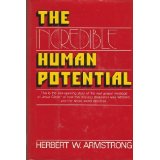 Does God have a plan for humanity?
Yes, but it is different than what many have believed.
The Book of Hebrews teaches:
5 For He has not put the world to come, of which we speak, in subjection to angels. 6 But one testified in a certain place, saying:

"What is man that You are mindful of him,
Or the son of man that You take care of him?
7 You have made him a little lower than the angels;
You have crowned him with glory and honor,
And set him over the works of Your hands.
8 You have put all things in subjection under his feet."

For in that He put all in subjection under him, He left nothing that is not put under him. But now we do not yet see all things put under him. (Hebrews 2:5-9)
Humans are to RULE OVER ALL THINGS!  The entire universe.  The late Herbert W. Armstrong called this "the Incredible Human Potential."
Notice also that the Bible shows that in the world to come, humans, and not angels, are to be put over the works of God's hands, but this is not the situation yet.
Do you believe it is coming?
The writer of the book of Hebrews was inspired to follow with something radically different – something to happen in the world to come!
In His word, God has revealed His purpose for humankind – it is an incredible and awesome potential – staggers the imagination. Higher education is in utter ignorance of it and science knows nothing of it.
Yet, notice what God says He has prepared for them that love Him:
9…"Eye has not seen, nor ear heard, Nor have entered into the heart of man The things which God has prepared for those who love Him."

10 But God has revealed them to us through His Spirit.  (1 Corinthians 2:9-10).
How does God reveal them through His Spirit?
One, by inspiring the Bible to be written:
19 And so we have the prophetic word confirmed, which you do well to heed as a light that shines in a dark place, until the day dawns and the morning star rises in your hearts; 20 knowing this first, that no prophecy of Scripture is of any private interpretation,  21 for prophecy never came by the will of man, but holy men of God spoke as they were moved by the Holy Spirit. (2 Peter 1:19-21)

16 All Scripture is given by inspiration of God, and is profitable for doctrine, for reproof, for correction, for instruction in righteousness, 17 that the man of God may be complete, thoroughly equipped for every good work. (2 Timothy 3:16-17)
And secondarily, giving us His Spirit so we can understand His word and become partakers of His divine nature:
5 For those who live according to the flesh set their minds on the things of the flesh, but those who live according to the Spirit, the things of the Spirit. 6 For to be carnally minded is death, but to be spiritually minded is life and peace. 7 Because the carnal mind is enmity against God; for it is not subject to the law of God, nor indeed can be. 8 So then, those who are in the flesh cannot please God.

9 But you are not in the flesh but in the Spirit, if indeed the Spirit of God dwells in you. Now if anyone does not have the Spirit of Christ, he is not His. (Romans 8:5-9)
God revealed a lot of necessary knowledge to our first parents, but they didn't truly believe what He said! Then around 4,000 years later, Jesus Christ began to preach on the earth a message direct from God the Father in heaven, revealing the necessary knowledge – but only a handful – about one hundred and twenty – believed what He said, though many professed to "believe on Him" (as in John 8:30-31, 37-38, 40, 45-46).
Today science, religion, and education still do not believe WHAT JESUS SAID. Nearly two billion people reportedly believe in Jesus, but they do not believe Jesus (Matthew 7:21-23).  They are hearers, but not truly doers, and most are deceiving themselves (James 1:22).
Yet, God's incredible plan is for humans to rule the universe!
Few grasp this today.  Notice, however, what was written nearly two thousand years ago:
10 For it was fitting for Him, for whom are all things and by whom are all things, in bringing many sons to glory, to make the captain of their salvation perfect through sufferings. 11 For both He who sanctifies and those who are being sanctified are all of one, for which reason He is not ashamed to call them brethren (Hebrews 2:10-11).
In other words, those who have God's Spirit are joint-heirs with Christ to INHERIT all that Christ already has inherited. Humans, if converted and having God's Holy Spirit (Romans 8:9) are now only HEIRS – not yet a possessor.
But the Bible shows that Christ is already has been crowned with glory and honor – and is already in possession – has already inherited. Notice how the Book of Hebrews begins:
1 God, who at various times and in various ways spoke in time past to the fathers by the prophets, 2 has in these last days spoken to us by His Son, whom He has appointed heir of all things, through whom also He made the worlds; 3 who being the brightness of His glory and the express image of His person, and upholding all things by the word of His power, when He had by Himself purged our sins, sat down at the right hand of the Majesty on high, 4 having become so much better than the angels, as He has by inheritance obtained a more excellent name than they. (Hebrews 1:1-4)
The living Christ already sustains the entire universe by His limitless divine power. He is the begotten and born Son of God – angels are merely individually created beings. Angels are now administering spirits (who are normally invisible to us), ministering to us – to us who are now in lower status than angels – but who are heirs of salvation, when we, like Christ, shall become born Sons of God (Hebrews 1:4-14).
Notice what happened with Jesus is supposed to happen to us:
20 But now Christ is risen from the dead, and has become the firstfruits of those who have fallen asleep. 21 For since by man came death, by Man also came the resurrection of the dead. 22 For as in Adam all die, even so in Christ all shall be made alive. 23 But each one in his own order: Christ the firstfruits, afterward those who are Christ's at His coming (1 Corinthians 15:20-23).

18 Of His own will He brought us forth by the word of truth, that we might be a kind of firstfruits of His creatures (James 1:18).

4 These were redeemed from among men, being firstfruits to God and to the Lamb (Revelation 14:4).

16 For if the firstfruit is holy, the lump is also holy; and if the root is holy, so are the branches (Romans 11:16).
Christians are to be firstfruits like Christ. As a firstfruit, Christ is divine.
Notice something Jesus prayed:
10 And all Mine are Yours, and Yours are Mine, and I am glorified in them. 11 Now I am no longer in the world, but these are in the world, and I come to You. Holy Father, keep through Your name those whom You have given Me, that they may be one as We are. (John 17:10-11)
Since both the Father and Son are divine beings, Jesus prayed for His followers to be one as He and the Father are–which means part of the God family. Lest anyone wish to interpret the above scripture to mean something else, Jesus continued His prayer and also prayed the following:
20 "I do not pray for these alone, but also for those who will believe in Me through their word; 21 that they all may be one, as You, Father, are in Me, and I in You; that they also may be one in Us, that the world may believe that You sent Me. 22 And the glory which You gave Me I have given them, that they may be one just as We are one: 23 I in them, and You in Me; that they may be made perfect in one, and that the world may know that You have sent Me, and have loved them as You have loved Me. 24 "Father, I desire that they also whom You gave Me may be with Me where I am, that they may behold My glory which You have given Me; for You loved Me before the foundation of the world. 25 O righteous Father! The world has not known You, but I have known You; and these have known that You sent Me. 26 And I have declared to them Your name, and will declare it, that the love with which You loved Me may be in them, and I in them." (John 17:20-26)
Jesus prayed that His followers would become one in the same way. He and His Father are one. And they are one divine family.
Furthermore, notice that the Bible does teach that there is a whole family which is named after God the Father, and that we are to know the love of Christ so that we can truly have the fullness of God:
14 For this reason I bow my knees to the Father of our Lord Jesus Christ, 15 from whom the whole family in heaven and earth is named, 16 that He would grant you, according to the riches of His glory, to be strengthened with might through His Spirit in the inner man, 17 that Christ may dwell in your hearts through faith; that you, being rooted and grounded in love, 18 may be able to comprehend with all the saints what is the width and length and depth and height — 19 to know the love of Christ which passes knowledge; that you may be filled with all the fullness of God. (Ephesians 3:14-19).
If one is filled with "all the fullness of God" does not that suggest that they will be also God as part of the Family of God?
The Apostle Paul also taught:
16 The Spirit itself beareth witness with our spirit, that we are the children of God: 17 And if children, then heirs; heirs of God, and joint-heirs with Christ; if so be that we suffer with him, that we may be also glorified together (Romans 8:16-17, KJV).

17 Now the Lord is the Spirit; and where the Spirit of the Lord is, there is liberty. 18 But we all, with unveiled face, beholding as in a mirror the glory of the Lord, are being transformed into the same image from glory to glory, just as by the Spirit of the Lord. (2 Corinthians 3:17-18)

18 'I will be a Father to you, And you shall be My sons and daughters, Says the Lord Almighty." (2 Corinthians 6:18)

Do all things without complaining and disputing, that you may become blameless and harmless, children of God without fault in the midst of a crooked and perverse generation, among whom you shine as lights in the world (Philippians 2:14-15).
Notice that "the children of God" are to be "glorified together" with Christ as "joint-heirs" and are to be transformed into the same image as God. And God will be a Father to His sons and daughters.
The Apostle John taught:
12 But as many as received Him, to them He gave the right to become children of God, to those who believe in His name (John 1:12).

1 Behold what manner of love the Father has bestowed on us, that we should be called children of God! 2 Therefore the world does not know us, because it did not know Him. Beloved, now we are children of God (1 John 3:1-2a).
The children of people are people, the children of cows are cows. What are the children of God?
The Apostle Peter taught deification:
3 His divine power has given to us all things that pertain to life and godliness, through the knowledge of Him who called us by glory and virtue, 4 by which have been given to us exceedingly great and precious promises, that through these you may be partakers of the divine nature (2 Peter 1:3-4).
Are not those that are "partakers of the divine nature" somehow deified? And fully partaking of this nature does not happen until after the resurrection (cf. 1 Corinthians 15:50-53).
If you respond properly to God (either in this age, or if applicable, the age to come), then ruling the creation, the universe is part of your destiny. Notice:
21…the creation itself also will be delivered from the bondage of corruption into the glorious liberty of the children of God. 22 For we know that the whole creation groans and labors with birth pangs together until now. (Romans 8:21-22)
The whole creation is groaning, waiting, for us to rule!
As joint heirs with Christ, resurrected converted humans are to rule all things, the universe, as Hebrews 2 teaches.
Being part of the God family and ruling in His everlasting kingdom.  Notice:
11 This is a faithful saying:

For if we died with Him,
We shall also live with Him.
12 If we endure,
We shall also reign with Him. (2 Timothy 2:11-12)

2 Then I, John, saw the holy city, New Jerusalem, coming down out of heaven from God, prepared as a bride adorned for her husband. 3 And I heard a loud voice from heaven saying, "Behold, the tabernacle of God is with men, and He will dwell with them, and they shall be His people. God Himself will be with them and be their God. 4 And God will wipe away every tear from their eyes; there shall be no more death, nor sorrow, nor crying. There shall be no more pain, for the former things have passed away." (Revelation 21:2-4)
Truly, this is such a great salvation (cf. Hebrews 2:3).
In addition to having a plan for humanity, God does have a plan for you personally. 
Some items of possibly related interest may include:
What is the Meaning of Life? Who does God say is happy? What is your ultimate destiny? Do you really know? Does God actually have a plan for YOU personally? There is also a video titled What is the meaning of your life?
What is Your Destiny? Deification? Did the Early Church Teach That Christians Would Become God? What is your ultimate destiny? What does the Bible teach? Is deification only a weird or cultic idea? Are you to rule the universe? Here is a link to the video sermon What is Your Destiny?
Why Were You Born? Why did God make you? Herbert W. Armstrong wrote this as a booklet on this important subject. You may also wish to read the article What is Your Destiny? or watch the video, also titled What is Your Destiny?
Building Character: Going on to Perfection Once you have accepted Jesus, do you need to strive for perfection and build character? A related video sermon is available: Going on to perfection and building character.
Is God's Existence Logical? Some say it is not logical to believe in God. Is that true? Here is a link to a YouTube sermon titled Is it logical to believe in God?
Is Evolution Probable or Impossible or Is God's Existence Logical? Part II This short article clearly answers what 'pseudo-scientists' refuse to acknowledge. Here is a link to a YouTube video titled Quickly Disprove Evolution as the Origin of Life.
How Old is the Earth and How Long Were the Days of Creation? Does the Bible allow for the creation of the universe and earth billions of years ago? Why do some believe they are no older than 6,000 years old? What is the gap theory? Where the days of creation in Genesis 1:3 through 2:3 24 hours long?
Where Did God Come From? Any ideas? And how has God been able to exist? Who is God?
How is God Omnipotent, Omnipresent, and Omniscient? Here is a biblical article which answers what many really wonder about it.