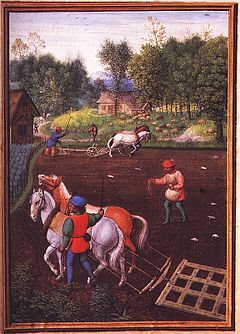 The following is from the latest commentary by Davy Crockett of the Living Church of God (LCG):
When I was in college, many years ago, sowing a bumper crop of "wild oats," my time was crammed with activities. You have probably experienced something like it—classes to attend, research and studies to complete, extra-curricular activities and social obligations, with a healthy dose of goofing off mixed in, each day starting early and going late, seldom taking time to pause and reflect.

Yet, in one of those rare, quiet moments, as I looked inwardly—thinking about who I was, what I was doing and where I was going—a few poetic lines came to my mind:

If it is true that you reap what you sow

Then on judgment day I shall sit

And the Lord with a frown will cast me down

And tell me that I am unfit!

My moment of contemplation quickly passed as I plunged back into my non-stop schedule, but over the years, in quiet moments, those words would come to my mind. In time, I realized that there is a Way of life that is pleasing to God and that it required profound change on my part to live that Way. With God's help and guidance, I have now been pursuing the goal of seeking first the Kingdom of God and His righteousness for many years (Matthew 6:33).

As we see our modern society crumble and decay in rampant strife, warfare, moral collapse and constant upheaval, there is knowledge that can make sense of the chaotic conditions in the world today. Yet most people will not take the time to consider deeply the causes of such conditions, nor their part in them. It is true that as individuals we cannot change the world, but we can change ourselves, if we see the need and ask for the spiritual help that we require to make the changes.

Also, thankfully, there is a great resource available for our use as individuals to accomplish this personal makeover. Sadly, this resource is rejected and ridiculed by most of humanity, but those few who do dare to believe and to accept its tenets will find the help and instruction to succeed in this life and to prepare for the life to come at the end of this age. This source—the Bible—can give you vital understanding of what life is all about, and what your role will be in the "times of restoration" spoken of in the Book of Acts in the New Testament (Acts 3:19-21).

How about you? In quiet moments, do you ever consider your ways? Are you happy in your circumstances, or are you frustrated and unfulfilled? Do you have a transcendent goal, or is this physical, transient existence the only reality that you know? Whether you are young or old—just starting out in life, or at an age when you are finishing up life's journey—you have an opportunity to make sense of it all if you are willing to look into God's instruction book, the Holy Bible, for answers and for direction.

That is where we at Tomorrow's World can help. Take a quiet moment and consider the possibilities for you personally. Our Bible Study Course, our booklet The Bible: Fact or Fiction?and our powerful Tomorrow's World magazine can help you find the Way. And, there is never a charge for our educational materials.

Later in life, I finished the verse that came to me while in college so many years before:

But He is merciful to all

And extends a great call

For those who hear what's said.

So listen and learn that salvation's not earned

But for you the price has been paid

His own will be gathered to Him

When the King in His glory draws near.

If from your sins you have turned

And in patience you've yearned

for the Kingdom of God to appear,

Your crown does await, your reward will be great,

And you'll you reign for a thousand years

May God guide you in your quiet moment to seek Him and His Kingdom.
Notice the following:
5 Now therefore, thus says the Lord of hosts: "Consider your ways!   6 "You have sown much, and bring in little  (Haggai 1:5-6).

11 For I know the thoughts that I think toward you, says the Lord, thoughts of peace and not of evil, to give you a future and a hope.  (Jeremiah 29:11)

13 The Lord looks from heaven; He sees all the sons of men.  14 From the place of His dwelling He looks
On all the inhabitants of the earth; 15 He fashions their hearts individually; He considers all their works. (Psalms 33:13-15)
God does have a plan for you. God loves you and wants you to love others and to support His work. Consider your ways.

Some articles of possibly related interest may include:
What is the Meaning of Life? Who does God say is happy? What is your ultimate destiny? Do you really know? Does God actually have a plan for YOU personally?
The Temple and the Work This article discusses the two temples of the Old Testament and gives insight as to their possible relevance to the situation which has impacted the Church during this past decade or so.
Should the Church Still Try to Place its Top Priority on Proclaiming the Gospel or Did Herbert W. Armstrong Change that Priority for the Work? Some say the Church should mainly feed the flock now as that is what Herbert W. Armstrong reportedly said. Is that what he said? Is that what the Bible says? What did Paul and Herbert W. Armstrong expect from evangelists?
The Bible: Fact or Fiction? This is a booklet written by Douglas Winnail that answers if the Bible is just a collection of myths and legends or the inspired word of God.
Is God's Existence Logical? Some say it is not logical to believe in God. Is that true?
Is Evolution Probable or Impossible or Is God's Existence Logical? Part II This short article clearly answers what 'pseudo-scientists' refuse to acknowledge.
Where Did God Come From? Any ideas? And how has God been able to exist? Who is God?
How is God Omnipotent, Omnipresent, and Omniscient? Here is a biblical article by Wallace Smith which answers what many really wonder about it.