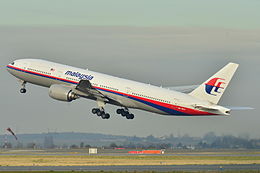 Missing Malaysian Aircraft for Flight MH370 (Laurent ERRERA)

The government of Malaysia announced that the disappearance of flight MAS 370 was deliberate:
March 15, 2014

BANGKOK — Malaysian, American and other authorities investigating what happened to a missing jetliner en route to China one week ago are concluding that its disappearance was a deliberate action.

Malaysia's prime minister confirms that whatever took Flight 370 off course was not an accident.

Najib Razak told reporters Saturday the transponder of Flight 370 appears to have been deliberately switched off before the airliner turned back, flew west over peninsula Malaysia and then shifted to a northwest heading.

Najib said, "Up until the point at which it left military primary radar coverage these movements are consistent with deliberate action by someone on the plane."

But the prime minister emphasized that hijacking is not the only possibility authorities are considering for the suspicious actions.

The Malaysia Airlines Boeing 777 with 239 people on board was en route to Beijing from Kuala Lumpur.

Najib also announced that the search effort in the South China Sea, where authorities had concentrated their resources for a week, is ending.

Newly revealed satellite data puts the aircraft's last known path, in a northern corridor from a border region of Kazakhstan to northern Thailand, or a southern one from Indonesia to the southern Indian Ocean.

There has been no trace of any debris on land or in the sea from the large airliner since it vanished on March 8th.

The final signal from the jet received by a satellite was nearly seven hours after ground control lost contact with the aircraft.  http://www.voanews.com/content/malaysia-plane-search/1871796.html
On March 8, 2014, the Boeing 777-200ER aircraft operated by Malaysia Airlines went missing after it took off. It was carrying 12 crew members and 227 passengers from 15 countries.  If this was deliberate, hundreds of people have been kidnapped and possibly also killed.  If it was not deliberate, then presumably all on-board are now dead.
The families of the missing 239 from MH370 have been in my prayers.  What has happened is horrible.
According to the Bible, kidnapping is a capital offense:
16 "He who kidnaps a man and sells him, or if he is found in his hand, shall surely be put to death. (Exodus 21:16)

7 "If a man is found kidnapping any of his brethren of the children of Israel, and mistreats him or sells him, then that kidnapper shall die; and you shall put away the evil from among you. (Deuteronomy 24:7)
Kidnapping is evil and should not be done.
It has been speculated that the Malaysian aircraft either was deliberately crashed into the sea or that whoever was involved in changing its course, took and hid the aircraft for future use.  No credible ransom demands have been made public.  This whole matter sounds like a terrorist and/or suicide incident.  But no credible terrorist claims from any group have been made public–terrorists tend to want publicity, so this is a reason some wonder if it was a terrorist incident.  Of course, if the objective was to actually take the aircraft and use it in the future as part of some terror plot, then that could explain why no public claims from the kidnappers have been made.  It is also possible that this is part of a bigger terrorist plot to frighten people away from flying and perhaps more aircraft will be taken in the future.
Terrorism is essentially listed as a curse in the Hebrew scriptures (Leviticus 26:14-16). And its use in these times is consistent with some warnings in the Greek scriptures as well, as Jesus taught:
7…But when you hear of wars and rumors of wars, do not be troubled; for such things must happen, but the end is not yet. 8 For nation will rise against nation, and kingdom against kingdom. And there will be earthquakes in various places, and there will be famines and troubles. These are the beginnings of sorrows. (Mark 13:7-8)
Although the Great Tribulation has still not began, we seem to be in the time that Jesus referred to as the "beginning of sorrows," hence we will see more troubles, etc.
While the Bible suggests that some religious zealots will use terrorism, violent terror is totally inconsistent with the message of the Bible. Those who practice various forms of terrorism do not know the God of the Bible:
1 These things I have spoken to you, that you should not be made to stumble. 2 They will put you out of the synagogues; yes, the time is coming that whoever kills you will think that he offers God service. 3 And these things they will do to you because they have not known the Father nor Me. (John 16:1-3)

9…"You shall love your neighbor as yourself." 10 Love does no harm to a neighbor; therefore love is the fulfillment of the law. (Romans 13:9-10)
Throughout history, terroristic and persecuting religious people have overlooked or discounted these scriptures and still do so today.
The Bible simply does not in any way condone terrorism.
But it does tell of a time when it, and other evils like it, will be gone:
1 Now I saw a new heaven and a new earth, for the first heaven and the first earth had passed away. Also there was no more sea. 2 Then I, John, saw the holy city, New Jerusalem, coming down out of heaven from God, prepared as a bride adorned for her husband. 3 And I heard a loud voice from heaven saying, "Behold, the tabernacle of God is with men, and He will dwell with them, and they shall be His people. God Himself will be with them and be their God. 4 And God will wipe away every tear from their eyes; there shall be no more death, nor sorrow, nor crying. There shall be no more pain, for the former things have passed away." (Revelation 21:1-4)
That is part of the good news of the coming Kingdom of God. Until then, people individually should repent and as Jesus taught:
9 In this manner, therefore, pray:

Our Father in heaven,
Hallowed be Your name.
10 Your kingdom come.
Your will be done
On earth as it is in heaven. (Matthew 6:9-10)
Notice also how the Bible ends:
20 He who testifies to these things says, "Surely I am coming quickly."

Amen. Even so, come, Lord Jesus!

21 The grace of our Lord Jesus Christ be with you all. Amen. (Revelation 22:20-21)
The return of Jesus Christ and the establishment of the Kingdom of God is what is now needed and is something believers should pray for.
Some items of additional interest may include the following:
When Will the Great Tribulation Begin? 2014, 2015, or 2016? Can the Great Tribulation begin today? What happens before the Great Tribulation in the "beginning of sorrows"? What happens in the Great Tribulation and the Day of the Lord? Is this the time of the Gentiles? When is the earliest that the Great Tribulation can begin? What is the Day of the Lord? Who are the 144,000? Here is a version of the article in the Spanish language: ¿Puede comenzar la Gran Tribulación en 2013 o 2014? ¿Es el Tiempo de los Gentiles? You can also see the English language video The Great Tribulation Will Not Begin Before 2017.
Just What Do You Mean — Repentance? Do you know what repentance is? Have you truly repented? Repented of what? Herbert W. Armstrong wrote this as a booklet on this important subject.
When You Sin: Do You Really Repent? This is an article by Charles F. Hunting. A related sermon is Confess to God and truly repent.
What is the Gospel? True religion should be based upon the true gospel. What are some of the different gospels and where did they come from? Do you believe the true or a false gospel? Who is preaching the gospel? Here is a version in Korean 복음이란 무엇인가?
The Gospel of the Kingdom of God was the Emphasis of Jesus and the Early Church Did you know that? Do you even know what the gospel of the kingdom is all about? You can also see a YouTube video sermon The Gospel of the Kingdom.
Just What Do You Mean the Kingdom of God? A booklet that was written by Herbert Armstrong answers questions about the Kingdom.
Asia in Prophecy What is Ahead for Asia? Who are the "Kings of the East"? What will happen to nearly all the Chinese, Russians, Indians, and others of Asia? China in prophecy, where? Who has the 200,000,000 man army related to Armageddon? A YouTube video of interest may be Is China THE Threat to the United States of America?