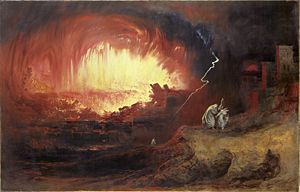 The Destruction of Sodom and Gomorrah
The United Methodist Church has tried to take a stand against one of their ministers for performing homosexual weddings.  However, many others are opposing their opposition:
November 10, 2013

PHILADELPHIA (AP) — About 50 ministers are giving their symbolic support to a colleague facing sanctions from the United Methodist Church by participating in a same-sex wedding ceremony…A spokesman for the church's eastern Pennsylvania conference isn't commenting about whether any of the participants may face discipline. Most of the 50 are Methodist ministers.  http://www.timesunion.com/news/us/article/Ministers-back-colleague-at-Pa-same-sex-ceremony-4972131.php
Protestants have claimed that they believe in sola Scriptura–reliance on only the Bible for doctrine.  Those that try to somewhat do cannot support homosexual marriage.
Biblically, a marriage exist as a relationship between a man and woman as God intended. But, many in the USA do not really care what the Bible teaches. And this is dangerous and will lead to destruction (cf. Romans 1:18-32).
Of course, it is not just a lot of Protestant ministers that ignore that.  Notice the following:
November 9, 2013

When Hawaii's House of Representatives passed a same-sex marriage bill late Friday, the state joined a wave of activity — mainly of lawsuits and legislation — that has been rapidly growing since the U.S. Supreme Court struck down parts of the Defense of Marriage Act in June.

After a 12-hour marathon session, the Hawaii House passed SB1 with a 30-19 vote just after 10 p.m. on Friday. The action came just three days after lawmakers approved same-sex marriage legislation in Illinois…With the addition of Hawaii and Illinois, gay marriage would become legal in 16 states, plus the District of Columbia. Illinois Gov. Pat Quinn has said he would sign the measure passed there Tuesday. The spread of gay marriage has been rapid.  http://www.latimes.com/nation/nationnow/la-na-nn-hawaii-gay-marriage-20131109,0,4477226.story#axzz2kG5jxAPo
More and more US States are going the wrong direction–they are moving more and more away from biblical standards of morality and supporting the type of lifestyle that the Bible calls an 'abomination.'
Homosexual acts are clearly prohibited in the Bible:
22 You shall not lie with a male as with a woman. It is an abomination.  (Leviticus 18:22)

13 If a man lies with a male as he lies with a woman, both of them have committed an abomination. (Leviticus 20:13)
Notice also:
7 as Sodom and Gomorrah, and the cities around them in a similar manner to these, having given themselves over to sexual immorality and gone after strange flesh, are set forth as an example, suffering the vengeance of eternal fire. (Jude 7)
Homosexuality is a form of sexual immorality that involves going after "strange flesh."
Why mention this in the 21st century?
Because God turned:
6…the cities of Sodom and Gomorrah into ashes, condemned them to destruction, making them an example to those who afterward would live ungodly (2 Peter 2:6)
The Bible also warns against accepting and condoning practices such as homosexuality and lesbianism, which is something that the USA is doing:
18 For the wrath of God is revealed from heaven against all ungodliness and unrighteousness of men, who suppress the truth in unrighteousness…

24 Therefore God also gave them up to uncleanness, in the lusts of their hearts, to dishonor their bodies among themselves, 25 who exchanged the truth of God for the lie, and worshiped and served the creature rather than the Creator, who is blessed forever. Amen.

26 For this reason God gave them up to vile passions. For even their women exchanged the natural use for what is against nature. 27 Likewise also the men, leaving the natural use of the woman, burned in their lust for one another, men with men committing what is shameful, and receiving in themselves the penalty of their error which was due.

28 And even as they did not like to retain God in their knowledge, God gave them over to a debased mind, to do those things which are not fitting; 29 being filled with all unrighteousness, sexual immorality, wickedness, covetousness, maliciousness; full of envy, murder, strife, deceit, evil-mindedness; they are whisperers, 30 backbiters, haters of God, violent, proud, boasters, inventors of evil things, disobedient to parents, 31 undiscerning, untrustworthy, unloving, unforgiving, unmerciful; 32 who, knowing the righteous judgment of God, that those who practice such things are deserving of death, not only do the same but also approve of those who practice them. (Romans 1:18,24-32)
The 'gay' agenda will end in destruction. Yet various leaders in the USA, including a lot of its politicians (including its President) and Protestant ministers, are promoting it. They apparently do not take the warnings of the Bible seriously.
Some items of possibly related interest may include:
The Bible Condemns Homosexuality "Same-sex marriage" for "gays" and lesbians is becoming more acceptable to many. What does the Bible teach about homosexuality? Can homosexuals change?
Cross-dressing and other assaults against your children. What should you do? Is there an agenda to turn your children and/or grandchildren away from biblical morality and towards practices promoted by homosexuals? What does the Bible teach about cross-dressing? What should parents do? If there is an agenda, what has been going on? There is also a YouTube video on this, titled Cross dressing and Other Assaults Against Your Children.
Love, Marriage, and Sex It is important to get them in the right order.
Anglo – America in Prophecy & the Lost Tribes of Israel Are the Americans, Canadians, English, Scottish, Welsh, Australians, Anglo (non-Dutch) Southern Africans, and New Zealanders descendants of Joseph? Where are the lost ten-tribes of Israel? Who are the lost tribes of Israel? What will happen to Jerusalem and the Jews in Israel? Will God punish the U.S.A., Canada, United Kingdom, and other Anglo nations? Why might God allow them to be punished first?
Will the Anglo-Nations be Divided and Have People Taken as Slaves? Will the lands of the United States, United Kingdom, Canada, Australia, and New Zealand be divided? What about Jerusalem? What does Bible prophecy teach? Are there non-biblical prophecies that support this idea? Who will divide those lands? Who will end up with the lands and the people?
Barack Obama, Prophecy, and the Destruction of the United States-Second Edition for Second Obama Term This is a 160 page book for people truly interested in prophecies related to Barack Obama and the United States, including learning about many that have already been fulfilled (which the book documents in detail) and those that will be fulfilled in the future. It also has a chapter about a Republican choice. This book is available to order at www.barackobamaprophecy.com. The physical book can also be purchased at Amazon from the following link: Barack Obama, Prophecy, and the Destruction of the United States: Is Barack Obama Fulfilling Biblical, Islamic, Catholic, Kenyan, and other America-Related Prophecies? What About Republican Leaders? Second Edition for Second Obama Term.
Barack Obama, Prophecy, and the Destruction of the United States-Second Term-Amazon Kindle edition. This electronic version is available for only US$2.99. And you do not need an actual Kindle device to read it. Why? Amazon will allow you to download it to almost any device: Please click HERE to download one of Amazon s Free Reader Apps. After you go to for your free Kindle reader and then go to Barack Obama, Prophecy, and the Destruction of the United States-Second Term-Amazon Kindle edition.