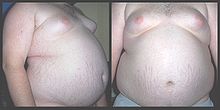 Obese male
A newly released study finds that if a parent is obese, it has negative consequences on childhood development:
The U.S. is big, and getting bigger. Since the 1980s, American adults' obesity is at epidemic proportions, and there does not seem to be an end in sight.

Rates of obesity in those younger leveled off between 2005 and 2014, but a recent report in JAMA wanted to know if there has been any change.

The U.S. Centers for Disease Control and Prevention looked at data from the National Health and Nutrition Examination Survey (NHANES), which takes various measures of the health and nutrition of children and adults in the U.S., using interviews and physical exams. …

Adults are obese when their BMI is over 30; severe obesity is any BMI over 40. A normal BMI ranges between 18.5 and 24.9. In those under 20 years old, obesity is measured against what is normal for one's age — obesity is greater than the 95th percentile, while severe obesity is at or above 120 percent of the 95th percentile.

The CDC results were mixed: in the young, the prevalence of obesity was 16.8 percent in 2007; it was 18.5 percent 10 years later. …

For adults, it was a more stark story: obesity increased from 33.7 percent to 39.6 percent over 10 years — it stood out most in women, and in adults over 40. That's a shocking 2 out of 5 adults. 03/24/18 http://abcnews.go.com/Health/obesity-epidemic-grows-adults-levels-off-youth/story?id=53974864
That is not good.
The Bible opposes obesity.
Here is what Moses and Jeremiah were inspired to write about obesity thousands of years ago:
15 You grew fat, you grew thick,
You are obese!
Then he forsook God who made him,
And scornfully esteemed the Rock of his salvation.
16 They provoked Him to jealousy with foreign gods;
With abominations they provoked Him to anger. (Deuteronomy 32:15-16)

11 "Because you were glad, because you rejoiced,
You destroyers of My heritage,
Because you have grown fat like a heifer threshing grain,
And you bellow like bulls,
12 Your mother shall be deeply ashamed;
She who bore you shall be ashamed.
Behold, the least of the nations shall be a wilderness,
A dry land and a desert. (Jeremiah 50:11-12)
The idea that one should not be obese is not a new one.
Furthermore, the Bible warns about gluttony as well as eating things that are not really food:
20 Do not mix with winebibbers, Or with gluttonous eaters of meat; 21 For the drunkard and the glutton will come to poverty (Proverbs 23:20-21)

2 Why do you spend money for what is not bread,
And your wages for what does not satisfy?
Listen carefully to Me, and eat what is good (Isaiah 55:2).
Do not overeat. Avoiding artificial sweeteners, chemical additives, excess refined sugar, and some other items commonly associated with junk foods would seem to be consistent with the warning to eat what is good.
Many people do not often eat what is good. Many eat too many chemically-laced highly processed foods. Many eat a lot of white bread, which is really not real bread as it has had the wheat germ and other natural components removed. This makes an inferior product which then is sprayed with synthetic B vitamins and other "nutrients" to "fortify" it. If you notice "B vitamins" added to "fortify" refined grain products or in so-called "natural" vitamin supplements (like thiamin mononitrate, thiamin HCL, folic acid, pantothenic acid, pyridoxine hydrochloride, cyanocobalamin), realize that these are basically petroleum derivatives and are not the same form of vitamins that are actually found in real, natural, food (see also the new animations: Vitamin Tricks: Are your vitamins really food or something else? and Vitamin Tricks: More is Not Better).
But most in Westernized areas consume the synthetics, chemicals, and refined grains.
People should try to eat real, not artificial, foods. Soda consumption should be almost non-existent, essentially a very rare treat. People should not drink sodas every day.
And while they do not like to believe this, almost all obese people also need to eat less.
That being said, losing weight can be very, very difficult. But real Christians should believe the following:
13 I can do all things through Christ who strengthens me. (Philippians 4:13)
With prayer and proper determination, breaking away from being obese can happen.
Obesity is a multi-factorial problem, with many causes. Some are environmental, some are social, and some are personal. The fact that many foods do not contain the amount of nutrients they should is also a factor.
Alzheimer's disease is also on the rise:
March 25, 2018

The estimated number of Americans with Alzheimer's disease and other dementias has risen to 5.7 million, from 5.5 million in 2017, according to a report released today by the Alzheimer's Association.

That's an increase of roughly 3.6% and largely reflects the aging of the boomer generation.

By 2025, the 2018 Alzheimer's Disease Facts and Figures report projects, 7.1 million Americans aged 65 and older will have Alzheimer's, and by 2050, some 13.8 million. https://www.forbes.com/sites/nextavenue/2018/03/25/americans-with-alzheimers-now-number-5-7-million/#75b753a64b62
While many factors may be involved with that disease, those prone towards it should look at dietary changes and consuming food nutrients. Those with more interest may wish to read a paper I wrote that was published by a major medical journal some time ago: Can Cognitive Deterioration Associated with Down Syndrome be Reduced? While Down syndrome is in the title, much of the data involves Alzheimer's.
The Bible says that obeying God's laws protects from diseases:
9 "Therefore know that the Lord your God, He is God, the faithful God who keeps covenant and mercy for a thousand generations with those who love Him and keep His commandments; 10 and He repays those who hate Him to their face, to destroy them. He will not be slack with him who hates Him; He will repay him to his face. 11 Therefore you shall keep the commandment, the statutes, and the judgments which I command you today, to observe them.

12 "Then it shall come to pass, because you listen to these judgments, and keep and do them, that the Lord your God will keep with you the covenant and the mercy which He swore to your fathers. 13 And He will love you and bless you and multiply you; He will also bless the fruit of your womb and the fruit of your land, your grain and your new wine and your oil, the increase of your cattle and the offspring of your flock, in the land of which He swore to your fathers to give you. 14 You shall be blessed above all peoples; there shall not be a male or female barren among you or among your livestock. 15 And the Lord will take away from you all sickness, and will afflict you with none of the terrible diseases of Egypt which you have known, but will lay them on all those who hate you. (Deuteronomy 7:9-15)
The rates of obesity and Alzheimer's show that the USA has major problems with many things. Consider the following prophecy:
1

But know this, that in the last days perilous times will come:

2

For men will be lovers of themselves, lovers of money, boasters, proud, blasphemers, disobedient to parents, unthankful, unholy,

3

unloving, unforgiving, slanderers, without self-control, brutal, despisers of good,

4

traitors, headstrong, haughty, lovers of pleasure rather than lovers of God, (2 Timothy 3:1-4)
Corporate greed, love of pleasure, and being without self-control can be factors in obesity.
The major obesity problems that the USA and other nations are facing are signs of the last days.
Some items of possibly related interest may include:
Obesity, processed foods, and the Bible Does the Bible warn about the consequences of being obese? Is overeating dangerous? Is gluttony condemned?
Eating Right, Eating Too Much, and Prophecy This is a video. Are there disadvantages to being overweight? Is junk food really bad for you? Does the Bible discuss overeating and/or obesity? Is overeating having an effect on the US military? What are the ramifications of personal and national health for overeating? What should you eat?
Chimeras: Has Science Crossed the Line? What are chimeras? Has science crossed the line? Does the Bible give any clues?
Five Rules for Effective Parenting Do you know that there are five simple rules that can make you a more effective parent? There is also a 12 1/2 minute YouTube video on this, also titled Five Rules for Effective Parenting.
What Psychologists do not Know About Child Rearing This is an article by Herbert Armstrong that was used as the introduction to the pdf booklet The Plain Truth About Child Rearing.
Elijah: Past and Prophesied Information about the original Elijah and some information about the Elijah-related prophecies.
Where are Enoch and Elijah? Booklet by the late Dr. Herman Hoeh.
The Elijah Heresies Does the Bible teach that there will be a future Elijah? Must it be Herbert W. Armstrong? Two related sermons are available Elijah: Prophecies and Heresies and Elijah, Herbert W. Armstrong, and CCOG.
American foods that gross out foreigners A study done in the Fall of 2014 found out which foods that non-USA Americans considered weird or gross that Americans eat. This video discusses those foods, ingredients in some of those foods, and warns against consuming 'that which is not bread' (Isaiah 55:2). Dr. Thiel also warns about synthetic vitamins and some of the issues associated with them. He also discusses something promoted by the late Seventh-day Adventist, Dr. John Harvey Kellogg.
Ten Simple Rules that Lead to Health Herbert Armstrong gives his opinions on this.
Does God Heal Today? What does the Bible teach? Herbert Armstrong tries to explain this.
Prayer: What Does the Bible Teach? This free booklet contains 28 biblically-based tips on improving the effectiveness of your prayers. This is a pdf. A related two part sermon is available: What Does the Bible Teach About Prayer? and What does the Bible Teach About Prayer (& Healing)?
GMOs and Bible Prophecy What are GMOs? Since they were not in the food supply until 1994, how could they possibly relate to Bible prophecy? Do GMOs put the USA and others at risk? Here is a related YouTube video GMO Risks and the Bible.
Ten Simple Rules that Lead to Health Herbert Armstrong gives his opinions on this.
Does God Heal Today? What does the Bible teach? Herbert Armstrong tries to explain this.
UK Study Supports Daniel Diet Daniel and his companions looked better eating more vegetables and avoiding strange meats. Has modern science confirmed this?
USA in Prophecy: The Strongest Fortresses Can you point to scriptures, like Daniel 11:39, that point to the USA in the 21st century? This article does. A related sermon is titled: Do these 7 prophesies point to the end of the USA?
Anglo – America in Prophecy & the Lost Tribes of Israel Are the Americans, Canadians, English, Scottish, Welsh, Australians, Anglo-Saxon (non-Dutch) Southern Africans, and New Zealanders descendants of Joseph? Where are the lost ten-tribes of Israel? Who are the lost tribes of Israel? What will happen to Jerusalem and the Jews in Israel? Will God punish the U.S.A., Canada, United Kingdom, and other Anglo-Saxon nations? Why might God allow them to be punished first? Here is a link to the Spanish version of this article: Anglo-América & las Tribus Perdidas de Israel. Information is also in the YouTube sermons titled Where are the Ten Lost Tribes? Why does it matter? and British are the Covenant People. A short YouTube of prophetic interest may be: Are Chinese threats against Australia for real?
Will the Anglo-Saxon Nations be Divided and Have People Taken as Slaves? Will the lands of the United States, United Kingdom, Canada, Australia, and New Zealand be divided? What about Jerusalem? What does Bible prophecy teach? Are there non-biblical prophecies that support this idea? Who will divide those lands? Who will end up with the lands and the people? Here is a link to a video titled Will the USA and other Anglo-nations be Divided and Their People Made Slaves? Here is a related item in the Spanish language ¿Serán divididas las naciones anglosajonas?
British are the Covenant People What do 'British' and 'Britain' mean in Hebrew? Are the descendants of the Anglo-Saxons people of the covenant? Does the British royal family connect to the throne of David? What does the Bible teach? What does history show us? Is there any DNA evidence related to British-Israelism? When did Christianity make it to the British Isles? Could Jeremiah have made it to the British Isles? What type of Christians made it to the British Isles? Did the last King of England believe in British Israelism?