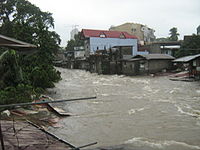 Aftermath of Typhoon Ketsana

Super Typhoon Haiyan hit the Philippines and killed many:
November 9, 2013

One of the most powerful storms on record devastated the central Philippines, reportedly killing an estimated 1,000 people in one town alone and leaving the airport in the hard-hit city of Tacloban in shambles.

The Philippine Red Cross told Reuters that based on reports it estimates at least 1,000 dead in Tacloban, which is located about 360 miles southeast of Manila, and 200 in Samar Provice.

"An estimated more than 1,000 bodies were seen floating in Tacloban as reported by our Red Cross teams," Gwendolyn Pang, the secretary general from the agency told Reuters. "In Samar, about 200 deaths. Validation is ongoing."  http://www.foxnews.com/world/2013/11/09/strongest-typhoon-year-hits-philippines/

November 9, 2013

MANILA — Up to 1,200 people are believed dead after Super Typhoon Haiyan — one of the most powerful storms ever recorded — slammed into the central islands of the Philippines, the Philippine Red Cross said Saturday.  http://www.usatoday.com/story/news/world/2013/11/09/typhoon-haiyan-philippines-vietnam/3483099/
Those affected are in my prayers.
And this brings up a question that some have, since God controls the weather, why would He allow this type of storm and the related suffering?
I do not know for certain at this time why God specifically allowed Typhoon Haiyan to hit the Philippines, other than to say that in the long run it will help accomplish His plan.
Thirty years ago the late Herbert W. Armstrong wrote about storms and suffering.  Here are some quotes from him:
MAJOR airline crash. Devastating hurricanes. Potential nuclear mass destruction of whole cities. Does God lack the power to prevent their occurrence?

What about all of these evils — the violence, the human suffering that humanity has been going through for nearly 6,000 years?…

What is the reason that God has not stopped all this violence, all this human suffering?…

What about the theologians reasoning that today's divided Christianity is God's religion, that this is God's world, and God isn't powerful enough to stop all of evil?

God is allowing man to make his own decisions. And if man makes the wrong decision, God has said whatever we sow we shall reap. God has told his people that ever since the beginning. He told Adam that. He told ancient Israel that. And Jesus Christ told us that. If we sin we will have to reap the consequences. God allows it. He allows suffering and the pain of sin for a good purpose.

God has given man a mind to think with. He gives man revealed knowledge in the Bible. Man can take that knowledge and learn to go God's way. That is necessary for the development of character so we can become like God, so we can become the very children of God, so we can be born the children of God. But man has, throughout history, refused to go that way — except for a very few whom God has called and to whom he has revealed his truth by his Holy Spirit.

In Matthew 24:4-5 Jesus said, "Take heed that no man deceive you. For many shall come in my name [Jesus said], saying, [that] I am [the] Christ; and shall deceive many."

How can they do that? Jesus said in Matthew 15:9, "But in vain they do worship me, teaching for doctrines the commandments of men." They make the commandments of God of no effect by their tradition (verse 3).

The commandments of God are the right way to live; they reveal God's way of life. Human beings have not kept the commandments of God. They have said, and many preachers are saying today, that the commandments of God are done away.

The commandments of God are the way of love, of love to God and love to neighbor. The first four of the Ten Commandments tell you how to love God, the last six how to love your neighbor. That is the way God lives and the way Christ lived while on earth.

But in Jeremiah 50:6 God says that the shepherds, the ministers of this world, lead his people astray and deceive them. That is exactly what has happened. The world has been deceived, and the deceived theologians can't seem to understand why God allows all this suffering from disobedience till we learn our ways are wrong.

God allows it to teach us lessons. God allows it because we ourselves have brought it on ourselves, and because we have failed to develop the kind of character needed to become his children, to be glorified, to be given the gift of eternal life so as to live in happiness and peace and joy. There's no other way for peace…

But God will show man whether he has power. God will finally deliver man from the evils of today's civilization by his divine powers and establish his kingdom of peace over all the earth.  (Click on the following link for the complete article: Why Does Man Suffer?)

We must come to desire it above all else-to seek it with all our might-to yield ourselves utterly to God's will, and to trust implicitly and unswervingly in HIM. In no other manner could we become the supreme characters which it is God's purpose to make of us. To this end, we must now be begotten as God's own children, inheriting his divine nature. Through his power, through feeding on his Spirit, we grow in grace and knowledge and spiritual character, until, at the resurrection, we shall be born of God as his very SONS-elevated to his plane and level! That's God's supreme purpose. It can be achieved only through EXPERIENCE, and in process of TIME. And men LEARN by suffering.

Jesus suffered.

"For it became him. . . in bringing many sons unto GLORY, to make the captain of their salvation [Christ] perfect through sufferings" (Heb. 2:10). Again, "Though he were a Son, yet learned he OBEDIENCE by the things which he suffered" (Heb. 5:8)…

And what about all these human sufferings which work character within us? The Apostle Paul settled that: "For I reckon that the sufferings of this present time are not worthy to be compared with the GLORY which shall be revealed in us. For the earnest expectation of the creature waiteth for the manifestation of the SONS OF GOD" (Rom. 8:18- 19). (Click on the following link for the complete pdf booklet: Why Does God Allow Suffering?)
I would also add that God allows suffering and devastation so that after the second resurrection, humans will be able to contrast the difference between living a life apart from God and living a life with God.  The contrast will be amazing and this will lead to more accepting God's offer of salvation.
Notice the following scripture:
28 And we know that all things work together for good to those who love God, to those who are the called according to His purpose. (Romans 8:28)
And while the above passage is normally considered to refer to Christians of this age, it also has ramifications for those God will call later.  God is love (1 John 4:8,16) and wants people to do well (3 John 2)–and notice He will eliminate all suffering:
2 Then I, John, saw the holy city, New Jerusalem, coming down out of heaven from God, prepared as a bride adorned for her husband. 3 And I heard a loud voice from heaven saying, "Behold, the tabernacle of God is with men, and He will dwell with them, and they shall be His people. God Himself will be with them and be their God. 4 And God will wipe away every tear from their eyes; there shall be no more death, nor sorrow, nor crying. There shall be no more pain, for the former things have passed away."

5 Then He who sat on the throne said, "Behold, I make all things new." And He said to me, "Write, for these words are true and faithful."

6 And He said to me, "It is done! I am the Alpha and the Omega, the Beginning and the End. I will give of the fountain of the water of life freely to him who thirsts. 7 He who overcomes shall inherit all things, and I will be his God and he shall be My son. 8 But the cowardly, unbelieving, abominable, murderers, sexually immoral, sorcerers, idolaters, and all liars shall have their part in the lake which burns with fire and brimstone, which is the second death."  (Revelation 21:2-8)
But that happens later.
Humans are basically appointed to die physically in this life (Hebrews 9:27), but later face the final second death ONLY if they commit the unpardonable sin (see What is the Unpardonable Sin?). Yet, some of erroneously concluded that because all have sinned (Romans 3:23) that they will be eternally condemned for that sin.
One thing that many do not realize about that coming time of judgment is that God will not only judge, He will plead His case:
13 The LORD stands up to plead, And stands to judge the people (Isaiah 3:13).

31 A noise will come to the ends of the earth–For the LORD has a controversy with the nations; He will plead His case with all flesh (Jeremiah 25:31).

33 "As I live," says the Lord GOD, "surely with a mighty hand, with an outstretched arm, and with fury poured out, I will rule over you. 34 I will bring you out from the peoples and gather you out of the countries where you are scattered, with a mighty hand, with an outstretched arm, and with fury poured out. 35 And I will bring you into the wilderness of the peoples, and there I will plead My case with you face to face. 36 Just as I pleaded My case with your fathers in the wilderness of the land of Egypt, so I will plead My case with you," says the Lord GOD. 37 I will make you pass under the rod, and I will bring you into the bond of the covenant; 38 I will purge the rebels from among you, and those who transgress against Me; I will bring them out of the country where they dwell, but they shall not enter the land of Israel. Then you will know that I am the LORD (Ezekiel 20:33-38).
And those not called in this age, those who never really had an opportunity for salvation, will be called then into a covenant with God.  Those who refuse by rebelling will not become part of spiritual Israel (cf. Romans 2:29). During this time of judgment, God will plead with people, who by then should realize that they have sinned and need salvation through Jesus Christ–the only name under heaven whereby men can be saved (Acts 4:10-12).
God will be able to contrast His ways with the ways of humankind.  When those resurrected see how humans started out with a very good and beautiful Earth, then messed up and nearly completely destroyed it (Revelation 11:18) in their 6,000 years, they will realize that it was not wise for humankind to distance itself from the true God.  He will apparently point out Satan's role in deceiving humankind (Revelation 12:9) as well as show how insignificant Satan really is (Isaiah 14:12-16).  He will apparently point out the dangers of individual sin and lust (James 1:14-15) and point out how well humanity did during the millennium.
God will likely point out that He had to intervene to stop the destruction of all flesh (Matthew 24:22).  He will have implemented His kingdom for 1,000 years (Revelation 20:4-5).  God may also to point out how well humans did during this millennium (Isaiah 35:1-10; 41:20; 51:3).  And He will apparently explain that to all that since each individual is unique and can give love in a unique way, that He has a special purpose of each individually (John 14:2-3) to complete God's plan (cf.1 Corinthians 12:12-27), an eternity so great that is now beyond their comprehension (1 Corinthians 2:9).
God will have every one give an account of themselves (Romans 14:12; Matthew 12:36).  God will apparently also point out to each individual, how they sinned (Romans 2;15-16; Hebrews 13:4).  Because "sin is the transgression of the law" (1 John 3:4, KJV), God will likely explain to them that they all deserve death, but that redemption/eternal life is available through Christ (Romans 3:21-24; 6:23).
The blinded and those who were idolaters will tend to heed and forgiven:
8 Bring out the blind people who have eyes, And the deaf who have ears. 9 Let all the nations be gathered together, And let the people be assembled. Who among them can declare this, And show us former things? Let them bring out their witnesses, that they may be justified; Or let them hear and say, "It is truth."…25 "I, even I, am He who blots out your transgressions for My own sake; And I will not remember your sins. 26 Put Me in remembrance; Let us contend together; State your case, that you may be acquitted.  (Isaiah 43:8-9, 25-26)

17 And the rest of it he makes into a god, His carved image. He falls down before it and worships it, Prays to it and says, "Deliver me, for you are my god!" 18 They do not know nor understand; For He has shut their eyes, so that they cannot see, And their hearts, so that they cannot understand…22 I have blotted out, like a thick cloud, your transgressions, And like a cloud, your sins. Return to Me, for I have redeemed you. (Isaiah 44:17-18, 22)
God will offer life to those who change:
30 "Therefore I will judge you, O house of Israel, every one according to his ways," says the Lord God. "Repent, and turn from all your transgressions, so that iniquity will not be your ruin. 31 Cast away from you all the transgressions which you have committed, and get yourselves a new heart and a new spirit. For why should you die, O house of Israel? 32 For I have no pleasure in the death of one who dies," says the Lord God. "Therefore turn and live!" (Ezekiel 18:30-32)
Most resurrected humans (Hebrews 9:27-28), since there is no partially with God (Romans 2:10-11), when they see how badly they botched up their lives and the planet, will apparently realize that it is God's way of life that worked best and they will accept His generous offer of salvation (Ezekiel 11:16-20; 36:24-38).
The Apostle Paul explained that some are intentionally not called now so that God could have mercy on all, but that this is hard for many to understand:
30 For as you were once disobedient to God, yet have now obtained mercy through their disobedience, 31 even so these also have now been disobedient, that through the mercy shown you they also may obtain mercy. 32 For God has committed them all to disobedience, that He might have mercy on all.

33 Oh, the depth of the riches both of the wisdom and knowledge of God! How unsearchable are His judgments and His ways past finding out! (Romans 11:30-33)
So, notice that God INTENTIONALLY is allowing some to be disobedient now, so that they will get mercy later and that those called now (the firstfruits) will have mercy now.  And God has done this so that He might have mercy on all–this apparently could not have happened any better way.  And the only way for God to have mercy on ALL is for salvation to be offered to all in a manner they can properly comprehend.  Those who reject intentionally God's mercy, will be destroyed in the lake of fire, the second death (Revelation 20:14) to put them of of their misery (cf. Revelation 21:4).
Those who are called and chosen now in this age were predestined to serve and to assist those who will be called later.  We in the true Church of God believe that the way of God is the way of give, while the way of the world is the way of get (cf. 1 John 2:16). "Now the purpose of the commandment is love" (1 Timothy 1:5).  All of God's commandments are righteousness (Psalm 119:173) and show love (Matthew 22:37-40).  Those who truly love Christ will strive to keep God's commandments now (John 14:15) and support His planned harvest (John 9:37-38).
Spiritually speaking, killer storms and odd weather problems should serve as a wake-up call to get more to consider repentance now. Weather-related troubles have been biblically expected:
7…And there will be famines, pestilences, and earthquakes in various places. 8 All these are the beginning of sorrows. (Matthew 24:7-8).

5 When He opened the third seal, I heard the third living creature say, "Come and see." So I looked, and behold, a black horse, and he who sat on it had a pair of scales in his hand. 6 And I heard a voice in the midst of the four living creatures saying, "A quart of wheat for a denarius, and three quarts of barley for a denarius; and do not harm the oil and the wine." (Revelation 6:5-6)

8 For nation will rise against nation, and kingdom against kingdom. And there will be earthquakes in various places, and there will be famines and troubles. These are the beginnings of sorrows. (Mark 13:8)
As the above shows, Jesus foretold on a time of natural disasters and "troubles" as "the beginning of sorrows" (Matthew 24:7-8)–and the sorrows seem to have begun. Yet the Book of Revelation (16:8-11) tells of a time of even greater disturbances during "the Day of the Lord."
The affected areas remain in my prayers.

Ultimately of course, there is good news as ultimately, God's kingdom will come and those issues will be gone (Revelation 7:16).
Some items of possibly related interest may include:
Why Does Man Suffer? Herbert Armstrong gives biblical reasons on this topic.
Why Does God Allow Suffering? This is a pdf booklet put out by the old Worldwide Church of God that also answers questions about why God allows war as well as babies to die.
What is the Meaning of Life? Who does God say is happy? What is your ultimate destiny? Do you really know? Does God actually have a plan for YOU personally? There is also a video titled What is the meaning of your life?
Just What Do You Mean — Repentance? Do you know what repentance is? Have you truly repented? Repented of what? Herbert W. Armstrong wrote this as a booklet on this important subject.
When You Sin: Do You Really Repent? This is an article by Charles F. Hunting.
Hope of Salvation: How the Continuing Church of God differ from most Protestants How the real Church of God differs from mainstream/traditional Protestants, is perhaps the question I am asked most by those without a Church of God background.
Universal Offer of Salvation: There Are Hundreds of Verses in the Bible Supporting the Doctrine of True Apocatastasis Do you believe what the Bible actually teaches on this? Will all good things be restored? Will God call everyone? Will everyone have an opportunity for salvation? Does God's plan of salvation take rebellion and spiritual blindness into account?
Weather Blessings and Sorrows Are weather problems a warning? What should be done? What does the Bible teach about weather? What about floods, droughts, heat, earthquakes, tornadoes, and solar storms? Here is a related YouTube video Does God Use Weather? A related item in the Spanish language would be Bendiciones y maldiciones del clima.
The Gospel of the Kingdom of God was the Emphasis of Jesus and the Early Church Did you know that? Do you even know what the gospel of the kingdom is all about? True religion should be based upon the true gospel.
Islands and Bible Prophecy What's ahead for islands? What does the Bible prophesy about them?
Asia in Prophecy What is Ahead for Asia? Who are the "Kings of the East"? What will happen to nearly all the Chinese, Russians, Indians, Japanese, and others of Asia? Who has the 200,000,000 man army related to Armageddon?
Does God Have a 6,000 Year Plan? What Year Does the 6,000 Years End? Was a 6000 year time allowed for humans to rule followed by a literal thousand year reign of Christ on Earth taught by the early Christians? When does the six thousand years of human rule end?
Can the Great Tribulation Begin in 2013, 2014, or 2015? Can the Great Tribulation begin today? What happens before in the "beginning of sorrows"? What happens in the Great Tribulation and the Day of the Lord? When is the earliest that the Great Tribulation can begin? What is the Day of the Lord?