© CCOG
Should a farmer plant crops on the Sabbath?
The commandment states:
8 "Remember the Sabbath day, to keep it holy. 9 Six days you shall labor and do all your work, 10 but the seventh day is the Sabbath of the Lord your God. In it you shall do no work: you, nor your son, nor your daughter, nor your male servant, nor your female servant, nor your cattle, nor your stranger who is within your gates. (Exodus 20:8-11)

4 For somewhere he has spoken about the seventh day in these words: "And on the seventh day God rested from all his work." 5 And again in the passage above he says, "They shall never enter my rest." 6 It still remains that some will enter that rest, and those who formerly had the gospel preached to them did not go in, because of their disobedience…9 There remains, then, a Sabbath-rest for the people of God; 10 for anyone who enters God's rest also rests from his own work, just as God did from his. 11 Let us, therefore, make every effort to enter that rest, so that no one will fall by following their example of disobedience (Hebrews 4:4-6,9-11, NIV).
The New Testament confirms that Christians should not be disobedient, but should rest on the Sabbath.
Last August, I received the following in an email with the subject line "Blessings and Cursings?" (names edited out, with bolding below added):
We met in Almont, Michigan in July and I had … Mxxxx, with me. You may or may not remember, but he is a farmer. I just wanted to share something with you regarding God's promises of blessings and cursings. Whether anyone wants to believe that this is proof of such promises and of God's existence is up to them, but Mxxxx wanted me to share this with you because his experience has brought him closer to God and strengthened his belief and resolve.

Mxxxx is going through some trying times with many demands on his time and while he knows about the sabbath requirement, he often finds ways to justify to himself for working on it. This past Saturday was no exception. Early in the morning, I received a call from him to come out and look at one of his fields. I objected as I know, and hold fast, to keep the sabbath but he insisted that it would be God's work and not my agricultural work. Attached are photos from that field. Normally, a field planted a day before will come up sooner, be ahead of and look better than one planted later. This is not the case here. In fact the difference is remarkable. Note that both pictures are from the same field, same soil type, same seed and variety, same equipment used, same (natural) fertilizer package. The poor stand (looking to the left) was planted on the sabbath. The healthy stand (looking to the right) was planted (the field was finished) the following day, on Sunday. Mxxxx did not move to take the pictures, other than to turn to the left and right. He asked me: "Why don't anybody else's fields do this if they work in them on the sabbath? Why me?" I answered with another question: "When you planted this field on the sabbath, did you merely think that it was maybe wrong to do so or did you know in your heart that it was wrong?" His reply: "I knew it was wrong but I thought it would be ok. I think God is telling me otherwise." I cited James 4:17 and after some thought he left the field and joined me for Bible study. But that did not last. He soon "had so many things to do" and returned to the field. After his combine broke down and his tractor stopped in the middle of the field (to perform an automatic maintenance procedure he had been putting off), he called me up and returned to Bible study. Frustrated at the seeming prosperity of commandment breakers, I went over Psalms 37 and 73 with him for a better understanding of what is expected of us and the timing of our reward as well as who it comes from (James 1:17). He has been somewhat "stiff-necked" regarding obedience to this specific commandment but I think he is starting to understand although I think he may need another correction or two before he truly submits in this regard. I continue to pray for him, knowing that God's chastisements are both merciful and just.

Feel free to use and share this story and pray for us as we pray for you, that we all may grow in the grace and knowledge of our Lord and do those things that are pleasing to God. May God keep you safe and inspire you according to his will.
Here are the photos: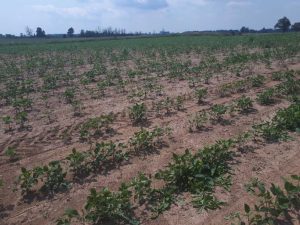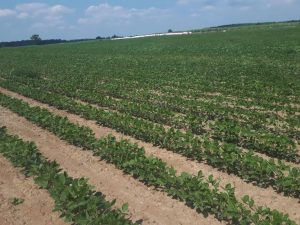 Sabbath planted crops and non-Sabbath planted crops
Many people do not believe that God cares enough to intervene or that God does not perform miracles in the 21st century. While God does not always perform massive physical miracles when He is calling someone, sometimes He does (cf. Acts 9).
God is still on His throne, and yes, God does do miracles according to His will.
God holds people to a higher standard that know the truth:
13

Come now, you who say, "Today or tomorrow we will go to such and such a city, spend a year there, buy and sell, and make a profit";

14

whereas you do not know what will happen tomorrow. For what is your life? It is even a vapor that appears for a little time and then vanishes away.

15

Instead you ought to say, "If the Lord wills, we shall live and do this or that."

16

But now you boast in your arrogance. All such boasting is evil.

17

Therefore, to him who knows to do good and does not do it, to him it is sin.

(James 4:13-17)
While some wonder about working to handle a seasonal surge or other such need, here is what the Bible says about planting and harvesting:
21 "Six days you shall work, but on the seventh day you shall rest; in plowing time and in harvest you shall rest. (Exodus 34:21)
So, no, the 'busy season' at work does not negate the Sabbath.
Christian farmers should not plant on the Sabbath.
God does exist. His ways are best.
Some items of possibly related interest may include:
The Sabbath in the Early Church and Abroad Was the seventh-day (Saturday) Sabbath observed by the apostolic and post-apostolic Church? Here is a related sermon video The Christian Sabbath and How and Why to Keep It.
Is God's Existence Logical? Is it really logical to believe in God? Yes! Would you like Christian answers to give atheists? This is a free online booklet that deal with improper theories and musings called science related to the origin of the origin of the universe, the origin of life, and evolution. Two animated videos of related interest are also available: Big Bang: Nothing or Creator? and A Lifegiver or Spontaneous Evolution?
Is God Calling You? This booklet discusses topics including calling, election, and selection. If God is calling you, how will you respond?
Christian Repentance Do you know what repentance is? Is it really necessary for salvation? A related sermon is also available titled: Real Christian Repentance.
The Christian Sabbath. This is a series of articles from the Catholic Mirror essentially proving that the biblical Sabbath was Saturday, that the Lord's day in Revelation 1 is not a reference to Sunday, that the Church of Rome implemented Sunday, and that nearly all Protestants followed Rome. Here is a link to a related sermon: Catholic teachings on the Sabbath, Sunday, and Protestantism.
How to Observe the Sabbath? How should you keep the Sabbath? This is an old article by Raymond Cole, with updated information for the 21st century.
Can You Keep Your Job, Get Your Degree, and Keep the Sabbath? This article has some information on that. Here is a link to a related video titled: Can you keep the Sabbath and your job? What about college?
The Dramatic Story of Chinese Sabbathkeepers This reformatted Good News article from 1955 discusses Sabbath-keeping in China in the 1800s.
Is God Unreasonable? Some have suggested that if God requires Sabbath-keeping He is unreasonable. Is that true? Here is a link to a related article in Mandarin Chinese 一个不合理的神?
Another Look at the Didache, Ignatius, and the Sabbath Did Ignatius write against the Sabbath and for Sunday? What about the Didache? What does the actual Greek reveal?
Church of God, Seventh Day: History and Teachings Nearly all COG's I am aware of trace their history through this group. Whaid Rose is the president of the largest CG7 group (Denver). Do you know much about them?
The Sardis Church Era was predominant circa 1600 A.D. to circa 1933 A.D. Discusses early history of the Seventh Day Baptists, Seventh-day Adventists, and COG-7th Day.
The Ten Commandments: The Decalogue, Christianity, and the Beast This is a free draft/unedited pdf book explaining the what the Ten Commandments are, where they came from, how early professors of Christ viewed them, and how various ones, including the Beast of Revelation, will oppose them. A related sermon is titled: The Ten Commandments and the Beast of Revelation.
Continuing History of the Church of God This pdf booklet is a historical overview of the true Church of God and some of its main opponents from Acts 2 to the 21st century. Related sermon links include Continuing History of the Church of God: c. 31 to c. 300 A.D. and Continuing History of the Church of God: 4th-16th Centuries and Continuing History of the Church of God: 17th-20th Centuries. The booklet is available in Spanish: Continuación de la Historia de la Iglesia de Dios, German: Kontinuierliche Geschichte der Kirche Gottes, French: L Histoire Continue de l Église de Dieu and Ekegusii Omogano Bw'ekanisa Ya Nyasae Egendererete.