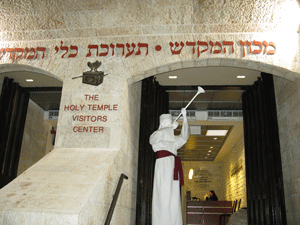 Temple Institute entrance
(Photo by Bob Thiel)
The Temple Institute had the following in a newsletter as a pre-Feast of Trumpets (which they call Rosh HaShana) message related to choosing life:
"And Noach built an altar to HaShem"

(Genesis 8:20)

Cheshvan 3, 5783/October 28, 2022

We all know the story of Noach, the man who built the ark, thus saving humanity and the animal kingdom from G-d's wrath. The story of the flood and its aftermath is so compelling and so chilling that we tend to overlook its root causes and the changes it caused in G-d's relationship to man. At the conclusion of last week's Torah reading, Bereshit, we are told of the cataclysmic collapse of morality which sent mankind on a dizzying downward spiral into an abyss of hedonistic licentiousness and disregard for others. How horrendous and precipitous this collapse must have been can only be registered by HaShem's response: "And HaShem regretted that He had made man upon the earth, and He became grieved in His heart." (Genesis 6:6)

HaShem had created man with one goal in mind: to have a relationship with man and to share and care for creation with man.
No, the Temple Institute is wrong about the goal that God had in mind when God created what He did and why He created humans.
But God's plan is a mystery to most.
God's purpose for His creation is for eternity to be better.
His purpose for individual human beings is for them to be able to give love in a unique way to make eternity better for themselves and everyone else.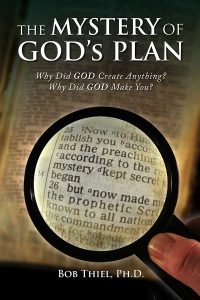 Here is information from our free online book: The MYSTERY of GOD's PLAN Why Did God Create Anything? Why did God make you?:
God created people and placed them on this earth as part of His plan for good work:

8 For by grace you have been saved through faith, and that not of yourselves; it is the gift of God, 9 not of works, lest anyone should boast. 10 For we are His workmanship, created in Christ Jesus for good works, which God prepared beforehand that we should walk in them. (Ephesians 2:8-10)

All humans?

All who accept God's plan will make eternity better. And that will be all who ever lived except the incorrigibly wicked (for more details on that, check our free online book: Universal OFFER of Salvation, Apokatastasis: Can God save the lost in an age to come? Hundreds of scriptures reveal God's plan of salvation).

Jesus declared that there was a place for each of us:

1 "Do not let your hearts be troubled. You believe in God; believe in Me as well. 2 In My Father's house are many rooms. If it were not so, would I have told you that I am going away to prepare a place for you? 3 And if I go and prepare a place for you, I will come back and welcome you into My presence, so that you also may be where I am. (John 14:1-3, BSB)

A place for YOU means that Jesus is promising a place that will be best for you. For your abilities. Do not worry that you cannot be a happy and contributing member of the Kingdom of God. God is faithful to finish the work He has begun in you (cf. Philippians 1:6).

God's plan for human beings shall last forever:

14 I know that whatever God does, It shall be forever. (Ecclesiastes 3:14)

The Bible shows that Jesus, Himself, came to make things better:

6 … He is also Mediator of a better covenant, which was established on better promises. (Hebrews 8:6)

Christians have a hope for the better—and this should be comforting:

19 … there is the bringing in of a better hope, through which we draw near to God. (Hebrews 7:19)

13 But I do not want you to be ignorant, brethren, concerning those who have fallen asleep, lest you sorrow as others who have no hope. 14 For if we believe that Jesus died and rose again, even so God will bring with Him those who sleep in Jesus.

15 For this we say to you by the word of the Lord, that we who are alive and remain until the coming of the Lord will by no means precede those who are asleep. 16 For the Lord Himself will descend from heaven with a shout, with the voice of an archangel, and with the trumpet of God. And the dead in Christ will rise first. 17 Then we who are alive and remain shall be caught up together with them in the clouds to meet the Lord in the air. And thus we shall always be with the Lord. 18 Therefore comfort one another with these words.  (1 Thessalonians 4:13-18)

34 … knowing yourselves to have a better and abiding possession. (Hebrews 10:34, Berean Literal Bible)

God created all that He did so that eternity would be better. It will be better forever (cf. Jeremiah 32:38-41).

Making things better for us pleases God, which is also better. And yes, God can be pleased (cf. Hebrews 11:5, 13:16; 1 Peter 2:19-20, NLT)–is that not better for God as well?

God created what He did so eternity would be better.

That is why He created the universe and that is why He created men and women.

God's plan includes all who will heed His call in this age (see also: Is God Calling You?) and others in the age to come (see also the free online book: Universal OFFER of Salvation. Apokatastasis: Can God save the lost in an age to come? Hundreds of scriptures reveal God's plan of salvation).

Christians need to understand that their individual part is to make eternity better.
Regarding YOU, you might find the following Continuing Church of God sermon helpful:
Why did God make YOU? What is the biblical meaning pf life? Are you supposed to do good? Is there a place for works? What will you be rewarded for? What about love and the commandments? Does God have a specific role for you personally? Do you really trust God? Will you be able to give love in a unique manner in order to make eternity better for yourself and others? What about character and deification? Why did God create anything? This is third part of a three-part sermon series by Dr. Thiel.

This sermon series is based on the following free online book: The MYSTERY of GOD's PLAN Why Did God Create Anything? Why did God make you?
Here is a link to the sermon: The Mystery of YOU.
That said, the Temple Institute also gave an update on its five red heifers:
5 Red Heifers Enjoying Life in Israel The 5 red heifers that were flown to Israel one month ago from Texas, via Kennedy Airport, are currently enjoying their lives in Israel. After spending 10 days in quarantine they are now living peacefully on a farm in Israel's Galilee region.
Related to those red heifers, we put out the following short video:
The Temple Institute announced that "5 perfect, unblemished red heifers arrived in Israel from the USA" on September 15, 2022.. Chanan Kupietzky, an Orthodox Jewish teacher, pointed out that last year was 5781 in the Jewish calendar, pointing to the year these red heifers were conceived, 5782 is when they were to arrive in Israel, and that the year beginning sunset September 25, 2022 is supposedly 5783, which is supposed to be the year of red heifer redemption. Is that the correct year anno mundi (year of the earth) or is 5989 to 5992 more in line with history? What about the claimed Shemitah year? Might the appearance of a proper red heifer encourage the Sanhedrin to begin regular animal sacrifices? Might political considerations result in the resumption of animal sacrifices? Does the Bible show that animal sacrifices in Israel will be stopped? Does possibly having a red heifer mean that a massive Jewish temple is about to be rebuilt in Jerusalem? Do Christians need the sacrifice of Jesus or the blood of a red heifer to be purified? How close do we seem to be for Daniel 9:27b to be fulfilled?
Here is a link to our video: 5 Red Heifers and Year 5783?
That said, as Christians, we are to believe the entire Bible–both the Old and New Testaments.
Partially because they do not accept Jesus as Messiah or the New Testament, the Jews do not understand many aspects of God's plan–but you can!
Some items of possibly related interest may include:
The MYSTERY of GOD's PLAN: Why Did God Create Anything? Why Did God Make You? This free online book helps answers some of the biggest questions that human have, including the biblical meaning of life. Here is a link to three related sermons: Mysteries of God's Plan, Mysteries of Truth, Sin, Rest, Suffering, and God's Plan, and The Mystery of YOU.
Proof Jesus is the Messiah This free book has over 200 Hebrew prophecies were fulfilled by Jesus. Plus, His arrival was consistent with specific prophecies and even Jewish interpretations of prophecy. Here are links to seven related sermons: Proof Jesus is the Messiah, Prophecies of Jesus' birth, timing, and death, Jesus' prophesied divinity, 200+ OT prophecies Jesus filled; Plus prophecies He made, Why Don't Jews Accept Jesus?, Daniel 9, Jews, and Jesus, and Facts and Atheists' Delusions About Jesus. Plus the links to two sermonettes: Luke's census: Any historical evidence? and Muslims believe Jesus is the Messiah, but … These videos cover nearly all of the book, plus have some information not in the book. We also have the book translated in the Spanish PRUEBA de que JESÚS es el MESÍAS and French PREUVES QUE JÉSUS EST LE MESSIE languages.
Why is a Jewish Temple in Jerusalem Not Required? Although people like Timothy LaHaye teach a third Jewish temple is required, who is 'the temple of God" in the New Testament? Does the Bible require a rebuilt Jewish Temple? Here is a related item in the Spanish language ¿Por qué no se requiere un templo judío en Jerusalén? Here is a link to two sermons The Temple, Prophecy, and the Work and God's Temple in Prophecy. And here is a version of the latter one in the Spanish: El templo de Dios en profecía.
Nascent Sanhedrin and Prophecy The reconstituted Sanhedrin wants the reimplementation of animal sacrifices. A related video is titled Sanhedrin pushing animal sacrifices. And a newer one is: Sanhedrin makes burnt offering to dedicate altar!
The Red Heifer, Jewish Beliefs, and the End of the World The Temple Institute is watching a 'red heifer.' Why might this be important in the sequence of end time events? Here is a related link in the Spanish language Novilla roja descubierta en EE.UU. e Instituto del Templo está interesado en ella. Here are links to three related videos in English: Red Heifers and the Fate of the World and The Red Heifer and the End of the World and 5 Red Heifers and Year 5783?
The Gospel of the Kingdom of God This free online pdf booklet has answers many questions people have about the Gospel of the Kingdom of God and explains why it is the solution to the issues the world is facing. Here are links to four related sermons:  The Fantastic Gospel of the Kingdom of God!, The World's False Gospel, The Gospel of the Kingdom: From the New and Old Testaments, and The Kingdom of God is the Solution.