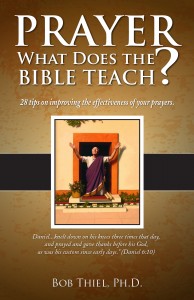 A while back, a reader sent me the following item:
BLOOMINGTON, Ind. (AP) — Though surveys show that four in five Americans believe in the healing power of prayer and a majority of medical doctors say miraculous healing sometimes occurs, few researchers have subjected such claims to scientific investigation. Enter

Candy Gunther Brown

, who used data derived from eight years of studying the prayer healing practices of Pentecostal Christians to write "Testing Prayer: Science and Healing," recently published by

Harvard University Press

.

Brown worked in Mozambique with medical researchers, who used portable machines and vision charts to examine — before and after — the hearing and vision of subjects who claimed to have been healed through prayer.

"We found statistically significant improvement in both hearing and vision, much greater than would be expected from random recovery or placebo effects," she said…

"Generally, you would not expect to see the level of improvement we found," she said. "The data did not tell us what mechanism caused the change — only that there were changes."

Brown also conducted long-term follow-up interviews — for several years — of people who claimed healing through prayer.

"Some of them had written narratives of their healing and medical records over several years," she said. "Some continued to believe they'd been healed, and others said their physical ailment had returned."

Brown said many of those who were convinced they'd been healed interpreted the healing as an act of God's love for them. http://www.sfgate.com/news/article/IU-researcher-examines-role-of-prayer-in-healing-4268472.php#ixzz2L5d5e300
There have been a variety of studies which have basically correlated prayer with better recovery. And the above is one of the newer ones.
The Bible teaches:
14 Is anyone among you sick? Let him call for the elders of the church, and let them pray over him, anointing him with oil in the name of the Lord. 15 And the prayer of faith will save the sick, and the Lord will raise him up. And if he has committed sins, he will be forgiven. 16 Confess your trespasses to one another, and pray for one another, that you may be healed. The effective, fervent prayer of a righteous man avails much. (James 5:14-16)
Prayer avails, and much, if it is from one who is fervent, effectual, and righteous.
Some items of possibly related interest may include:
Prayer: What Does the Bible Teach? People talk a lot about prayer. Many pray in public. Does God listen? What does the Bible teach about prayer? How can your prayers be more effective? Does the Bible give particular positions to pray in? What does God want you to pray for? What if what you want is difficult? What if what you want is humanly impossible? Why doesn't God seem to answer all prayers? This free booklet answers all those questions and more. This contains 28 biblically-based tips on improving the effectiveness of your prayers. This is a pdf. A related two part sermon is available: What Does the Bible Teach About Prayer? and What does the Bible Teach About Prayer (& Healing)?
What Should I Pray About? An old article by Lynn Torrance on prayer.
Does God Heal Today? This historical article is by Herbert Armstrong and provides his views circa 1952, which he seemed to later modify, at least to some degree.
Ten Simple Rules that Lead to Health Herbert Armstrong gives his opinions on this.
Importance of Fasting An old article by Herbert W. Armstrong on this subject.
Faith for those God has Called and Chosen What is faith? Can faith be increased? Are you saved by faith? What about works? Do Christians need to keep the Ten Commandments? What is the 'faith chapter'? How do the just live by faith? Is faith one of the weightier matters of the law? How does faith come? Here is a link to a pdf. booklet titled Faith for Those God has Called and Chosen. Marque aquí para ver el pdf folleto: Fe para aquellos que Dios ha llamado y escogido.Here is a link to a related sermon titled: Faith for the Called and Chosen. Here is a link to shorter version of the written article in Mandarin Chinese 一篇关于信仰的小文章
Christians: Ambassadors for the Kingdom of God, Biblical instructions on living as a Christian This is a scripture-filled booklet for those wishing to live as a real Christian. A related sermon is also available: Christians are Ambassadors for the Kingdom of God.