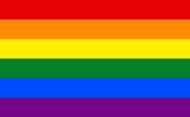 Claimed LGBTQ Flag
A California teacher has pushed allegiance to the flag of the abominable:
Teacher encourages students to pledge allegiance to LGBT pride flag instead of American flag

August 28, 2021

A Southern California public school teacher was caught admitting to encouraging her students to pledge allegiance to the LGBT pride flag as an alternative to the American flag, bragging of the indoctrination on her own TikTok account.

The teacher, identified as Kristin Pitzen of Newport Mesa School District in Orange County, recounts taking down the American flag, and then pointing to the LGBT flag as an alternative. https://www.wnd.com/2021/08/teacher-encourages-students-pledge-allegiance-lgbt-pride-flag-instead-american-flag/
The LGBTQ agenda should not be taught nor promoted at school.
The main "contributions" of the LGBTQ crowd is sexual immorality, disease, harm, and pushing against freedom of religion.
The LGBTQ crowd wants to "educate" children to be opposed to biblical standards of morality.
The Bible warns about something consistent with that in the last days:
1

But know this, that in the last days perilous times will come:

2

For men will be lovers of themselves, lovers of money, boasters, proud, blasphemers, disobedient to parents, unthankful, unholy,

3

unloving, unforgiving, slanderers, without self-control, brutal, despisers of good,

4

traitors, headstrong, haughty, lovers of pleasure rather than lovers of God,

5

having a form of godliness but denying its power. And from such people turn away!

6

For of this sort are those who creep into households and make captives of gullible women loaded down with sins, led away by various lusts,

7 always learning and never able to come to the knowledge of the truth. (2 Timothy 3:1-7)

Those of us who hold to the idea that sexual relationships are only to be between a man married to a woman are considered to have "ugly narrow-mindedness" by supporters of the LGBTQ movement.
Furthermore, the LGBTQ supporting crowd does not want people to believe the following:
9

Do you not know that the unrighteous will not inherit the kingdom of God? Do not be deceived. Neither fornicators, nor idolaters, nor adulterers, nor homosexuals, nor sodomites,

10

nor thieves, nor covetous, nor drunkards, nor revilers, nor extortioners will inherit the kingdom of God.

11

And such were some of you. But you were washed, but you were sanctified, but you were justified in the name of the Lord Jesus and by the Spirit of our God.

(1 Corinthians 6:9-11)
The Bible not only warns that homosexuality, lesbianism, and cross-dressing are wrong and abominable, it also condemns those who condone all forms of sexual immorality:
22 You shall not lie with a male as with a woman. It is an abomination.  (Leviticus 18:22)

13 If a man lies with a male as he lies with a woman, both of them have committed an abomination. (Leviticus 20:13)

5 A woman shall not wear anything that pertains to a man, nor shall a man put on a woman's garment, for all who do so are an abomination to the Lord your God. (Deuteronomy 22:5)

24

Therefore God also gave them up to uncleanness, in the lusts of their hearts, to dishonor their bodies among themselves,

25

who exchanged the truth of God for the lie, and worshiped and served the creature rather than the Creator, who is blessed forever. Amen.

26

For this reason God gave them up to vile passions. For even their women exchanged the natural use for what is against nature.

27

Likewise also the men, leaving the natural use of the woman, burned in their lust for one another, men with men committing what is shameful, and receiving in themselves the penalty of their error which was due.

28

And even as they did not like to retain God in their knowledge, God gave them over to a debased mind, to do those things which are not fitting;

29

being filled with all unrighteousness, sexual immorality, wickedness, covetousness, maliciousness; full of envy, murder, strife, deceit, evil-mindedness; they are whisperers,

30

backbiters, haters of God, violent, proud, boasters, inventors of evil things, disobedient to parents,

31

undiscerning, untrustworthy, unloving, unforgiving, unmerciful;

32

who, knowing the righteous judgment of God, that those who practice such things are deserving of death, not only do the same but also approve of those who practice them.

(Romans 1:24-32)
Sadly, the State of Illinois has joined other states in promoting and condoning sinful behavior. In Canada, quoting parts of Romans 1 in certain ways is essentially banned (watch Canadian censoring of the Bible).
Many, like Kristin Pitzen, seemingly despise the moral teachings of the word of God–this will not end well:
12 Therefore thus says the Holy One of Israel:

"Because you despise this word,
And trust in oppression and perversity,
And rely on them,
13 Therefore this iniquity shall be to you
Like a breach ready to fall,
A bulge in a high wall,
Whose breaking comes suddenly, in an instant.
14 And He shall break it like the breaking of the potter's vessel,
Which is broken in pieces;
He shall not spare.
So there shall not be found among its fragments
A shard to take fire from the hearth,
Or to take water from the cistern."  (Isaiah 30:12-14)
Destruction is coming to the USA–as well as its British-descended allies–and it will be worse than most people will believe.
And it will be sooner than most imagine.
Some items of possibly related interest may include:

Cross-dressing and other assaults against your children. What should you do? Is there an agenda to turn your children and/or grandchildren away from biblical morality and towards practices promoted by homosexuals? What does the Bible teach about cross-dressing? What should parents do? If there is an agenda, what has been going on? There are also three YouTube videos related to this, titled Transgender 'Woe to those who call evil good' and Cross dressing and Other Assaults Against Your Children and USA pushing gender confusion.
The Bible Condemns Homosexuality "Same-sex marriage" for "gays" and lesbians is becoming more acceptable to many. What does the Bible teach about homosexuality? Can homosexuals change? A related video sermon is titled: What Does the Bible Really Teach about Homosexuality?
Might the U.S.A. Be Gone by 2028? Could the USA be gone by the end of 2028 or earlier? There is a tradition attributed to the Hebrew prophet Elijah that humanity had 6,000 years to live before being replaced by God's Kingdom. There are scriptures, writings in the Talmud, early Christian teachings that support this. Also, even certain Hindu writings support it. Here is a link to a related video: Is the USA prophesied to be destroyed by 2028? In Spanish: Seran los Estados Unidos Destruidos en el 2028?
When Will the Great Tribulation Begin? 2021, 2022, or 2023? Can the Great Tribulation begin today? What happens before the Great Tribulation in the "beginning of sorrows"? What happens in the Great Tribulation and the Day of the Lord? Is this the time of the Gentiles? When is the earliest that the Great Tribulation can begin? What is the Day of the Lord? Who are the 144,000? Here is a version of the article in the Spanish language: ¿Puede la Gran Tribulación comenzar en el 2020 o 2021? ¿Es el Tiempo de los Gentiles? A related video is: Great Tribulation: 2026 or 2027? Here is a video in the Spanish language: Es El 2021 el año  de La Gran Tribulación o el Grande Reseteo Financiero.
Canadian censoring of the Bible In 2017, Lauri Skori of the Battle River School board told a religious school in Alberta, Canada that it could not teach/read certain portions of the Bible. In 2002, a court in Canada ruled against one who referred to certain scriptures that some homosexuals objected to. In 2017, there was "An Act to Amend the Canadian Human Rights Act and Criminal Code" related to those who wish to be considered transgendered. Government officials in Canada and elsewhere have been ruling against the Bible. Is any of this prophesied? Will this get worse? What was the prophet Amos inspired to write? This is a video.
USA in Prophecy: The Strongest Fortresses Can you point to scriptures, like Daniel 11:39, that point to the USA in the 21st century? This article does. Two related sermon are available: Identifying the USA and its Destruction in Prophecy and Do these 7 prophesies point to the end of the USA?
Who is the King of the West? Why is there no Final End-Time King of the West in Bible Prophecy? Is the United States the King of the West? Here is a version in the Spanish language: ¿Quién es el Rey del Occidente? ¿Por qué no hay un Rey del Occidente en la profecía del tiempo del fin? A related sermon is also available: The Bible, the USA, and the King of the West.
Anglo – America in Prophecy & the Lost Tribes of Israel Are the Americans, Canadians, English, Scottish, Welsh, Australians, Anglo-Saxon (non-Dutch) Southern Africans, and New Zealanders descendants of Joseph? Where are the lost ten-tribes of Israel? Who are the lost tribes of Israel? What will happen to Jerusalem and the Jews in Israel? Will God punish the U.S.A., Canada, United Kingdom, and other Anglo-Saxon nations? Why might God allow them to be punished first? Here is a link to the Spanish version of this article: Anglo-América & las Tribus Perdidas de Israel. Information is also in the YouTube sermons titled Where are the Ten Lost Tribes? Why does it matter? and British are the Covenant People. A short YouTube of prophetic interest may be: Are Chinese threats against Australia for real?
Will the Anglo-Saxon-Celtic Nations be Divided and Have People Taken as Slaves? Will the lands of the United States, United Kingdom, Canada, Australia, and New Zealand be divided? What about Jerusalem? What does Bible prophecy teach? Are there non-biblical prophecies that support this idea? Who will divide those lands? Who will end up with the lands and the people? Here is a link to a video titled Will the USA and other Anglo-nations be Divided and Their People Made Slaves? Here is a related item in the Spanish language ¿Serán divididas las naciones anglosajonas?
British are the Covenant People What do 'British' and 'Britain' mean in Hebrew? Are the descendants of the Anglo-Saxons people of the covenant? Does the British royal family connect to the throne of David? What does the Bible teach? What does history show us? Is there any DNA evidence related to British-Israelism? When did Christianity make it to the British Isles? Could Jeremiah have made it to the British Isles? What type of Christians made it to the British Isles? Did the last King of England believe in British Israelism?
Canada in Prophecy: What Does Bible Prophecy, Catholic Prophecy, and other Predictions Suggest About the Future of Canada? There are prophecies that suggest involvement with Canada. And many are not positive about its future. A sermon of related interest is also available: Canada in Prophecy.
Australia and New Zealand in Prophecy Do biblical prophecies help explain the wealth blessings for Australia and New Zealand? Might cursings from disobedience come in the 21st century? Here is a link to a related sermon: Australia and New Zealand: Origins and Prophecy.