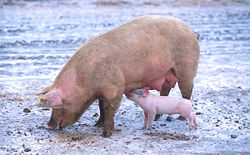 More improper species combinations are taking place. Notice the following:
World's first monkey-pig hybrids born in Chinese lab

December 7, 2019

Two chimera piglets carrying monkey DNA have been born in China following an experiment that has created a rift among scientists. Researchers hoped the move would enable the growing of human organs inside animals for transplantation. But others have warned against playing God and say the ethical implications of such an experiment 'scares them'. It took more than 4,000 embryos to create the piglets, which had genetic material from cynomolgus monkeys in their hearts, livers, spleens, lungs and skin. They died within the week but both of them appeared normal when they were first born.

Douglas Munoz, a neuroscientist at Queen's University in Kingston, Canada thought the project was a dangerous road to go down. He said: 'For us to start to manipulate life functions in this kind of way without fully knowing how to turn it off, or stop it if something goes awry really scares me.' In July China proposed creating monkeys with partially human-derived brains with the aim of studying diseases like alzheimer's.

Read more: https://metro.co.uk/2019/12/07/worlds-first-monkey-pig-hybrids-born-chinese-lab-11407023/?ito=cbshare
As regular readers of this COGwriter page are aware of, I have been warning against this for some time (see, for example, Scientists produce and destroy part-human, mostly-pig, chimeras and Researchers genetically-altering pigs for human organ production).
The Continuing Church of God earlier put out the following video on our Bible News Prophecy YouTube channel:
BBC reported about what it called an animal that would be half-human and half-pig. Is such a thing possible? Are chimeras for real? What about a "humanzee"? Are scientists really working on these type of creatures? Is this good? Can something truly be half human and half animal? How are humans different from animals? What is the 'spirit in man'? What is man? Dr. Thiel addresses these issues and more with biblical-based responses.
Here is a link to our video: Half human, half pig: What's the difference?
After this video came out, the anti-Church of God website, Banned by HWA, posted the following, including vulgarities, about me:
Do 21st Century Christians Need To Worry About Man-Pigs? COG Prophet Thinks So!

I never cease to be amazed at the weirdness that continues to leak out of the minds of foolish Church of God leaders. …

Now we have our very own Doubly Blessed buffoon preaching a sermon about "man-pigs." Yes, that is right. Almost arrested, Elisha, Elijah, Amos Joshua, Habakkuk Bob Thiel felt the need to preach a sermon about "man-pigs and humanzee's." …

Thiel adds the title "Dr." to the front of his name he looks like a complete blithering idiot. No "Dr." in his right mind nor real theologian would ever preach such utter bullshit in a sermon. This kind of idiocy is what occupies the mind of those that cannot and will not acknowledge Jesus. The idiots are embarrassed to preach any thing that has to do with Jesus.

Just because the liar and certified false prophet waves his big thick Bible at the beginning of his video does not make himself an authority on the book he waves.

Maybe his 1,997 members in Africa might find his sermon slightly interesting due to the fact so many are still steeped in tribal myths and legends, but no Christian today has this topic occupying their mind.
So, I am insulted, called names, and challenged for warning against the possible production of human-pig chimeras, and told no Christian would care about this horrible thing.
Yet, even people of the world see that there are ethical and moral issues involved.
Are Christian leaders supposed to keep quiet about the sins of the end-time descendants of Israel?
According to some anti-Church of God critics, apparently so.
Yet, according to the Bible, there is an obligation to do otherwise:
3 Now the glory of the God of Israel had gone up from the cherub, where it had been, to the threshold of the temple. And He called to the man clothed with linen, who had the writer's inkhorn at his side; 4 and the Lord said to him, "Go through the midst of the city, through the midst of Jerusalem, and put a mark on the foreheads of the men who sigh and cry over all the abominations that are done within it." (Ezekiel 9:3-4)

1 "Cry aloud, spare not;
Lift up your voice like a trumpet;
Tell My people their transgression,
And the house of Jacob their sins. (Isaiah 58:1)
Chimeras are an abomination! I have personally been warning/crying out against chimeras for years.
Some items of possibly related interest may include:
Chimeras: Has Science Crossed the Line? What are chimeras? Has science crossed the line? Does the Bible give any clues? A related video is also available: Half human, half pig: What's the difference?
What is Your Destiny? Deification? Did the Early Church Teach That Christians Would Become God? What is your ultimate destiny? What does the Bible teach? Is deification only a weird or cultic idea? Are you to rule the universe? Here is a link to the video sermon What is Your Destiny?
GMOs and Bible Prophecy What are GMOs? Since they were not in the food supply until 1994, how could they possibly relate to Bible prophecy? Do GMOs put the USA and others at risk? Here is a related YouTube video GMO Risks and the Bible.
The MYSTERY of GOD's PLAN Why Did God Create Anything? Why did God make you? This free online book helps answers some of the biggest questions that human have, including the biblical meaning of life. Here is a link to three related sermons: Mysteries of God's Plan, Mysteries of Truth, Sin, Rest, Suffering, and God's Plan, and The Mystery of YOU.
The New Testament Church, History, and Unclean Meats Are foods considered to have been unclean in the Old Testament considered to be food in the New Testament? This article discusses this from the perspective of the New Testament. It also has a list of clean and unclean animals. It also answers the question, is pork healthy or is pork dangerous? There is also a sermon-length video on this: Christians and Unclean Meats; a short video is also available: Did Jesus declare all animal flesh food?
The Gospel of the Kingdom of God This free online pdf booklet has answers many questions people have about the Gospel of the Kingdom of God and explains why it is the solution to the issues the world is facing. Here are links to three related sermons: The World's False Gospel, The Gospel of the Kingdom: From the New and Old Testaments, and The Kingdom of God is the Solution.
Where is the True Christian Church Today? This free online pdf booklet answers that question and includes 18 proofs, clues, and signs to identify the true vs. false Christian church. Plus 7 proofs, clues, and signs to help identify Laodicean churches. A related sermon is also available: Where is the True Christian Church? Here is a link to the booklet in the Spanish language: ¿Dónde está la verdadera Iglesia cristiana de hoy? Here is a link in the German language: WO IST DIE WAHRE CHRISTLICHE KIRCHE HEUTE? Here is a link in the French language: Où est la vraie Église Chrétienne aujourd'hui?
Continuing History of the Church of God This pdf booklet is a historical overview of the true Church of God and some of its main opponents from Acts 2 to the 21st century. Related sermon links include Continuing History of the Church of God: c. 31 to c. 300 A.D. and Continuing History of the Church of God: 4th-16th Centuries and Continuing History of the Church of God: 17th-20th Centuries. The booklet is available in Spanish: Continuación de la Historia de la Iglesia de Dios, German: Kontinuierliche Geschichte der Kirche Gottes, French: L'Histoire Continue de l'Église de Dieu and Ekegusii Omogano Bw'ekanisa Ya Nyasae Egendererete.