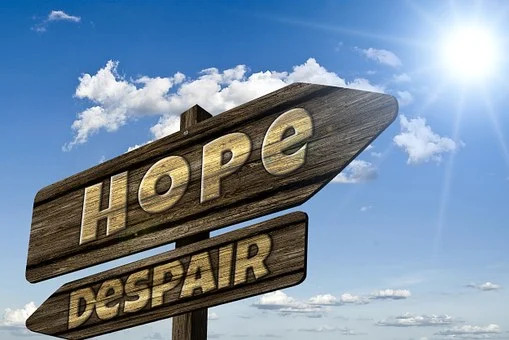 (Pixabay photo)
The Apostle Paul wrote:
1 Therefore, having been justified by faith, we have peace with God through our Lord Jesus Christ. 2 Through Whom we also have access by faith into this grace in which we stand, and we ourselves boast in the hope of the glory of God. 3 And not only this, but we also boast in tribulations, realizing that tribulation brings forth endurance, 4 And endurance brings forth character, and character brings forth hope. 5 And the hope of God never makes us ashamed because the love of God has been poured out into our hearts through the Holy Spirit, which has been given to us. (Romans 5:1-5, AFV)

5 For we through the Spirit eagerly wait for the hope of righteousness by faith. 6 For in Christ Jesus neither circumcision nor uncircumcision avails anything, but faith working through love. (Galatians 5:5-6, NKJV throughout unless otherwise specified)

13 And now abide faith, hope, love, these three; but the greatest of these is love. (1 Corinthians 13:13)

8 But let us who are of the day be sober, putting on the breastplate of faith and love, and as a helmet the hope of salvation. (1 Thessalonians 5:8)
So, the Apostle Paul frequently tied faith and love in with hope.
Pocket recommended the following:
How to Be More Hopeful

We all go through times when we see the world through cloudy-colored glasses. …

Shift your expectations.

At times, it can seem impossible to stay optimistic in the face of the day's headlines. However, you can gradually start to change your brain by leaning into what cognitive neuroscientist Tali Sharot calls our "optimism bias."

As she explains, "Optimism changes subjective reality. The way we expect the world to be changes the way we see it. But it also changes objective reality. It acts as a self-fulfilling prophecy."

What this means: when you wake up and think it's going to be a blah day, you're helping set yourself up to have just such a day. So the next time you catch yourself making a gloomy prediction, first congratulate yourself for noticing. …

Recognize that you can change your life at any point.

Do you feel like it's hard to be look forward to the future because it seems all too predictable? Choice #1: resign yourself to the inevitable (and while you're at it, why not pick out the inscription for your tombstone?). Choice #2: open yourself up to the possibilities that exist for everyone, at every age. https://getpocket.com/explore/item/how-to-be-more-hopeful?utm_source=pocket-newtab accessed 04/18/21
Yes, you can change.
Related to that, we put together the following video:
Inc. magazine posted an article online titled 'How to Change Your Life in 5 Seconds.' In it, Mel Robbins explains how she developed a technique to be more productive. She observed that 95% of decision are based on emotion instead of logic, and how and why adding a five second countdown helped her life. She mentions that fear, anger, and other factors often interfere with our ability to be better people. In this video, Dr. Thiel quotes a lot from that article, including some of the science behind the technique. He also quotes Jesus as well as many passages from the Bible. He also teaches a 5 second statement to say and pray to use as a five second spiritual statement to help Christians change.
Here is a link to the video: 'How to Change Your Life in 5 Seconds'.
Christians are supposed to have hope. The NKJV has the word "hope" 68 times in the New Testament. The Apostle Paul mentioned hope 6 times in the following:
18 For I consider that the sufferings of this present time are not worthy to be compared with the glory which shall be revealed in us. 19 For the earnest expectation of the creation eagerly waits for the revealing of the sons of God. 20 For the creation was subjected to futility, not willingly, but because of Him who subjected it in hope; 21 because the creation itself also will be delivered from the bondage of corruption into the glorious liberty of the children of God. 22 For we know that the whole creation groans and labors with birth pangs together until now. 23 Not only that, but we also who have the firstfruits of the Spirit, even we ourselves groan within ourselves, eagerly waiting for the adoption, the redemption of our body. 24 For we were saved in this hope, but hope that is seen is not hope; for why does one still hope for what he sees? 25 But if we hope for what we do not see, we eagerly wait for it with perseverance. (Romans 8:18-25)
Getting back to the Pocket recommended article, it also had the following:
Look for meaning in the most challenging moments.

For some, pessimism is not a passing inclination but a near-constant outlook shaped by difficult, maybe brutal times. Even negative events can end up having positive effects, according to writer Andrew Solomon.

"Avoidance and endurance can be the entryway to forging meaning," he says. Solomon transformed a childhood marked by bullying and emotional torment into a life of helping others communicate their own stories of growth.
Christians most certainly are to endure. As Jesus said:
22 And you will be hated by all for My name's sake. But he who endures to the end will be saved. (Matthew 10:22)
Yes, we should expect difficulties. But Christians are to endure and have hope.
Getting back to the Pocket recommended article, it also had the following:
Return to your home base.

Does your discouragement stem from being knocked down one too many times. …

How can you find your own center amid life's sturm und drang ? Identify the thing or things in this world that you love more than you love yourself, says Gilbert.
For Christians, that should be the love of God and seeking His Kingdom.
As Jesus taught:
37 'You shall love the Lord your God with all your heart, with all your soul, and with all your mind.' 38 This is the first and great commandment. 39 And the second is like it: 'You shall love your neighbor as yourself.' (Matthew 22:37-39)
Jesus also taught not to worry:
25 "Therefore I say to you, do not worry about your life, what you will eat or what you will drink; nor about your body, what you will put on. Is not life more than food and the body more than clothing? 26 Look at the birds of the air, for they neither sow nor reap nor gather into barns; yet your heavenly Father feeds them. Are you not of more value than they? 27 Which of you by worrying can add one cubit to his stature?

28 "So why do you worry about clothing? Consider the lilies of the field, how they grow: they neither toil nor spin; 29 and yet I say to you that even Solomon in all his glory was not arrayed like one of these. 30 Now if God so clothes the grass of the field, which today is, and tomorrow is thrown into the oven, will He not much more clothe you, O you of little faith?

31 "Therefore do not worry, saying, 'What shall we eat?' or 'What shall we drink?' or 'What shall we wear?' 32 For after all these things the Gentiles seek. For your heavenly Father knows that you need all these things. 33 But seek first the kingdom of God and His righteousness, and all these things shall be added to you. 34 Therefore do not worry about tomorrow, for tomorrow will worry about its own things. Sufficient for the day is its own trouble. (Matthew 6:25-34)
The great hope for humanity is the good news of the coming Kingdom of God.
Getting back to the Pocket recommended article, it also had the following:
Think about your death (yes, really).

This doesn't need to be a morbid activity;
For a Christian, facing the reality that this life is temporal and that we have the hope of the resurrection and Jesus' return should comfort us:
13 But I do not want you to be ignorant, brethren, concerning those who have fallen asleep, lest you sorrow as others who have no hope. 14 For if we believe that Jesus died and rose again, even so God will bring with Him those who sleep in Jesus.

15 For this we say to you by the word of the Lord, that we who are alive and remain until the coming of the Lord will by no means precede those who are asleep. 16 For the Lord Himself will descend from heaven with a shout, with the voice of an archangel, and with the trumpet of God. And the dead in Christ will rise first. 17 Then we who are alive and remain shall be caught up together with them in the clouds to meet the Lord in the air. And thus we shall always be with the Lord. 18 Therefore comfort one another with these words. (1 Thessalonians 4:13-18)
The time coming will be fantastic. We can have hope and comfort other believers.
How fantastic will the time coming be?
The Apostle John was inspired to record:
1 Now I saw a new heaven and a new earth, for the first heaven and the first earth had passed away. Also there was no more sea. 2 Then I, John, saw the holy city, New Jerusalem, coming down out of heaven from God, prepared as a bride adorned for her husband. 3 And I heard a loud voice from heaven saying, "Behold, the tabernacle of God is with men, and He will dwell with them, and they shall be His people. God Himself will be with them and be their God. 4 And God will wipe away every tear from their eyes; there shall be no more death, nor sorrow, nor crying. There shall be no more pain, for the former things have passed away." (Revelation 21:1-4)
The Apostle Paul reported that it was so fantastic, it was somewhat indescribable:
7 But we speak the wisdom of God in a mystery, the hidden wisdom which God ordained before the ages for our glory, 8 which none of the rulers of this age knew; for had they known, they would not have crucified the Lord of glory.

9 But as it is written:

"Eye has not seen, nor ear heard,
Nor have entered into the heart of man
The things which God has prepared for those who love Him."

10 But God has revealed them to us through His Spirit. For the Spirit searches all things, yes, the deep things of God. 11 For what man knows the things of a man except the spirit of the man which is in him? Even so no one knows the things of God except the Spirit of God. (1 Corinthians 2:7-12)
Yes, it will be beyond normal comprehension.
Now, perhaps it should be pointed out that God's plan is actually a mystery to almost everyone–irrespective of the religions they do or do not follow.
We produced a book on that.
Here is a link to our free online book: The MYSTERY of GOD's PLAN: Why Did God Create Anything? Why did God make you?
Yes, Christians have, and should realize that they have, real hope. This also works with faith and helps us share the love of God.
Related to this, the Continuing Church of God (CCOG) put together the following related video on our Bible News Prophecy YouTube channel:
The New Testament teaches that Christians are to have hope. What are ways to be more hopeful? Pocket, a secular source, recommended an article about that. In this video, Dr. Thiel goes over many points of that article and ties them into numerous scriptures that teach about hope. Dr. Thiel also notes that multiple times, the Apostle Paul taught about faith, love, and hope together. Dr. Thiel also quotes Jesus related to not worrying and seeking first the Kingdom of God. Furthermore, he refers to mysteries of God's plan that most do not understand. He also reads what the Bible promises will occur in the new earth.
Here is a link to our sermonette video: How to Be More Hopeful.
Some items of possibly related interest may include:
The Gospel of the Kingdom of God This free online pdf booklet has answers many questions people have about the Gospel of the Kingdom of God and explains why it is the solution to the issues the world is facing. Here are links to four related sermons:  The Fantastic Gospel of the Kingdom of God!, The World's False Gospel, The Gospel of the Kingdom: From the New and Old Testaments, and The Kingdom of God is the Solution.
Hope of Salvation: How the Continuing Church of God differs from most Protestants How the real Church of God differs from mainstream/traditional Protestants, is perhaps the question I am asked most by those without a Church of God background. As far as some changes affecting Protestantism, watch the video Charismatic Kenneth Copeland and Anglican Tony Palmer: Protestants Beware! [Português: Esperança do salvação: Como a igreja do deus difere da maioria de protestantes]. Several related sermon are also available: Protestant, Baptist, and CCOG History, The First Protestant, God's Command, Grace, & Character, and How Does the Church of God Differ from Protestantism?
Is God Calling You? This booklet discusses topics including calling, election, and selection. If God is calling you, how will you respond? Here is a link to a related sermon: Could God be Calling You? A short animation is also available: Is God Calling You?
What is the Origin of the Cross as a 'Christian' Symbol? Was the cross used as a venerated symbol by the early Church? Two related YouTube videos would be Beware of the 'Ecumenical Cross', The Chrislam Cross and the Interfaith Movement, and Origin of the Cross.
Where is the True Christian Church Today? This free online pdf booklet answers that question and includes 18 proofs, clues, and signs to identify the true vs. false Christian church. Plus 7 proofs, clues, and signs to help identify Laodicean churches. A related sermon is also available: Where is the True Christian Church? Here is a link to the booklet in the Spanish language: ¿Dónde está la verdadera Iglesia cristiana de hoy? Here is a link in the German language: WO IST DIE WAHRE CHRISTLICHE KIRCHE HEUTE? Here is a link in the French language: Où est la vraie Église Chrétienne aujourd'hui? Here is a link to a short animation: Which Church would Jesus Choose?
Continuing History of the Church of God This pdf booklet is a historical overview of the true Church of God and some of its main opponents from Acts 2 to the 21st century. Related sermon links include Continuing History of the Church of God: c. 31 to c. 300 A.D. and Continuing History of the Church of God: 4th-16th Centuries and Continuing History of the Church of God: 17th-20th Centuries. The booklet is available in Spanish: Continuación de la Historia de la Iglesia de Dios, German: Kontinuierliche Geschichte der Kirche Gottes, French: L Histoire Continue de l Église de Dieu and Ekegusii Omogano Bw'ekanisa Ya Nyasae Egendererete.
The MYSTERY of GOD's PLAN Why Did God Create Anything? Why did God make you? This free online book helps answers some of the biggest questions that human have. Here is a link to two related sermons: Mysteries of God's Plan and Mysteries of Truth, Sin, Rest, Suffering, and God's Plan.
Universal OFFER of Salvation, Apokatastasis: Can God save the lost in an age to come? Hundreds of scriptures reveal God's plan of salvation Will all get a fair chance at salvation? This free book is packed with scriptures showing that God does intend to offer salvation to all who ever lived–the elect in this age, and the rest in the age to come. Here is a link to a related sermon series: Universal Offer of Salvation 1: Apocatastasis, Universal Offer of Salvation 2: Jesus Desires All to be Saved, Mysteries of the Great White Throne Judgment (Universal Offer of Salvation part 3), Is God Fair, Will God Pardon the Ignorant?, Can God Save Your Relatives?, Babies, Limbo, Purgatory and God's Plan, and 'By the Mouth of All His Holy Prophets'.