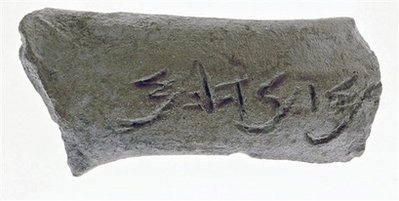 A 2,900 year old handle that appears to bear the name Menachem was recently discovered and announced:
Ancient handle with Hebrew text found in Jerusalem

Associated Press – May 20, 2009

JERUSALEM – Archaeologists digging on Jerusalem's Mount of Olives have discovered a nearly 3,000-year-old jar handle bearing ancient Hebrew script, a find significantly older than most inscribed artifacts unearthed in the ancient city, an archaeologist said.

The Iron Age handle is inscribed with the Hebrew name Menachem, which was the name of an Israelite king and is still common among Jews.

The inscription also includes a partly intact letter, the Hebrew character "lamed," meaning "to." That suggests the jar was a gift to someone named Menachem, said Ron Beeri, who directed the excavation for the Israel Antiquities Authority. There is no indication the inscription refers to the king himself.

The name and similar variants have been found on Egyptian pottery dating back 3,500 years, and the Bible lists Menachem Ben Gadi as an ancient king of Israel. But this is the first time an artifact bearing the name has been unearthed in Jerusalem, Beeri said.

"It's important because it shows that they actually used the name Menachem during that period," Beeri said. "It's not just from the Bible, but it's also in the archaeological record."

Based on the style of the inscription, he dated the handle to around 900 B.C., the time of the first Jewish Temple in Jerusalem as recounted in the Bible. http://news.yahoo.com/s/ap/20090520/ap_on_re_mi_ea/ml_israel_ancient_inscription
Menachem is normally spelled as "Menahem" in English versions of the Bible, such as the NKJV.
Menahem is mentioned in in II Kings 15:14-23.  Here is some of what the Hebrew scripture recorded about him:
17 In the thirty-ninth year of Azariah king of Judah, Menahem the son of Gadi became king over Israel, and reigned ten years in Samaria. 18 And he did evil in the sight of the LORD; he did not depart all his days from the sins of Jeroboam the son of Nebat, who had made Israel sin (2 Kings 15:17-18).
But even though he was evil, Menahem is now being used to provide additional confirmation of the Old Testament.
Some articles of possibly related interest may include:
Is God's Existence Logical? Some say it is not logical to believe in God. Is that true?
Is Evolution Probable or Impossible or Is God's Existence Logical? Part II This short article clearly answers what 'pseudo-scientists' refuse to acknowledge.
Where Did God Come From? Any ideas? And how has God been able to exist? Who is God?
How is God Omnipotent, Omnipresent, and Omniscient? Here is a biblical article by Wallace Smith which answers what many really wonder about it.
What is the Meaning of Life? Who does God say is happy? What is your ultimate destiny? Do you really know? Does God actually have a plan for YOU personally?
The Bible: Fact or Fiction? This is a booklet written by Douglas Winnail that answers if the Bible is just a collection of myths and legends or the inspired word of God.