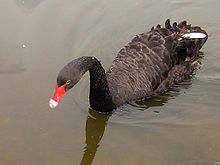 Black Swan (Calvin Teo)

Nomura again came up with a list of 'grey swan' events for 2018:
Nomura's Bilal Hafeez … writes, while he would like to be able to predict black swans, by definition that is impossible. "However, its close cousin the grey swan can be foreseen. These are the unlikely but impactful events that, in our opinion, lie outside the usual base case and risk scenarios of the analyst community. So as we did last year we have put on our creative hats and have come up with 10 potential grey swan events for 2018." …
Shock 1: What the movies tell us about 2018

Shock 2: The "Amazonification" of inflation

Shock 3: 2% inflation targeting goes out of style

Shock 4: A United States of Europe

Shock 5: Another UK political turnaround

Shock 6: Bitcoin starts moving other markets

Shock 7: Housing market decline = rate cuts?

Shock 8: A bigger proxy war in the Middle East

Shock 9: "Get to the chopper!"

Shock 10: Credit: stealth leverage pops?

http://www.zerohedge.com/news/2017-12-18/10-grey-swans-events-2018
Here is more from the above article related to item 4:
4: A United States of Europe

2018 presents a unique political opportunity for the European Union and in particular those countries within the euro area to forge closer ties and perhaps embark upon a political journey that will end with the creation of a 'United States of Europe' – the longstanding dream of many federalists within the continent. The reasons for the propitious backdrop are threefold.

Less focus on domestic politics …

Brexit in the background …

Fixing the roof while the sun is shining: One of the lessons learnt from the global financial crisis and the euro crisis that followed is to fix the roof while the sun is shining and don't wait for when it rains. European growth is at its strongest in years. The EU unemployment rate has fallen from 11% in 2013 to 7.4% currently and shows no signs of stopping. The low in the previous boom period was 6.8% and at the current run rate that could be achieved in under 12 months. Increasing the pace of integration will bring with it some risks and possibly even some J-curve impacts. This suggests there is no better time to undertake this project than now.

Something like a United States of Europe cannot be built in a year. But steps on a path that the market understands to be leading there can be taken. A grey swan event for 2018 is that European politicians understand the temporal opportunity they have been given, and undertaking such a path starting with a treaty change that leads to increased mutualisation of debts and sharing of risks. It is important to note that comments from key European leaders are heading in this direction. You can see it in the rhetoric of Jean-Claude Juncker's State of the Union address, Macron's united defence speech and in Martin Schulz's latest, looking for a United States of Europe by 2025. http://www.zerohedge.com/news/2017-12-18/10-grey-swans-events-2018
As regular readers of the COGwriter.com Church of God News page are aware, the idea of a United States of Europe has been something that Church of God leaders have written about for decades–and Nomura is correct that Brexit is a factor (watch also Forbes' Brexit Monster is the Beast of Revelation).
As far as Europe goes, notice some such writings from the old Radio Church of God:
It was the SERMON that shot forth that spark, impregnating the minds of world leaders in attendance. This amazing sermon was delivered by a foremost radio speaker of the Catholic Church, Bishop Duane G. Hunt of Salt Lake City … Without the guidance, supervision, authority of the Catholic Church, he told these men, they were laboring in vain …

This was the Roman Catholic bid to resurrect the so-called "HOLY ROMAN EMPIRE" ! And PROPHECY says they will succeed! … At the psychological time, the pope will step in … Thru this political movement, he will UNIFY … nations in Europe. It will be a "The UNITED STATES OF EUROPE," but that probably will never become its official name. (Armstrong HW. Now It Can Be Told…The Plain Truth, December 1948, pp. 2,5).

"O Assyrian, the rod of MINE anger, and the staff in their hand is MINE indignation, I WILL SEND HIM against an hypocritical nation, and against the people of my wrath (rebellious Israel) will I give him a charge (command), to take the spoil, and to take the prey, and to tread them down like the mire of the streets" (Isa. 10:5,6). Yes, God is going to rake the nation of Germany as the head of a United Europe into his hand as a club to punish the nations of Israel for their rebellion against Him! Howbeit he meanth not so, neither does his heart think so; but it is in his heart to destroy and cut off nations not a few" (vs. 7). Germany, those living in Germany, even the German government, may not yet know that they are going to join in a treaty with the Russians to destroy the United States and bring it to its knees-it is not in his "heart" to think so, but on the other hand it IS in his "heart" to destroy-the very characteristic of the Assyrian, the modern German, is a harsh, cruel, iron, dedication to militarism and destruction! This is just the kind of nation God needs to use as a rod in His hand to punish His people!

Does this then mean that the Germans at the head of a United Europe do have a spiritual mission to perform? Does this mean that they are right in claiming to be the "Defenders of the West" and the champions of Christianity!? No!

God's Destiny for Germany

Despite the fact that it is God who will use Germany to destroy America, Germany must be destroyed as well for HER rebellion against God—"I will punish the fruit of the stout heart of the king of Assyria, and the glory of his high looks. For he saith, by the strength of my hand I have done it, and by my wisdom; for I am prudent!" (Is. 10:12,13)

The leaders of a United Europe, when they succeed against the United States, will begin to think THEIR prudent planning, THEIR wise ideas and THEIR powerful might have made them successful! They will not realize that they have only been used as a base tool of destruction in the hand of the Almighty God! "Shall the axe boast itself against him that hews therewith? Or shall the saw magnify itself against him that shaketh it? as if the rod should shake itself against them that lift it up, or as if the staff should lift up itself, as if it were no wood" (Isa. 10:15). God explains here that despite the fact that He has used Assyria to punish Israel, Assyria is also rebellious against His law and government, His way, and since it will magnify itself against the very God of creation, as Dan. 11: 36 and 37 explain, GOD WILL HAVE TO PUNISH IT FOR THIS.

So GOD says, "The Lord of hosts has sworn. saying, Surely as I have thought, so SHALL IT COME TO PASS: and as I have purposed, so SHALL IT STAND; That I will break the Assyrian in my land, and upon my mountains TREAD HIM UNDER FOOT: then shall his yoke depart from off them, and his burden depart from off their (the Israelites) shoulders" (Isa.14: 24,25). Just shortly before Jesus Christ Himself intervenes in this world's affairs. He will take another nation as a punishing club in His hands and punish the proud Assyrians, the modern Germans at the head of the United States of Europe. "Behold, I will stir up the Medes against them, which shall nor regard silver; and as for gold they shall not delight in it … Their bows also shall dash the young men to pieces; and they shall have no pity on the fruit of the womb; their eye shall not spare children. And Babylon (the modern resurrected and revived Roman Empire, dominated by a fascist Germany), the glory of kingdoms, the beauty of the Chaldees' excellency, shall be as when God overthrew Sodom and Gomorrah!" (Is. 13: 17-19.) …

Since God himself has pronounced a curse on modern Israel, and is going to hand us over to the Assyrians, it is evident that we CANNOT TRUST in the American way of life either!

Nothing is left outside these three great systems and powers on earth, under man, except Anarchy!

MAN'S ONLY HOPE LIES IN TURNING TO HIS CREATOR GOD! …

YOUR only hope as an individual is to turn to God-to the Living Creator who is working our events here below on this earth-who is very concerned about YOU, who promises you safety from these horrible rimes to come! Heed the warning given by Jeremiah! The only 'Way to escape these Jure prophecies of God is by REPENTANCE- nationally or individually! (Hill DJ, God's Destiny for Germany. Plain Truth, March 1962, pp. 28-29)
Furthermore, many in Europe see US President Donald Trump as a sign that Europe needs to unite (Daniel 2:41-43; Revelation 17:12-13), become less dependent upon the USA (cf. Lamentations 1:1-2; Revelation 17 &18), and develop its own military (Daniel 11:25; Revelation 13:1-4).
Consider also the following from Paul Zajac, a French career diplomat:
19 December 2017

European defense is on the move. Over the summer, the European Commission announced a modest European defense fund to support both defense research and development as well as initial steps in capability developments. At the same time, a small chain of command has been set up in Brussels to run E.U. military training missions in fragile states. Last week, the European Union Council inaugurated a new type of defense cooperation among European countries, dubbed the Permanent Structured Cooperation. It aims at fostering cooperation on concrete capability projects and is supported by increased coordination on defense planning among E.U. member states. Taken separately, each of these steps is modest, but they all point in the right direction — toward more "strategic autonomy," a goal defined in the last E.U. Global Strategy for Foreign and Security Policy.

These steps have been received with mixed feelings in Washington. …

Many European allies simply don't feel in charge, because the United States is taking care of them. Guarantees provided by the NATO framework allow them entertain a delusional sense of security. This is a classic Catch-22 situation typical of any alliance system, on full display in today's NATO.

In his own way, President Donald Trump understands this. His insistence on making U.S. security guarantees conditional on European allies "paying up" is an attempt to address the issue. But no one in Europe wants U.S. security guarantees made more uncertain in today's strategic context, with the Russian threat looming large again over the continent. Efforts to empower Europeans within the NATO framework can only go so far, because what is needed is more ownership and more responsibility, which means more autonomy. As such, the only way to empower the Europeans is to encourage them to make progress on their own, without U.S. supervision. It has to happen outside the NATO framework.

This is where the European Union can help. Of course, the E.U. does not lend itself easily to real strategic thinking, as it was conceived in the first place to forestall hard-power relations among its own member states. But progress on European defense cooperation is a sign that Europeans are adapting to the changing strategic environment because they can no longer afford to overlook the very real threats at their own borders. In a way, European leaders are also adjusting to the evolution of U.S. foreign and defense policy, which they see as less engaged and less predictable, focused on more strictly defined US interests that do not fully align with European security needs. …

For Washington, the choice is between having dependent European allies who will remain weak as a consequence, or allowing them become more capable and more independent. In the long run, only the latter will really make the transatlantic alliance stronger.
Actually, for Washington, the choice is to have national repentance or face destruction relatively soon.
Europe's military will one day destroy the USA (Daniel 11:39; see also USA in Prophecy: The Strongest Fortresses).
Why the mention of 'grey swans' with any of this?
Grey swan events essentially mean that they are possibly predictable.
'Grey swans' are a takeoff of 'black swans.'
What do swans have to do with anything? Notice also the following:
The black swan theory or theory of black swan events . . . was developed by Nassim Nicholas Taleb to explain:

The disproportionate role of high-profile, hard-to-predict, and rare events that are beyond the realm of normal expectations in history, science, finance, and technology
The non-computability of the probability of the consequential rare events using scientific methods (owing to the very nature of small probabilities)
The psychological biases that make people individually and collectively blind to uncertainty and unaware of the massive role of the rare event in historical affairs (Wikipedia, viewed 12/12/13)
Some events that people feel are not predictable, of course, are predictable.
Notice what God had recorded in His word:
9 Remember the former things of old,
For I am God, and there is no other;
I am God, and there is none like Me,
10 Declaring the end from the beginning,
And from ancient times things that are not yet done,
Saying, 'My counsel shall stand,
And I will do all My pleasure,'
11 Calling a bird of prey from the east,
The man who executes My counsel, from a far country.
Indeed I have spoken it;
I will also bring it to pass.
I have purposed it;
I will also do it. (Isaiah 46:9-11)
God's counsel will stand. That includes prophecies from the Bible.
As far as Nomura goes, last year it also had a list of 10 grey swan events (watch Twelve 'grey swan' events to watch for in 2017?)–but as it did not look at scripture, many events it mentioned did not happen–though some could happen later.
The reality is that world events are lining up with properly understood biblical prophecies.
Europe is working on its military, will one day reorganize, and unite (Revelation 17:12-13).
We in the Continuing Church of God "have also a more sure word of prophecy; whereunto ye do well that ye take heed, as unto a light that shineth in a dark place, until the day dawn, and the day star arise in your hearts" (2 Peter 1:19, KJV).
Some items of possibly related interest may include:
Anglo – America in Prophecy & the Lost Tribes of Israel Are the Americans, Canadians, English, Scottish, Welsh, Australians, Anglo-Saxon (non-Dutch) Southern Africans, and New Zealanders descendants of Joseph? Where are the lost ten-tribes of Israel? Who are the lost tribes of Israel? What will happen to Jerusalem and the Jews in Israel? Will God punish the U.S.A., Canada, United Kingdom, and other Anglo-Saxon nations? Why might God allow them to be punished first? Here is a link to the Spanish version of this article: Anglo-América & las Tribus Perdidas de Israel. Information is also in the YouTube sermons titled Where are the Ten Lost Tribes? Why does it matter? and British are the Covenant People. A short YouTube of prophetic interest may be Barack Obama and the State of the Apocalypse.
Will the Anglo-Saxon Nations be Divided and Have People Taken as Slaves? Will the lands of the United States, United Kingdom, Canada, Australia, and New Zealand be divided? What about Jerusalem? What does Bible prophecy teach? Are there non-biblical prophecies that support this idea? Who will divide those lands? Who will end up with the lands and the people? Here is a link to a video titled Will the USA and other Anglo-nations be Divided and Their People Made Slaves? Here is a related item in the Spanish language ¿Serán divididas las naciones anglosajonas?
Forbes' Brexit Monster is the Beast of Revelation Various ones have been properly convinced that there is a plan for a European superstate. Forbes' writer Tom Worstall wrote that the Brexit vote was about the United Kingdom "not joining the monster of the European Union to come." The Bible tells of a Beast monster that will arise in the end times in Europe. Dr. Thiel cites news reports, as well as the Old and New Testaments, to show that the monster many fear will arise in Europe, despite the vote by the British to exit the European Union. This is a video.
Post Brexit Prophecy On June 23, 2016, the voters of the United Kingdom of Great Britain and Northern Ireland (UK) chose to leave the European Union. Now with this BRitish EXIT (Brexit) vote, what is prophesied to happen to the UK? Will the UK do well or be taken over and made slaves? Dr. Thiel explains from biblical prophecies what is ahead for the UK, Europe, and even the USA, Canada, Australia, and New Zealand. This is a video.
Brexit and the fate of Northern Ireland, Gibraltar, the UK, and the USA On April 29, 2017, 27 of the nations of the European Union agreed to certain guidelines for the negotiations with the United Kingdom of Great Britain and Northern Ireland which gave its notice to leave on March 29, 2017. These guidelines are contrary to what the UK wants. Does the EU intend the UK to pay a price for leaving the EU? What does Spain want? What does the Republic of Ireland want? Will Northern Ireland and Gibraltar eventually fall under European control? Will the UK and USA be conquered? What does the Bible teach? Dr. Thiel answer these questions and more in this video.
Christian Repentance Do you know what repentance is? Is it really necessary for salvation? A related sermon is Confess to God and truly repent.
Is the USA now an Evil Empire? Dr. Thiel gives many reasons to consider. A related video is also available: Is the USA an Evil Empire?
USA in Prophecy: The Strongest Fortresses Can you point to scriptures, like Daniel 11:39, that point to the USA in the 21st century? This article does. A related sermon is titled: Do these 7 prophesies point to the end of the USA?
Europa, the Beast, and Revelation Where did Europe get its name? What might Europe have to do with the Book of Revelation? What about "the Beast"? Is an emerging European power "the daughter of Babylon"? What is ahead for Europe? Here is a link to a video titled: Can You Prove that the Beast to Come is European?
European Technology and the Beast of Revelation Will the coming European Beast power would use and develop technology that will result in the taking over of the USA and its Anglo-Saxon allies? Is this possible? What does the Bible teach? Here is a related YouTube video: Military Technology and the Beast of Revelation.
Must the Ten Kings of Revelation 17:12 Rule over Ten Currently Existing Nations? Some claim that these passages refer to a gathering of 10 currently existing nations together, while one group teaches that this is referring to 11 nations getting together. Is that what Revelation 17:12-13 refers to? The ramifications of misunderstanding this are enormous. A related sermon is titled Ten Kings of Revelation and the Great Tribulation.
Can those in the USA/UK see the Handwriting on the Wall? Is everything fine in the USA/UK or is it like the days of Noah? Can we learn from the handwriting that appeared on a wall thousands of years ago? Here is a link to a related YouTube video Can you see the 'Handwriting on the Wall'?
Four Horsemen of the Apocalypse What do each of the four horseman of the Apocalypse represent? Have they began their ride? Did Jesus discuss the any of this? Might their rides coincide with the "beginning of sorrows? Do they start their ride prior to the Great Tribulation? Did Nostradamus or any other 'private prophets' write predictions that may mislead people so that they may not understand the truth of one or more of the four horseman? There is also a related YouTube video titled The Four Horsemen of the Apocalypse.
Who is the King of the West? Why is there no Final End-Time King of the West in Bible Prophecy? Is the United States the King of the West? Here is a version in the Spanish language: ¿Quién es el Rey del Occidente? ¿Por qué no hay un Rey del Occidente en la profecía del tiempo del fin?
Who is the King of the North? Is there one? Do biblical and Roman Catholic prophecies for the Great Monarch point to the same leader? Should he be followed? Who will be the King of the North discussed in Daniel 11? Is a nuclear attack prophesied to happen to the English-speaking peoples of the United States, Great Britain, Canada, Australia, and New Zealand? When do the 1335 days, 1290 days, and 1260 days (the time, times, and half a time) of Daniel 12 begin? When does the Bible show that economic collapse will affect the United States? In the Spanish language check out ¿Quién es el Rey del Norte? Here is a link to a video titled: The Future King of the North.
Does God Have a 6,000 Year Plan? What Year Does the 6,000 Years End? Was a 6000 year time allowed for humans to rule followed by a literal thousand year reign of Christ on Earth taught by the early Christians? Does God have 7,000 year plan? What year may the six thousand years of human rule end? When will Jesus return? 2026 or 20xx? There is also a video titled The 6000 Year Plan: Is the end of humanity's reign almost up? Here is a link to the article in Spanish: ¿Tiene Dios un plan de 6,000 años?
When Will the Great Tribulation Begin? 2018, 2019, or 2020? Can the Great Tribulation begin today? What happens before the Great Tribulation in the "beginning of sorrows"? What happens in the Great Tribulation and the Day of the Lord? Is this the time of the Gentiles? When is the earliest that the Great Tribulation can begin? What is the Day of the Lord? Who are the 144,000? Here is a version of the article in the Spanish language: ¿Puede comenzar la Gran Tribulación en 2018 o 2019? ¿Es el Tiempo de los Gentiles? You can also see the English language sermon videos: The Great Tribulation from the Mount of Olives and Can the Great Tribulation begin before 2020? A shorter video is: Can the Great Tribulation begin in 2018?
The Times of the Gentiles Has there been more than one time of the Gentiles? Are we in it now or in the time of Anglo-America? What will the final time of the Gentiles be like? A related sermon is available and is titled: The Times of the Gentiles.
World War III: Steps in Progress Are there surprising actions going on now that are leading to WWIII? Might a nuclear attack be expected? Does the Bible promise protection to all or only some Christians? How can you be part of those that will be protected? A related video would be Is World War III About to Begin? Can You Escape?
Donald Trump in Prophecy Prophecy, Donald Trump? Are there prophecies that Donald Trump may fulfill?  Are there any prophecies that he has already helped fulfill?  Could a Donald Trump presidency be apocalyptic?  A related video is titled: Donald: 'Trump of God' or Apocalyptic?
Trump Presidency Magic 8 Ball or Bible Prophecy? BBC reported that one might as well use a 'Magic Eight-Ball' to try to predict what will happen in the remaining time of Donald Trump's presidency. What is a 'Magic Eight-Ball'? Dr. Thiel not only explains that, but also briefly goes over 10 biblically-based warnings he wrote would happen if Donald Trump were elected that have already began to come to pass. He also goes over something he wrote back in 2008 that the Trump presidency is also helping lead to fulfillment. Should you trust Bible prophecy or not? Dr. Thiel says that Bible prophecy can be trusted, despite the view of skeptics and others that either overlook or despise the Bible. This is a video.
Donald Trump and America's Apocalypse This 188 page book is for people truly interested in prophecies related to Donald Trump and the United States, including learning about several that have already been fulfilled and those that will be fulfilled in the future. The physical book can be purchased at Amazon for $12.99 from the following link: Donald Trump and America's Apocalypse.
Donald Trump and America's Apocalypse-Kindle Edition This electronic version of the 188 page print edition is available for only US$3.99. And you do not need an actual Kindle device to read it. Why? Amazon will allow you to download it to almost any device: Please click HERE to download one of Amazon s Free Reader Apps. After you go to for your free Kindle reader and then go to Donald Trump and America's Apocalypse-Kindle Edition.