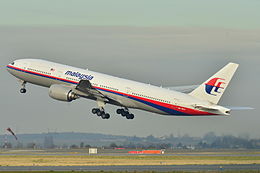 Missing Malaysian Aircraft for Flight MH370 (Laurent ERRERA)

A reader tipped me off to the following:
September 3, 2014

Libyan Islamist rebels pose with planes seized from Tripoli airport as U.S. officials warn they could be used to carry out terrorist attack on 9/11 anniversary

Eleven planes missing from Tripoli Airport after it was taken by Islamic rebels
Fighters from group Libyan Dawn have posed for pictures with aircraft

U.S. officials warn planes could be used to carry out terror attacks on 9/11

September 11 also marks anniversary of attack on US embassy in Libya

A total of 11 commercial jets from state-owned carriers Libyan Airlines and Afriqiyah Airways went missing in August after militants from the so-called 'masked men brigade' overran the airport. http://www.dailymail.co.uk/news/article-2741428/Officials-warn-ELEVEN-missing-airplanes-Libya-used-carry-terrorist-attack-9-11-anniversary.html#ixzz3CGtILzPO

Islamist militias in Libya took control of nearly a dozen commercial jetliners last month, and western intelligence agencies recently issued a warning that the jets could be used in terrorist attacks across North Africa.

Intelligence reports of the stolen jetliners were distributed within the U.S. government over the past two weeks and included a warning that one or more of the aircraft could be used in an attack later this month on the date marking the anniversary of the Sept. 11, 2001, terrorist attacks against New York and Washington, said U.S. officials familiar with the reports.

"There are a number of commercial airliners in Libya that are missing," said one official. "We found out on September 11 what can happen with hijacked planes."
Last March, the government of Malaysia announced that the disappearance of flight MAS 370 was deliberate (see Malaysian government says flight disappearance was deliberate).
At the time, I reported speculation that the Malaysian aircraft either was deliberately crashed into the sea or that whoever was involved in changing its course, took and hid the aircraft for future use. Even now, no credible ransom demands have been made public. This whole matter sounds like a terrorist and/or suicide incident. Yet, no credible terrorist claims from any group have been made public–terrorists tend to want publicity, so this is a reason some wonder if it was a terrorist incident. Of course, if the objective was to actually take the aircraft and use it in the future as part of some terror plot, then that could explain why no public claims from the kidnappers have been made. It is also possible that this is part of a bigger terrorist plot to frighten people away from flying and perhaps more aircraft will be taken in the future.
Terrorism is essentially listed as a curse in the Hebrew scriptures and is prophesied to be a problem:
14 'But if you do not obey Me, and do not observe all these commandments, 15 and if you despise My statutes, or if your soul abhors My judgments, so that you do not perform all My commandments, but break My covenant, 16 I also will do this to you: I will even appoint terror over you, wasting disease and fever which shall consume the eyes and cause sorrow of heart. And you shall sow your seed in vain, for your enemies shall eat it. 17 I will set My face against you, and you shall be defeated by your enemies. Those who hate you shall reign over you, and you shall flee when no one pursues you. (Leviticus 26:14-17)

25 The sword shall destroy outside; There shall be terror within (Deuteronomy 32:25)

12 "Cry and wail, son of man; For it will be against My people, Against all the princes of Israel. Terrors including the sword will be against My people; Therefore strike your thigh. (Ezekiel 21:12)

12 Behold, these are the ungodly,Who are always at ease; They increase in riches…19 Oh, how they are brought to desolation, as in a moment! They are utterly consumed with terrors. (Psalms 73:12,19)

25 Because you disdained all my counsel, And would have none of my rebuke, 26 I also will laugh at your calamity; I will mock when your terror comes, 27 When your terror comes like a storm, And your destruction comes like a whirlwind, When distress and anguish come upon you. (Proverbs 1:25-27)

5 Also they are afraid of height, And of terrors in the way (Ecclesiastes 12:5).
Jihadist gains in various parts of the world are a prelude to more terrorism and change.  The Bible also teaches that a confederation against the USA, its Anglo-Saxon allies, and Israel involving Arab and European forces is coming (Psalm 83:3-8).  And I have long believed that terrorism will have to be part of this.
The  use of terrorism in these times is consistent with some warnings in the Greek scriptures as well, as Jesus taught:
7…But when you hear of wars and rumors of wars, do not be troubled; for such things must happen, but the end is not yet. 8 For nation will rise against nation, and kingdom against kingdom. And there will be earthquakes in various places, and there will be famines and troubles. These are the beginnings of sorrows. (Mark 13:7-8)
Although the Great Tribulation has still not began, we seem to be in the time that Jesus referred to as the "beginning of sorrows," hence we will see more troubles, etc.
While the Bible suggests that some religious zealots will use terrorism, violent terror is totally inconsistent with the message of the Bible. Those who practice various forms of terrorism do not know the God of the Bible:
1 These things I have spoken to you, that you should not be made to stumble. 2 They will put you out of the synagogues; yes, the time is coming that whoever kills you will think that he offers God service. 3 And these things they will do to you because they have not known the Father nor Me. (John 16:1-3)

9…"You shall love your neighbor as yourself." 10 Love does no harm to a neighbor; therefore love is the fulfillment of the law. (Romans 13:9-10)
Throughout history, terroristic and persecuting religious people have overlooked or discounted these scriptures and still do so today.
US President Barack Obama made some comments of prophetic interest today:
September 3, 2014

Obama said in Tallinn, Estonia, where he stopped before a summit of NATO members. "The United States will continue to lead a regional and international effort against the barbaric" and "empty" vision of Islamic State, he said. http://www.businessweek.com/news/2014-09-03/obama-says-regional-coalition-needed-to-stop-extremists

September 3, 2014

President Barack Obama said U.S. airstrikes have blunted the momentum of Islamic State militants in Iraq, and that now a regional strategy is needed to "degrade and destroy" the group.

Obama told reporters Wednesday in Estonia that the U.S. will continue leading a broader effort against what he called the "barbaric and ultimately empty vision" that the Islamic State group represents.

"We know that if we are joined by the international community, we can continue to shrink ISIL's sphere of influence, its effectiveness, its financing, its military capabilities to the point where it is a manageable problem," Obama said. "And the question is going to be making sure we've got the right strategy, but also making sure that we've got the international will to do it." http://www.voanews.com/content/obama-urges-regional-strategy-to-counter-islamic-states/2436877.html
A "regional' effort indicates that Barack Obama is advocating for some type of confederation of Arab and/or Turkish nations to come together somehow.  I warned about this back in 2009:
 Barack Hussein Obama… the fact is that no other U.S.A. president has ever been as close to Muslims as President Obama.  His historic June 2009 speech in Cairo laid out the fact that the U.S.A. is now taking a different, more cooperative, stance with the Islamic world.

Now, it needs to be made clear that the Bible predicts the rise in the end time of a Future King of the South…

Barack Obama has more early ties to Islam than has any President of the United States in history…it seems that his policies may lead to greater cooperation between the Arabic and non-Arabic Muslim nations, which at some point, must end up with a leader (whom the Shi'ites tend to call a Mahdi) whom the Bible warns will be the Future King of the South…

It seems clear that during his presidency, Barack Obama will be an enabler in the sense that his policies will help lead to the rise of the prophesied final Kings of the North and South that Daniel 11 discusses. (Thiel B. , Nazarene Books, 2009, pp. 133-134, 138-139, 148)
I also warned about this in my more recent book, Barack Obama, Prophecy, and the Destruction of the United States-Second Edition for Second Obama Term.
Barack Obama also stated that it would take "international will to do it."  In other words, he wants the USA and Europe to back this (as well as probably Russia, who he is not on true speaking terms with at this time) idea of a regional solution–some type of a confederation of Islamic nations.
The Bible warns that the Europeans will make a deal with the Arabs (Psalm 83:3-8) which will not end up well for the USA, Canada, or the UK.  And Barack Obama has also taken steps to encourage the Europeans to be part of such a deal (see 10 Steps Obama Has Taken Leading to the Rise of the Beast).
Today's statements from him are a further nudge to Europe and the Islamic world to form the Kingdoms of the North and South (Daniel 11:27-44).  And if the commercial aircraft are part of a sufficiently destructive attack against the West, others may also decide to support the idea of confederations in Europe and the Islamic world.
Some items of additional interest may include the following:
Libya, Algeria, Morocco, and Tunisia in Prophecy What is ahead for North Africa? What does the Bible teach?
The Prophesied 'Islamic' Confederation Where is an Islamic caliphate prophesied? Will one happen? Should you be concerned about it? A related video is Will an Arabic Calphiphate Destroy the West?
Is the Future King of the South Rising Up? Some no longer believe there needs to be a future King of the South. Might Egypt, Islam, Iran, Arabs, or Ethiopia be involved? Might this King be called the Mahdi or Caliph? What does the Bible say? A YouTube video of related interest may be: The Future King of the South is Rising.
The Muslim Brotherhood and the Rise of the King of the South The Bible tells of the formation of a power of nations that are in the Middle East and North Africa that are part of the final "King of the South" (Daniel 11:40-43) The Muslim Brotherhood wishes to have an Islamic empire with basically the same nations. This YouTube video explains what to expect from such a confederation.
The Arab and Islamic World In the Bible, History, and Prophecy The Bible discusses the origins of the Arab world and discusses the Middle East in prophecy. What is ahead for the Middle East and those who follow Islam? What about the Imam Mahdi? What lies ahead for Turkey, Iran, and the other non-Arabic Muslims? An item of possibly related interest in the Spanish language would be: Líderes iraníes condenan la hipocresía de Occidente y declaran que ahora es tiempo para prepararse para el Armagedón, la guerra, y el Imán Mahdi.
Gaza and the Palestinians in Bible Prophecy What does the Bible teach about Gaza and the fate of the Palestinians? Here is a link to a related video: Gaza and Palestine in Prophecy.
Damascus and Syria in Prophecy Will Bashar Assad hold power as he has it? Does the Bible show that Damascus, the capital of Syria, will be destroyed? What will happen to Syria? Will the Syrians support the final King of the South that the Bible tells will rise up? Which scriptures discuss the rise and fall of an Arabic confederation? Does Islamic prophecy predict the destruction of Syria. This is a YouTube video.
Egypt in Prophecy Does Egypt have a special role in end time prophecy? Will Egypt rise up and then be defeated. What does God teach will happen to those in Egypt? Here is a link to a YouTube video titled Egypt and End Time Prophecy.
Iraq, the King of the South, Armageddon, and Prophecy What will happen to Iraq? Is it the prophesied Mystery Babylon? What is Armageddon and how does that have to do with Iraq? Here is a related video Iraq, Armageddon, & Prophecy.
Iran in Prophecy Is Iran in Bible prophecy? If so, what does the Bible teach? What names, other than Persia, may be used to describe Iran? There is also a YouTube video titled Iran in Prophecy. Here is a related video Iran In Prophecy.
What Should You Know About Turkey in Prophecy Do you know the Turkish people descended from? Did the Ottoman Empire possibly fulfill a promise in Genesis? Will Turkey support the European King of the North or Arabic King of the South? Will it betray one of them? Will Turkey be involved in the encouraging the destruction of Israel? Is Turkey going to become Catholic? Is Turkey mentioned in Psalm 83, Daniel 11, and elsewhere in the Bible? This video provides answers.
When Will the Great Tribulation Begin? 2014, 2015, or 2016? Can the Great Tribulation begin today? What happens before the Great Tribulation in the "beginning of sorrows"? What happens in the Great Tribulation and the Day of the Lord? Is this the time of the Gentiles? When is the earliest that the Great Tribulation can begin? What is the Day of the Lord? Who are the 144,000? Here is a version of the article in the Spanish language: ¿Puede comenzar la Gran Tribulación en 2013 o 2014? ¿Es el Tiempo de los Gentiles? You can also see the English language video The Great Tribulation Will Not Begin Before 2017.
Barack Obama, Prophecy, and the Destruction of the United States-Second Edition for Second Obama Term This is a 160 page book for people truly interested in prophecies related to Barack Obama and the United States, including learning about many that have already been fulfilled (which the book documents in detail) and those that will be fulfilled in the future. It also has a chapter about a Republican choice. This book is available to order at www.barackobamaprophecy.com. The physical book can also be purchased at Amazon from the following link: Barack Obama, Prophecy, and the Destruction of the United States: Is Barack Obama Fulfilling Biblical, Islamic Catholic, Kenyan, and other America-Related Prophecies? What About Republican Leaders? Second Edition for Second Obama Term.
Barack Obama, Prophecy, and the Destruction of the United States-Second Term-Amazon Kindle edition. This electronic version is available for only US$2.99. And you do not need an actual Kindle device to read it. Why? Amazon will allow you to download it to almost any device: Please click HERE to download one of Amazon s Free Reader Apps. After you go to for your free Kindle reader and then go to Barack Obama, Prophecy, and the Destruction of the United States-Second Term-Amazon Kindle edition.