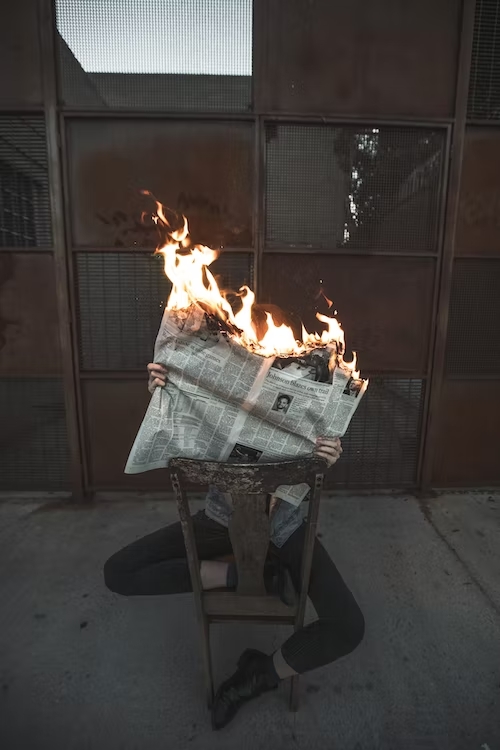 (Pixabay photo)
Some are recognizing problems in the world, though most seem to act like everything will be better than it will be. Notice the following:
A World on Fire

Every day, news reporters, traders, and workers of all sorts the world over wake to do their work as they always have. Part of that requires that everyone pretend that life is normal, fixable, and more or less stable. All of this is temporary. It will come and go and really not be that bad.

Strange, isn't it? Human beings have a hard time adjusting to disaster, in their decision-making and even in their mindset. Reporters have to do their jobs as they are trained. Traders too. Everyone does. They please their bosses. They don't sound alarms. They don't scream and yell as they probably should.

But there is a moment in the day when the work is done and perhaps a cocktail comes out or the dishes are washed and the kids are in bed and the room falls silent. At this moment, millions and billions of people the world over know it. Disaster is all around us. We are just pretending otherwise, simply because this is what we have to do.  …

London. The price of energy for heat has nearly doubled, seemingly overnight. … We are already approaching 100% inflation in energy.  …

Until recently, Americans have looked at the chaos abroad and thought oh that's what these weird foreign people do, just strange stuff with unstable governments and unsound financial systems. And yet right now it is happening to our mirror country across the pond, a place that Americans think of as cousins with a Royal family.

The remarkable thing is that the UK's monetary policy was not as bad as the U.S.'s own. The only difference is that there is a larger international market for dollars than for pounds. This allows the Fed a bit of breaking room to do more damage.

But can it happen here? Yes, certainly, and it could happen before year's end. The policies of the last three years have created an incredible powder keg. No one knows when it will go off, and no one knows what to do when it happens.

There are so many other data points: missing workers, food shortages, political instability, and the breathtaking entrenchment of Xi-backed lockdowns in China.

The world is on fire. Most people are not willing to think about it or talk about it. Yet. 09/10/22 https://brownstone.org/articles/a-world-on-fire/
Of course, many do not want to believe things can get worse.
On Sunday, I posted something from CNN hopeful that inflation had peaked, (CNN: The worst of inflation finally might be over ' COGwriter: No, the worst is yet to come), yet a couple of days later, ABC reported:
September 13, 2022

Inflation data released on Tuesday revealed that prices rose slightly in August, worsening the cost woes for U.S. households as the Federal Reserve readies to decide on another interest rate hike next week.

The data calls into question whether inflation has peaked.

On a monthly basis, the consumer price index rose 0.1% in August, inching upward from the flat month-to-month movement in July, according to the Bureau of Labor Statistics.

The consumer price index, or CPI, rose 8.3% over the past year in August … https://abcnews.go.com/Business/latest-price-data-show-inflation-continued-fall/story?id=89750041
Now, notice something about the European nation of Lithuania:
Lithuania is on the brink of a social explosion

September 14, 2022

Lithuania's annual inflation in August reached 22.4 percent. There were also big jumps in electricity prices on the market, another factor is expensive food products. In August, food products became 30 percent more expensive than a year ago. These two factors raised the population's dissatisfaction with the current Government. …

"It is obvious that the Government has lost the trust of the people of Lithuania," noted R. Žemaitaitis. https://theduran.com/lithuania-is-on-the-brink-of-a-social-explosion/
As far as inflation goes, the Continuing Church of God (CCOG) put together the following Bible News Prophecy video on our Bible News Prophecy YouTube channel:
Inflation has been higher in 2022 than it has been for decades in the USA, Europe, and many other lands. What are some of the disruptions that inflation can cause? What about hyperinflation affecting places like Venezuela? Did the Book of Haggai predict inflation? Is food price inflation associated with the ride of the third horseman of the Apocalypse? Does sin and government mismanagement cause inflation? Are there physical things one can do about inflation? What about storing food or buying gold? Will gold outlast the USA dollar? Why might some throw their gold in the street as Ezekiel prophesied? What should God's people do about inflation? What did Jesus teach about food worries? What about seeking the Kingdom of God? Steve Dupuie and Dr. Thiel cover these matters.
Here is a link to our video: Inflation: When Money Fails.
That said, much is going on that most people do not seem to grasp.
The world seems to be on fire with signs that relate to the rides of the four horsemen of the Apocalypse.
Related to that, we put out the following video on our Bible News Prophecy YouTube channel:
Are we at the time of the ride of at least some of the four horsemen of the Apocalypse? If so, are many prophecy watchers missing signs associated with them? History shows that authoritarian totalitarian regimes tend to arise after famines and/or pestilences. Those are events associated with three of the four horsemen of the Apocalypse. Could the beginning of sorrows, and the associated ride of the first horseman of false ecumenical religion, have started in the Fall of 2009? What is the significance of this rider having a bow? Is Satan the prince of the power of the air? Did Dr. Thiel warn of a prophetic threat of a "novel" coronavirus back in 2013? Could COVID-19 been related to the taking away the peace from the earth that is associated with the ride of the red horse, the second horsemen of war? What are some of the ramifications of the Russia-Ukraine military conflict and the opening of the second seal? Was Amos inspired to write that God does nothing without revealing it to his servants the prophets? Who warned of these matters? The ride of the third horse, the black horse of famine and food price inflation–specifically wheat, barley, edible oils, and wine. Since Ukraine is a major exporter of the first three, could this, as well as fertilizer shortages, have anything to do with the ride of that horseman? The pale horse of the fourth seal mentions one-quarter of humankind being subject to being killed by the sword, hunger, and pestilence–will this be a factor in the rise of the Beast of Revelation 13? Is persecution associated with the start of the Great tribulation and the rise of the Beast? Why is the Beast going to be in charge of a European-based empire? Will the opening of the first four seals and the starts of the rides of the four horsemen of the Apocalypse get Europe to reorganize such as is prophesied in Revelation 17:12-13? What does Jesus say you should do? Dr. Thiel addresses these matters and more in this video.
Here is a link to our video: These Signs of the 4 Horsemen Have Begun.
Are you awake to what is happening?
The Apostle Paul warned:
11 And do this, knowing the time, that now it is high time to awake out of sleep; for now our salvation is nearer than when we first believed. 12 The night is far spent, the day is at hand. Therefore let us cast off the works of darkness, and let us put on the armor of light. 13 Let us walk properly, as in the day, not in revelry and drunkenness, not in lewdness and lust, not in strife and envy. (Romans 13:11-13)

20 Do not despise prophecies. (1 Thessalonians 5:20)
Remember that Jesus said:
34 "But take heed to yourselves, lest your hearts be weighed down with carousing, drunkenness, and cares of this life, and that Day come on you unexpectedly. 35 For it will come as a snare on all those who dwell on the face of the whole earth. 36 Watch therefore, and pray always that you may be counted worthy to escape all these things that will come to pass, and to stand before the Son of Man." (Luke 21:34-36)
Do not be part of those who will not be ready.
Much of the world despises the word of God, including prophecies.
The prophet Isaiah was inspired to write:
8 Now go, write it before them on a tablet,
And note it on a scroll,
That it may be for time to come,
Forever and ever:
9 That this is a rebellious people,
Lying children,
Children who will not hear the law of the Lord;
10 Who say to the seers, "Do not see,"
And to the prophets, "Do not prophesy to us right things;
Speak to us smooth things, prophesy deceits.
11 Get out of the way,
Turn aside from the path,
Cause the Holy One of Israel
To cease from before us."

12 Therefore thus says the Holy One of Israel:

"Because you despise this word,
And trust in oppression and perversity,
And rely on them,
13 Therefore this iniquity shall be to you
Like a breach ready to fall,
A bulge in a high wall,
Whose breaking comes suddenly, in an instant.
14 And He shall break it like the breaking of the potter's vessel,
Which is broken in pieces;
He shall not spare.
So there shall not be found among its fragments
A shard to take fire from the hearth,
Or to take water from the cistern."

15 For thus says the Lord God, the Holy One of Israel:

"In returning and rest you shall be saved;
In quietness and confidence shall be your strength."
But you would not,  (Isaiah 30:8-15)
Yes, most will not wish to repent.
Do not think that is just for those in the world.
Notice what Jesus told the Laodiceans, which were to be the bulk of the actual Christians in the end times:
14 "And to the angel of the church of the Laodiceans write,

'These things says the Amen, the Faithful and True Witness, the Beginning of the creation of God: 15 "I know your works, that you are neither cold nor hot. I could wish you were cold or hot. 16 So then, because you are lukewarm, and neither cold nor hot, I will vomit you out of My mouth. 17 Because you say, 'I am rich, have become wealthy, and have need of nothing' — and do not know that you are wretched, miserable, poor, blind, and naked — 18 I counsel you to buy from Me gold refined in the fire, that you may be rich; and white garments, that you may be clothed, that the shame of your nakedness may not be revealed; and anoint your eyes with eye salve, that you may see. 19 As many as I love, I rebuke and chasten. Therefore be zealous and repent. 20 Behold, I stand at the door and knock. If anyone hears My voice and opens the door, I will come in to him and dine with him, and he with Me. 21 To him who overcomes I will grant to sit with Me on My throne, as I also overcame and sat down with My Father on His throne.

22 "He who has an ear, let him hear what the Spirit says to the churches."'" (Revelation 3:14-22)
Laodiceans do NOT accept how God is working in these days and, though they claim otherwise, do despise prophecies, such as Acts 2:17-18.
But YOU can repent and even have physical protection promised by Jesus to the Philadelphians (Revelation3:7-10; see also There is a Place of Safety for the Philadelphians. Why it May Be Near Petra).
Do you see what is happening in the world?
If so, will YOU properly respond?
Some items of related interest may include:
6. The Philadelphia Church Era was predominant circa 1933 A.D. to 1986 A.D. The old Radio Church of God and old Worldwide Church of God, now the remnant of that era is basically the most faithful in the Church of God, like who hold to the beliefs and practices of the Continuing Church of God.
7. The Laodicean Church Era has been predominant circa 1986 A.D. to present. The Laodiceans are non-Philadelphians who mainly descended from the old WCG or its offshoots.  They do not properly understand the work or biblical prophecies and will face the Great Tribulation if they do not repent. One video of related interest is 50+ Laodicean Prophetic Errors. See also Do You Hold to Any of These Laodicean Prophetic Errors?
Does the CCOG have the confirmed signs of Acts 2:17-18? Does any church have the confirmed dream and prophetic signs of Acts 2:17-18? Should one? Here is a link in the Spanish language: ¿Tiene la CCOG confirmadas las señales de Hechos 2: 17-18? Here is a link in the French language: Est-ce que l'Église Continue de Dieu confirme les signes d'Actes 2:17-18? A related sermon in the English language is also available: 17 Last Days' Signs of the Holy Spirit.
When Will the Great Tribulation Begin? 2022, 2023, or 2024? Can the Great Tribulation begin today? What happens before the Great Tribulation in the "beginning of sorrows"? What happens in the Great Tribulation and the Day of the Lord? Is this the time of the Gentiles? When is the earliest that the Great Tribulation can begin? What is the Day of the Lord? Who are the 144,000? Here is a version of the article in the Spanish language: ¿Puede la Gran Tribulación comenzar en el 2020 o 2021? ¿Es el Tiempo de los Gentiles? A related video is: Great Tribulation: 2026 or 2027? A shorter video is: Can the Great Tribulation start in 2022 or 2023? Here is a video in the Spanish language: Es El 2021 el año de La Gran Tribulación o el Grande Reseteo Financiero.
Might the U.S.A. Be Gone by 2028? Are there prophetic reasons to believe that the USA will not last two complete presidential terms? Yes. There is a tradition attributed to the Hebrew prophet Elijah that humanity had 6,000 years to live before being replaced by God's Kingdom. There are scriptures, writings in the Talmud, early Christian teachings that support this. Also, even certain Hindu writings support it. Here is a link to a related video: Is the USA prophesied to be destroyed by 2028? In Spanish: Seran los Estados Unidos Destruidos en el 2028?
Biden-Harris: Prophecies and Destruction Can the USA survive two full presidential terms? In what ways are Joe Biden and Kamala Harris apocalyptic? This book has hundreds of prophecies and scriptures to provide details. A Kindle version is also available and you do not need an actual Kindle device to read it. Why? Amazon will allow you to download it to almost any device: Please click HERE to download one of Amazon s Free Reader Apps. After you go to your free Kindle reader app (or if you already have one or a Kindle), you can go to: Biden-Harris: Prophecies and Destruction (Kindle) to get the book in seconds.
There is a Place of Safety for the Philadelphians. Why it May Be Near Petra This article discusses a biblical 'place of safety,' Zephaniah 2 to 'gather together,' and includes quotes from the Bible and Herbert W. Armstrong on fleeing to a place–thus, there is a biblically supported alternative to the rapture theory. Two sermon-length videos of related interest are available Physical Protection During the Great Tribulation and Might Petra be the Place of Safety? Here is something related in the Spanish language: Hay un lugar de seguridad para los Filadelfinos. ¿Puede ser Petra?
Is God Calling You? This booklet discusses topics including calling, election, and selection. If God is calling you, how will you respond? Here is are links to related sermons: Christian Election: Is God Calling YOU? and Predestination and Your Selection. A short animation is also available: Is God Calling You?
Christian Repentance Do you know what repentance is? Is it really necessary for salvation? Two related sermons about this are also available: Real Repentance and Real Christian Repentance.