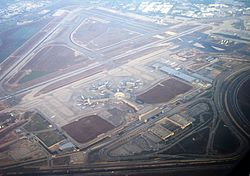 Aerial view of Ben Gurion International Airport

While Israel continued its offensive in Gaza today, the airline community is concerned as a Hamas rocket hit near Israel's Ben Gurion International Airport:
July 22, 2014

The U.S. Federal Aviation Administration, FAA, is prohibiting U.S. airlines from flying to Israel's international airport in Tel Aviv for 24 hours, after a rocket fired by Hamas militants in Gaza landed nearby, damaging a house and slightly injuring one Israeli. European airlines quickly canceled their flights as well.

Delta, US Airways and United Airlines had already called off their flights Tuesday after hearing about the rocket that landed about 1.6 kilometers from Ben Gurion Airport.  The United States at first said it had not issued any restrictions, but then the Federal Aviation Administration ordered the ban and said it would continue to monitor the situation.

Delta said in a statement that it has suspended operations "until further notice" to and from Ben Gurion International Airport in Tel Aviv and its hub at New York's John F. Kennedy Airport. The Atlanta-based carrier said it was doing so in coordination with the Federal Aviation Administration "to ensure the safety of our customers and employees."

Delta diverted one of its New York-to-Tel Aviv flights to Paris after hearing of the attack.

U.S. Airways, which flies from Philadelphia, Pennsylvania to Tel Aviv, called off its Tuesday flight, while United Airlines indefinitely canceled its flights from Newark, New Jersey to Tel Aviv.

Dutch national carrier KLM canceled its flight from Amsterdam, while Air France and Germany's Lufthansa also called off their flights to Tel Aviv.

The announcement comes as officials meeting at the International Air Transport Association in Berlin said governments should take the lead on reviewing how risk assessments for airspace are made.  http://www.voanews.com/content/reu-delta-us-airways-halt-flights-to-israel-/1962810.html

July 22, 2014

Air Canada has cancelled its scheduled flight to Tel Aviv from Toronto tonight, following the lead of other airlines concerned about rocket fire near Ben Gurion Airport.

Air Canada had a flight scheduled to leave for Tel Aviv from Toronto at 6:10 p.m. ET. The airline will continue to evaluate the situation and provide updates as needed, a spokeswoman said. http://www.cbc.ca/news/world/israel-gaza-conflict-air-canada-cancels-tel-aviv-flight-over-safety-concerns-1.2714488
While the FAA has a 24 hour ban currently, the various airlines who made the decision to not fly on their own may decide to wait much longer to resume their flights.
Hamas warned that Israel would pay a 'heavy price' for what it was doing last Friday (see Israel continues Gaza offensive as Hamas warns 'Israel will pay a heavy price').  Stopping major international flights into and out of Israel's main airport certainly is a price.  And one that Israel probably did not expect.
Notice also:
Diplomats stepped up pressure on Hamas to accept a cease-fire in Gaza and end a conflict that has killed more than 600 people, as global airlines suspended flights to Tel Aviv because of rocket fire.

U.S. Secretary of State John Kerry, who's in Cairo to promote the Egyptian plan for a truce, said Hamas has "a fundamental choice to make." Leaders of the Palestinian Authority, Hamas's rival, said the proposed cease-fire should be followed by five days of talks. Hamas rejected the Egyptian initiative last week, saying it wasn't consulted, and is demanding the lifting of economic curbs on the Gaza Strip.

Israel sent troops into Gaza last week and it has been bombarding it for more than two weeks, saying it aims to stop a barrage of rockets fired by militants from the territory…Shortly before Kerry arrived in Cairo, Hamas political leader Ismail Haniyeh said his group wouldn't back down without pledges the Israeli blockade will be lifted. He also demanded that hundreds of Palestinians arrested in Israel's recent sweep of the West Bank be released…

About two-thirds of the Palestinians killed over the past two weeks are civilians, including 154 children, Gaza health official Ashraf al-Qedra said. Israel says Hamas uses civilians, including children, as human shields. The number of Gazans seeking shelter from the fighting with the UN Relief and Works Agency has exceeded 100,000, the agency said in an e-mailed statement.

At least 27 Israeli soldiers have been killed since ground troops entered Gaza last week, the military said, more than double the toll during Israel's last incursion in 2009. Two Israeli civilians have been killed by rockets since early July.

Israel said today that an infantryman is missing in Gaza, bearing the same name as a soldier Hamas militants say they're holding. Hamas hasn't said whether the soldier is dead or alive. Israel has in the past released Palestinian prisoners in return for the freeing of soldiers seized by militant groups.  http://www.bloomberg.com/news/2014-07-22/israel-declares-soldier-hamas-says-holds-in-gaza-missing.html
As far as Hamas goes, I believe that Hamas will eventually agree to some type of deal with Israel, while it will continue to plot to take further steps which it will consider is necessary for its version of revenge.
Depending upon what Hamas ultimately does and what Israel does in the future, it is likely that there will be many further deaths in the future.
The Bible tells of a time that a temporary 'peace' deal will be in place, but that particular one will not last according to what Daniel 9:27 teaches (for details, see The 'Peace Deal' of Daniel 9:27).
Some items of possibly related interest may include:
Is the Future King of the South Rising Up? Some no longer believe there needs to be a future King of the South. Might Egypt, Islam, Iran, Arabs, or Ethiopia be involved? Might this King be called the Mahdi or Caliph? What does the Bible say? A YouTube video of related interest may be: The Future King of the South is Rising.
The Prophesied 'Islamic' Confederation Where is an Islamic caliphate prophesied? Will one happen? Should you be concerned about it?
The 'Peace Deal' of Daniel 9:27 This prophecy could give up to 3 1/2 years advance notice of the coming Great Tribulation. Will most ignore or misunderstand its fulfillment? Here is a link to a related sermon video Daniel 9:27 and the Start of the Great Tribulation.
The Arab and Islamic World In the Bible, History, and Prophecy The Bible discusses the origins of the Arab world and discusses the Middle East in prophecy. What is ahead for the Middle East and those who follow Islam? What about the Imam Mahdi? What lies ahead for Turkey, Iran, and the other non-Arabic Muslims? An item of possibly related interest in the Spanish language would be: Líderes iraníes condenan la hipocresía de Occidente y declaran que ahora es tiempo para prepararse para el Armagedón, la guerra, y el Imán Mahdi.
Who is the King of the North? Is there one? Do biblical and Roman Catholic prophecies for the Great Monarch point to the same leader? Should he be followed? Who will be the King of the North discussed in Daniel 11? Is a nuclear attack prophesied to happen to the English-speaking peoples of the United States, Great Britain, Canada, Australia, and New Zealand? When do the 1335 days, 1290 days, and 1260 days (the time, times, and half a time) of Daniel 12 begin? When does the Bible show that economic collapse will affect the United States? In the Spanish language check out ¿Quién es el Rey del Norte? Here is a link to a video titled: The Future King of the North.
Damascus and Syria in Prophecy Will Bashar Assad hold power as he has it? Does the Bible show that Damascus, the capital of Syria, will be destroyed? What will happen to Syria? Will the Syrians support the final King of the South that the Bible tells will rise up? Which scriptures discuss the rise and fall of an Arabic confederation? Does Islamic prophecy predict the destruction of Syria. This is a YouTube video.
Egypt in Prophecy Does Egypt have a special role in end time prophecy? Will Egypt rise up and then be defeated. What does God teach will happen to those in Egypt? Here is a link to a YouTube video titled Egypt and End Time Prophecy.
Iraq, the King of the South, Armageddon, and Prophecy What will happen to Iraq? Is it the prophesied Mystery Babylon? What is Armageddon and how does that have to do with Iraq? Here is a related video Iraq, Armageddon, & Prophecy.
Iran in Prophecy Is Iran in Bible prophecy? If so, what does the Bible teach? What names, other than Persia, may be used to describe Iran? There is also a YouTube video titled Iran in Prophecy. Here is a related video Iran In Prophecy.
What Should You Know About Turkey in Prophecy Do you know the Turkish people descended from? Did the Ottoman Empire possibly fulfill a promise in Genesis? Will Turkey support the European King of the North or Arabic King of the South? Will it betray one of them? Will Turkey be involved in the encouraging the destruction of Israel? Is Turkey going to become Catholic? Is Turkey mentioned in Psalm 83, Daniel 11, and elsewhere in the Bible? This video provides answers.
Jerusalem: Past, Present, and Future What does the Bible say about Jerusalem and its future? Is Jerusalem going to be divided and eliminated? Is Jesus returning to the area of Jerusalem? There is also a related YouTube video you can watch titled Jerusalem To be divided and eliminated.
Anglo – America in Prophecy & the Lost Tribes of Israel Are the Americans, Canadians, English, Scottish, Welsh, Australians, Anglo (non-Dutch) Southern Africans, and New Zealanders descendants of Joseph? Where are the lost ten-tribes of Israel? Who are the lost tribes of Israel? What will happen to Jerusalem and the Jews in Israel? Will God punish the U.S.A., Canada, United Kingdom, and other Anglo nations? Why might God allow them to be punished first? Here is a link to the Spanish version of this article: Anglo-América & las Tribus Perdidas de Israel. A video of possible interest may be Will Will USA Spying Help the Beast Power?
Will the Anglo-Nations be Divided and Have People Taken as Slaves? Will the lands of the United States, United Kingdom, Canada, Australia, and New Zealand be divided? What about Jerusalem? What does Bible prophecy teach? Are there non-biblical prophecies that support this idea? Who will divide those lands? Who will end up with the lands and the people? Here is a link to a video titled Will the USA and other Anglo-nations be Divided and Their People Made Slaves? Here is a related item in the Spanish language ¿Serán divididas las naciones anglosajonas?
Who is the King of the West? Why is there no End-Time King of the West in Bible Prophecy? Is the United States the King of the West?
When Will the Great Tribulation Begin? 2014, 2015, or 2016? Can the Great Tribulation begin today? What happens before the Great Tribulation in the "beginning of sorrows"? What is the seven-year deal? What happens in the Great Tribulation and the Day of the Lord? Is this the time of the Gentiles? When is the earliest that the Great Tribulation can begin? What is the Day of the Lord? Who are the 144,000?
Barack Obama, Prophecy, and the Destruction of the United States-Second Edition for Second Obama Term This is a 160 page book for people truly interested in prophecies related to Barack Obama and the United States, including learning about many that have already been fulfilled (which the book documents in detail) and those that will be fulfilled in the future. It also has a chapter about a Republican choice. This book is available to order at www.barackobamaprophecy.com. The physical book can also be purchased at Amazon from the following link: Barack Obama, Prophecy, and the Destruction of the United States: Is Barack Obama Fulfilling Biblical, Islamic Catholic, Kenyan, and other America-Related Prophecies? What About Republican Leaders? Second Edition for Second Obama Term.
Barack Obama, Prophecy, and the Destruction of the United States-Second Term-Amazon Kindle edition. This electronic version is available for only US$2.99. And you do not need an actual Kindle device to read it. Why? Amazon will allow you to download it to almost any device: Please click HERE to download one of Amazon s Free Reader Apps. After you go to for your free Kindle reader and then go to Barack Obama, Prophecy, and the Destruction of the United States-Second Term-Amazon Kindle edition.