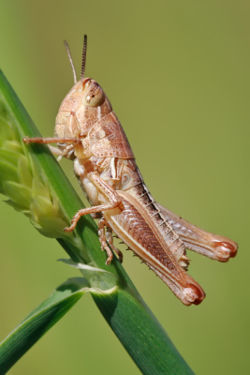 Young Grasshopper
A variety of weather and other non-human occurrences are affecting the planet, and are currently in the news.  The first two I would like to mention are locusts and caterpillars:
Swarms form on the horizon
Sydney Morning Herald – Dec 11, 2008
The drought has eased in NSW but plague locust conditions have worsened.
After spring rain, 55.5 per cent of NSW was drought declared in November, down from 62.8 per cent in October, while the area declared marginal fell from 17.4 per cent to 14.3 per cent.
The same rain, however, provided feed for locusts and made it difficult to control them with aerial spraying.
The flying swarms that started to form in the Riverina and the Central West early last month have laid eggs which are expected to start hatching before Christmas.
"Unfortunately, surveillance of current plague activity is indicating a much larger new generation will start hatching," said the Minister for Primary Industries, Ian Macdonald.
"Widespread hatching over more than 130,000 hectares is expected to peak between December 18 and the new year. Regular rainfall – while it has been good for the drought – has provided an ongoing feed supply, delayed spraying activities and discouraged locusts forming swarms large enough and dense enough to spray." http://www.smh.com.au/news/environment/swarms-form-on-the-horizon/2008/12/10/1228584929894.html
Government agencies to collaborate on Yandaran caterpillar plague
The Australian – Dec 11, 2008
QUEENSLAND government agencies and an insect expert will investigate a caterpillar infestation in the state's southeast.
Residents of Yandaran and surrounding suburbs north of Bundaberg say a caterpillar plague has been affecting their health and lifestyle for the past 18 months…
The species is a processionary caterpillar, which is a sub-species of the bag-shelter moth.

Caterpillar hairs cause skin irritations, can make dogs sick and have been linked to horse miscarriages.
One local woman says she has to wear a protective suit to stave off the insects.                                       http://www.theaustralian.news.com.au/story/0,25197,24784363-2702,00.html
The Bible indicates that when there are a lot of grasshoppers, that God expects His people to pray to Him:
28 When there is famine in the land, pestilence or blight or mildew, locusts or grasshoppers; when their enemies besiege them in the land of their cities; whatever plague or whatever sickness there is; 29 whatever prayer, whatever supplication is made by anyone, or by all Your people Israel, when each one knows his own burden and his own grief, and spreads out his hands to this temple: 30 then hear from heaven Your dwelling place, and forgive, and give to everyone according to all his ways, whose heart You know (for You alone know the hearts of the sons of men), 31 that they may fear You, to walk in Your ways as long as they live (2 Chronicles 6:28-31).
I would categorize what is happening in Australia as pestilence.  Notice the following scriptural warning:
23'And if by these things you are not reformed by Me, but walk contrary to Me, 24 then I also will walk contrary to you, and I will punish you yet seven times for your sins. 25 …when you are gathered together within your cities I will send pestilence among you (Leviticus 26:23-25).
And notice the following about weather:
Rare 50 year Arctic Blast Sets Sights On Southern California
OWSweather – Dec 8, 2008
With a week away, and a sure sign of things to come, OWSweather.com is making preparations on the server to handle the traffic from this next event. UJEAS is in line with the majority if not all the other models in keeping a near historical arctic air mass into the Southern California region…
"Temperatures in Siberia, Russia will be -81 degrees this week, "said Martin. "With those type of temperatures the arctic air mass has to spill somewhere. Our answer of the exact track will become more clear this week. All residents in the mountain communities should prepare this week for very cold, winter weather, with snow.".
Indications are a second, colder storm could hit near the 18th-22nd time-frame. The details on that will have to be sorted out. http://www.venturacountystar.com/news/2008/dec/08/rare-50-year-arctic-blast-sets-sights-on/
Drought parches much of the U.S., may get worse
CNN 12/11/08 By John Blake…
At least 36 states expect to face water shortages within the next five years, according to a report from the U.S. Government Accountability Office…
Yet most people don't need a federal agency to tell them there's a water shortage. Plenty of cities have implemented water bans while state squabbles over water usage are common in some regions. What may surprise people, though, are the causes for the recent drought.
It's not global warming, some climatologists say. The droughts are caused by rapid population growth and unwise agricultural choices. http://www.cnn.com/2008/TECH/science/12/11/drought.problem/index.html
Surprise flurries warm Houston hearts
Fluffy flakes bring delight to some, consternation to others — and tie a 64-year-old record
Houston Chronicle – Dec 10, 2008
Falling snowflakes glimmered in streetlights, so wide that they billowed to the ground like parachutes, and so tantalizing that even awestruck adults reached out their hands or stuck out their tongues to catch one.
By Wednesday evening, the flakes were big enough to hold their shape for a moment on the street before melting into the pavement, and a dusting had collected on parked cars in some parts of town.
The flurries tied a record for Houston's earliest snowfall ever…
Paul Ramirez spent several minutes digging through his truck Wednesday evening outside the Fry's electronics store on West Road, trying to find something he could use to scrape the ice and snow from the windshield of his truck.
"It's really coming down," said Ramirez, 33, as he tried dragging a large envelope across his window. "This is crazy. It's Houston — we shouldn't need to keep ice scrapers in our cars." http://www.chron.com/disp/story.mpl/front/6156862.html
We live in perilous times.  We are near the time that Jesus called "the beginning of sorrows: (Matthew 24:8).
The end (meaning the Great Tribulation) is coming, but not for a few years.
Some articles of related interest may include:
End of Mayan Calendar 2012–Might 2012 Mean Something? There is a Mayan calendar prediction for change in 2012. 2012 changes were also centuries ago predicted by the Hopi Native Americans and the Hindu Indians (who were not even on the same continent). Do these Mayan/Hindu/Hopi prophecies have any value? Why might Satan have inspired this date? Does the Dresden codex show destruction of the earth by flood? Can the great tribulation start before 2012?
Anglo – America in Prophecy & the Lost Tribes of Israel Are the Americans, Canadians, British, Scottish, Welsh, Australians, Anglo-Southern Africans, and New Zealanders descendants of Joseph? Where are the lost ten-tribes of Israel? Who are the lost tribes of Israel? Will God punish the U.S.A., Canada, United Kingdom, and other Anglo nations? Why might God allow them to be punished first?
Can the Great Tribulation Begin in 2009, 2010, or 2011? Can the Great Tribulation begin today? When is the earliest that the Great Tribulation can begin? What is the Day of the Lord?
Russia: Its Origins and Prophesied Future Where do the Russians come from? What is prophesied for Russia? What will it do to the Europeans that supported the Beast in the end?
Who is the King of the North? Is there one? Do biblical and Roman Catholic prophecies point to the same leader? Should he be followed? Who will be the King of the North discussed in Daniel 11? Is a nuclear attack prophesied to happen to the English-speaking peoples of the United States, Great Britain, Canada, Australia, and New Zealand? When do the 1335 days, 1290 days, and 1260 days (the time, times, and half a time) of Daniel 12 begin?