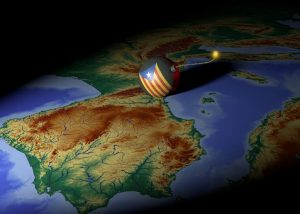 Map of Spain with a fuse lit on a Catalonian flag

Various ones are not pleased with what has been happening in/with Catalonia:
December 22, 2017

Pro-independence parties have won an absolute majority in elections in the Spanish region of Catalonia, dealing a blow to the Spanish government under Prime Minister Mariano Rajoy.

The election was called after Madrid sacked the Catalan government and arrested many secessionist leaders, after they tried to declare independence following a disputed referendum in October.

​Independence supporters gathered to celebrate the results Thursday night, as it became clear that the three pro-secessionist parties kept their overall majority by two seats.

Marta Rovira, secretary general of the Catalan Republic Left party, which won 32 seats, demanded the release of the jailed independence leaders.

"The republican and independence forces have again won the Catalan elections. We have won! Freedom! Freedom! The people have voted for freedom, for the government to return from exile!" Rovira told cheering supporters.

Among those in exile is former Catalonia President Carles Puigdemont, who fled to Belgium in October. In a defiant speech after the result, he pledged to return to Barcelona.

"Firstly, as president of Catalonia, I would like to congratulate the Catalan population for this great lesson in civicism and democracy: a record turnout, historic participation and a turnout which has led to a result that no one can dispute," Puigdemont said.

However, the result was not as emphatic as many had hoped, with the independence parties winning two fewer seats than in the previous election in 2015.

For the first time, a pro-Spanish unity party – Ciudadanos or "Citizens" – won the election, but was short of the numbers needed to form a government.

Prime Minister Rajoy had called on Catalan voters to restore political normality. Instead, they overwhelmingly rejected his Popular Party, which lost eight of its 11 seats.

The pro-independence parties will now seek to form a coalition government in Catalonia – and some party leaders say they now have a mandate to demand a legitimate referendum on independence from Madrid.

Spain, and Europe, had hoped that the election would end the political crisis. But the breakaway movement appears to be re-energized. https://www.voanews.com/a/pro-independence-wins-majority-in-catlan-vote/4174889.html

22 December 2017
Catalonia's ousted separatist leader, Carles Puigdemont, has called for new talks with Spain following a snap regional election.

He said he wanted them to take place in Brussels, where he is living in self-imposed exile, or another EU country.

He earlier declared that the Spanish state had been defeated in the Catalonia polls, as separatist parties still hold a slim, reduced majority.

The Spanish government is meeting to discussing its next steps.

"Catalonia wants to be an independent state. This is the wish of the Catalan people," said Mr Puigdemont, speaking in Belgium. "I think the plan of [Spanish Prime Minister] Mariano Rajoy is not working, so we have to find new ways to tackle this crisis."

It is unclear who will be given the right to form a government in Catalonia. http://www.bbc.com/news/world-europe-42451100
Spain and EU leaders have opposed the drive for independence by Catalonia. Notice some earlier comments from the European Union Commission President Jean-Claude Juncker:
MADRID — European Commission President Jean-Claude Juncker calls Catalonia's secessionist push a "disaster" and has reaffirmed Europe's support of a unified Spain.

Juncker tells the Spanish newspaper El Pais on Sunday that "Catalonia is an enormous concern. I don't like the situation it has provoked, it is a disaster." 11/19/17 https://www.ctvnews.ca/world/juncker-eu-backs-spain-in-fight-against-catalan-secession-1.3684516

EU commission chief Jean-Claude Juncker said … "But if you allow – and it is not up to us of course – but if Catalonia is to become independent, other people will do the same. I don't like that. I don't like to have a euro in 15 years that will be 100 different states. It is difficult enough with 17 states. With many more states it will be impossible," he added. https://euobserver.com/political/139461
Pope Francis expressed his concerns in late October and seemed to be referring to places like Catalonia when he denounced "Particular and nationalist agendas":
Pope Francis has warned Europeans against creating new divisions and building trenches, the former a reference to growing nationalism across the continent and the latter a reference to the carnage wrought by World War I.

He pointed to the two world wars that ravaged the Continent during the last century, and described peace as a "fragile good," when he spoke near the end of the two-day Catholic Church in the European Union (COMECE) conference on Europe's future that was held at the New Synod Hall in the Vatican City.

"Particular and nationalist agendas risk thwarting the courageous dreams of the founders of Europe," he said.

Pope Francis never mentioned the Catalan separatist movement or the British vote to leave the European Union, but he frequently referenced solidarity, teamwork and shared sacrifice.

"A European Union that, in facing its crises, fails to recover a sense of being a single community that sustains and assists its members – and not just a collection of small interest groups – would miss out not only on one of the greatest challenges of its history, but also on one of the greatest opportunities for its own future," the pope said.

He called on Europe to be a continent of peacemakers, and said it's not sufficient to sidestep inner tensions. It also requires a love of truth, pursuit of justice and creativity, he said. 10/28/17 http://www.dw.com/en/pope-francis-speaks-out-against-nationalism-in-europe/a-41155399
Pope Francis wants Europe to employ "creativity" with issues in Europe. That, in my view, is consistent with the type of reorganization that the Bible says will happen in Europe (cf. Revelation 17:12-13).
As far as what will happen with Europe and Catalonia, we made a video which is on our Bible News Prophecy YouTube channel:
There are problems within the European Union. Places, like Catalonia want to be independent of their nation (in the case of Catalonia, it declared independence from Spain–but Spanish King Felipe VI and the Spanish invoking of its constitutional article 155 oppose this). The European Union is concerned that these types of separations would render the EU ungovernable. Some have suggested regions to replace national governments in Europe. Does the Bible teach that Europe will have problems being united? Do the ten kings in Revelation 17:12 gain power in some type of reorganization that will not simply be across existing national boundaries? Will there be more civil unrest in Europe? Will a leader arise in Europe promising peace? Will he gain power? Does any of this have to do with the warring Beast of the Sea of Revelation 13 and the King of the North of Daniel 11? What does the Bible teach will happen to Europe? Dr. Thiel addresses these issues and more.
The Vatican has long pushed European unity.
The Bible tells of a Babylonian unity between Europe and the church on the seven-hills in Revelation 17:1-9.
Although that relationship will end (Revelation 17:15-16), the Bible tells of a religious leader who is instrumental in promoting the final European Beast of the sea in Revelation 13.
Catalonia will be part of that.
As mentioned above, Pope Francis called for "creativity" to resolve various European matters.
According to the Bible, a change in government structure will happen in Europe:
12 "The ten horns which you saw are ten kings who have received no kingdom as yet, but they receive authority for one hour as kings with the beast. 13 These are of one mind, and they will give their power and authority to the beast. (Revelation 17:12-13)
Many do not understand about this reorganization. But you can (see Must the Ten Kings of Revelation 17:12 Rule over Ten Currently Existing Nations?).
The Bible also shows that Europe will have problems getting along:
41 Whereas you saw the feet and toes, partly of potter's clay and partly of iron, the kingdom shall be divided; yet the strength of the iron shall be in it, just as you saw the iron mixed with ceramic clay. 42 And as the toes of the feet were partly of iron and partly of clay, so the kingdom shall be partly strong and partly fragile. 43 As you saw iron mixed with ceramic clay, they will mingle with the seed of men; but they will not adhere to one another, just as iron does not mix with clay. (Daniel 2:41-43)
And we see a mixture in Europe without true unity. Europe is fulfilling biblical prophecies.
Now notice from both the Old and New Testaments that Europe is NOT destined to bring in a real utopia, but the united European power will be eliminated by God:
44 And in the days of these kings the God of heaven will set up a kingdom which shall never be destroyed; and the kingdom shall not be left to other people; it shall break in pieces and consume all these kingdoms, and it shall stand forever. (Daniel 2:44)

14 These will make war with the Lamb, and the Lamb will overcome them, for He is Lord of lords and King of kings; and those who are with Him are called, chosen, and faithful. (Revelation 17:14)
As a religious leader, one would think that Pope Francis would realize this. Instead, he is being honored for working to set up the type of European Beast power that God will destroy.
Jesus did NOT come to bring worldwide unity in this age:
51 Do you suppose that I came to give peace on earth? I tell you, not at all, but rather division. (Luke 12:51)
The Bible shows that a false ecumenical unity will come (Revelation 13:4-8).
The Bible warns that nearly all on the earth in the final end times will be deceived by what will come out of Europe (2 Thessalonian 2:9-12) and fall for it (Revelation 13:8). Have the 'love of the truth' so that you will not fall for this as more and more are coming to believe that global human government is the key to peace.
Yet, the Bible says that Jesus is the 'Prince of Peace' (Isaiah 9:6) and it will take the return of Jesus Christ and the establishment of the millennial kingdom of God to bring peace–not the false political movements.
Some items of possibly related interest may include:
Europa, the Beast, and Revelation Where did Europe get its name? What might Europe have to do with the Book of Revelation? What about "the Beast"? Is an emerging European power "the daughter of Babylon"? What is ahead for Europe? Here is a link to a video titled: Can You Prove that the Beast to Come is European?
European Technology and the Beast of Revelation Will the coming European Beast power would use and develop technology that will result in the taking over of the USA and its Anglo-Saxon allies? Is this possible? What does the Bible teach? Here is a related YouTube video: Military Technology and the Beast of Revelation.
Must the Ten Kings of Revelation 17:12 Rule over Ten Currently Existing Nations? Some claim that these passages refer to a gathering of 10 currently existing nations together, while one group teaches that this is referring to 11 nations getting together. Is that what Revelation 17:12-13 refers to? The ramifications of misunderstanding this are enormous. A related sermon is titled Ten Kings of Revelation and the Great Tribulation.
Do You Know That Babylon is Forming? How is the final Babylon forming? Are Protestants such as Joel Osteen and Kenneth Copeland are endorsing something dangerous? Could Pope Francis be the 'False Prophet' that the Bible warns against? Is an antipope expected to endorse a one-world religion? Here is a link to a related written article In Vatican City: New Babylon more openly forming!
United Nations: Humankind's Last Hope or New World Order? Is the UN the last hope for humanity? Or might its goals end up with sinister results? A related video would be United Nations and Vatican Are Planning the New World Order.
Pope Francis: Could this Marian Focused Pontiff be Fulfilling Prophecy? Pope Francis has taken many steps to turn people more towards his version of 'Mary.' Could this be consistent with biblical and Catholic prophecies? This article documents what has been happening. There is also a video version titled Pope Francis: Could this Marian Focused Pontiff be Fulfilling Prophecy?
Anti-Pope Francis? Some cardinals and other members of the Roman Catholic clergy are concerned that Pope Francis has deviated from its traditional positions on matters such as homosexuality, salvation, fornication, remarriage, and other doctrines. Australian Cardinal George Pell even mentioned 'antipopes' when discussing Pope Francis. North American Cardinal Raymond Burke has raised many concerns about Francis' pontificate. Did Catholic saints teach that popes could become heretics? Will the final pope not be Catholic? Is an ecumenical pontiff possibly the final Antichrist? What do both biblical, and even Roman Catholic, prophecies warn about? Could Pope Francis be an antipope and final Antichrist? This is a new video.
TThe Gospel of the Kingdom of God This free online pdf booklet has answers many questions people have about the Gospel of the Kingdom of God and explains why it is the solution to the issues the world is facing. Here are links to three related sermons: The World's False Gospel, The Gospel of the Kingdom: From the New and Old Testaments, and The Kingdom of God is the Solution.
Did The Early Church Teach Millenarianism? Was the millennium (sometimes called chiliasm) taught by early Christians? Who condemned it? Will Jesus literally reign for 1000 years on the earth? Is this time near? Two related sermons are available Millennial Utopia and The Millennium.
Why Should American Catholics Fear Unity with the Orthodox? Are the current ecumenical meetings a good thing or will they result in disaster? Is doctrinal compromise good? Here is a link to a related video Should you be concerned about the ecumenical movement?
Will the Interfaith Movement Lead to Peace or Sudden Destruction? Is the interfaith movement going to lead to lasting peace or is it warned against?
Beware: Protestants Going Towards Ecumenical Destruction! What is going on in the Protestant world? Are Protestants turning back to their 'mother church' in Rome? Does the Bible warn about this? What are Catholic plans and prophecies related to this? Is Protestantism doomed? See also World Council of Churches Peace Plan.
Which Is Faithful: The Roman Catholic Church or the Continuing Church of God? Do you know that both groups shared a lot of the earliest teachings? Do you know which church changed? Do you know which group is most faithful to the teachings of the apostolic church? Which group best represents true Christianity? This documented article answers those questions.
Where is the True Christian Church Today? This free online pdf booklet answers that question and includes 18 proofs, clues, and signs to identify the true vs. false Christian church. Plus 7 proofs, clues, and signs to help identify Laodicean churches. A related sermon is also available: Where is the True Christian Church?
Continuing History of the Church of God This pdf booklet is a historical overview of the true Church of God and some of its main opponents from Acts 2 to the 21st century. Related sermon links include Continuing History of the Church of God: c. 31 to c. 300 A.D. and Continuing History of the Church of God: 4th-16th Centuries and Continuing History of the Church of God: 17th-20th Centuries. The booklet is available in Spanish: Continuación de la Historia de la Iglesia de Dios, German: Kontinuierliche Geschichte der Kirche Gottes, French: L Histoire Continue de l Église de Dieu and Ekegusii Omogano Bw'ekanisa Ya Nyasae Egendererete.
The Mark of Antichrist What is the mark of Antichrist? What have various ones claimed? Here is a link to a related sermon What is the 'Mark of Antichrist'?
Mark of the Beast What is the mark of the Beast? Who is the Beast? What have various ones claimed the mark is? What is the 'Mark of the Beast'?
Who is the King of the West? Why is there no Final End-Time King of the West in Bible Prophecy? Is the United States the King of the West? Here is a version in the Spanish language: ¿Quién es el Rey del Occidente? ¿Por qué no hay un Rey del Occidente en la profecía del tiempo del fin?
Who is the King of the North? Is there one? Do biblical and Roman Catholic prophecies for the Great Monarch point to the same leader? Should he be followed? Who will be the King of the North discussed in Daniel 11? Is a nuclear attack prophesied to happen to the English-speaking peoples of the United States, Great Britain, Canada, Australia, and New Zealand? When do the 1335 days, 1290 days, and 1260 days (the time, times, and half a time) of Daniel 12 begin? When does the Bible show that economic collapse will affect the United States? In the Spanish language check out ¿Quién es el Rey del Norte? Here is a link to a video titled: The Future King of the North.
Anglo – America in Prophecy & the Lost Tribes of Israel Are the Americans, Canadians, English, Scottish, Welsh, Australians, Anglo-Saxon (non-Dutch) Southern Africans, and New Zealanders descendants of Joseph? Where are the lost ten-tribes of Israel? Who are the lost tribes of Israel? What will happen to Jerusalem and the Jews in Israel? Will God punish the U.S.A., Canada, United Kingdom, and other Anglo-Saxon nations? Why might God allow them to be punished first? Here is a link to the Spanish version of this article: Anglo-América & las Tribus Perdidas de Israel. Information is also in the YouTube sermons titled Where are the Ten Lost Tribes? Why does it matter? and British are the Covenant People. A short YouTube of prophetic interest may be: Are Chinese threats against Australia for real?
Will the Anglo-Saxon Nations be Divided and Have People Taken as Slaves? Will the lands of the United States, United Kingdom, Canada, Australia, and New Zealand be divided? What about Jerusalem? What does Bible prophecy teach? Are there non-biblical prophecies that support this idea? Who will divide those lands? Who will end up with the lands and the people? Here is a link to a video titled Will the USA and other Anglo-nations be Divided and Their People Made Slaves? Here is a related item in the Spanish language ¿Serán divididas las naciones anglosajonas?