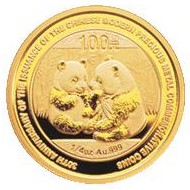 China Gold 'Panda' 100 Yuan Coin

A reader sent me a link to the following:
SHANGHAI (Reuters) – China has established a payment versus payment (PVP) system for Chinese yuan and Russian ruble transactions in a move to reduce risks and improve the efficiency of its foreign exchange transactions. …

The PVP system for yuan and ruble transactions was launched on Monday after receiving approval from China's central bank, according to a statement by the country's foreign exchange trading system.

It marks the first time a PVP system has been established for trading the yuan and foreign currencies, said the statement, which was posted on Wednesday on the website of the China Foreign Exchange Trade System (CFETS).

PVP systems allow simultaneous settlement of transactions in two different currencies. …

CFETS said it plans to introduce PVP systems for yuan transactions with other currencies based on China's Belt and Road initiative, and complying with the process of renminbi internationalization.

China has ambitious plans to create a New Silk Road to expand links between Asia, Africa, Europe. http://www.reuters.com/article/us-china-yuan-rouble/china-establishes-yuan-ruble-payment-system-idUSKBN1CH0ML
Why is this of any prophetic interest?
Because we are seeing steps to dethrone the US dollar.
The Germans have repatriated gold, and ahead of schedule (see Germany has brought back its gold and EU approves CETA and/or watch Germany, Gold, and the US Dollar). The German Europeans are also taking other steps towards world dominance (e.g. 'Undemocratic' European Union has become a German empire).
Venezuela has essentially dropped the dollar. As has Iran.
China has been trying to come up with systems, including with gold backing, to avoid the US dollar (watch US Dollar being challenged by Gold-Petro-Yuan).
It has long been my view (my written view since the last decade) that gold would be involved in backing a replacement to the US dollar.
While some like US President Trump's tough talk in various areas (like trade and banking sanctions), nations like China are taking steps to protect themselves from aspects of his threats.
And while the gold-petro-yuan and China's new PVP are NOT the final replacement to the US dollar as the world's primary reserve currency, these are steps that will weaken US dollar dominance.
Dethroning the US dollar will cause massive economic problems for the USA. Much more than almost anyone believes. The standard of living in the USA has been raised/subsidized for years because of the status of the US dollar. That status is weakening. This will ultimately severely hurt the USA.
We are getting closer to the great tribulation (Matthew 24:21; see also When Will the Great Tribulation Begin?) and final time of the Gentiles (Luke 21:24).
Some items of possibly related interest may include:
The End of US Dollar Dominance Is the USA losing its economic status? What about the petro-gold-yuan? A related video is also available: US Dollar being challenged by Gold-Petro-Yuan.
America's Day of Reckoning 2017 Dollar Collapse? Economist James Dale Davidson says that a financial bloodbath will hit the USA and there is nothing that Washington can do to stop it. He claims that at least 57 nations have gotten together to dethrone the US dollar as the world's reserve currency. He claims this can happen any day or in a few months. He mentions China, Russia, the AIIB, and gold. He claims his track record in predicting massive shifts in the past should assure people that he is right about this. He claims that there will be massive unemployment, near elimination of social security benefits, and more. In a post he sent me a link to July 13, 2016, James Dale Davidson wrote, "During the next six months, you will see the stock market plummet by at least 50%, real estate will drop 40%, savings accounts will lose 30%, and unemployment will triple. It's already starting to unfold." Is James Dale Davidson possibly right on any of this? Dr. Thiel goes over many of his claims and explains what the Bible shows related to the coming collapse of the US dollar. This is a video.
Can the Bilderberg Group Affect 2017 and Beyond? The infamous Bilderberg Group met in Dresden, Germany from June 9-12 in 2016. This super-secretive group has been meeting since 1954 and has admitted to some subjects it would cover, but blocked out cell phone reception and forbid coverage of the discussions by the media. This is considered THE meeting to be part of for the elites who are working for a global-type of government. It is by invitation only. They are working towards their version of the New World Order as opposed to the good news of the Kingdom of God. At least one top leader apparently attended to try to get the Bilderberg Group's support for a bid to become the next Secretary-General of the United Nations to replace Ban ki-Moon, whose term ends 31 December 2016. Dr. Thiel explains some of what is going on in the light of end-time biblical prophecies in this video.
The Times of the Gentiles Has there been more than one time of the Gentiles? Are we in it now or in the time of Anglo-America? What will the final time of the Gentiles be like? A related sermon is available and is titled: The Times of the Gentiles.
Eliminate the $100 bill? Various ones, like Harvard economist and Trilateralist Larry Summers have called for the elimination of the USD$100 bill and the 500 Euro note. In Asia, South Korea is heading towards cashlessness by 2020. Electronic currencies are information and subject to monitoring. Did something God inspired the Apostle John over 1900 years ago now able to come to pass? This is a video.
Collapse of the Euro and Dollar? War in 2020? Larry Edelson of Money and Markets described aspects of current economic difficulties and explained why he felt matters would get a lot worse. He said war, like World War III, could break out as early as 2020. What did he call the 'granddaddy of all cycles"? Will matters go as he said? What does the Bible teach? Dr. Thiel provides biblical insights that secular sources often miss. This is a video.
Europa, the Beast, and Revelation Where did Europe get its name? What might Europe have to do with the Book of Revelation? What about "the Beast"? Is an emerging European power "the daughter of Babylon"? What is ahead for Europe? Here is a link to a video titled: Can You Prove that the Beast to Come is European?
European Technology and the Beast of Revelation Will the coming European Beast power would use and develop technology that will result in the taking over of the USA and its Anglo-Saxon allies? Is this possible? What does the Bible teach? Here is a related YouTube video: Military Technology and the Beast of Revelation.
When Will the Great Tribulation Begin? 2017, 2018, or 2019? Can the Great Tribulation begin today? What happens before the Great Tribulation in the "beginning of sorrows"? What happens in the Great Tribulation and the Day of the Lord? Is this the time of the Gentiles? When is the earliest that the Great Tribulation can begin? What is the Day of the Lord? Who are the 144,000? Here is a version of the article in the Spanish language: ¿Puede comenzar la Gran Tribulación en 2016 o 2017? ¿Es el Tiempo de los Gentiles? You can also see the English language sermon videos: The Great Tribulation from the Mount of Olives and Can the Great Tribulation begin before 2020? A shorter video is: Will the Great Tribulation Start in 2017?
Two Horned Beast of Revelation and 666 Who is 666? This article explains how the COG views this, and compares this to Ellen White. Here is a link to a prophetic video Six Financial Steps Leading to 666?
The Mark of Antichrist What is the mark of Antichrist? What have various ones claimed? Here is a link to a related sermon What is the 'Mark of Antichrist'?
Mark of the Beast What is the mark of the Beast? Who is the Beast? What have various ones claimed the mark is? What is the 'Mark of the Beast'?
Must the Ten Kings of Revelation 17:12 Rule over Ten Currently Existing Nations? Some claim that these passages refer to a gathering of 10 currently existing nations together, while one group teaches that this is referring to 11 nations getting together. Is that what Revelation 17:12-13 refers to? The ramifications of misunderstanding this are enormous. A related sermon is titled Ten Kings of Revelation and the Great Tribulation.
World War III: Steps in Progress Are there surprising actions going on now that are leading to WWIII? Might a nuclear attack be expected? What about WWIV? Does the Bible promise protection to all or only some Christians? How can you be part of those that will be protected? A related video would be Is World War III About to Begin? Can You Escape?
Does God Have a 6,000 Year Plan? What Year Does the 6,000 Years End? Was a 6000 year time allowed for humans to rule followed by a literal thousand year reign of Christ on Earth taught by the early Christians? Does God have 7,000 year plan? What year may the six thousand years of human rule end? When will Jesus return? 2026 or 20xx? There is also a video titled 6000 Years: When will God's Kingdom Come? Here is a link to the article in Spanish: ¿Tiene Dios un plan de 6,000 años?
The Plain Truth About Gold in Prophecy. How Should a Christian View Gold? What do economists and the Bible teach about gold? Gold and silver may drop in value. Inflation/deflation? What do Christians need to know about gold?
Anglo – America in Prophecy & the Lost Tribes of Israel Are the Americans, Canadians, English, Scottish, Welsh, Australians, Anglo-Saxon (non-Dutch) Southern Africans, and New Zealanders descendants of Joseph? Where are the lost ten-tribes of Israel? Who are the lost tribes of Israel? What will happen to Jerusalem and the Jews in Israel? Will God punish the U.S.A., Canada, United Kingdom, and other Anglo-Saxon nations? Why might God allow them to be punished first? Here is a link to the Spanish version of this article: Anglo-América & las Tribus Perdidas de Israel. Information is also in the YouTube sermons titled Where are the Ten Lost Tribes? Why does it matter? and British are the Covenant People. A short YouTube of prophetic interest may be Barack Obama and the State of the Apocalypse.
Are You Being Called by God? Norman Shoaf wrote various points to consider.
When You Sin: Do You Really Repent? This is an article by Charles F. Hunting. A related sermon is Confess to God and truly repent.
The Gospel of the Kingdom of God This free online pdf booklet has answers many questions people have about the Gospel of the Kingdom of God and explains why it is the solution to the issues the world is facing. Here are links to three related sermons: The World's False Gospel, The Gospel of the Kingdom: From the New and Old Testaments, and The Kingdom of God is the Solution.
China, Its Biblical Past and Future, Part 1: Genesis and Chinese Characters Where did the Chinese people come from? This article provides information showing that the Chinese peoples must have known about various accounts in the Book of Genesis up until their dispersion after the Tower of Babel. Here is a link to a version of this article in Spanish: ¿Prueban los caracteres chinos la exactitud de la Biblia?
China, Its Biblical Past and Future, Part 2: The Sabbath and Some of God's Witness in China When did Christianity first come to China? And is there early evidence that they observed the seventh day sabbath?
Asia in Prophecy What is Ahead for Asia? Who are the "Kings of the East"? What will happen to nearly all the Chinese, Russians, Indians, and others of Asia? China in prophecy, where? Who has the 200,000,000 man army related to Armageddon? A YouTube video of interest may be Is China THE Threat to the United States of America?
Donald Trump in Prophecy Prophecy, Donald Trump? Are there prophecies that Donald Trump may fulfill? Are there any prophecies that he has already helped fulfill? Could a Donald Trump presidency be apocalyptic? A related video is titled: Donald: 'Trump of God' or Apocalyptic?
Trump Presidency Magic 8 Ball or Bible Prophecy? BBC reported that one might as well use a 'Magic Eight-Ball' to try to predict what will happen in the remaining time of Donald Trump's presidency. What is a 'Magic Eight-Ball'? Dr. Thiel not only explains that, but also briefly goes over 10 biblically-based warnings he wrote would happen if Donald Trump were elected that have already began to come to pass. He also goes over something he wrote back in 2008 that the Trump presidency is also helping lead to fulfillment. Should you trust Bible prophecy or not? Dr. Thiel says that Bible prophecy can be trusted, despite the view of skeptics and others that either overlook or despise the Bible. This is a video.