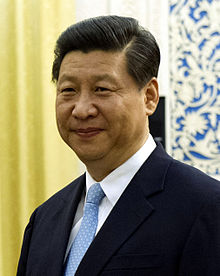 Xi Jingping

China's Communist Party congress has been meeting, and a reader from China sent links to the following :
China's Xi lays out vision for 'new era' led by 'still stronger' Communist Party

Opening a critical Communist Party congress, Xi pledged to build a "modern socialist country" for a "new era" that will be proudly Chinese and steadfastly ruled by the party but open to the world.

Although his wide-ranging address made clear there were no plans for political reform, Xi said China's development had entered a "new era", using the phrase 36 times in a speech that ran nearly 3-1/2 hours.

"With decades of hard work, socialism with Chinese characteristics has crossed the threshold into a new era," Xi said. …

The European Union Chamber of Commerce in China said it welcomed commitments to open wider the door and treat all companies equally, but said European companies operating in China continued to suffer from "promise fatigue".

"The only cure for this is promise implementation," it said in a statement.

In what was probably an indirect reference to U.S. President Donald Trump's "America First" policy, Xi promised that China would be fully engaged with the world, and reiterated pledges to tackle climate change. Trump this year opted to withdraw the United States from the Paris climate pact. http://www.reuters.com/article/us-china-congress/chinas-xi-lays-out-vision-for-new-era-led-by-still-stronger-communist-party-idUSKBN1CM35L

With tears and song, China welcomes Xi as great, wise leader

BEIJING (Reuters) – Chinese officials on Thursday heaped praise on President Xi Jinping's political ideology, unveiled a day earlier at a key Communist Party Congress, a sign that it could be enshrined in the party's constitution and further cement his power.

Some ruling Communist Party officials were moved on Thursday to song, dance and tears in adulation of Xi, a day after he opened the twice-a-decade conclave pledging to build a prosperous "modern socialist country" for a "new era".

Three outgoing members of the elite seven-man Politburo Standing Committee that Xi heads lauded "Xi Jinping Thought on Socialism with Chinese Characteristics for a New Era", according to the official Xinhua News Agency.

Such statements indicate that Xi could cement his power with his new eponymous slogan being incorporated into the party's constitution. Whether the theory is included bearing his name will be a key measure of his status, analysts have said.

No other leader has had an eponymous ideology included in the document while in office since Mao Zedong, the founder of modern China.

Xi is poised to begin a second five-year term next week. …

Some party officials painted Xi as a saviour.

"Because of the Party Central Committee with comrade Xi Jinping as its core, in five years, the party has been saved, the army has been saved, the country has been saved," Liu Shiyu, head of China's securities regulator, said on Thursday. http://www.reuters.com/article/us-china-congress/with-tears-and-song-china-welcomes-xi-as-great-wise-leader-idUSKBN1CO0AV
The UK press reported the following about some of this:
20 October 2017

Three days of incessant fawning have reinforced the sensation that the world's second-largest economy is now ruled by one of its most influential, and perhaps enduring, leaders since Mao Zedong; a reality that will have ramifications far beyond China's borders.

Donald Trump, who is scheduled to visit China early next month, might fail to retake the White House in three years' time – or even make it that far. But there is a growing sense that his Chinese counterpart is in it for the long haul and could remain in power well beyond the end of his second five-year term.

"Many people are worried the Xi Jinping era will not end [in 2022]," said Jerry Cohen, a veteran China scholar at New York University, who suspects Xi will find ways of retaining power "sort of like the Putin arrangement in Russia". "So this could go on for some time." https://www.theguardian.com/world/2017/oct/20/xi-jinping-china-president-leninist-quest-authority-control-carries-dangers
Essentially, China has a popular leader, he is expected to outlast Donald Trump, and China hopes to increase its economic and military clout around the world while continuing to promote its version of state controlled socialism.
While many support Xi Jinping, a plot against him was reported today by the BBC (see Top Chinese officials 'plotted to overthrow Xi Jinping'). So, there are various issues in China.
Because of its economic growth over the past several decades, many think that China will be the dominant force of the world.
Although the Bible says that force will actually be European (Revelation 13, 17; Daniel 9:26-27, 11:21-44; see also Europa, the Beast, and Revelation), China is most certainly gaining influence in various places. Consider the following related to Africa and then something related to Singapore:
Who's 'Winning' In Africa?

October 20, 2017

General Waldhauser considers that "Just as the US pursues strategic interests in Africa, international competitors, including China and Russia, are doing the same. Whether with trade, natural resource exploitation, or weapons sales, we continue to see international competitors engage with African partners in a manner contrary to the international norms of transparency and good governance. These competitors weaken our African partners' ability to govern and will ultimately hinder Africa's long-term stability and economic growth, and they will also undermine and diminish US influence — a message we must continue to share with our partners."

But the US doesn't have any genuine partners in Africa. On the other hand, China has created many. As noted by Forbes, "In December 2015, President Xi Jinping ushered in a new era of 'real win-win cooperation' between China and Africa. This strategy aims to create mutual prosperity, allowing investors to 'do good while doing right.' China has backed this proposal up with a commitment of $60 billion of new investment in major capital projects, which are tied to developing local economic capacity. This level of commitment contrasts starkly with the action, or lack thereof from the West."

The message is clear. The US military-industrial complex has overtaken and indeed supplanted State Department diplomacy in Africa, as elsewhere in the world, and is intent on escalating its military presence while China is quietly winning friends and influencing people by engaging in massive, well-planned economic projects. http://www.zerohedge.com/news/2017-10-20/whos-winning-africa

Singaporean Prime Minister Lee Hsien Loong shed light on the balance between the U.S. and China in a changing geopolitical landscape.

"Well, it's never easy to be a small country next to a big neighbor," Lee said.

"If you have one big neighbor only, that's not easy to manage. If you have two big neighbors, well in some ways you have more friends, but in other ways you have to make more difficult choices," Lee added.

Singapore's relationship with the two global giants, he said, also "depends on how the U.S. relationship with China develops," he said.

"If there are tensions between America and China, we will be asked to pick a side. It may not be directly, but you will get the message that: 'We would like you to be with us, and are you with us? If not, does that mean you're against us?' And that's to put it gently," he added.

Singapore however, does not wish to "pick sides," he said.

Lee spoke with CNBC ahead of his visit to the U.S. where he is set to meet President Donald Trump at the White House on Oct. 23.

U.S. and Singapore have had economic, military and diplomatic ties since 1966 — a year after the city-state's independence. … China and Singapore, meanwhile, established official relations in 1990 …

Late last year, military vehicles belonging to Singapore were impounded in China's Special Administrative Region of Hong Kong en route from Taiwan where they were used in military training. The issue has since been resolved.

The relationship between Beijing and Singapore is now seen to be warming up again after Lee made a trip to the Chinese capital in September this year. During that visit, he met with President Xi and Premier Li Keqiang.

Lee told CNBC on Thursday that the relationship between China and Singapore is now "good" and that the two countries are "forward-looking." 10/19/17 https://news.google.com/news/search/section/q/china%20sides%20us/china%20sides%20us?hl=en&ned=us
Africa is surely not tied to the USA. While Singapore has been considered a staunch US ally, notice that it is concluding that it does not want to have to choose between the USA and China.
According to biblical prophecies, militarily, Singapore will stop being allied with the USA (cf. Lamentations 1:2), but is expected to be allied with China (cf. Revelation 9:13-17) on the way to Armageddon (Revelation 16:12-16).
Donald Trump will not prevent this.
As far as Armageddon goes, China's one-child policy is positioning it to support the coming 200 million man army of Revelation 9:13-17. Consider something else that is also in the news:
As odd as it sounds, China's economic policy is being held hostage by its heavily skewed sex ratio.

China's excess of young, unmarriageable males poses an acute dilemma for President Xi Jinping and other leaders as they set the country's path for the next five years during the 19th Chinese Communist Party Congress, which opened on Oct. 18.

After years of heavy spending and investment to boost growth and employment, China is at risk of economic stagnation if it doesn't restructure the economy. Yet there is peril that doing so will lead to dangerous levels of unrest among the millions of unmarried men—known as "bare branches"—who will be laid off from shuttered unneeded steel, coal and auto factories. …

Chinese leaders responded to the 2008 global financial crisis by channeling massive investments into infrastructure and heavy industry to sustain economic growth and prevent political unrest. …

China's leaders fear the consequences of high unemployment among "bare branches," a term used in China for young, low-status men who, because they are typically unmarriageable, represent endpoints on the family tree.

Growth of the 'bare branches'

Bare branches are a result of one of the most skewed sex ratios in the world.

China has 106.3 males for every 100 females, compared with a global ratio of 101.8 to 100. In coming years, the workforce imbalance will only worsen because there are 117 boys under age 15 for every 100 girls. …

Researchers Valerie Hudson and Andrea den Boer established that societies with large and growing numbers of bare branches are at risk of rising crime and civil unrest. https://qz.com/1106637/chinas-skewed-sex-ratio-makes-president-xis-job-a-lot-harder/
Yes, China will have problems. It has been spending massively on infrastructure projects– a well known international one seems to be paving the roads to Armageddon (watch Is China paving roads to Armageddon?), China will also end up providing a lot of manpower for the coming 200 million man army of Revelation 9:13-17.
More on China can be found in the latest posted sermonette video by Jay Chiang: China in 2017.
Some items of possibly related interest may include:
China, Its Biblical Past and Future, Part 1: Genesis and Chinese Characters Where did the Chinese people come from? This article provides information showing that the Chinese peoples must have known about various accounts in the Book of Genesis up until their dispersion after the Tower of Babel. Here is a link to a version of this article in Spanish: ¿Prueban los caracteres chinos la exactitud de la Biblia?
China, Its Biblical Past and Future, Part 2: The Sabbath and Some of God's Witness in China When did Christianity first come to China? And is there early evidence that they observed the seventh day sabbath?
Asia in Prophecy What is Ahead for Asia? Who are the "Kings of the East"? What will happen to nearly all the Chinese, Russians, Indians, and others of Asia? China in prophecy, where? Who has the 200,000,000 man army related to Armageddon? A YouTube video of interest may be Is China THE Threat to the United States of America?
Armageddon Who is involved and when will this gathering happen? Here is also a video from Dr. Thiel, from Tel Megiddo in Israel: Armageddon.
Is China paving roads to Armageddon? China is working on something known as the 'Silk Road' project or the "One Belt, One Road" initiative. NBC reports that China intends to spend one trillion dollars to build roads, bridges, railroads, and maritime facilities to reach from China to Europe and China to the Middle East. Over 60 nations, including Russia, are involved with this. Could this Silk Road project possibly produce thoroughfares that could be used by troops that will amass at Armageddon? Dr. Thiel discusses this project and some of its potential prophetic ramifications in this video.
Africa: Its Biblical Past and Prophesied Future What does the Bible teach about Africa and its future? Did the early Church reach Africa? Will God call all the Africans? A related online sermon is also available: Africa: Its biblical past, present, and future. A video of possible interest is: Nairobi Conference: All About Love.
The Eurasian Union, the Kings of the East, and Bible Prophecy Is there a Eurasian union that will be formed? Is one being formed right now? Are any leaders working on that in the 21st century? Does the Bible teach that there will be a Eurasian union? If some type of Eurasian union is formed, who might it benefit and who will it destroy? A related video would be Is The Eurasian Union Rising?
Who is the King of the North? Is there one? Do biblical and Roman Catholic prophecies for the Great Monarch point to the same leader? Should he be followed? Who will be the King of the North discussed in Daniel 11? Is a nuclear attack prophesied to happen to the English-speaking peoples of the United States, Great Britain, Canada, Australia, and New Zealand? When do the 1335 days, 1290 days, and 1260 days (the time, times, and half a time) of Daniel 12 begin? When does the Bible show that economic collapse will affect the United States? In the Spanish language check out ¿Quién es el Rey del Norte? Here is a link to a video titled: The Future King of the North.
When Will the Great Tribulation Begin? 2017, 2018, or 2019? Can the Great Tribulation begin today? What happens before the Great Tribulation in the "beginning of sorrows"? What happens in the Great Tribulation and the Day of the Lord? Is this the time of the Gentiles? When is the earliest that the Great Tribulation can begin? What is the Day of the Lord? Who are the 144,000? Here is a version of the article in the Spanish language: ¿Puede comenzar la Gran Tribulación en 2016 o 2017? ¿Es el Tiempo de los Gentiles? You can also see the English language sermon videos: The Great Tribulation from the Mount of Olives and Can the Great Tribulation begin before 2020? A shorter video is: Will the Great Tribulation Start in 2017?
Does God Have a 6,000 Year Plan? What Year Does the 6,000 Years End? Was a 6000 year time allowed for humans to rule followed by a literal thousand year reign of Christ on Earth taught by the early Christians? Does God have 7,000 year plan? What year may the six thousand years of human rule end? When will Jesus return? 2026 or 20xx? There is also a video titled The 6000 Year Plan: Is the end of humanity's reign almost up? Here is a link to the article in Spanish: ¿Tiene Dios un plan de 6,000 años?The Gospel of the Kingdom of God was the Emphasis of Jesus and the Early Church Did you know that? Do you even know what the gospel of the kingdom is all about? You can also see a YouTube video sermons Why Teach the Kingdom of God, The Gospel of the Kingdom, and The Kingdom of God is the Solution.
Europa, the Beast, and Revelation Where did Europe get its name? What might Europe have to do with the Book of Revelation? What about "the Beast"? Is an emerging European power "the daughter of Babylon"? What is ahead for Europe? Here is a link to a video titled: Can You Prove that the Beast to Come is European?
European Technology and the Beast of Revelation Will the coming European Beast power would use and develop technology that will result in the taking over of the USA and its Anglo-Saxon allies? Is this possible? What does the Bible teach? Here is a related YouTube video: Military Technology and the Beast of Revelation.
Must the Ten Kings of Revelation 17:12 Rule over Ten Currently Existing Nations? Some claim that these passages refer to a gathering of 10 currently existing nations together, while one group teaches that this is referring to 11 nations getting together. Is that what Revelation 17:12-13 refers to? The ramifications of misunderstanding this are enormous. A related sermon is titled Ten Kings of Revelation and the Great Tribulation.
WTO/TTIP and the Babylonian Beast Will international trade agreements like WTO/TTIP/CETA lead to the fulfillment of end time prophecies concerning the Babylonian Beast power that the Book of Revelation warns against? What does the Bible teach? A related video would be WTO Trade Deal and the Rise of the European Beast Power.
Anglo – America in Prophecy & the Lost Tribes of Israel Are the Americans, Canadians, English, Scottish, Welsh, Australians, Anglo-Saxon (non-Dutch) Southern Africans, and New Zealanders descendants of Joseph? Where are the lost ten-tribes of Israel? Who are the lost tribes of Israel? What will happen to Jerusalem and the Jews in Israel? Will God punish the U.S.A., Canada, United Kingdom, and other Anglo-Saxon nations? Why might God allow them to be punished first? Here is a link to the Spanish version of this article: Anglo-América & las Tribus Perdidas de Israel. Information is also in the YouTube sermons titled Where are the Ten Lost Tribes? Why does it matter? and British are the Covenant People. A short YouTube of prophetic interest may be Barack Obama and the State of the Apocalypse.
Will the Anglo-Saxon Nations be Divided and Have People Taken as Slaves? Will the lands of the United States, United Kingdom, Canada, Australia, and New Zealand be divided? What about Jerusalem? What does Bible prophecy teach? Are there non-biblical prophecies that support this idea? Who will divide those lands? Who will end up with the lands and the people? Here is a link to a video titled Will the USA and other Anglo-nations be Divided and Their People Made Slaves? Here is a related item in the Spanish language ¿Serán divididas las naciones anglosajonas?
Is the USA now an Evil Empire? Dr. Thiel gives many reasons to consider. A related video is also available: Is the USA an Evil Empire?
USA in Prophecy: The Strongest Fortresses Can you point to scriptures, like Daniel 11:39, that point to the USA in the 21st century? This article does. A related sermon is titled: Do these 7 prophesies point to the end of the USA?
Donald Trump in Prophecy Prophecy, Donald Trump? Are there prophecies that Donald Trump may fulfill? Are there any prophecies that he has already helped fulfill? Could a Donald Trump presidency be apocalyptic? A related video is titled: Donald: 'Trump of God' or Apocalyptic?
Donald Trump and America's Apocalypse This 188 page book is for people truly interested in prophecies related to Donald Trump and the United States, including learning about several that have already been fulfilled and those that will be fulfilled in the future. The physical book can be purchased at Amazon for $12.99 from the following link: Donald Trump and America's Apocalypse.
Donald Trump and America's Apocalypse-Kindle Edition This electronic version of the 188 page print edition is available for only US$3.99. And you do not need an actual Kindle device to read it. Why? Amazon will allow you to download it to almost any device: Please click HERE to download one of Amazon s Free Reader Apps. After you go to for your free Kindle reader and then go to Donald Trump and America's Apocalypse-Kindle Edition.