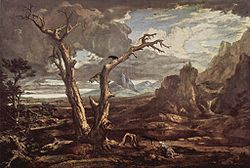 "Elijah in the wilderness"
A past edition of Outreach, put out by the Churches of God, UK, had the following:
Where Is Elijah?

If Jesus is to return any time soon, then 'Elijah', according to some teachers, should be alive and kicking somewhere on earth…

John the Baptist reflected the life-style of the first Elijah—rough-hewn, godly, dwelling in the desert. He had the same message, to confront ungodliness, '…to turn many of the sons of Israel to the Lord their God' (v.16)—a mission he surely accomplished Matthew 3:5-6). A people prepared for the message of Jesus.

But 'Elijah' will also return '…before the coming of the great and dreadful day of Jehovah' Malachi: 4:5). That day—the great 'Day of the Lord'—is ushered in by the returning Jesus who said '…I will come again'. Elijah's message will be a call to repentance, a return by mankind to the true God—a call heard worldwide. John, in Revelation, speaks of '…my two witnesses' (ch 11:3ff), and their mission does indeed 'prepare the way of the Lord'. They reflect both the work of both Elijah [eg drought] and Moses [eg plagues].

It will be an awesome time of tribulation upon those who continue unrepentant, unheeding of the call to turn to God. Their mission will end at the return of Jesus, when they will be glorified with Him, together with the rest of the 'firstfruits harvest' (Revelation 11:3-12).
The above group has tended to maintain an affiliation with COGOM. COGOM has tended to take more of a hands off view on prophecy (and, in  my view, misworded some of the above–Jesus ushers in the Day of the Lord, but He does this about a year before He returns).
Although people like the discredited Ron Weinland (see Concerns About Ronald Weinland's Church of God-Preparing for the Kingdom of God) and David Pack (see Why Not the Restored Church of God?) have claimed to be 'Elijah,' neither of them are.
Yet, the Bible does show that there will be an 'Elijah' who is alive before Jesus returns and that it is likely that he will be one of the two witnesses. And as Jesus is likely to return within the next couple of decades, it is reasonable to consider that he must be alive today.
The problem is that just as many would not hear Elijah's or John the Baptist's messages, relatively few will pay much attention to the end time Elijah as well.
Some items of possibly related interest may include:
Elijah: Past and Prophesied Information about the original Elijah and some information about the Elijah-related prophecies.
The Elijah Heresies Does the Bible teach that there will be a future Elijah? Must it be Herbert W. Armstrong?
How To Determine If Someone is a True Prophet of God There are many false prophets, yet many overlook what the Bible teaches about how to recognize a true one. How can Christians determine who is a true prophet? This article contains a scripture-based checklist to assist with this determination.
How to determine if someone is a true prophet of God This is a sermon on YouTube addressing a subject that most in the Church of God do not seem to have looked into very much. It discusses scriptures and dispels some improper assertions that some associated with the COG have made about prophets in this time.
The Dangerous Rise of Preterists Has the Great Tribulation finished? What was the view of early Christians? Why is the preterist view dangerous? A related sermon video is titled Preterism: You've Gotta Be Kidding…Right?
Why Be Concerned About False and Heretical Leaders? There have been many false leaders–here is some of why you should be concerned about them.
Who Are The Two Witnesses? What is their job? What does the Bible reveal? What has the Church of God taught on this subject? Might even Roman Catholic prophecies give some clues here?
The Final Phase of the Work What is the final phase of the work? Who will lead it? Do you have the courage to support it? Here is a related YouTube video titled The Final Phase of the Work. The written article has been translated into Spanish La Fase Final de la Obra.
Continuing Church of God The group striving to be most faithful amongst all real Christian groups to the word of God. To see how CCOG has done so far, here is a sermon Continuing Church of God (CCOG) first year anniversary: What has been accomplished? Here is a written link to a version of that sermon in the Spanish language: Aniversario del primer año de la Continuación de la Iglesia de Dios: ¿Qué se ha cumplido?
CCOG.ASIA We in the Continuing Church of God also have the url www.ccog.asia which has a focus on Asia and has various articles in Mandarin Chinese as well as some in English, plus some items in other Asian languages. 我们在继续神的教会也提供此网址 www.ccog.asia, 关注于亚洲并且有各种各样的中英文文章,其中一些用菲律宾语翻译的文章也正在进行中,准备添加到这个网站中。
CCOG.IN This is a website targeted towards those of Indian heritage. It has a link to an edited Hindi translation of The Mystery of the Ages and is expected to have more non-English language materials in the future.
CCOG.EU This is a website targeted toward Europe. It has materials in more than one language (currently it has English, Dutch, and Serbian, with links also to Spanish) and it is intended to have additional language materials added.
CDLIDD.ES La Continuación de la Iglesia de Dios. This is the Spanish language website for the Continuing Church of God.
PNIND.PH Patuloy na Iglesya ng Diyos. This is the Philippines website Continuing Church of God. It has information in English and Tagalog.