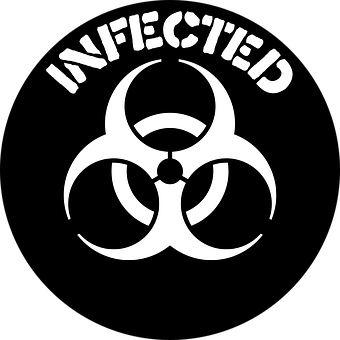 CBS reported the following about the 'novel Wuhan coronavirus,' now officially called COVID-19:
Coronavirus: Steps to stay safe

March 8, 2020

Coronavirus is spreading quickly.  …
For now, health officials are saying the average American is still at low risk, but that could change.

So, we'll remind you how you can protect yourself:

Wash your hands;
If you have to sneeze or cough, use your elbow or tissues, and keep your hands away from your face. Easier said than done, I know;
If you're sick, whether it's coronavirus or something else, don't go to work. I know the financial loss can be tough, and that's something we have to address as a society;
And remember, if you are having symptoms typical for a cold, you may just have … a cold. Symptoms of coronavirus include fever, a cough, and shortness of breath; if you get those, you should consult a clinician, but again, keep in mind other illnesses have similar symptoms;
If you think you may have coronavirus, don't show up unannounced at an emergency room where you could infect others. Check first with your healthcare provider, who can alert the E.R. to be ready for you with proper protective gear; and
Follow the advice of your state or local health department, especially if you've been exposed and are asked to self-quarantine.

Another term we're starting to hear is "social distancing." It means staying away from others during this outbreak, especially in places where the virus has already shown up.

This is all uncharted territory for us in America, and we're seeing a wide variety of approaches to dealing with the virus, everything from cutting back on unnecessary travel, to canceling conventions and other big gatherings, to working from home.

And here's some good news: Most reported cases, about 80%, have been mild, and children have been relatively spared from severe infection.

The bad news is the elderly and people with serious underlying illnesses, like lung disease or weakened immune systems, are especially vulnerable. So, they should be very cautious, especially if coronavirus is spreading in their community. The CDC suggests those at high risk should stay at home as much as possible, keep away from sick people, and avoid crowds. https://www.cbsnews.com/news/coronavirus-steps-to-stay-safe/
Notice also the following:
How To Avoid Getting Infected By The Coronavirus

As worldwide coronavirus cases blow past 100,000 sickened, the question on everyone's mind is: "How do I avoid getting infected?" …
Peak Prosperity's Chris Martenson goes through the best steps for self-protection …


(Peak Prosperity list as shown at ZeroHedge)

Crazy infectious with a serious complication rate near 15% and a case fatality rate of over 3%, many of us are likely to catch this virus, and most of us will probably know at least one person who dies from it. …

So take steps now to increase your odds of being one of those who avoids covid-19 altogether. 03/07/20 https://www.zerohedge.com/health/how-avoid-getting-infected-coronavirus

As far as additional steps, check out the following links: VOA: Trump: US 'Totally Prepared' for Coronavirus' AP: Vexed by how to contain virus, countries take tough steps' WT: Natural Protection and ZH: How The Super Rich Are Preparing For The Coronavirus; COGwriter: What physical steps can others take?
Before going further, let me add that I have seen some so-called 'fact-checking' articles, like one today by BBC, that are simply wrong about natural ways to support the immune system (the wrong articles tend to claim that there is "no evidence" that certain substances can help–actually, there is evidence on many items, but the writers/doctors involved with the articles either do not know about the evidence or they do not accept the evidence they have been made aware of). The reality is that, yes, there are herbs, nutrients, and other foods that have been proven to enhance the immune system. That being said, no I do not believe the hype about some of them being a cure-all for COVID-19. But that does not change the FACT that certain herbs and other foods have long helped people fight off infectious agents of various kinds. And no, I personally still am not taking any additional supplements because of COVID-19 as it still does not yet seem to pose a real risk where I live (there was a suspected case 30 miles from here that turned out NOT to be COVID-19 a couple of days ago). Of course, that could change.
Anyway, COVID-19 has impacted Italy and other parts of the world:
Italy Shuts Down North in COVID-19 Fight

March 8, 2020

One quarter of Italy's population is in lockdown under a new emergency decree Sunday.

Italy has experienced more COVID-19 deaths than any other country outside China.

After more than 230 deaths, the government has decided to lockdown the northern part of the country, including the Lombardy region and the financial capital, Milan.

In addition, Italy will shutter 14 other provinces, including Veneto, home of Venice.

Travel into and out the areas will be highly restricted until early next month, as the country seeks to slow the tide of fatalities from the virus. Museums, theaters, cinemas and other entertainment venues have also been ordered to close.

Elsewhere in the world

Iran said Sunday the coronavirus has killed 49 more people in the last 24 hours, bringing the death toll to 194.  The Middle Eastern country has 6,566 confirmed cases.

In China, a hotel used to quarantine people with the virus collapsed Sunday.  At least six people were killed in the incident.

The virus first erupted in China late last year.

Reuters reports that at least two federal health screeners at Los Angeles International Airport have tested positive for the coronavirus and have been ordered to self-quarantine until March 17.  The news agency said screeners, many of them federal workers, had already "asked their supervisors . . .  to change official protocols and require stronger masks."

The Grand Princess cruise ship, hit by a coronavirus outbreak, is scheduled to dock in Oakland, California, Monday.  The ship has been held at sea without a dock since last week when San Francisco refused to allow the ship to return there because  of the outbreak.  The Grand Princess is carrying more than 3,500 passengers and crew.

Worldwide, there were more than 106,000 infections Sunday, while the death toll has surpassed 3,500.

Bahrain has announced it will hold its Formula 1 Grand Prix later this month, but without any spectators.

"Given the continued spread of COVID -19 globally, convening a major sporting event, which is open to the public and allows thousands of international travellers and local fans to interact in close proximity would not be the right thing to do at the present time," the Bahrain International Circuit said Sunday. https://www.voanews.com/science-health/coronavirus-outbreak/italy-shuts-down-north-covid-19-fight

8 March 2020

More than 15 million have been quarantined in northern Italy. Hundreds of people have died from COVID-19 in the country.

Economic consequences

Already the coronavirus epidemic has had a greater economic effect than either of thsie predecessors. Wall Street has joined a global sell-off; the S&P 500 index of US companies fell by 11.5% the week commencing on February 24, the worst week since the 2008 crisis. China has effectively been in economic lockdown for a month since Chinese New Year, and the knock-on effect for global manufacturing has already been felt. While sensible precautions to avoid the spread make sense, it's all too easy for business and politicians to go into panic mode. The supply chain consequences are real, however, and affect some sectors and assets more than others, from commodities such as oil to supply chains vulnerable to such interruptions as those that cause problems for just-in-time auto manufacturing.

The fragility of the global economy, which has high levels of indebtedness and asset bubbles, is a legacy of the way in which the 2008 global credit crisis was managed rather than solved. As pointed out in the World Economic Forum's Global Risks Report 2020, there are a number of tipping points in the economic system and the economic consequence of a shock to the global system is likely to be a correction.

Geopolitics

While the health challenges and economic consequences are potentially devastating, the political consequences are harder to foresee – but might be the most long-lasting. In Japan, the handling of a COVID-19 outbreak on a cruise liner led to transmission of the virus into the Japanese population and may even result in the cancellation of the Tokyo Olympics. In other countries such as in Iran, a lax response by the country's healthcare system led to a loss of containment of the epidemic, which is now spreading to the rest of the Middle East. The lockdown of towns in Northern Italy is likely too late, with the spread of the virus from Italy already underway across Europe. Voters may not be kind to politicians who fail in their basic duty to protect citizens. 03/06/20 https://www.weforum.org/agenda/2020/03/the-economic-geopolitical-and-health-consequences-of-covid-19/
Yes, COVID-19 has affected many. Yes, voters may decide to make major changes–and major change is prophesied to occur in Europe (cf. Revelation 17:12-13; see also Must the Ten Kings of Revelation 17:12 Rule over Ten Currently Existing Nations?).
Various organizations are concerned that physical cash can carry the coronavirus and some have advised switching to electronic forms of payment.
Related to that, we just uploaded the following video:

13:55

The novel coronavirus of Wuhan, China fame, is now called COVID-19. It has also been called the 'Coronapocalypse.' Does COVID-19 have any prophetic ramifications? What did Jesus teach about pestilences and sorrows in the Olivet prophecy in Matthew 24? Could COVID-19 be the ride of the fourth horseman of the Apocalypse? Why was this type of disease expected according to the Old Testament prophecies in Deuteronomy and Leviticus? What has the US Centers for Disease Control warned about? What has the CDC reported about the flu? Were there lessons about fear and infections in the 2011 movie 'Contagion'? Because of COVID-19, the World Health Organization (WHO), nation of Iran, and certain French locations are telling people not to use cash, but instead electronic forms of payment. The US Federal Reserve is now quarantining money repatriated from Asia to reduce the potential spread of the coronavirus on US currency bills. Is COVID-19 worse than we have been told or could this all be a 'false flag' event to encourage people to move towards a cashless society? If the thousands of deaths associated with COVID-19 are pushing parts of the world towards cashlessness, how much more likely will the ride of the fourth horseman and over a billion human deaths motivate people to move to making electronic payments that can be monitored? The Bible tells of a soon coming society that controls buying and selling to force allegiance to a coming European Beast power, known as 666 (Revelation 13:16-18). Does the 'great tribulation' begin before ride of the fourth horseman or with the opening of the fifth seal of Revelation 6? Do the words of Jesus helps us better understand the sequence of the four horsemen of the Apocalypse and the start of the Great Tribulation? Will the ride of the fourth horseman help lead to the rise of 666? Is that ride very close? Dr. Thiel addresses these issues and more.
Here is a link to our video: COVID-19 Leading to 666?
That being said, some think that COVID-19 was made on purpose.
If COVID-19 was made on purpose, it may have been intended as a biological warfare agent.
Recently, I spoke about the new coronavirus as well as biological warfare in the following video for our Bible News Prophecy program:
Is biological warfare possible? Was it prophesied? Scientists have long warned that pathogenic organisms like the coronavirus could be weaponized. Furthermore, back in 2017, there were concerns that the biological research facility being constructed in Wuhan, China was risky and that a coronavirus from it could be released. On January 25, 2020, China's President Xi Jinping publicly stated that the situation with the Wuhan-related strain of the coronavirus was grave. Did Church of God writers like the late evangelist Raymond McNair warn that engineered viruses (the "Doomsday bug") were consistent with prophecies from Jesus? Did a warning from CCOG leader Bob Thiel warn about risks of genetically-modified (GMO) mosquitoes come to pass? Could human research and/or the consumption of biblically-unclean animals such as bats and snakes be a factor in current outbreaks or coming future pestilences? What about famines? How devastating have pestilences been? How devastating are the prophesied ones going to be? Dr. Thiel addresses these issues and more.
Here is a link to our video: Biological Warfare and Prophecy.
Jesus warned that pestilences would come:
8 And there will be earthquakes in various places, and there will be famines and troubles. These are the beginnings of sorrows. (Mark 13:8)

36 Watch therefore, and pray always that you may be counted worthy to escape all these things that will come to pass, and to stand before the Son of Man. (Luke 21:36)
Coronaviruses are a type of pestilence consistent with troubles and sorrows. And are something to watch.
But that does not mean you cannot take steps, including prayer.
Some items of possibly related interest may include:
Fourth Horseman of the Apocalypse What is the pale horse of death and pestilences? What will it bring and when? Some related videos may include Amphibian Apocalypse: Threat to Humans?, Zombie Deer Disease is Here! Are the 10 Plagues on Egypt Coming?, and Biological Warfare and Prophecy. Here is a version of the article in Spanish: El cuarto jinete de Apocalipsis, el caballo pálido de muerte y pestilencia.
Iran in Prophecy Is Iran in Bible prophecy? If so, what does the Bible teach? What names, other than Persia, may be used to describe Iran? There is also a related YouTube video titled Iran In Prophecy.
China, Its Biblical Past and Future, Part 1: Genesis and Chinese Characters Where did the Chinese people come from? Japeth, Javan, Magog? Is there evidence that the Chinese peoples must have known about various accounts in the Book of Genesis up until their dispersion after the Tower of Babel? What do Chinese writings and characters help show? What about the Garden of Eden, Noah's Flood, and the Tower of Babel? Here is a link to a version of this article in Spanish: ¿Prueban los caracteres chinos la exactitud de la Biblia? A related sermon is also available: China's biblical past and prophetic actions.
China, Its Biblical Past and Future, Part 2: The Sabbath and Some of God's Witness in China When did Christianity first come to China? What about the Apostle Thomas? Did Confucius say anything to get the Chinese to possibly consider Christianity? Is there early evidence that they observed the seventh day sabbath? What about the Ten Commandments? What type of Church of God witness has there been to China? What has been happening with China that ties it together with prophecies in Revelation? What about the 200 million man army and Armageddon? What about the Belt and Road Initiative and end time Babylon the Great? A related sermon is also available: China's biblical past and prophetic actions. Watch also China's Silk Road and Babylon the Great.
Asia in Prophecy What is Ahead for Asia? Who are the "Kings of the East"? What will happen to nearly all the Chinese, Russians, Indians, and others of Asia? China in prophecy, where? Who has the 200,000,000 man army related to Armageddon? Two YouTube video are Is China THE Threat to the United States of America? and China: A King of the East.
The New Testament Church, History, and Unclean Meats Are foods considered to have been unclean in the Old Testament considered to be food in the New Testament? This article discusses this from the perspective of the New Testament. It also has a list of clean and unclean animals. It also answers the question, is pork healthy or is pork dangerous? There is also a sermon-length video on this: Christians and Unclean Meats; a short video is also available: Did Jesus declare all animal flesh food?
The Gospel of the Kingdom of God This free online pdf booklet has answers many questions people have about the Gospel of the Kingdom of God and explains why it is the solution to the issues the world is facing. Here are links to three related sermons: The World's False Gospel, The Gospel of the Kingdom: From the New and Old Testaments, and The Kingdom of God is the Solution.
Differences Between Islam and the Continuing Church of God What are some of the main differences? Are there any similarities? A video of related interest is titled: Islam: Any Christian Concerns or Similarities?
GMOs and Bible Prophecy What are GMOs? Since they were not in the food supply until 1994, how could they possibly relate to Bible prophecy? Do GMOs put the USA and others at risk? Here is a related YouTube video GMO Risks and the Bible.
Chimeras: Has Science Crossed the Line? What are chimeras? Has science crossed the line? Does the Bible give any clues? A video of related interest is Half human, half pig: What's the difference?
Four Horsemen of the Apocalypse What do each of the four horseman of the Apocalypse represent? Have they began their ride? Did Jesus discuss the any of this? Might their rides coincide with the "beginning of sorrows? Do they start their ride prior to the Great Tribulation? Did Nostradamus or any other 'private prophets' write predictions that may mislead people so that they may not understand the truth of one or more of the four horseman? There is also a related YouTube video titled The Four Horsemen of the Apocalypse.
Does God Have a 6,000 Year Plan? What Year Does the 6,000 Years End? Was a 6000 year time allowed for humans to rule followed by a literal thousand year reign of Christ on Earth taught by the early Christians? Does God have 7,000 year plan? What year may the six thousand years of human rule end? When will Jesus return? 2027 or 20xx? There is also a video titled 6000 Years: When will God's Kingdom Come? Here is a link to the article in Spanish: ¿Tiene Dios un plan de 6,000 años?
When Will the Great Tribulation Begin? 2020, 2021, or 2022? Can the Great Tribulation begin today? What happens before the Great Tribulation in the "beginning of sorrows"? What happens in the Great Tribulation and the Day of the Lord? Is this the time of the Gentiles? When is the earliest that the Great Tribulation can begin? What is the Day of the Lord? Who are the 144,000? Here is a version of the article in the Spanish language: ¿Puede la Gran Tribulación comenzar en el 2020 o 2021? ¿Es el Tiempo de los Gentiles? You can also see the English language sermon videos: The Great Tribulation from the Mount of Olives and Can the Great Tribulation begin before 2020? A shorter and newer video is: Could the Great Tribulation Begin in 2020?
SDA/CCOG Differences: Two Horned Beast of Revelation and 666 The genuine Church of God is NOT part of the Seventh-day Adventists. This article explains two prophetic differences, the trinity, differences in approaching doctrine, including Ellen White. Did Ellen White make prophetic errors? Did Ellen White make false prophecies? Here is a version in the Spanish language: SDA/COG Diferencias: La bestia de dos cuernos de Apocalipsis y 666. Here is a sermon in the English language: CCOG and SDA differences and similarities.
Must the Ten Kings of Revelation 17:12 Rule over Ten Currently Existing Nations? Some claim that these passages refer to a gathering of 10 currently existing nations together, while one group teaches that this is referring to 11 nations getting together. Is that what Revelation 17:12-13 refers to? The ramifications of misunderstanding this are enormous. A related sermon is titled Ten Kings of Revelation and the Great Tribulation.