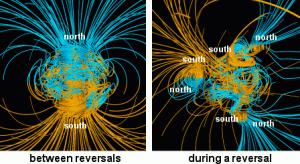 NASA portrayal of geomagnetic reversal
Is a geomagnetic pole reversal, a magnetic flip, possible?
Scientists think so:
February 1, 2018

"The shield that protects the Earth from solar radiation is under attack from within. We can't prevent it, but we ought to prepare…" is the ominous sub-headline of a worrisome new report that shows scientists around the world fearing that the earth's magnetic field is shifting, with potentially disastrous consequences for mankind.

"When next the poles change places, the consequences for the electrical and electronic infrastructure that runs civilization will be dire. The question is when that will happen."

As SHTFplan.com's Mac Slavo notes, scientists from the University of Colorado in Boulder are sounding the alarm that the Earth's magnetic poles are showing signs of reversing. Although the pole reversal, in and of itself, isn't unprecedented, the solar winds that would take out the power grid and make parts of the globe uninhabitable could cause widespread disasters.

The Earth has a fierce molten core that generates a magnetic field capable of defending our planet against devastating solar winds.  This magnetic field is vital to life on Earth and has weakened by 15 percent over the last 200 years. This protective field acts as a shield against harmful solar radiation and extends thousands of miles into space and its magnetism affects everything from global communication to power grids.

Historically, Earth's North and South magnetic poles have flipped every 200,000 or 300,000 years. However, the last flip was about 780,000 years ago, meaning our planet is well overdue.  The latest satellite data, from the European Space Agency's Swarm trio which monitors the Earth's magnetic field, suggest a pole flip may be imminent. …

The signs of the Earth's poles reversing are also apparent to Daniel Baker, who says this would devastate the power grid.  If a switch happens, we would likely be exposed to solar winds capable of punching holes into the ozone layer. In a new report, Baker, who is the director of the Laboratory for Atmospheric and Space Physics at the University of Colorado in Boulder, claims if this reversal happens, it is likely to render some areas of the planet "uninhabitable" by knocking out power grids.

Baker's comments were made in an in-depth Undark report written by Alanna Mitchell, who has a new book about the topic titled "The Spinning Magnet: The Electromagnetic Force that Created the Modern World and Could Destroy It."

"The dangers: devastating streams of particles from the sun, galactic cosmic rays, and enhanced ultraviolet B rays from a radiation-damaged ozone layer, to name just a few of the invisible forces that could harm or kill living creatures," Michelle writes.

 "This is serious business," Richard Holme, Professor of Earth, Ocean, and Ecological Sciences at Liverpool University told MailOnline.

"Imagine for a moment your electrical power supply was knocked out for a few months – very little works without electricity these days."

"No lights. No computers. No cellphones. Even flushing a toilet or filling a car's gas tank would be impossible. And that's just for starters."

Researchers predict that in the event of a flip, every year a hundred thousand people would die from the increased levels of space radiation. https://www.zerohedge.com/news/2018-01-31/earths-magnetic-field-shifting-poles-may-flip-could-get-bad
Notice a description of what could happen with a magnetic flip, a massive emp attack, or certain types of solar storms:
The Earth's magnetic field protects our planet from dangerous solar and cosmic rays, like a giant shield. As the poles switch places (or try to), that shield is weakened; scientists estimate that it could waste away to as little as a tenth of its usual force. The shield could be compromised for centuries while the poles move, allowing malevolent radiation closer to the surface of the planet for that whole time. Already, changes within the Earth have weakened the field over the South Atlantic so much that satellites exposed to the resulting radiation have experienced memory failure.

That radiation isn't hitting the surface yet. But at some point, when the magnetic field has dwindled enough, it could be a different story. Daniel Baker, director of the Laboratory for Atmospheric and Space Physics at the University of Colorado, Boulder, one of the world's experts on how cosmic radiation affects the Earth, fears that parts of the planet will become uninhabitable during a reversal. The dangers: devastating streams of particles from the sun, galactic cosmic rays, and enhanced ultraviolet B rays from a radiation-damaged ozone layer, to name just a few of the invisible forces that could harm or kill living creatures. …

No lights. No computers. No cellphones. Even flushing a toilet or filling a car's gas tank would be impossible. And that's just for starters.

But these dangers are rarely considered by those whose job it is to protect the electronic pulse of civilization. More satellites are being put into orbit with more highly miniaturized (and therefore more vulnerable) electronics. The electrical grid becomes more interconnected every day, despite the greater risks from solar storms. …

We have blithely built our civilization's critical infrastructure during a time when the planet's magnetic field was relatively strong, not accounting for the field's bent for anarchy. Not only is the field turbulent and ungovernable, but, at this point, it is unpredictable. It will have its way with us, no matter what we do. 01/26/18 https://undark.org/article/books-alanna-mitchell-spinning-magnet/
The belief that massive deaths could occur from this brought the following statements from Jesus to mind:
21

For then there will be great tribulation, such as has not been since the beginning of the world until this time, no, nor ever shall be.

22

And unless those days were shortened, no flesh would be saved; but for the elect's sake those days will be shortened. (Matthew 24:21-22)

Jesus is saying, that during the Great Tribulation, the world will get to the point that no flesh would survive if God did not intervene.
Some believed that a version of this magnetic flip might happen on the Mayan December 21, 2012 calendar date and cause all kinds of chaos. Because of the dependency of Western societies on electricity, computers, etc., the West is certainly vulnerable to massive upheavals in the event of a massive solar flare or something that affects the earth electrically (emp-type bombs also come to mind).
Notice an earlier report:
October 21, 2014

Scientists predict that the Earth's magnetic field can flip far faster than previously thought – unleashing a force which Mayan apocalypse believers thought might destroy our planet in 2012.

Berkeley scientists say that the Earth's magnetic field can weaken and dip within just 100 years, before flipping so that compasses point south – an event they admit could wreck the entire world's power grid and expose the world to deadly cosmic rays.

Earth's magnetic field is weakening 10 times faster than normal at present, leading geophysicists to predict a flip within a few thousand years – but Discovery news says that could understimate the speed of the change.

Authors such as Robert Felix claim that previous reversals have been associated with mass disruptions such as the extinction of Neanderthal man, and with supervolcano eruptions and other apocalyptic events. http://metro.co.uk/2014/10/21/earths-magnetic-field-is-about-to-flip-scientists-warn-4914467/
As I wrote in the past, I do not believe that the reversal of the magnetic field will cause an immediate end to Western civilization. I suspect, however, that there will be major electrical sorrows and troubles before the end (cf. Mark 13:8b,c; watch also Electrical End of the USA?). And problems with supervolcanoes is likely (watch also Are supervolcanoes a real threat?).
As far as the Mayans and 2012, etc., solar storms and the related damage were discussed in my book 2012 and the Rise of the Secret Sect. Here are several passages related to them:
Notice the following from N.A.S.A.:
Solar Storm Warning: Researchers announced that a storm is coming—the most intense solar maximum in fifty years. The prediction comes from a team led by Mausumi Dikpati of the National Center for Atmospheric Research (NCAR)…
Solar physicist David Hathaway of the National Space Science & Technology Center (NSSTC)…has confidence in the conveyor belt model and agrees with Dikpati that the next solar maximum should be a doozy. But he disagrees with one point…a storm is coming.

Solar outbursts have been proposed that could essentially wipe out modern civilization.
Notice a scenario that is based on a report from the U.S. National Academy of Scientists (although the precise date seems to be speculative):
IT IS midnight on 22 September 2012 and the skies above Manhattan are filled with a flickering curtain of colourful light…Within 90 seconds, the entire eastern half of the US is without power.
A year later and millions of Americans are dead and the nation's infrastructure lies in tatters. The World Bank declares America a developing nation. Europe, Scandinavia, China and Japan are also struggling to recover from the same fateful event – a violent storm, 150 million kilometres away on the surface of the sun…

According to the NAS report, a severe space weather event in the US could induce ground currents that would knock out 300 key transformers within about 90 seconds, cutting off the power for more than 130 million people…
First to go – immediately for some people – is drinkable water…With no electricity to pump water from reservoirs, there is no more…There is simply no electrically powered transport: no trains, underground or overground…For hospitals, that would mean about 72 hours of running a bare-bones, essential care only, service. After that, no more modern healthcare.

The truly shocking finding is that this whole situation would not improve for months, maybe years…

There also seems to be a couple of Mayan predictions recorded in the 16th century that suggest some type of solar flare-up will affect the earth:

Chilam Balam (Mayan priest): Heaven and earth shall burn…It is the holy judgment, the holy judgment.

Napuctun (Mayan priest): It shall burn on earth; there shall be a circle in the sky.

Another N.A.S.A./N.O.A.A. report has indicated that the next solar cycle peak may be later, like May 2013… The Bible itself warns of a time of scorching solar heat (Revelation 16:8-9…)…

and other prophecies are expected before 2030 (but after 2012)…

Whether or not one believes secular scientists who assert that humans are causing "global warming," and islands will be submerged, the Bible is clear that a time of high heat will happen, probably worsened by a solar flare-up of some type. It also mentions the islands being gone:

8 Then the fourth angel poured out his bowl on the sun, and power was given to him to scorch men with fire. 9 And men were scorched with great heat, and they blasphemed the name of God who has power over these plagues; and they did not repent and give Him glory…every island fled away (Revelation 16:8-9, 20).

The signs will be powerful. And the Babylonian power will fall during the Day of the Lord (Revelation 18:2).
So, my 2012 book was right that the scorching heat and certain other prophecies would not happen until after 2012.
We do not yet know precisely WHEN Revelation 16:8-9 will occur. Yet, since it does not happen until at least 2 1/2 years from the start of the Great Tribulation, which is no less than 3 1/2 years away (see When Will the Great Tribulation Begin?), it will not happen for at least six years (and likely later than that). Consider that it warns about a time of solar disturbances:
8 Then the fourth angel poured out his bowl on the sun, and power was given to him to scorch men with fire. 9 And men were scorched with great heat, and they blasphemed the name of God who has power over these plagues; and they did not repent and give Him glory. (Revelation 16:8-9)
It may be that the 'magnetic flip' will be the physical cause for the scorching heat. If so, this may be a reason that humankind will not repent as most will claim this is a natural, not supernatural, event. Many will rely on interpretations of groups like the European Space Agency, and most will not believe that the Bible prophesied high heat as a warning signs.
Could anything else 'electrical' happen before then?
Yes.
Jesus spoke of a time of troubles which He called the beginning of sorrows:
5

And Jesus, answering them, began to say: "Take heed that no one deceives you.

6

For many will come in My name, saying, 'I am He,' and will deceive many.

7

But when you hear of wars and rumors of wars, do not be troubled; for such things must happen, but the end is not yet.

8

For nation will rise against nation, and kingdom against kingdom. And there will be earthquakes in various places, and there will be famines and troubles. These are the beginnings of sorrows. (Mark 13:5-8)
Unlike the prophecies in Revelation 16, these events are starting to happen now.
In a world more and more dependent upon electricity, disturbances to the power grid can cause all type of troubles.
Disturbances could come not only from the sun or a magnetic pole reversal, but also from strong inclement weather (which impacted Puerto Rico, Dominica, and other parts of the Caribbean recently–watch also Hurricanes and Prophecy).
Additionally, places like Iran and North Korea are believed to have tested weapons that could cause massive electrical grid disturbances. These are known as electromagnetic weapons or electromagnetic pulse bombs (EMPs).
While the high heat prophesied in Revelation 16:8-9 will NOT happen before 2024 (and probably later), electrical power grid disturbances can happen any time and cause major troubles.
Some items that might be of assistance in understanding end-time events may include:
Electrical End of the USA?  Could problems with the electrical power grid caused by one or more electro-magnetic pulse bombs, solar flares, and/or other phenomena help weaken the USA to the point of allowing it to be taken over? Does such potential exist? If so, is this consistent with any biblical prophecies? What are some of the severe consequences that the USA would face in the event of a electrical power grid failure? Is there evidence in scripture that the USA will be taken over in the 21st century? Dr. Thiel addresses these issues and more in this video.
Physical Preparation Scriptures for Christians. We all know the Bible prophecies famines. Should we do something? Here is a version in the Spanish language Escrituras sobre Preparación física para los Cristianos. Here is a link to a related sermon: Physical preparedness for Christians.
When Will the Great Tribulation Begin? 2018, 2019, or 2020? Can the Great Tribulation begin today? What happens before the Great Tribulation in the "beginning of sorrows"? What happens in the Great Tribulation and the Day of the Lord? Is this the time of the Gentiles? When is the earliest that the Great Tribulation can begin? What is the Day of the Lord? Who are the 144,000? Here is a version of the article in the Spanish language: ¿Puede comenzar la Gran Tribulación en 2018 o 2019? ¿Es el Tiempo de los Gentiles? You can also see the English language sermon videos: The Great Tribulation from the Mount of Olives and Can the Great Tribulation begin before 2020? A shorter video is: Can the Great Tribulation begin in 2018?
The Times of the Gentiles Has there been more than one time of the Gentiles? Are we in it now or in the time of Anglo-America? What will the final time of the Gentiles be like? A related sermon is available and is titled: The Times of the Gentiles.
Blood Moons, Eclipses, and Prophecy There were four 'blood moons' expected in 2014 and 2015. Some claimed that they signaled the Day of the Lord or the return of Jesus Christ. I denounced that view in advance. Some claim an eclipse in 2017 signals the end, is that true? Two related videos are available: Blood Moons, Prophecy, 2014, and 2015. and Solar Eclipse and the Apocalypse.
NASA predicts irreversible collapse of civilization; 'perfect storm' within 15 years? How has NASA predicted the end? Here is a link to a related video: BibleNewsProphecy: NASA 'Irreversible Collapse' of Industrial Civilization by 2030? Another video of interest may be Is the Universe Expanding or about to Catastrophically Collapse?
Comets, Wormwood, and Planet Nibiru Will the Earth be devastated by Planet X or Comet Encke? What about Planet Nine? Could it happen in 2017? Here is a link to two related YouTube videos Planet Nibiru to Destroy Earth by 2017? and Could Comet ISON be Wormwood of Bible Prophecy?
Weather Blessings and Sorrows Are weather problems a warning? What should be done? What does the Bible teach about weather? What about floods, droughts, heat, earthquakes, tornadoes, and solar storms? Here is a related YouTube video Does God Use Weather?
2012 and the Rise of the Secret Sect This is a link related to a book by Bob Thiel (COGwriter). This link also has YouTube videos. This book documents and explains hundreds of prophecies. And since it was published, world events have aligned with at least 32 predictions in the book and many more will to come to pass.
Anglo – America in Prophecy & the Lost Tribes of Israel Are the Americans, Canadians, English, Scottish, Welsh, Australians, Anglo-Saxon (non-Dutch) Southern Africans, and New Zealanders descendants of Joseph? Where are the lost ten-tribes of Israel? Who are the lost tribes of Israel? What will happen to Jerusalem and the Jews in Israel? Will God punish the U.S.A., Canada, United Kingdom, and other Anglo-Saxon nations? Why might God allow them to be punished first? Here is a link to the Spanish version of this article: Anglo-América & las Tribus Perdidas de Israel. Information is also in the YouTube sermons titled Where are the Ten Lost Tribes? Why does it matter? and British are the Covenant People. A short YouTube of prophetic interest may be: Are Chinese threats against Australia for real?
Will the Anglo-Saxon Nations be Divided and Have People Taken as Slaves? Will the lands of the United States, United Kingdom, Canada, Australia, and New Zealand be divided? What about Jerusalem? What does Bible prophecy teach? Are there non-biblical prophecies that support this idea? Who will divide those lands? Who will end up with the lands and the people? Here is a link to a video titled Will the USA and other Anglo-nations be Divided and Their People Made Slaves? Here is a related item in the Spanish language ¿Serán divididas las naciones anglosajonas?