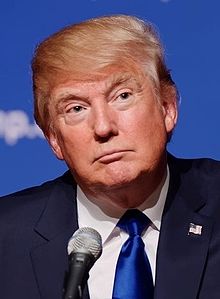 Donald Trump

Donald Trump put out an economic warning:
April 3, 2016

Milwaukee: Republican presidential front-runner Donald Trump predicted that the United States is on course for a "very massive recession," warning that a combination of high unemployment and an overvalued stock market had set the stage for another economic slump.

"I think we're sitting on an economic bubble. A financial bubble," the billionaire businessman said in an interview with The Washington Post published on Saturday.

Coming off a tough week on the campaign trail in which he made a series of missteps, Trump's latest comments bring him back into the limelight ahead of Tuesday's important primary in Wisconsin where he trails in the polls.

The former reality TV star said that the real US jobless figure is much higher than five percent number released by the US bureau of labour statistics.

"We're not at 5% unemployment," Trump said.

"We're at a number that's probably into the twenties if you look at the real number," he said, adding that the official jobless figure is "statistically devised to make politicians—and in particular presidents—look good."

Trump said "it's a terrible time right now" to invest in the stock market, offering a more bleak view of the US economy than that held by many mainstream economists. http://www.livemint.com/Politics/jyR1w5Cx1NlpG0nQqMmiQP/Donald-Trump-predicts-massive-recession-in-US.html
Donald Trump is correct that the real unemployment number is understated.  He is also correct that there is a type of stock market bubble (artificially low interest rates have contributed to this).
And at some point, the USA will face at least a 'very massive recession.'
Presumably, Donald Trump believes making these statements will help him in the Wisconsin primary.
Matt Barber wrote the following:
Dutch politician and historian Guillaume Groen van Prinsterer (1801-1876) is credited with what seems an eerily prescient foreshadowing of the bizarre phenomenon that is "Trump 2016."

"Pent-up anger and long-held frustration due to economic stagnation, moral decay, spiritual impotency, and political corruption," he opined, "invariably pave the way for the rise of crass manipulators. Instead of a mastery of truth, such revolutionary opportunists tap into fear and rage, ignorance and prejudice, staging great public spectacles of narcissism."

It's human nature. Such sense of hopelessness, anger, betrayal and frustration can lead otherwise good people (some of whom I respect and admire) to make very bad decisions – to exercise poor judgment.

It gave us Barack Obama in 2008.

And Donald Trump in 2016.

Indeed, we've moved seamlessly from "Hope" and "Change We Can Believe In," to "Make America Great Again." It's as though van Prinsterer had a crystal ball through which to keep tabs on the Donald's ivory Trump Tower office suite. …

Moral decay, spiritual impotency, and political corruption? That's America 2016 in toto. Since 1973 we've sacrificed nearly 60 million of our most innocent fellow citizens at Baal's altar of convenience and "equality." …

Enter Donald Trump – a several-times-bankrupt, big-government globalist, pro-socialized medicine, pro-abortion, pro-"gay marriage," lifelong liberal Democrat – to save the day. That is, at least, to peddle the right kind of snake oil and bark the right kind of empty "Make America Great Again" platitudes that festering wounds crave and itching ears want to hear.
"… invariably pave the way for the rise of crass manipulators."Crass manipulator? No two words better describe Mr. Trump. Unless, of course, you consider it classy when a leading presidential candidate, an unrepentant serial adulterer, personally attacks his political opponents as "stupid liars," sleazily suggesting that their wives are ugly (Heidi Cruz is a lovely woman both inside and out), brags about the size of his manhood from the debate stage, or habitually and unapologetically verbally abuses women – somebody's wives, mothers and daughters – by calling them "pigs," "ugly," "fat" or "great pieces of a–."Trump recently boasted that he's "such a good Christian." … "Adulterers and adulteresses! Do you not know that friendship with the world is enmity with God? Whoever therefore wants to be a friend of the world makes himself an enemy of God" (James 4:4). (Barber M. Was 'Trump 2016' prophesied centuries ago? World News Daily, March 25, 2016. http://www.wnd.com/2016/03/was-trump-2016-prophesied-centuries-ago/#97BJVTsaulsjlIVz.99)
Well, certainly there is moral decline and corruption in the USA. And certainly Donald Trump has risen to be the choice for many, despite his own moral issues.
Many people recognize that something is terribly wrong with the direction of the USA. Yet, the answer is not Donald Trump nor Hillary Clinton. The answer is national repentance, which is something neither of those candidates has spoken about.
The USA needs the Kingdom of God.
Some items of possibly related interest may include:
Should a Christian Vote? This article gives some of the Biblical rationale on this subject. Would Jesus vote for president/prime minister? Is voting in the Bible? This is a subject Christians need to understand. A video of related interest is available titled: Should Christians Vote?
Donald Trump in Prophecy Prophecy, Donald Trump? Are there prophecies that Donald Trump may fulfill? Are there any prophecies that he has already helped fulfill? Could a Donald Trump presidency be apocalyptic? A related video is titled Could Donald Trump be Apocalyptic?
Abortion, the Bible, and a Woman's Right to Choose Do you know what the Bible teaches on this? Has the Roman Catholic Church allowed abortions? What about the real Church of God? Some may also, or instead, wish to view the YouTube video Abortion, the Bible, and US Debt.
Cross-dressing and other assaults against your children. What should you do? Is there an agenda to turn your children and/or grandchildren away from biblical morality and towards practices promoted by homosexuals? What does the Bible teach about cross-dressing? What should parents do? If there is an agenda, what has been going on? There are also two YouTube videos related to this, titled Transgender 'Woe to those who call evil good' and Cross dressing and Other Assaults Against Your Children.
The Bible Condemns Homosexuality "Same-sex marriage" for "gays" and lesbians is becoming more acceptable to many. What does the Bible teach about homosexuality? Can homosexuals change? A related video sermon is titled: What Does the Bible Really Teach about Homosexuality?
Does God Have a 6,000 Year Plan? What Year Does the 6,000 Years End? Was a 6000 year time allowed for humans to rule followed by a literal thousand year reign of Christ on Earth taught by the early Christians? Does God have 7,000 year plan? What year may the six thousand years of human rule end? When will Jesus return? 2023 or 20xx? There is also a video titled The 6000 Year Plan: Is the end of humanity's reign almost up? Here is a link to the article in Spanish: ¿Tiene Dios un plan de 6,000 años?
When Will the Great Tribulation Begin? 2016, 2017, or 2018? Can the Great Tribulation begin today? What happens before the Great Tribulation in the "beginning of sorrows"? What happens in the Great Tribulation and the Day of the Lord? Is this the time of the Gentiles? When is the earliest that the Great Tribulation can begin? What is the Day of the Lord? Who are the 144,000? Here is a version of the article in the Spanish language: ¿Puede comenzar la Gran Tribulación en 2016 o 2017? ¿Es el Tiempo de los Gentiles? You can also see the English language sermon video: The Great Tribulation from the Mount of Olives. A shorter video is: Can the Great Tribulation Start in 2016?
Just What Do You Mean — Repentance? Do you know what repentance is? Have you truly repented? Repented of what? Herbert W. Armstrong wrote this as a booklet on this important subject.
When You Sin: Do You Really Repent? This is an article by Charles F. Hunting. A related sermon is Confess to God and truly repent.
WTO/TTIP and the Babylonian Beast Will international trade agreements like WTO/TTIP/CETA lead to the fulfillment of end time prophecies concerning the Babylonian Beast power that the Book of Revelation warns against? What does the Bible teach? A related video would be WTO Trade Deal and the Rise of the European Beast Power.
Hillary Clinton in Prophecy Prophecy, Hillary Clinton? Are there prophecies that Hillary Clinton may fulfill? Are there any prophecies that she has already helped fulfill? Could Hillary Clinton be apocalyptic? Could Hillary Clinton be the final Antichrist? A video of related interest is titled Hillary Clinton and Bible Prophecy.
The Gospel of the Kingdom of God was the Emphasis of Jesus and the Early Church Did you know that? Do you even know what the gospel of the kingdom is all about? You can also see a YouTube video sermon The Gospel of the Kingdom.
Women and the New Testament Church What roles did women play in the ministry of Jesus and the apostles? Did Jesus and the Apostle Paul violate Jewish traditions regarding their dealings with women? Do women have any biblical limitations on their role in the Church? Were there female prophets? Do women have any special responsibilities in terms of how they dress? What does the New Testament really teach about women? Here is a related sermon titled: New Testament Women.
Anglo – America in Prophecy & the Lost Tribes of Israel Are the Americans, Canadians, English, Scottish, Welsh, Australians, Anglo-Saxon (non-Dutch) Southern Africans, and New Zealanders descendants of Joseph? Where are the lost ten-tribes of Israel? Who are the lost tribes of Israel? What will happen to Jerusalem and the Jews in Israel? Will God punish the U.S.A., Canada, United Kingdom, and other Anglo-Saxon nations? Why might God allow them to be punished first? Here is a link to the Spanish version of this article: Anglo-América & las Tribus Perdidas de Israel. Information is also in the YouTube sermons titled Where are the Ten Lost Tribes? Why does it matter? and British are the Covenant People. A short YouTube of prophetic interest may be Barack Obama and the State of the Apocalypse.
Will the Anglo-Saxon Nations be Divided and Have People Taken as Slaves? Will the lands of the United States, United Kingdom, Canada, Australia, and New Zealand be divided? What about Jerusalem? What does Bible prophecy teach? Are there non-biblical prophecies that support this idea? Who will divide those lands? Who will end up with the lands and the people? Here is a link to a video titled Will the USA and other Anglo-nations be Divided and Their People Made Slaves? Here is a related item in the Spanish language ¿Serán divididas las naciones anglosajonas?
Hillary Clinton, Prophecy, and the Destruction of the United States This is a 188 page book for people truly interested in prophecies related to Hillary Clinton and the United States, including learning about many that have already been fulfilled and those that will be fulfilled in the future. It also discusses Republicans. The physical book can be purchased at Amazon from the following link: Hillary Clinton, Prophecy, and the Destruction of the United States: Is Hillary Clinton Fulfilling Biblical, Islamic Catholic, Hopi, and other America-Related Prophecies? $11.99.
Hillary Clinton, Prophecy, and the Destruction of the United States-Amazon Kindle edition. This electronic version of the 188 page print edition is available for only US$3.99. And you do not need an actual Kindle device to read it. Why? Amazon will allow you to download it to almost any device: Please click HERE to download one of Amazon s Free Reader Apps. After you go to for your free Kindle reader and then go to Hillary Clinton, Prophecy, and the Destruction of the United States-Amazon Kindle edition.