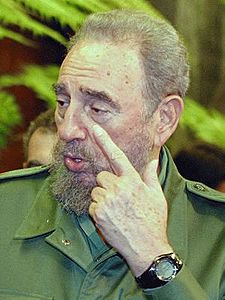 Cuba's Fidel Castro made some comments regarding the situation with Iran:
November 26, 2016

WASHINGTON —

Former Cuban President Fidel Castro is dead at the age of 90, his brother, Cuban President Raul Castro announced. …

Democracy a casualty

At home, universal education and health care were accomplishments that came at the cost of human rights and democracy. Dissidents were thrown in jail and their relatives who protested were often intimidated by pro-government mobs.

"Fidel Castro kept power through fear, through the use of the secret police, through manipulating political forces — just like Stalin did or just like Hitler did," Calzon said.

Castro frequently denounced the United States, often staging mass rallies to protest the U.S. economic embargo against his country.

Despite decades of U.S. pressure, he managed to stay in power until being sidelined by intestinal surgery in July 2006. The ailing leader formally relinquished the presidency in 2008 to his younger brother Raul, in a transfer of power endorsed in a pro-forma election by Cuba's National Assembly. http://www.voanews.com/a/fidel-castro-death/3612401.html
Now that Fidel Castro is dead, what's ahead for Cuba?
Well, it would seem like his death may help lead to greater cooperation among the nations of Latin America.
Most of the peoples in Latin America, including Cuba, are Roman Catholic. And this is true of nearly every nation there. Religion, thus, is a major cultural tie to Europe. The fact that the current Bishop of Rome, Jorge Mario Bergoglio, now known as Pope Francis (see also Argentinian is now Pope Francis), was born in Argentina also will help cement the ties further to Europe.
Certain parts of Latin America are also politically quite connected to Europe. Most of the Spanish-speaking nations have ties to each other as well as Spain.
Essentially, the Latin American nations are primarily made up of Gentile-descended peoples, many of which have some ties to Europe. During the prophesied "time of the Gentiles" the Gentile-descended nations, and not the Anglo-descended ones, will rule the earth (more information on that can be found in the article: When Will the Great Tribulation Begin? 2016, 2017, or 2018?
Even now, the Latin American nations are gaining political influence in the world.
Because of the cultural, ethnic, language, legal, and religious ties between Europe and Latin America, the two regions will likely cooperate more in the future. These ties will be primarily economic, along with the religious and cultural ones, but also may include some type of military cooperation. Based upon Ezekiel 27:12-23 and other scriptures (cf. Revelation 13:1-10), it appears that Latin America will align with Europe some day.
A Europe that will ultimately be the Beast of Revelation 13:1-10.
Of course, individuals in Latin America, Europe, and Cuba can resist and instead obey God.  And hopefully many will.
Some articles of possibly related interest may include:
Mexico, Central America, South America, Brazil, and the Caribbean in Prophecy [Español: México, América central, Suramérica, Brasil y el Caribe en la profecía] [Português: México, América Central, Ámérica do Sul, e Brasil na profecia] What will happen to those of Latin America? Will they have prosperity? Will they cooperate with Europe? Will they suffer in the future? What role might the various Caribbean nations/territories play?
Europa, the Beast, and the Book of Revelation discusses the largest church since the second/third century, which in a real sense is the eighth church mentioned in the Book of Revelation (it also endorses "eighth day" worship). What church would support the Beast? Here is a link to a video titled: Europe and the 'Holy Roman Empire'.
Are You Being Called by God? Norman Shoaf wrote various points to consider.
Christian Repentance Do you know what repentance is? Is it really necessary for salvation?
Just What Do You Mean — Repentance? Do you know what repentance is? Have you truly repented? Repented of what? Herbert W. Armstrong wrote this as a booklet on this important subject.
When You Sin: Do You Really Repent? This is an article by Charles F. Hunting. A related sermon is Confess to God and truly repent.
When Will the Great Tribulation Begin? 2016, 2017, or 2018? Can the Great Tribulation begin today? What happens before the Great Tribulation in the "beginning of sorrows"? What happens in the Great Tribulation and the Day of the Lord? Is this the time of the Gentiles? When is the earliest that the Great Tribulation can begin? What is the Day of the Lord? Who are the 144,000? Here is a version of the article in the Spanish language: ¿Puede comenzar la Gran Tribulación en 2016 o 2017? ¿Es el Tiempo de los Gentiles? You can also see the English language sermon videos: The Great Tribulation from the Mount of Olives and Can the Great Tribulation begin before 2020? A shorter video is: Can the Great Tribulation Start in 2016?