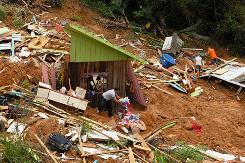 Mudslide Photo of Jaragua do Sul city in the state of Santa Catarina, Brazil By Luciano Moraes, Agencia RBS, via AP
The following news is from Brazil:
Floods, Landslides Kill Dozens in Brazil
SAO PAULO, Brazil (Nov. 24) – Floods and landslides in southern Brazil have killed 45 people, driven 22,000 from their homes and ruptured a major gas line, officials said Monday…
Santa Catarina state Gov. Luiz Henrique da Silveira told Globo television that with 14 other people missing, "that death toll, sadly, is going to pass 50."
Heavy rains that started on Friday have left some towns 80 percent under water, the governor said. Roads were blocked to four towns where people had no electricity. Federal officials offered cargo planes to help fly supplies to devastated regions.
Rescue efforts were focusing on the Itajai River valley, where waters were 30 feet above normal.
The count of deaths rose from 20 that civil defense officials had reported on Sunday.
Officials also said a landslide ruptured a major gas line from Bolivia, cutting off supplies to the states of Santa Catarina and Rio Grande do Sul.
Another South American nation, Colombia, also struggled with flooding on Monday as civil defense officials reported that the swollen El Salado river had killed at least six people and left six others missing in the Cauca region.  http://news.aol.com/article/floods-landslides-kill-dozens-in-brazil/258998
There certainly have been a lot of weather-related problems this year
LCG has long had a booklet of possibly related interest titled "Who Controls the Weather? " that is available for those interested in more on the weather and Bible prophecy.
Now there is good news as ultimately, God's kingdom will come.
Some articles of possibly related interest may include:
The Gospel of the Kingdom of God was the Emphasis of Jesus and the Early Church Did you know that? Do you even know what the gospel of the kingdom is all about? True religion should be based upon the true gospel.
Mexico, Central America, South America, and Brazil in Prophecy [Español: México, America Central, Suramérica, y el Brasil en profecíal] [Português: México, América Central, Ámérica do Sul, e Brasil na profecia] What will happen to those of Latin America? Will they have prosperity? Will they cooperate with Europe? Will they suffer in the future?
Universal Offer of Salvation: There Are Hundreds of Verses in the Bible Supporting the Doctrine of True Apocatastasis Do you believe what the Bible actually teaches on this? Will all good things be restored? Does God's plan of salvation take rebellion and spiritual blindness into account?
Did The Early Church Teach Millenarianism? Was the millennium (sometimes called chiliasm) taught by early Christians? Who condemned it. Will Jesus literally reign for 1000 years on the earth? Is this time near?
Does God Have a 6,000 Year Plan? What Year Does the 6,000 Years End? Was a 6000 year time allowed for humans to rule followed by a literal thousand year reign of Christ on Earth taught by the early Christians? When does the six thousand years of human rule end?