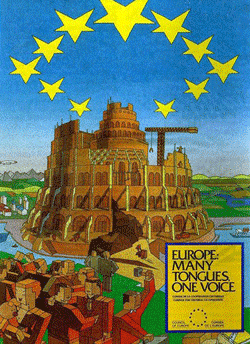 A flu pestilence is starting to hit Europe:
Decade's Worst Flu Marches on Europe After Virus Hits Ireland

Dublin's Wexford Street pharmacy can't keep shelves stocked with fever remedies and cough drops this week as snuffling customers seek relief from Ireland's worst flu season in almost a decade.
The virus, which hit Ireland and Portugal a month ago, is on an eastward march across Europe, leaving a wake of crowded emergency rooms and absent workers. In Ireland, the rate of flu- like illness is the highest since 2001, and the season is only midway. In Lisbon, Health Minister Ana Jorge asked the military last week to provide additional beds for flu patients.
The epidemic is now hitting France, Germany and Scandinavia, according to the European Centre for Disease Prevention and Control in Stockholm. Laboratories reported a 10- fold jump in flu cases in Sweden since the end of 2008 and a government agency says it may be one of the worst seasons of this century. It is being driven by a variant of a strain known as H3N2 that surfaced in Brisbane, Australia in 2007.
"Our alarm detection system said that influenza had a grip on the whole country" by mid-December, said Annika Linde, head of epidemiology at the Swedish Institute for Infectious Disease Control in Solna. In the first week of 2009, "we had an explosion."
Various pestilences are not unexpected as Jesus taught:
6 See that you are not troubled; for all these things must come to pass, but the end is not yet. 7 For nation will rise against nation, and kingdom against kingdom. And there will be famines, pestilences, and earthquakes in various places. 8 All these are the beginning of sorrows (Matthew 24:6-8).
Europe, however, will come through this flu epidemic and ultimately will be the premier power in the world until Jesus returns.
Some articles of possible interest may include:
Europa, the Beast, and Revelation Where did Europe get its name? What might Europe have to do with the Book of Revelation? What about "the Beast"? What is ahead for Europe?
Two Horned Beast of Revelation and 666 This article explains how the LCG views this, and compares this to Ellen White.
End of Mayan Calendar 2012–Might 2012 Mean Something? There is a Mayan calendar prediction for change in 2012. 2012 changes were also centuries ago predicted by the Hopi Native Americans (the Hindus may have some predictions for the next decade as well). Do these Mayan/Hindu/Hopi prophecies have any value? Why might Satan have inspired this date? Does the Dresden codex show destruction of the earth by flood? Can the great tribulation start before 2012?
Did The Early Church Teach Millenarianism? Was the millennium (sometimes called chiliasm) taught by early Christians? Who condemned it. Will Jesus literally reign for 1000 years on the earth? Is this time near?
Does God Have a 6,000 Year Plan? What Year Does the 6,000 Years End? Was a 6000 year time allowed for humans to rule followed by a literal thousand year reign of Christ on Earth taught by the early Christians? When does the six thousand years of human rule end?
Can the Great Tribulation Begin in 2009, 2010, or 2011? Can the Great Tribulation begin today? When is the earliest that the Great Tribulation can begin? What is the Day of the Lord?