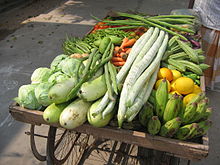 A variety of foods can be helpful for health, but there are problems with items like pork:
February 24, 2019

Almost everything we eat has some kind of impact on our microbes. One example I talk about in the book is meat. Really kind of fatty meats like pork can have a negative health impact on us via our microbes, because they produce a metabolite called TMAO, which has been linked to negative health outcomes. But fish oil has been shown to be beneficial — the microbes of mice fed fish oil instead of pork lard produced much fewer TMAOs.

Another exciting area of research is looking at how gene expression in the same microbial strains can change, based on what they're being fed. Different metabolites get produced not by different microbes, but by the same microbes being fed differently. https://www.npr.org/sections/thesalt/2019/02/24/696272090/cultured-a-look-at-how-foods-can-help-the-microbes-inside-us-thrive
Notice also the following:
Food Diversity's Enormous Impact on Your Health

One of the most astonishing developments in science is the profound impact of the microbiome, the 100 trillion microbes that live within us, on our health. It's now clear that this immense colony directly impacts our immune system, our sense of well-being, our appetite, weight, and so on.

Scientific American summarized this new research thusly: "Leading scientists now think of humans not as self-sufficient organisms but as complex ecosystems colonized by numerous collaborating and competing microbial species. From this perspective, human health is a form of ecology in which care for the body also involves tending its teeming population of resident animalcules."

Poorly functioning microbiomes are now linked to Parkinson's disease and a host of auto-immune disorders as well as metabolic disorders such as diabetes. (It seems that the majority of people who develop Parkinson's suffer from chronic constipation.) …

Here is the key take-away of this research in my view: diversity and variety are essential features of healthy ecosystems, including the one inside us and the social-economic ecosystems we inhabit.

Given what we know about the microbiome, it makes excellent sense to eliminate / restrict processed foods. But it also makes excellent sense to consume as wide a variety of fiber-rich fruits and plants as possible, and to consume a wide variety of types of foods in moderation, as a means of supporting a diverse and healthy microbiome. 02/23/19 https://www.oftwominds.com/blogfeb19/food-diversity2-19.html
In our family, one of the things we started about 20 years ago was to get local/organic vegetable and fruit box every other week. Basically, it includes whatever the farm is producing. It often includes items that we normally would not buy, which (since we do not want to waste) essentially forces us to consume some items we normally would not have. So, this is a way for us to have a more diverse intake of foods.
That being said, overall in Western lands, like the USA, we are seeing less and less diversity in foods.
It is not that foods are not imported from all around the world, but much "food" in Western lands is so highly processed that it does not contain the enzymes and the quantity of some of the nutrients that less processed foods possess. Plus, there are all the chemicals used, which seem to increase cancer risk compared to foods grown without those chemicals (see, for example, Eating organic foods appears to reduce risk of developing cancer).
Furthermore, the fact is that many species of plant products have been hybridized or genetically-modified for uniformity.
This not only reduces biodiversity, it makes those crops more susceptible to being wiped out by pests.
Last century, I started to get published for my positions against genetically-modified foods (Thiel R. Labeling of genetically modified foods should be a fundamental consumer right. HealthKeepers, 2000; 2 (3):16-19; Thiel R. ANMA's official position on genetically-modified foods. ANMA Monitor, 1999;3(4)5-8). And since then, more and more information has come to light suggesting dangers to the environment and health related to GMOs and other processed agricultural items.
Many years ago, I warned:
In the "Great Depression" most Americans and Brits had skills in growing food. This is no longer the case. Furthermore, modern crops have gotten more complicated as so many seeds are hybrids that they will not actually grow the type of foods most in the USA and UK are used to having. The coming food problems will also get worse once one or more genetically-modified crops suffers from some type of pestilence. The USA, to cite one example, could lose virtually all of its wheat or corn because of the dependence on genetically modified versions (which is especially true for crops like corn and soy). Prophecy for famines will be fulfilled (Matthew 24:7-8). (From China Buying USA Food, In Depression Will Chinese Eat While Americans & Brits Starve? May 21, 2010)

Notice something that Ezekiel was inspired to write:

15 'So it shall be a reproach, a taunt, a lesson, and an astonishment to the nations that are all around you, when I execute judgments among you in anger and in fury and in furious rebukes. I, the Lord, have spoken. 16 When I send against them the terrible arrows of famine which shall be for destruction, which I will send to destroy you, I will increase the famine upon you and cut off your supply of bread. 17 So I will send against you famine and wild beasts, and they will bereave you. Pestilence and blood shall pass through you, and I will bring the sword against you. I, the Lord, have spoken.'" (Ezekiel 5:15-17)

Notice that this shows famine, then pestilence, and then the sword. The above sequence seems to be slightly different than what Jesus listed as part of the "beginning of sorrows" (Mathew 24:7-8) as the sword comes afterwards. But since the sword should begin the Great Tribulation, the time of Jacob's trouble (Jeremiah 30:7), this may be part of how the beginning of sorrows ties into the Great Tribulation–this also may suggest hunger and disease problems for the Anglo-nations prior to the start of the Great Tribulation.

The increasing use of genetically modified organisms for many of the grain crops in the USA is putting parts of humanity at major increased risk of unintended consequences such as famine and disease pestilences. Most of the corn and soy beans produced in the USA are genetically-modified. Soon, much of the wheat will be. Directly and indirectly, the USA and its Anglo-allies will cause most of the problems that it will be experiencing in the next several years.

As Jesus said:

37 And what I say to you, I say to all: Watch! (Mark 13:36-37)

Tougher times are coming. And for some parts of the world these tougher time may be here now. People who can prepare, should: both spiritually and physically. (From Super Wheat: Solution or Disaster Awaiting? June 10, 2011)

So, it may be that the Anglo-nations will experience some real hunger as well as disease and/or other pestilences (that could possibly at least partially be triggered by excessive reliance on genetically-modified organisms as part of their agricultural production) that will weaken them enough so that the USA and its Anglo-allies will then be considered attackable by some of their enemies…

Because of sin, greed, and ignorance, America has been into producing genetically-modified foods. These "foods" are genetically identical which makes them susceptible to total elimination via famine-causing pestilential organisms. I have long suspected that the time will come when some type of pestilence will hit America's genetically-modified grain crops like corn and wreak havoc on the land. Enough so, that this may embolden its enemies to attack Britain and/or the USA to begin the Great Tribulation. (Thiel B. Food Concerns. COGwriter, December 29, 2011)
Basically, I have long suspected that likely crop failures associated with GMO grains are putting the USA and its Anglo-allies at extreme risk of being destroyed. Most Americans do not like to accept this, but it is nonetheless true. The USA keeps developing more and more genetically-modified 'foods.' This is not good.
The time is coming when the USA will have severe food shortages. And at that same time, the USA may have to provide grain to China and other creditors that it owes when some Americans will be starving. The reliance on genetically-modified grain crops will likely contribute to disaster in the USA. It may even contribute to food inflation.
The Europeans are not near the risk for this, even though the USA has pressed them to accept GMOs (see TTIP: The USA hopes to crush Europe with GMOs?). The Europeans are also at less risk because of their animal husbandry practices (watch Are Americans & Asians setting themselves up for destruction from antibiotic use?).
Thousands of years ago, God inspired one of His prophets to pen the following, which encourages people to eat what is good:
2 Why do you spend money for what is not bread, And your wages for what does not satisfy? Listen carefully to Me, and eat what is good, And let your soul delight itself in abundance. (Isaiah 55:2)
Intentionally eating a lot of GMOs and overly processed foods, in my view, is not good (though in the USA completely avoiding all of them is close to impossible–and the body seems to be able to handle small amounts of them). Furthermore, as science disregards God, they are also creating living organisms that combine DNA from animals and even humans together.
It should also be noted that scientists can now also produce genetically-modified pestilential organisms–synthetic biology. Thus, there is even more devastating potential in the 21st century from man-made pestilences.
While the return of Jesus and the establishment of the Kingdom of God is going to be the solution, Jesus warned that prior to that, famines and "pestilences" would be part of the "beginning of sorrows":
8 For nation will rise against nation, and kingdom against kingdom. And there will be earthquakes in various places, and there will be famines and troubles. These are the beginnings of sorrows. (Mark 13:8).

10 Then He said to them, "Nation will rise against nation, and kingdom against kingdom. 11 And there will be great earthquakes in various places, and famines and pestilences; and there will be fearful sights and great signs from heaven. (Luke 21:10-11).

Possible GMO and other monoculture crop losses and the use of synthetic bio-agents are consistent with what Jesus warned would happen.
Consider also, that according to Jesus, one or more significant famines and pestilences will begin shortly before the start of the Great Tribulation. Biblically, it appears to be highly likely that the USA and its Anglo-allies will be hit hard by famines and/or pestilences just prior to being taken over (Leviticus 26:21-25) by the Beast power (Daniel 11:39).
The Bible warns of food shortages and pestilences. Nearly 2000 years ago, Jesus taught:
7…And there will be famines, pestilences, and earthquakes in various places. 8 All these are the beginning of sorrows. (Matthew 24:7-8)
We seem to be in the time Jesus called "the beginning of sorrows." Problems with crops are prophesied.
While many doubt that the USA could ever see severe hunger, that overlooks what the Bible shows will come, and it looks like it will affect the USA. Consider, for example, the following:
18 Their heart cried out to the Lord,

"O wall of the daughter of Zion,
Let tears run down like a river day and night;
Give yourself no relief;
Give your eyes no rest.

19 "Arise, cry out in the night,
At the beginning of the watches;
Pour out your heart like water before the face of the Lord.
Lift your hands toward Him
For the life of your young children,
Who faint from hunger at the head of every street."

20 "See, O Lord, and consider!
To whom have You done this?
Should the women eat their offspring,
The children they have cuddled?
Should the priest and prophet be slain
In the sanctuary of the Lord? (Lamentations 2:18-20)

6 Samaria is held guilty, For she has rebelled against her God. (Hosea 13:11)
Several references to 'Samaria' in scripture refer to the USA in the time of the end.
But it is not just places like the USA.
Notice the following end time prophecies related to food shortages and price fluctuations:
5 When He opened the third seal, I heard the third living creature say, "Come and see." So I looked, and behold, a black horse, and he who sat on it had a pair of scales in his hand. 6 And I heard a voice in the midst of the four living creatures saying, "A quart of wheat for a denarius, and three quarts of barley for a denarius; and do not harm the oil and the wine." (Revelation 6:5-6)
The above prophecy will come to pass (see also Four Horsemen of the Apocalypse and/or watch the video The Four Horsemen of the Apocalypse). Those predictions have NOT yet been completely fulfilled. Food shortages and price fluctuations for food are still going to happen and we are seeing some now.
In the last century, prior to the introduction of GMO "foods", the late Pastor General of the old Worldwide Church of God, Herbert W. Armstrong wrote:
And so man IS just what he eats. Some of the most famous physicians and surgeons have said that 90% to 95% of all sickness and disease comes from faulty diet!

Most people are in utter ignorance of the fact that it does make a difference what we eat! Most people, and the customs of society, have followed a regimen of eating whatever tastes good to the palate.

Adults are babies grown up. Observe a nine-month-old baby. Everything that comes into his hands goes to his mouth!

My youngest brother may not like to read this in print, but I remember when he was about nine months old, and had managed to creep into the basement coal bin. We found him trying to eat little chunks of coal—his mouth and face well blackened!

You may laugh at babies trying to eat silver cups and chunks of coal. Or at people who dip small mice into a sauce, and, holding them by their tails, drop them as a delicious delicacy into their mouths.

If you do, they will laugh back at you. They will tell you that mice eat clean grain and clean foods, while you dip slimy, slithery oysters and other scavenger seafoods into cocktail sauces, and consider them a delicacy!

You think adults have actually LEARNED any better than nine-month-olds babies? Go to your fancy grocer's and you'll find on his shelves canned eel and canned rattlesnake.

WHY? As I said, humans know nothing at birth! We have to learn! But most of us do not know that! And, again, what we don't know, we don't know that we don't know! And somehow, ever since babyhood, most humans seem to have grown up putting everything into the mouth. Most have grown up eating just whatever seemed to taste good—and whatever they saw others eating. There has been little education or even study about WHAT we ought—or ought NOT—to eat.

Most degenerative diseases are modern diseases—penalties for eating foods that have been demineralized in food factories—usually an excess of starch, sugar (the carbohydrates) and fats. Others are caused by a type of malnutrition—lack of needed minerals and vitamins in foods. Then people try to put the "vitamins" back into their systems by buying pills at the drugstore!  (More on this can be found in the article HWA: Third Law of Success: Good Health.)
Here are a few scriptures about food, including animals, from the Hebrew scriptures (often called the Old Testament):
4 He causes the grass to grow for the cattle, And vegetation for the service of man, That he may bring forth food from the earth, 15 And wine that makes glad the heart of man, Oil to make his face shine, And bread which strengthens man's heart. (Psalms 104:14-15)

10 A righteous man regards the life of his animal, But the tender mercies of the wicked are cruel.  (Proverbs 12:10)

27 You shall have enough goats' milk for your food, For the food of your household, And the nourishment of your maidservants. (Proverbs 27:27)

2 "Speak to the children of Israel, saying, 'These are the animals which you may eat among all the animals that are on the earth: 3 Among the animals, whatever divides the hoof, having cloven hooves and chewing the cud — that you may eat. 4 Nevertheless these you shall not eat among those that chew the cud or those that have cloven hooves: the camel, because it chews the cud but does not have cloven hooves, is unclean to you; 5 the rock hyrax, because it chews the cud but does not have cloven hooves, is unclean to you; 6 the hare, because it chews the cud but does not have cloven hooves, is unclean to you; 7 and the swine, though it divides the hoof, having cloven hooves, yet does not chew the cud, is unclean to you. 8 Their flesh you shall not eat, and their carcasses you shall not touch. They are unclean to you. 9 'These you may eat of all that are in the water: whatever in the water has fins and scales, whether in the seas or in the rivers — that you may eat. 10 But all in the seas or in the rivers that do not have fins and scales, all that move in the water or any living thing which is in the water, they are an abomination to you. 11 They shall be an abomination to you; you shall not eat their flesh, but you shall regard their carcasses as an abomination. 12 Whatever in the water does not have fins or scales — that shall be an abomination to you. 13 'And these you shall regard as an abomination among the birds; they shall not be eaten, they are an abomination: the eagle, the vulture, the buzzard, 14 the kite, and the falcon after its kind; 15 every raven after its kind, 16 the ostrich, the short-eared owl, the sea gull, and the hawk after its kind; 17 the little owl, the fisher owl, and the screech owl; 18 the white owl, the jackdaw, and the carrion vulture; 19 the stork, the heron after its kind, the hoopoe, and the bat. 20 'All flying insects that creep on all fours shall be an abomination to you. 21 Yet these you may eat of every flying insect that creeps on all fours: those which have jointed legs above their feet with which to leap on the earth. 22 These you may eat: the locust after its kind, the destroying locust after its kind, the cricket after its kind, and the grasshopper after its kind. 23 But all other flying insects which have four feet shall be an abomination to you. (Leviticus 11:2-23)
Basically the Bible advocates eating real food (it does not consider unclean meats to be food) and not too much of it.
While overeating and obesity are major problems in the Anglo-lands and many other nations, the fact is that the overwhelming majority of Westerners do not consume the recommended minimum of two servings of fruit and three servings of vegetables per day.  And much of the "food" that is actually eaten is highly processed with a variety of chemicals that humans never used to eat. Something to think about.
Does your diet need to be changed?
The Bible shows:
30 God .. .commands all men everywhere to repent (Acts 17:30)
Perhaps you should try to better diversify your diet.
Some items of related interest may include:
Obesity, processed foods, health risks, and the Bible Does the Bible warn about the consequences of being obese? Is overeating dangerous? Is gluttony condemned? What diseases are associated with eating too much refined foods? A related video would be Eating Right, Eating Too Much, and Prophecy.
Ten Simple Rules that Lead to Health Herbert Armstrong gives his opinions on this.
Is God Calling You? This booklet discusses topics including calling, election, and selection. If God is calling you, how will you respond? Here is a link to a related sermon: Could God be Calling You?
Christian Repentance Do you know what repentance is? Is it really necessary for salvation? A related sermon is also available titled: Real Christian Repentance.
Just What Do You Mean — Repentance? Do you know what repentance is? Have you truly repented? Repented of what? Herbert W. Armstrong wrote this as a booklet on this important subject.
The New Testament Church, History, and Unclean Meats Are foods considered to have been unclean in the Old Testament considered to be food in the New Testament? This article discusses this from the perspective of the New Testament. It also has a list of clean and unclean animals. It also answers the question, is pork healthy or is pork dangerous? There is also a sermon-length video on this: Christians and Unclean Meats; a short video is also available: Did Jesus declare all animal flesh food?
Spiritual Samaritans: Old and New Who were the Samaritans? Do the represent true Christianity or something else? Here is a link to a related sermon: USA in Prophecy: Samaria.
Canada in Prophecy: What Does Bible Prophecy, Catholic Prophecy, and other Predictions Suggest About the Future of Canada? There are prophecies that suggest involvement with Canada. And many are not positive about its future. A sermon of related interest is also available: Canada in Prophecy.
Protestant and Church of God views of the United States in Bible Prophecy Is the USA mentioned in Bible prophecy? Some Protestants say yes, while others say no. What does the Bible really teach? Learn the truth about this. There is also a video available: Is The United States Mentioned In Bible Prophecy?
Dangerous Protestant Prophetic Errors What are some errors that various Protestants hold to that will tend to prevent them from knowing when the Great Tribulation will begin? A related video is titled Ten Dangerous Protestant Prophetic Errors.
Anglo – America in Prophecy & the Lost Tribes of Israel Are the Americans, Canadians, English, Scottish, Welsh, Australians, Anglo-Saxon (non-Dutch) Southern Africans, and New Zealanders descendants of Joseph? Where are the lost ten-tribes of Israel? Who are the lost tribes of Israel? What will happen to Jerusalem and the Jews in Israel? Will God punish the U.S.A., Canada, United Kingdom, and other Anglo-Saxon nations? Why might God allow them to be punished first? Here is a link to the Spanish version of this article: Anglo-América & las Tribus Perdidas de Israel. Information is also in the YouTube sermons titled Where are the Ten Lost Tribes? Why does it matter? and British are the Covenant People. A short YouTube of prophetic interest may be: Are Chinese threats against Australia for real?
Will the Anglo-Saxon Nations be Divided and Have People Taken as Slaves? Will the lands of the United States, United Kingdom, Canada, Australia, and New Zealand be divided? What about Jerusalem? What does Bible prophecy teach? Are there non-biblical prophecies that support this idea? Who will divide those lands? Who will end up with the lands and the people? Here is a link to a video titled Will the USA and other Anglo-nations be Divided and Their People Made Slaves? Here is a related item in the Spanish language ¿Serán divididas las naciones anglosajonas?
British are the Covenant People What do 'British' and 'Britain' mean in Hebrew? Are the descendants of the Anglo-Saxons people of the covenant? Does the British royal family connect to the throne of David? What does the Bible teach? What does history show us? Is there any DNA evidence related to British-Israelism? When did Christianity make it to the British Isles? Could Jeremiah have made it to the British Isles? What type of Christians made it to the British Isles? Did the last King of England believe in British Israelism?
When Will the Great Tribulation Begin? 2019, 2020, or 2021? Can the Great Tribulation begin today? What happens before the Great Tribulation in the "beginning of sorrows"? What happens in the Great Tribulation and the Day of the Lord? Is this the time of the Gentiles? When is the earliest that the Great Tribulation can begin? What is the Day of the Lord? Who are the 144,000? Here is a version of the article in the Spanish language: ¿Puede comenzar la Gran Tribulación en 2018 o 2019? ¿Es el Tiempo de los Gentiles? You can also see the English language sermon videos: The Great Tribulation from the Mount of Olives and Can the Great Tribulation begin before 2020? A shorter and newer video is: Might the Great Tribulation start in 2019?
The Times of the Gentiles Has there been more than one time of the Gentiles? Are we in it now or in the time of Anglo-America? What will the final time of the Gentiles be like? A related sermon is available and is titled: The Times of the Gentiles.
Four Horsemen of the Apocalypse What do each of the four horseman of the Apocalypse represent? Have they began their ride? Did Jesus discuss the any of this? Might their rides coincide with the "beginning of sorrows? Do they start their ride prior to the Great Tribulation? Did Nostradamus or any other 'private prophets' write predictions that may mislead people so that they may not understand the truth of one or more of the four horseman? There is also a related YouTube video titled The Four Horsemen of the Apocalypse.
Fourth Horseman of the Apocalypse What is the pale horse of death and pestilences? What will it bring and when? Spanish: El cuarto jinete de Apocalipsis, el caballo pálido de muerte y pestilencia.
GMOs and Bible Prophecy What are GMOs? Since they were not in the food supply until 1994, how could they possibly relate to Bible prophecy? Do GMOs put the USA and others at risk? Here is a related YouTube video GMO Risks and the Bible.
Chimeras: Has Science Crossed the Line? What are chimeras?  Has science crossed the line? Does the Bible give any clues? A video of related interest is Half human, half pig: What's the difference?
The Gospel of the Kingdom of God This free online pdf booklet has answers many questions people have about the Gospel of the Kingdom of God and explains why it is the solution to the issues the world is facing. Here are links to three related sermons: The World's False Gospel, The Gospel of the Kingdom: From the New and Old Testaments, and The Kingdom of God is the Solution.
Did The Early Church Teach Millenarianism? Was the millennium (sometimes called chiliasm) taught by early Christians? Who condemned it? Will Jesus literally reign for 1000 years on the earth? Is this time near? Two related sermons are available Millennial Utopia and The Millennium.
Does God Have a 6,000 Year Plan? What Year Does the 6,000 Years End? Was a 6000 year time allowed for humans to rule followed by a literal thousand year reign of Christ on Earth taught by the early Christians? Does God have 7,000 year plan? What year may the six thousand years of human rule end? When will Jesus return? 2027 or 20xx? There is also a video titled 6000 Years: When will God's Kingdom Come? Here is a link to the article in Spanish: ¿Tiene Dios un plan de 6,000 años?