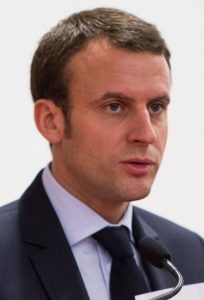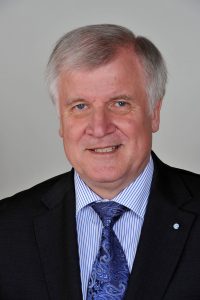 Emmanual Macron, Angela Merkel, and Horst Seehofer (Wikipedia)

The top leaders of France and Germany want more European unity, but some issues are expected:
16 March 2018

French President Emmanuel Macron has vowed to push through reforms of the European Union and the eurozone monetary union. Since assuming office in 2017, he has consistently emphasized his desire to partner with Germany to jointly lead these reforms.

The French president wants:

to create a post for an EU finance minister.
to establish a joint eurozone budget.
to institute a body tasked with overseeing bloc-wide economic policy.

Macron envisions a two-speed Europe which would allow countries that want to work towards further integration to go forward with such measures while others can choose to maintain the status quo.

In terms of monetary union reforms, Macron believes a separate parliament comprising elected members from eurozone countries would allow them to decide on matters that do not concern EU member states that have yet to adopt the euro.

Although German Chancellor Angela Merkel has backed calls for reforms, she has cautiously stated that both countries need to find a "common position," especially when it comes to reforming the 19-member eurozone. http://www.dw.com/en/how-frances-emmanuel-macron-wants-to-reform-the-eu/a-43002078

16 March 2018
Things are moving quickly now that Germany finally has its new government: Germany's new foreign minister, Heiko Maas of the Social Democrats (SPD), flew to Paris on the very same day he was sworn in. The chancellor is not wasting time, either. Less than two days after her fourth election to the chancellorship, she's in Paris. …
A few days ago, Merkel complained that Europe was "too weak and too slow" in many areas. She wants to change that. She agrees with Macron that without him, without France, this is not possible. "I don't believe for a second that a European project can be successful without, or against Germany," Macron told the German daily Frankfurter Allgemeine Zeitung. "We are completely interdependent."

The fact that Germany and France will have to work together in the EU and find common positions is not because they are the two largest countries in the eurozone, says Stefan Seidendorf, deputy director of the Franco-German Institute in Ludwigsburg. He also does not believe that the two countries are necessarily best friends. But he thinks that the differences in perspective are an advantage for the EU: "The cooperation with France is particularly successful because France is traditionally the antithesis of Germany." When Germany and France reach an agreement, this often leads to a "proxy compromise that is more or less acceptable to everyone else. That is the added value of this special relationship to this day, that they can reflect the many European conflicts in a Franco-German relationship, and that then a Franco-German compromise can also become a European one." http://www.dw.com/en/emmanuel-macron-angela-merkel-meeting-a-test-for-eu-financial-policy/a-42998372
Many want European unity, while others are hesitant.
Financial matters aside, the immigrant situation has caused concerns in Europe.
But interestingly, notice some reports related to Germany:
16 March 2018

Germany's new interior minister has said he believes "Islam does not belong" to the country, in remarks that contrast with those of Chancellor Angela Merkel.

Horst Seehofer set out a range of immigration policies as he took up his role at the heart of the new coalition.

He has long been a vocal critic of Mrs Merkel's refugee policies.

His comments are seen as an effort to win back voters from the far-right Alternative for Germany (AfD) party. …

Mr Seehofer, who heads Mrs Merkel's Bavarian sister party the CSU, also vowed to increase deportations of rejected asylum-seekers.

More than one million migrants arrived in Germany after Mrs Merkel opened the doors to Syrian asylum seekers in 2015.

The backlash sparked by her policy helped fuel the country's far right in last year's election … http://www.bbc.com/news/world-europe-43422770

March 15, 2018

They are now admitting what is visible to the eyes of ordinary Europeans may be an admission that things have got so bad — and are so well known — that even Chancellor Merkel and the New York Times are no longer able to ignore them. …

German Chancellor Angela Merkel, who almost half a year after her party's embarrassment in national elections has finally managed to put together a coalition government. …

On Monday February 26, Merkel gave an interview to the German broadcaster N-TV. In it she finally admitted that there are "no-go areas" in her country: "that is, areas where nobody dares to go." She continued: "There are such areas and one has to call them by their name and do something about them."  … newspapers like the New York Times have tended in recent years towards the same denialism as Angela Merkel about the problems which mass immigration from the developing world is causing in Europe. They have tended to praise the "courage" of suspending normal border controls while covering over or ignoring the terrible consequences of importing millions of people whose identities are unknown. https://www.gatestoneinstitute.org/12015/europe-denial
Notice something I wrote about Islam and Germany back in 2010:
The reality is that most Germans do not consider that Islam is part of Germany. The stage is being set for a more forceful German leader (perhaps Karl Guttenberg) to rise up and take this to the next level. If, as German Chancellor Angela Merkel declared, multiculturalism is a total failure and those from Islamic countries will not totally integrate, the next step may be to insist they integrate or leave. (Thiel B. Germany's Merkel: Multiculturalism a Total Failure. COGwriter, October 18, 2010)
Germany will be a leader in pushing out Islam (watch also European Unity to be like Hitler?). Muslims will not like this, yet the reality is that more and more in Germany want to do something NOW about the Islamic situation.
Germany itself, along with the rest of Europe, will change. The Bible shows that Europe will reorganize and a strong leader will emerge:
12 "The ten horns which you saw are ten kings who have received no kingdom as yet, but they receive authority for one hour as kings with the beast. 13 These are of one mind, and they will give their power and authority to the beast. (Revelation 17:12-13, NKJV)
The final European Beast leader, who is also known as the final King of the North, will ultimately promote his religion (Daniel 11:36-38; which will not be Islam, he will at first feign and claim a form of Roman Catholicism). He will make a deceptive deal with the leader of a confederation of peoples in North Africa and the Middle East (cf. Daniel 11:27; Psalm 83:3-8) and then destroy the USA and its Anglo-Saxon allies (Daniel 11:39; see also USA in Prophecy: The Strongest Fortresses).
Yet, Islamic issues will be a factor in the rise of this Beast leader–the Bible shows that a European Beast leader will, after destroying the USA (Daniel 11:39), push against and overwhelm a power from the Middle East and North Africa (Daniel 11:40-43).
It should be noted that this Beast leader is NOT Russian (see also Is Russia the King of the North?). Despite claims from Protestant Joel Richardson, this Beast leader is NOT Islamic (see also Is There an Islamic Antichrist?).
As far as financial unity goes, many nations in Europe use the Euro. Several others are considering it.
As far as the Euro goes, the old Worldwide Church of God published the following in 1970:
The fact is, there simply is no other international reserve currency on the scene to replace the dollar — yet. But the seed has been planted for just such an alternate unit, should it become necessary. The six nations of the Common Market have already agreed to move toward the establishment of a Common Market reserve fund, and eventually a common currency. The current thinking is that it would take from five to nine years before such a currency unit could become a reality. (Is America Losing… The Battle For Economic Survival? Ambassador College, 1970)
Europe put out the ECU in the late 1970s. The euro was introduced to world financial markets as an accounting currency on 1 January 1999, replacing the former European Currency Unit (ECU).
As I have written here for years, trade issues with the USA/UK, Muslim immigrant problems, religious factors, financial events, and the desire for world importance will be factors in Europe uniting as the Bible shows that it will.
Decades ago, in 1965, the late RCG/WCG Pastor General Herbert W. Armstrong wrote:
…European countries urgently want political union, the very UNITED STATES OF EUROPE I have been assuring PLAIN TRUTH readers for 31 years is definitely coming. It will unite them into a giant third World Power…

There is a definite German "Kultur! There is a French culture that is in many respects quite different. Then there is a still different Italian culture, a Spanish culture, a Scandinavian culture, a Swiss culture–and all are different! European nations speak different languages, have different aspirations, different customs, different traditions. Europe is often called a "crazy-quilt" of nations.

HOW, THEN, CAN THEY AGREE TOGETHER AND UNITE? For years The PLAIN TRUTH has said these nations are going to have to realize their inability to unite themselves politically-to choose a common political-military Leader that all can trust. They are going to finally face the fact they must look to a Supreme Authority they can all trust! That Supreme Authority cannot be a politician, or a general (De Gaulle is both). The only possible answer is a Religious Leader! (Armstrong HW. Personal. Plain Truth, November 1965, pp.1-2)
So, he felt that while they needed a political-military leader, some type of religious leader was needed to unify Europeans.
But there was more. In a sermon on July 7, 1984, Herbert Armstrong added:
And I can see now, the event that is going to trigger the formation of the reunification in Europe; the resurrection of the medieval Holy Roman Empire that we've been looking forward to that is prophesied to come…

But I believe that some event is going to happen suddenly just like out a blue sky that is going to shock the whole world and is going to cause the nations in Europe to realize they must unite! … Well now I think I can see what may be the very event that is going to trigger…that is the economic situation in the world…

The whole banking structure in the United States is a network all jointed together. But not only that, one nation has to deal with other nations and imports and exports. And so they have to have a means of transforming money from one nation to another. And so the banking structure is international and interwoven…

Now when the financial structure breaks down, all civilization is going to break down…
Currently, Emmanual Macron and Angela Merkel hope to modify financial matters to assist with European unity.
They will have limited success, but expect more financial issues to hit Europe. But, not all will be negative.
Europe is prophesied to one day dominate international trade according to biblical prophecy (cf. Revelation chapters 17 and 18).
666 (see Revelation chapter 13) will arise in Europe.
Many factors will be involved, but we are seeing some of them now.
Several items of possibly related interest may include:
Europa, the Beast, and the Book of Revelation discusses the largest church since the second/third century, which in a real sense is the eighth church mentioned in the Book of Revelation (it also endorses "eighth day" worship). What church would support the Beast? Here is a link to a video titled: Can You Prove that the Beast to Come is European?
Germany's Assyrian Roots Throughout History Are the Germanic peoples descended from Asshur of the Bible? Have there been real Christians in Germanic history? What about the "Holy Roman Empire"? There is also a You-Tube video sermon on this titled Germany's Biblical Origins.
Germany in Biblical Prophecy Does Assyria in the Bible equate to an end time power inhabiting the area of the old Roman Empire? What does prophecy say Germany will do and what does it say will happen to most of the German people? Here are links to two sermon videos Germany in Bible Prophecy and The Rise of the Germanic Beast Power of Prophecy.
War is Coming Between Europeans and Arabs Is war really coming between the Arabs and the Europeans? What does Bible prophecy say about that? Do the Central Europeans (Assyria in prophecy) make a deal with the Arabs that will hurt the USA and its Anglo-Saxon allies? Do Catholic or Islamic prophecies discuss a war between Europe and Islam? If so, what is the sequence of events that the Bible reveals? Who does the Bible, Catholic, and Islamic prophecy teach will win such a war? This is a video.
European Unity to be like Hitler? Boris Johnson, the former Mayor of London, stated that the European Union wanted to be what Adolf Hitler and Napoleon Bonaparte tried to create. Duncan Smith agreed. But European Council President Donald Tusk called Johnson's comments absurd and then stated that the EU was the answer to the problems facing Europe. But what does the Bible teach about the future of Europe? Is European unity the answer or will it usher in something worse than Adolph Hitler? Dr. Thiel quotes Jesus and others in the Bible for those who truly want to know what will happen in a unified Europe. This is a video.
Why Terrorism? Is Terrorism Prophesied? What does the Bible teach? Which nations may be affected? Here is a link to a related sermon: Terrorism, Christianity, and Islam.
World War III: Steps in Progress Are there surprising actions going on now that are leading to WWIII? Might a nuclear attack be expected? Does the Bible promise protection to all or only some Christians? How can you be part of those that will be protected? A related video would be Is World War III About to Begin? Can You Escape?
Might German Baron Karl-Theodor zu Guttenberg become the King of the North? Is the former German Defense Minister (who is also the former German Minister for Economics and Technology) one to watch? What do Catholic, Byzantine, and biblical prophecies suggest?
Must the Ten Kings of Revelation 17:12 Rule over Ten Currently Existing Nations? Some claim that these passages refer to a gathering of 10 currently existing nations together, while one group teaches that this is referring to 11 nations getting together. Is that what Revelation 17:12-13 refers to? The ramifications of misunderstanding this are enormous. A related sermon is titled Ten Kings of Revelation and the Great Tribulation.
The Prophesied 'Islamic' Confederation Where is an Islamic caliphate prophesied? Will one happen? Should you be concerned about it? A related video is Will an Arabic Calphiphate Destroy the West?
How Will Middle East Peace be Brought About? Can humans bring peace to the Middle East? Here is a link to a related video: Middle East Peace? When?
The 'Peace Deal' of Daniel 9:27 This prophecy could give up to 3 1/2 years advance notice of the coming Great Tribulation. Will most ignore or misunderstand its fulfillment? Here is a link to a related sermon video Daniel 9:27 and the Start of the Great Tribulation.
Who is the King of the West? Why is there no Final End-Time King of the West in Bible Prophecy? Is the United States the King of the West? Here is a version in the Spanish language: ¿Quién es el Rey del Occidente? ¿Por qué no hay un Rey del Occidente en la profecía del tiempo del fin?
Who is the King of the North? Is there one? Do biblical and Roman Catholic prophecies for the Great Monarch point to the same leader? Should he be followed? Who will be the King of the North discussed in Daniel 11? Is a nuclear attack prophesied to happen to the English-speaking peoples of the United States, Great Britain, Canada, Australia, and New Zealand? When do the 1335 days, 1290 days, and 1260 days (the time, times, and half a time) of Daniel 12 begin? When does the Bible show that economic collapse will affect the United States? In the Spanish language check out ¿Quién es el Rey del Norte? Here is a link to a video titled: The Future King of the North.
Is the Future King of the South Rising Up? Some no longer believe there needs to be a future King of the South. Might Egypt, Islam, Iran, Arabs, or Ethiopia be involved? Might this King be called the Mahdi or Caliph? What does the Bible say? A YouTube video of related interest may be: The Future King of the South is Rising.
When Will the Great Tribulation Begin? 2018, 2019, or 2020? Can the Great Tribulation begin today? What happens before the Great Tribulation in the "beginning of sorrows"? What happens in the Great Tribulation and the Day of the Lord? Is this the time of the Gentiles? When is the earliest that the Great Tribulation can begin? What is the Day of the Lord? Who are the 144,000? Here is a version of the article in the Spanish language: ¿Puede comenzar la Gran Tribulación en 2018 o 2019? ¿Es el Tiempo de los Gentiles? You can also see the English language sermon videos: The Great Tribulation from the Mount of Olives and Can the Great Tribulation begin before 2020? A shorter video is: Can the Great Tribulation begin in 2018?
The Times of the Gentiles Has there been more than one time of the Gentiles? Are we in it now or in the time of Anglo-America? What will the final time of the Gentiles be like? A related sermon is available and is titled: The Times of the Gentiles.
Anglo – America in Prophecy & the Lost Tribes of Israel Are the Americans, Canadians, English, Scottish, Welsh, Australians, Anglo-Saxon (non-Dutch) Southern Africans, and New Zealanders descendants of Joseph? Where are the lost ten-tribes of Israel? Who are the lost tribes of Israel? What will happen to Jerusalem and the Jews in Israel? Will God punish the U.S.A., Canada, United Kingdom, and other Anglo-Saxon nations? Why might God allow them to be punished first? Here is a link to the Spanish version of this article: Anglo-América & las Tribus Perdidas de Israel. Information is also in the YouTube sermons titled Where are the Ten Lost Tribes? Why does it matter? and British are the Covenant People. A short YouTube of prophetic interest may be: Are Chinese threats against Australia for real?
Will the Anglo-Saxon Nations be Divided and Have People Taken as Slaves? Will the lands of the United States, United Kingdom, Canada, Australia, and New Zealand be divided? What about Jerusalem? What does Bible prophecy teach? Are there non-biblical prophecies that support this idea? Who will divide those lands? Who will end up with the lands and the people? Here is a link to a video titled Will the USA and other Anglo-nations be Divided and Their People Made Slaves? Here is a related item in the Spanish language ¿Serán divididas las naciones anglosajonas?
British are the Covenant People What do 'British' and 'Britain' mean in Hebrew? Are the descendants of the Anglo-Saxons people of the covenant? Does the British royal family connect to the throne of David? What does the Bible teach? What does history show us? Is there any DNA evidence related to British-Israelism? When did Christianity make it to the British Isles? Could Jeremiah have made it to the British Isles? What type of Christians made it to the British Isles? Did the last King of England believe in British Israelism?
USA in Prophecy: The Strongest Fortresses Can you point to scriptures, like Daniel 11:39, that point to the USA in the 21st century? This article does. A related sermon is titled: Do these 7 prophesies point to the end of the USA?
The Gospel of the Kingdom of God This free online pdf booklet has answers many questions people have about the Gospel of the Kingdom of God and explains why it is the solution to the issues the world is facing. Here are links to three related sermons: The World's False Gospel, The Gospel of the Kingdom: From the New and Old Testaments, and The Kingdom of God is the Solution.