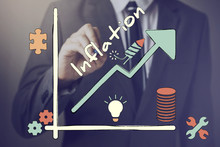 (Public Domain photo)

Have we been having inflation?
Yes.
Might we see more of it in 2022?
Yes.
Government policies blamed on COVID-19 and other debt plans have been factors. Now see the following warning:
Inflation & Implosion – Hyperinflation in 2022 – John Williams

Economist John Williams, founder of ShadowStats.com, says the Federal Reserve has painted itself into such a tight corner with the economy it really has only two choices.  Williams says it comes down to "Inflation or Implosion." What would happen to the financial system if the Fed stopped printing massive amounts of money for stimulus and debt service?  Williams explains, "You could see financial implosion by preventing liquidity being put into the system.  The system needs liquidity (freshly created dollars) to function. Without that liquidity, you would see more of an economic implosion than you have already seen.  In fact, I will contend that the headline pandemic numbers have actually been a lot worse than they have been reporting.  It also means we are not recovering quite as quickly.  The Fed needs to keep the banking system afloat.  They want to keep the economy afloat.  All that requires a tremendous influx of liquidity in these difficult times."

So, is the choice inflation or implosion?  Williams says, "That's the choice, and I think we are going to have a combination of both of them.  I think we are eventually headed into a hyperinflationary economic collapse.  It's not that we haven't been in an economic collapse already, we are coming back some now. . . . The Fed has been creating money at a pace that has never been seen before.  You are basically up 75% (in money creation) year over year.  This is unprecedented.  Normally, it might be up 1% or 2% year over year.  The exploding money supply will lead to inflation.  I am not saying we are going to get to 75% inflation—yet, but you are getting up to the 4% or 5% range, and you are soon going to be seeing 10% range year over year. . . . The Fed has lost control of inflation."

And remember, when the Fed has to admit the official inflation rate is 10%, John Williams says, "When they have to admit the inflation rate is 10%, my number is going to be up to around 15% or higher.  My number rides on top of their number."

Right now, the Shadowstat.com inflation rate is above 11%.  That's if it were calculated the way it was before 1980 when the government started using accounting gimmicks to make inflation look less than it really is.  The Shadowstats.com number cuts out all the accounting gimmicks and is the true inflation rate that most Americans are seeing right now, not the "official" 4.25% recently reported. 05/22/21 https://usawatchdog.com/inflation-implosion-hyperinflation-in-2022-john-williams/
Yes, the way that inflation has been officially reported has understated what has been happening. Particularly related to housing, gasoline, and food.
More inflation is coming–and with potentially devastating consequences.
Here is something from my 2021 book, Biden-Harris: Prophecies and Destruction:
Joe Biden will have to deal with the fact that the U.S.A. is the most indebted nation in the history of humanity. Plus, he has pledged increasing it further [The Biden Emergency Action Plan to Save the Economy. JoeBiden.com, accessed 12/16/20].

Debt is a prophesied problem (cf. Habakkuk 2:6-8). But many in the media as well as politically-inclined economists do not see it that way—but that is too short sighted (cf. Ecclesiastes 8:11).

The time will come when the U.S.A. government will no longer be able to borrow at low interest rates and/or it will create more money electronically and/or via the printing press to try to continue.

Make no mistake about it — massive inflation is coming.

The U.S.A. dollar will ultimately crash and be worthless. That "pride" of American power will be broken (cf. Leviticus 26:19).

A Biden-Harris Administration has asserted it will take debt raising steps. …

The Economy

While pushing biblically immoral ideas is bad for the economy, it should be noted that economies vary. A modern reality is that being the world's de facto reserve currency has helped prolong the U.S.A.'s dominance.

When the U.S. dollar is no longer the world's reserve currency, this will hurt the U.S.A. financially. Increasing debt, including "quantitative easing," is a form of dishonest profits that is not something that God approves of and will punish the U.S.A. for (cf. Ezekiel 22:13-16).

Inflation will eventually hit the U.S.A. extremely hard. As the world becomes less attached to the American dollar, many financial jobs and opportunities will be in places other than the U.S.A. Eventually, but not yet, the U.S.A. dollar will become worthless (worth no more than the scrap or sentimental value of the cotton-paper it is printed on).

Will it always be straight downhill for the economy of the U.S.A.?

No.

There are some reasons to have some temporary optimism. The longer there is some economic stagnation in parts of the economy that governmental COVID-19 policies contributed to, the more demand tends to build up, and an increase in demand may prolong the economy. In addition, technological and other developments may temporarily support the U.S. economy—as can reductions of regulatory burdens.

Some policies of the Biden-Harris Administration may help. Others see problems. The Biden-Harris team looks to increase various regulations and impact some industries negatively (such as the fossil fuel industry). Various ones see their proposed policies and cabinet selections as a refreshing change that they hope will fuel economic growth and shared prosperity.

Notice what was told to a king whose was prophesied to lose his kingdom:

27 Therefore, O king, let my advice be acceptable to you; break off your sins by being righteous, and your iniquities by showing mercy to the poor. Perhaps there may be a lengthening of your prosperity. (cf. Daniel 4:27)

Repentance can prolong prosperity, but promotion of sin leads to destruction. But, it is not expected that Joe Biden or Kamala Harris will push for scriptural national repentance. (Thiel B. Biden-Harris: Prophecies and Destruction. Nazarene Books, 2021)
Last century, in a 1981 article, the old Worldwide Church of God had the about inflation and gold:
Why Gold?

What does uncertainty in the world's financial system portend for the future? How will it affect you? And what about the value of gold? Gold has been the most sought after form of money for thousands of years. By universally accepted definition, money is anything that serves as a store of value and as a medium of exchange. Historically, gold has fit that description better than anything else. Because it is relatively scarce, virtually indestructible and possesses a wide range of artistic and functional uses, gold became the standard in most economies. It was easily coined, highly portable and universally recognized for its value.

Even though the supply of gold is limited, demand for the metal seems to be infinite. Commodities such as food crops or industrial output can have price swings based on demand, weather, poor economic policies or disasters. None of these affects the total supply of gold. It maintains its value in relation to other commodities regardless. Thus it has acted as a financial constraint and stabilizing factor. People trust gold because it has been an instrument of monetary discipline and a standard of measure by which to measure other commodities.

Gold acts as a check on governments and politicians. Paper money came into use because it was more convenient to use than gold.

However, historically the amount of paper money in circulation was tied to the amount of gold a nation possessed. When people knew that gold backed up their currency, they trusted their money. But even though people may trust gold, they don't necessarily trust their leaders. In the words of George Bernard Shaw: "The most important thing about money is to maintain its stability…. With paper money this stability has to be maintained by the government. With a gold currency, it tends to maintain itself…. You have to choose as a voter between trusting the natural stability of gold and the natural stability of the honesty and intelligence of the members of the government. And, with due respect for these gentlemen, I advise you, as long as the capitalist system lasts, to vote for gold." The goal of every political leader is to remain in power. In a democracy, he must retain his popularity to be reelected.

Extravagant social welfare schemes and public works help to perpetuate the government's power, even though the country may not be able to afford the expense. If a political leader can get rid of the gold standard, then there is no restraint on the amount of paper money the government can print. The deficit between collected taxes and government spending can be made up through printing extra money. But the effect of these shortsighted policies soon becomes apparent. More and more paper money chases the available goods and services — the result is inflation. Witness the situation in the United States today. Since 1971 the dollar has had no relationship to gold.

Multibillion dollar deficits in government spending have been covered by printing extra dollars. Because the dollar is not convertible to gold, there is no check on government spending and the citizens suffer from consequent inflation. Inflation becomes a vicious circle with everyone eventually losing. As Voltaire concluded, "All paper eventually returns to its intrinsic value — zero." In 1871 the British economist David Ricardo noted, "Experience has shown that neither a state nor a bank ever had the unrestricted power of issuing paper money without abusing that power." The United States, blessed with staggering wealth, vast natural resources, and phenomenal industrial and agricultural output, is in a serious financial situation. It makes no sense — except for the fact that national leaders were quite prepared to dilute the value of the nation's money supply. The decision defrauded the citizens by stealing the purchasing power of wages and savings. This sinister aspect of inflation was explained by the British economist John Maynard Keyes in 1919: "By a continuing process of inflation, governments can secretly and unobserved, confiscate an important part of the wealth of their citizens." Mr. Keynes himself advocated this form of government policy. But as people begin to experience inflation and see their wealth quickly disappearing, they try to protect themselves through investing and speculating in more stable commodities, including gold.

Speculation in gold is a symptom, and a warning, of a distorted government-ravished economy. It is a sign of loss of trust and faith by men in their own system and political leaders. (Curry J. HOW GOLD, INFLATION AND GOVERNMENT IMPACT YOU. Plain Truth, April 1981)
Other articles from the old WCG also predicted that the Europeans would end up with their own European currency and that it would be expected to replace the dollar.
The history of the US government increasing debt, which it has accelerated because of policies related to COVID-19, is setting the stage for more inflation.
The media and the populous will demand more 'stimulus' –which means more debt.
Republicans and Democrats will push for it and Congress will go for it. And the President of the United States will sign one or more bills for it.
Sadly, many in the media and government act like printing up money is really the solution for the US economy because of the effects of COVID-19 policies.
But there is a real risk of massive inflation.
Notice also the following from last Summer:
July 13, 2020

The pandemic came along the pandemic and new market panic in late winter and spring. The subsequent deficit spending and money printing broke all records.

Unlike the CBO's estimate and my own forecast, the deficit this year will be at least $5 trillion. That means $5 trillion is the lowest number you can expect.

Meanwhile, the Fed's money printing will more than double the size of its balance sheet from $3.8 trillion to $8 trillion or higher. …

With all this money creation, does this mean that inflation is finally on the way? …

When You'll See Inflation

Inflation will come when people lose confidence in the dollar and suddenly dump dollars for any hard assets they can find.

Money velocity will accelerate but it won't be into consumer goods. It'll be into hard assets that hold their value over time, gold in particular.

In other words, the best leading indicator of inflation won't be found in the grocery store or at the gas pump.

It'll be found in the dollar price of gold.

Of course higher gold prices means higher consumer prices since higher gold prices mean a weaker dollar. More dollars will be required to buy the same amount of goods. https://dailyreckoning.com/rickards-inflation/
Money and Markets posted the following from Bill Bonner on July 18, 2019:
Bigger Lies

We've seen that all forms of "stimulus" are mutant varieties of fraud. Whether we're talking about unfunded tax cuts, bigger deficits, giveaway checks, quantitative easing (QE), zero interest-rate policy (ZIRP) or lower interest rates — they all work the same way.

That is, they all lie. They tell us that there is more demand (money) around than there really is. And they "work" by misleading people into doing things they shouldn't do. Consumers overspend. Businesses overproduce. And investors buy stocks that are overpriced.

Depending on how it is delivered, this inflation of the money supply causes over- and adverse reactions that can easily be mistaken for real growth. More consumer spending. More business expansion. Higher stock prices.

But it is all a lie. And as the lying goes on, the economy gets more and more out of kilter … more and more dependent on inflation … And the feds need to tell bigger and bigger whoppers to keep it from collapsing.

Turning Point

This is the big financial story of our time: Inflate or Die. Either the feds continue to lie persuasively by inflating prices … or the truth comes out and the bubble deflates. https://moneyandmarkets.com/inflation-dominate-five-years/
Yes, programs like "quantitative easing" and many "stimulus" programs are based on lies.
Lying is a sin.
The Bible warns, "be sure your sin will find you out" (Numbers 32:23).
There is a serious cost to having an economy pumped up with so much "dross" money.
Actually, the USA has no real intention to pay back its debt.
Its leaders basically hope to not pay it back, but if some payment is needed they hope that it will be in inflated dollars worth less than what the USA borrowed.
Foreign creditors will not be pleased.
Not paying back debt is wicked:
The wicked borrows and does not repay … (Psalm 37:21)

This diluting of the value of currency (called "dross" anciently), which is what the USA has been doing with its debt and quantitative easing policies, is condemned in the Bible.
4 Take away the dross from silver (Proverbs 25:4a).
22 Your silver has become dross, Your wine mixed with water. (Isaiah 1:22)
25 I will turn My hand against you, And thoroughly purge away your dross, And take away all your alloy. (Isaiah 1:25)
18 "Son of man, the house of Israel has become dross to Me; they are all bronze, tin, iron, and lead, in the midst of a furnace; they have become dross from silver. 19 Therefore thus says the Lord God: 'Because you have all become dross, therefore behold, I will gather you into the midst of Jerusalem. 20 As men gather silver, bronze, iron, lead, and tin into the midst of a furnace, to blow fire on it, to melt it; so I will gather you in My anger and in My fury, and I will leave you there and melt you. 21 Yes, I will gather you and blow on you with the fire of My wrath, and you shall be melted in its midst. 22 As silver is melted in the midst of a furnace, so shall you be melted in its midst; then you shall know that I, the Lord, have poured out My fury on you.'" (Ezekiel 22:18-22)
Although the Bible warns against using dross and diluting the money supply, many modern 'experts' have a different view. The wrong views on economics will lead to economic problems and ultimately the total crash of the dollar of the USA. China and others see some of this.
Printing more and contributing to hyperinflation is not going to solve the debt problems of the USA. It has not worked for Zimbabwe, which has been doing this on and off for some time.
The USA, because of the role of its dollar, can look to get away with this for longer than other nations, but the end result will be much worse than most think.
Eventually, interest on the acknowledged debt will rise and become a viscous circle that will spiral to the death of the US dollar.
The Bible itself predicts food inflation with the ride of the black horse of the Apocalypse. Revelation 6:5-6 indicates that there will be food, but that it will be quite expensive (food-price inflation).
5 When He opened the third seal, I heard the third living creature say, "Come and see." So I looked, and behold, a black horse, and he who sat on it had a pair of scales in his hand. 6 And I heard a voice in the midst of the four living creatures saying, "A quart of wheat for a denarius, and three quarts of barley for a denarius; and do not harm the oil and the wine." (Revelation 6:5-6)
Consider also that food inflation is associated with the ride of the third horse, the black horse. And while that is commonly called the black horse of famine, the word famine is not in Revelation 6:5-6. That does NOT mean that there will not be any famines–for there will be–but food inflation will be considered the cause by government overprinting of money, crop matters, trade issues, etc. and most will NOT attribute it to the ride of the third horseman or the opening of the third seal.
But yes, some will thus die as they will not be able to afford it, while others will survive but struggle.
Notice something from the old Worldwide Church of God 47 years ago:
The black horseman's future ride will reduce the proud faces of white America, Europe, and the British Commonwealth into the blackened skin of starvation such as now afflicts the vast majority of mankind. (Alexander G. The Four Horsemen of the Apocalypse. Ambassador College Press, Pasadena (CA), 1973, p. 31)
There are disastrous changes that will come to the USA (Daniel 11:39; see also USA in Prophecy: The Strongest Fortresses)–and its debt and other monetary practices–which one day will cause massive hyperinflation–will be a cause (cf. Habakkuk 2:6-8; see also USA in Prophecy: The Strongest Fortresses).
But since many leading so-called 'economists' are political hacks and/or have a political agenda, do not expect too many prominent ones to have sufficient influence to resolve the problems in the USA.
The truth is that the USA is setting itself up for massive inflation (as well as food shortages).
Hyperinflation will hit the USA and its results will be worse than almost anyone realizes.
Some items of possibly related interest may include:
Four Horsemen of the Apocalypse What do each of the four horseman of the Apocalypse represent? Have they began their ride? Did Jesus discuss the any of this? Might their rides coincide with the "beginning of sorrows? Do they start their ride prior to the Great Tribulation? Did Nostradamus or any other 'private prophets' write predictions that may mislead people so that they may not understand the truth of one or more of the four horseman? There is also a related YouTube video titled Sorrows and the Four Horsemen of the Apocalypse.
The End of US Dollar Dominance Is the USA losing its economic status? What about the petro-gold-yuan? A related video is also available: US Dollar being challenged by Gold-Petro-Yuan.
COVID 19 is NOT the End, but could it be TEOTWAWKI? The novel coronavirus called COVID-19 is wreaking havoc around the world. Many states of the USA as well as countries in Europe are on lockdown with shelter in place /shelter in residence requirements. In France, a form is required when you are not at your house. In Spain, drones are being used to warn people who are outside to got back to their homes–does that bring up feelings of 'Big Brother'? Italy, France, and other areas are using police and/or military force to encourage people to stay inside. According to the Bible could this be the end? If not, what has to happen first? Have the second and third of the four horsemen of the Apocalypse started their ride? Could COVID-19 be the fourth horseman? Why or why not? Could we be seeing The End of the World as We Know It (TEOTWAWKI) like the R.E.M.'s 1987 single song discussed? Do Christians need to fear? What did Jesus teach? What did the Psalmist teach? This is a video. Here is a link to a version in the Spanish language: Corona 19 no es el final PERO es el TEOTWAWKI.
Who is the King of the West? Why is there no Final End-Time King of the West in Bible Prophecy? Is the United States the King of the West? Here is a version in the Spanish language: ¿Quién es el Rey del Occidente? ¿Por qué no hay un Rey del Occidente en la profecía del tiempo del fin? A related sermon is also available: The Bible, the USA, and the King of the West.
Who is the King of the North? Is there one? Do biblical and Roman Catholic prophecies for the Great Monarch point to the same leader? Should he be followed? Who will be the King of the North discussed in Daniel 11? Is a nuclear attack prophesied to happen to the English-speaking peoples of the United States, Great Britain, Canada, Australia, and New Zealand? When do the 1335 days, 1290 days, and 1260 days (the time, times, and half a time) of Daniel 12 begin? When does the Bible show that economic collapse will affect the United States? In the Spanish language check out ¿Quién es el Rey del Norte? Here are links to two related videos: The King of the North is Alive: What to Look Out For and The Future King of the North.
USA in Prophecy: The Strongest Fortresses Can you point to scriptures, like Daniel 11:39, that point to the USA in the 21st century? This article does. Two related sermon are available: Identifying the USA and its Destruction in Prophecy and Do these 7 prophesies point to the end of the USA?
Gentile Cryptocurrency Proposal Two Russian leaders have called for a BRICS-wide and/or EAEU-wide cryptocurrency. This is hoped to be used to replace the US dollar for international trade. BRICS stands for Brazil, Russia, India, China, and South Africa. The BRICS nations represent 3.6 billion people. The EAEU includes Russia, Armenia, Belarus, Kazakhstan, and Kyrgyzstan. Will Gentiles rise up? Are there any prophetic ramifications of what these nations are looking to do? This is a video.
The Times of the Gentiles Has there been more than one time of the Gentiles? Are we in it now or in the time of Anglo-America? What will the final time of the Gentiles be like? A related sermon is available and is titled: The Times of the Gentiles.
Eliminate the $100 bill? Various ones, like Harvard economist and Trilateralist Larry Summers have called for the elimination of the USD$100 bill and the 500 Euro note. In Asia, South Korea is heading towards cashlessness by 2020. Electronic currencies are information and subject to monitoring. Did something God inspired the Apostle John over 1900 years ago now able to come to pass? This is a video.
The 'Peace Deal' of Daniel 9:27 This prophecy could give up to 3 1/2 years advance notice of the coming Great Tribulation. Will most ignore or misunderstand its fulfillment? Here is a link to a related sermon video Daniel 9:27 and the Start of the Great Tribulation.
Collapse of the Euro and Dollar? War in 2020? Larry Edelson of Money and Markets described aspects of current economic difficulties and explained why he felt matters would get a lot worse. He said war, like World War III, could break out as early as 2020. What did he call the 'granddaddy of all cycles"? Will matters go as he said? What does the Bible teach? Dr. Thiel provides biblical insights that secular sources often miss. This is a video.
Europa, the Beast, and Revelation Where did Europe get its name? What might Europe have to do with the Book of Revelation? What about "the Beast"? Is an emerging European power "the daughter of Babylon"? What is ahead for Europe? Here is a link to a video titled: Can You Prove that the Beast to Come is European?
When Will the Great Tribulation Begin? 2021, 2022, or 2023? Can the Great Tribulation begin today? What happens before the Great Tribulation in the "beginning of sorrows"? What happens in the Great Tribulation and the Day of the Lord? Is this the time of the Gentiles? When is the earliest that the Great Tribulation can begin? What is the Day of the Lord? Who are the 144,000? Here is a version of the article in the Spanish language: ¿Puede la Gran Tribulación comenzar en el 2020 o 2021? ¿Es el Tiempo de los Gentiles? A related video is: 2021: The Great Tribulation or the Great Reset? Here is a video in the Spanish language: Es El 2021 el año  de La Gran Tribulación o el Grande Reseteo Financiero.
Does God Have a 6,000 Year Plan? What Year Does the 6,000 Years End? Was a 6000 year time allowed for humans to rule followed by a literal thousand year reign of Christ on Earth taught by the early Christians? Does God have 7,000 year plan? What year may the six thousand years of human rule end? When will Jesus return? 2029 or 20xx? There is also a video titled 6000 Years: When will God's Kingdom Come? Here is a link to the article in Spanish: ¿Tiene Dios un plan de 6,000 años?
The Plain Truth About Gold in Prophecy. How Should a Christian View Gold? What do economists and the Bible teach about gold? Gold and silver may drop in value. Inflation/deflation? What do Christians need to know about gold?
Anglo – America in Prophecy & the Lost Tribes of Israel Are the Americans, Canadians, English, Scottish, Welsh, Australians, Anglo-Saxon (non-Dutch) Southern Africans, and New Zealanders descendants of Joseph? Where are the lost ten-tribes of Israel? Who are the lost tribes of Israel? What will happen to Jerusalem and the Jews in Israel? Will God punish the U.S.A., Canada, United Kingdom, and other Anglo-Saxon nations? Why might God allow them to be punished first? Here is a link to the Spanish version of this article: Anglo-América & las Tribus Perdidas de Israel. Information is also in the YouTube sermons titled Where are the Ten Lost Tribes? Why does it matter? and British are the Covenant People. A short YouTube of prophetic interest may be: Are Chinese threats against Australia for real?
Will the Anglo-Saxon-Celtic Nations be Divided and Have People Taken as Slaves? Will the lands of the United States, United Kingdom, Canada, Australia, and New Zealand be divided? What about Jerusalem? What does Bible prophecy teach? Are there non-biblical prophecies that support this idea? Who will divide those lands? Who will end up with the lands and the people? Here is a link to a video titled Will the USA and other Anglo-nations be Divided and Their People Made Slaves? Here is a related item in the Spanish language ¿Serán divididas las naciones anglosajonas?
Is God Calling You? This booklet discusses topics including calling, election, and selection. If God is calling you, how will you respond? Here is a link to a related sermon: Could God be Calling You? A short animation is also available: Is God Calling You?
Christian Repentance Do you know what repentance is? Is it really necessary for salvation? A related sermon is also available titled: Real Christian Repentance.
When You Sin: Do You Really Repent? This is an article by Charles F. Hunting. A related sermon is Confess to God and truly repent.
Just What Do You Mean — Repentance? Do you know what repentance is? Have you truly repented? Repented of what? Herbert W. Armstrong wrote this as a booklet on this important subject.
The Gospel of the Kingdom of God This free online pdf booklet has answers many questions people have about the Gospel of the Kingdom of God and explains why it is the solution to the issues the world is facing. Here are links to three related sermons: The World's False Gospel, The Gospel of the Kingdom: From the New and Old Testaments, and The Kingdom of God is the Solution.
Biden-Harris: Prophecies and Destruction Can the USA survive two full presidential terms? In what ways are Joe Biden and Kamala Harris apocalyptic? This book has hundreds of prophecies and scriptures to provide details.  A Kindle version is also available and you do not need an actual Kindle device to read it. Why? Amazon will allow you to download it to almost any device: Please click HERE to download one of Amazon s Free Reader Apps. After you go to your free Kindle reader app (or if you already have one or a Kindle),  you can go to: Biden-Harris: Prophecies and Destruction (Kindle) to get the book in seconds.