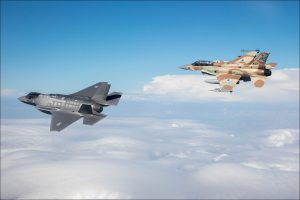 Israeli Air Force jets

There was an attack in Syria:
Syria war: Israel 'strikes Damascus military complex'

7 February 2018

Israeli warplanes have fired missiles at a Syrian military position near the capital, Damascus, Syrian media report.

A Syrian military statement said its air defence systems blocked most of the missiles, but gave no further details.

A monitor said ammunition depots in Jamraya were hit. It is the location of a scientific facility where the West suspects chemical weapons are produced.

Israel, which has acknowledged carrying out at least 100 clandestine strikes in Syria since 2011, declined to comment.

Many of the Israeli strikes are believed to been aimed at preventing transfers of advanced weapons to the Lebanese Hezbollah movement. …

The Syrian Observatory for Human Rights, a UK-based monitoring group, said some of the missiles struck ammunition depots in Jamraya. …

Wednesday's missile strike came after medics and Western powers accused Syrian government forces of dropping bombs filled with chlorine on rebel-held areas six times over the past month.

The government has dismissed the reports as "lies", but UN war crimes experts have called them "alarming" and said they are investigating.

In an interview with BFM television on Wednesday, French Foreign Minister Jean-Yves Le Drian said "all the indications that we have show that at the moment chlorine is being used by the Syrian regime".
Syria has been accused of using chlorine and other chemical weapons in the past (see Chlorine gas dropped again in Syria!).
Israel may have been emboldened by the report of chemical weapons use, as well as the US strike against Syria last April (see Trump bombed Syria: How might this align with biblical prophecy?).
Israel has had various run-ins with Hezbollah in the past (e.g. Hezbollah: Assad claims Russian missiles have arrived; SNC: No peace talks for now.)
Who is Hezbollah?
Hezbollah…is a Shi'a Islamic militant group and political party based in Lebanon. It receives financial and political support from Iran and Syria, and its paramilitary wing is regarded as a resistance movement throughout much of the Arab and Muslim worlds. The governments of the U.S., Netherlands,Bahrain, France, U.K., Australia, Canada, and Israel classify Hezbollah as a terrorist organization, in whole or in part.

Hezbollah was conceived by Muslim clerics and funded by Iran following the Israeli invasion of Lebanon, and was primarily formed to offer resistance to the Israeli occupation. Its leaders were inspired by Ayatollah Khomeini, and its forces were trained and organized by a contingent of Iranian Revolutionary Guards. Hezbollah's 1985 manifesto listed its four main goals as "Israel's final departure from Lebanon as a prelude to its final obliteration", ending "any imperialist power in Lebanon", submission of the Phalangists to "just rule" and bringing them to trial for their crimes, and giving the people the chance to choose "with full freedom the system of government they want", while not hiding its commitment to the rule of Islam. Hezbollah leaders have also made numerous statements calling for the destruction of the state of Israel, which they refer to as the "Zionist entity".

Hezbollah, which started with only a small militia, has grown to an organization with seats in the Lebanese government, a radio and a satellite television-station, and programs for social development. The organization has been called a state within a state. Hezbollah maintains strong support among Lebanon's Shi'a population, and is able to mobilize demonstrations of hundreds of thousands. (Wikipedia, viewed 05/25/13)
Hezbollah is basically a Shiite group, that is supported by Iran and the Assad government in Syria. While most people in Syria are Sunni Muslim, its President Assad is Shiite Muslim. Iran is predominantly composed of Shi'a Muslims. Syria is believed to get a significant amount of its arms from Iran with some of that coming from Hezbollah.
I have long warned that we could see a regional war involving Iran, Syria, and Israel. We are getting closer to that happening.
As regular readers of this page are aware, the Bible shows that Syria's capital, Damascus, will one day be destroyed:
7 thus says the Lord God: "It shall not stand, Nor shall it come to pass. 8 For the head of Syria is Damascus (Isaiah 7:7-8).

3 Thus says the Lord: "For three transgressions of Damascus, and for four, I will not turn away its punishment, Because they have threshed Gilead with implements of iron. (Amos 1:3)

1 The burden against Damascus. "Behold, Damascus will cease from being a city, And it will be a ruinous heap. 2 The cities of Aroer are forsaken; They will be for flocks Which lie down, and no one will make them afraid. 3 The fortress also will cease from Ephraim, The kingdom from Damascus, And the remnant of Syria; They will be as the glory of the children of Israel," Says the Lord of hosts. (Isaiah 17:1-3)

23 Against Damascus. "Hamath and Arpad are shamed, For they have heard bad news. They are fainthearted; There is trouble on the sea; It cannot be quiet. 24 Damascus has grown feeble; She turns to flee, And fear has seized her. Anguish and sorrows have taken her like a woman in labor. 25 Why is the city of praise not deserted, the city of My joy? 26 Therefore her young men shall fall in her streets, And all the men of war shall be cut off in that day," says the Lord of hosts. 27 "I will kindle a fire in the wall of Damascus, And it shall consume the palaces of Ben-Hadad." (Jeremiah 49:23-27)
Damascus has been claimed to be the "oldest continuously inhabited city" in the world. And while some have questioned that claim, the reality is that Damascus has not been destroyed to the point of becoming the "ruinous heap" since God inspired Isaiah, thousands of years ago, to record that which would one day happen. The destruction would be expected to come from some type of warfare.
But, Israel itself is also at risk. Syria and Hezbollah are Iranian allies. Iranian leaders have repeatedly called for the destruction of the nation of Israel, and today's bombing may be used as part of Iran's justification in the future for an attack against Israel.
Consider the following prophecy:
1 The burden against the Valley of Vision.

What ails you now, that you have all gone up to the housetops, 2 You who are full of noise, A tumultuous city, a joyous city? Your slain men are not slain with the sword, Nor dead in battle. 3 All your rulers have fled together; They are captured by the archers. All who are found in you are bound together; They have fled from afar. 4 Therefore I said, "Look away from me, I will weep bitterly; Do not labor to comfort me Because of the plundering of the daughter of my people."

5 For it is a day of trouble and treading down and perplexity By the Lord God of hosts In the Valley of Vision — Breaking down the walls And of crying to the mountain. 6 Elam bore the quiver With chariots of men and horsemen, And Kir uncovered the shield. 7 It shall come to pass that your choicest valleys Shall be full of chariots,And the horsemen shall set themselves in array at the gate.

8 He removed the protection of Judah. You looked in that day to the armor of the House of the Forest; 9 You also saw the damage to the city of David, That it was great; And you gathered together the waters of the lower pool. 10 You numbered the houses of Jerusalem, And the houses you broke down To fortify the wall. 11 You also made a reservoir between the two walls For the water of the old pool. But you did not look to its Maker, Nor did you have respect for Him who fashioned it long ago.

12 And in that day the Lord God of hosts Called for weeping and for mourning,For baldness and for girding with sackcloth. 13 But instead, joy and gladness, Slaying oxen and killing sheep, Eating meat and drinking wine: "Let us eat and drink, for tomorrow we die!"

14 Then it was revealed in my hearing by the Lord of hosts,"Surely for this iniquity there will be no atonement for you, Even to your death," says the Lord God of hosts. (Isaiah 22:1-14 NKJV)
Elam seems to be a reference to at least some in Iran. Kir is of interest as it has several possibilities. One is that the Bible tells that after Tiglath-Pileser king of Assyria took over Damascus, he moved Syrians to Kir. While this does not mean that Kir must (or must only) be a reference to Syria, the fact that Syria is an ally of Iran is interesting. Some believe Kir is an area in the south of Iran, while others suggest closer to the Black Sea. The Bible tells of a time when Kir will be destroyed (Isaiah 15:1b) and also says that Syria's capital Damascus will be destroyed (Isaiah 17:1).
While Israel may believe that with Donald Trump as US President, that it is safe, the time is coming when God will take away the protection of Judah and the City of David (Jerusalem, cf. 2 Kings 9:28). Iran and Syria could very well be leaders of those that will attack Israel.
Some items of possibly related interest may include:
Damascus and Syria in Prophecy Will Bashar al-Assad hold power as he has it? Does the Bible show that Damascus, the capital of Syria, will be destroyed? What will happen to Syria? Will the Syrians support the final King of the South that the Bible tells will rise up? Which scriptures discuss the rise and fall of an Arabic confederation? Does Islamic prophecy predict the destruction of Syria. This is a YouTube video.
Iran in Prophecy Is Iran in Bible prophecy? If so, what does the Bible teach? What names, other than Persia, may be used to describe Iran? There is also a related YouTube video titled Iran In Prophecy.
Mystery Babylon USA, Mecca, or Rome? The Bible tells of an end-time Mystery Babylon the Great that sits on seven hills. While Catholic and Church of God scholars have identified this as Rome, others point to other cities. Some who profess Christ have pointed to the USA. Some Protestants, like Joel Richardson, have pointed to Mecca in Saudi Arabia. Which of these places meets the biblical criteria for 'Mystery Babylon'? Is there any item of religious importance near the Caelian Hill (Cælius, Celio)? Dr. Thiel answers these questions from the Bible as well as certain historical information. This is a video.
Evangelical support for Donald Trump's Jerusalem policy  BBC asked, "Why do US evangelicals support Trump's Jerusalem policy?" BBC provided quotes from some believing it has to do with the 'last days' while others saying that is not the reason. Hal Lindsey's book, 'The Late Great Planet Earth' is one of the sources pointed to. In this video, Dr. Thiel addresses scriptures related to Jerusalem as well as prophetic ones. He goes over the common 'fig tree' interpretation, belief about a 'Third Temple,' and statements about animal sacrifices. He explains biblical statements on those subjects as well as the views of certain modern Jewish organizations. This is a video.
Jerusalem, Donald Trump, and Prophecy On December 6, 2017, US President Donald Trump fulfilled a campaign promise related to the recognition of Jerusalem as Israel's capital. This brought anger, protests, and rockets from some Palestinians. It also brought condemnation from European allies–it has been claimed to be disruptive and even catastrophic. The Palestinian President (Mahmoud Abbas) said that this pronouncement eliminated the USA as being a fair mediator for a peace deal. Others have claimed that Donald Trump is an end time Cyrus and his pronouncement will lead to a Third Temple in Jerusalem. Is there ever going to be a peace deal? If so, will Europeans be part of it? Is Donald Trump a 'Cyrus.' Do the Jews require a Third Temple for sacrifices? Dr. Thiel answer those questions and more in this video.
Why is a Jewish Temple in Jerusalem Not Required? Although people like Timothy LaHaye teach a third Jewish temple is required, who is 'the temple of God" in the New Testament? Does the Bible require a rebuilt Jewish Temple? Could the old Temple have been somewhere other than the "Temple Mount"? Here is a related article in the Spanish language ¿Por qué no se requiere un templo judío en Jerusalén? Here is a link to a sermon titled The Temple, Prophecy, and the Work.
Jerusalem: Past, Present, and Future What does the Bible say about Jerusalem and its future? Is Jerusalem going to be divided and eliminated? Is Jesus returning to the area of Jerusalem? There are also two related YouTube videos you can watch: Jerusalem To be divided and eliminated and God's and Satan's Plan for Jerusalem.
Is Russia the King of the North? Some claim it is. But what does the Bible teach? Here is a link to a video, also titled Is Russia the King of the North?
Ezekiel 38: For Russia & Iran in Our Day? Is Ezekiel 38 about to be fulfilled? A related video is available titled Ezekiel 38: For Russia, Ukraine, & Iran Now? Another could be Russia, Iran, Syria, & the Bible (Code).
Why Terrorism? Is Terrorism Prophesied? What does the Bible teach? Which nations may be affected? Here is a link to a related sermon: Terrorism, Christianity, and Islam.
Iraq, the King of the South, Armageddon, and Prophecy What will happen to Iraq? Is it the prophesied Mystery Babylon? What is Armageddon and how does that have to do with Iraq? Here is a related video Iraq, Armageddon, & Prophecy.
Is the Future King of the South Rising Up? Some no longer believe there needs to be a future King of the South. Might Egypt, Islam, Iran, Arabs, or Ethiopia be involved? Might this King be called the Mahdi or Caliph? What does the Bible say? A YouTube video of related interest may be: The Future King of the South is Rising.
The Prophesied 'Islamic' Confederation Where is an Islamic caliphate prophesied? Will one happen? Should you be concerned about it? A related video is Will an Arabic Calphiphate Destroy the West?
Libya, Algeria, Morocco, and Tunisia in Prophecy What is ahead for North Africa? What does the Bible teach?
How Will Middle East Peace be Brought About? Can humans bring peace to the Middle East? A related video is Middle East Peace? When?
Gaza and the Palestinians in Bible Prophecy What does the Bible teach about Gaza and the fate of the Palestinians? Here is a link to a related video: Gaza and Palestine in Prophecy.
The 'Peace Deal' of Daniel 9:27 This prophecy could give up to 3 1/2 years advance notice of the coming Great Tribulation. Will most ignore or misunderstand its fulfillment? Here is a link to a related sermon video Daniel 9:27 and the Start of the Great Tribulation.
The Arab and Islamic World In the Bible, History, and Prophecy The Bible discusses the origins of the Arab world and discusses the Middle East in prophecy. What is ahead for the Middle East and those who follow Islam? What about the Imam Mahdi? What lies ahead for Turkey, Iran, and the other non-Arabic Muslims? An item of possibly related interest in the Spanish language would be: Líderes iraníes condenan la hipocresía de Occidente y declaran que ahora es tiempo para prepararse para el Armagedón, la guerra, y el Imán Mahdi.
Donald Trump in Prophecy Prophecy, Donald Trump? Are there prophecies that Donald Trump may fulfill?  Are there any prophecies that he has already helped fulfill?  Is a Donald Trump presidency proving to be apocalyptic?  Two related videos are available: Donald: 'Trump of God' or Apocalyptic? and Donald Trump's Prophetic Presidency.
Trump Presidency Magic 8 Ball or Bible Prophecy? BBC reported that one might as well use a 'Magic Eight-Ball' to try to predict what will happen in the remaining time of Donald Trump's presidency. What is a 'Magic Eight-Ball'? Dr. Thiel not only explains that, but also briefly goes over 10 biblically-based warnings he wrote would happen if Donald Trump were elected that have already began to come to pass. He also goes over something he wrote back in 2008 that the Trump presidency is also helping lead to fulfillment. Should you trust Bible prophecy or not? Dr. Thiel says that Bible prophecy can be trusted, despite the view of skeptics and others that either overlook or despise the Bible. This is a video.
Donald Trump and America's Apocalypse This 188 page book is for people truly interested in prophecies related to Donald Trump and the United States, including learning about several that have already been fulfilled and those that will be fulfilled in the future. The physical book can be purchased at Amazon for $12.99 from the following link: Donald Trump and America's Apocalypse.
Donald Trump and America's Apocalypse-Kindle Edition This electronic version of the 188 page print edition is available for only US$3.99. And you do not need an actual Kindle device to read it. Why? Amazon will allow you to download it to almost any device: Please click HERE to download one of Amazon s Free Reader Apps. After you go to for your free Kindle reader and then go to Donald Trump and America's Apocalypse-Kindle Edition.
When Will the Great Tribulation Begin? 2018, 2019, or 2020? Can the Great Tribulation begin today? What happens before the Great Tribulation in the "beginning of sorrows"? What happens in the Great Tribulation and the Day of the Lord? Is this the time of the Gentiles? When is the earliest that the Great Tribulation can begin? What is the Day of the Lord? Who are the 144,000? Here is a version of the article in the Spanish language: ¿Puede comenzar la Gran Tribulación en 2018 o 2019? ¿Es el Tiempo de los Gentiles? You can also see the English language sermon videos: The Great Tribulation from the Mount of Olives and Can the Great Tribulation begin before 2020? A shorter video is: Can the Great Tribulation begin in 2018?