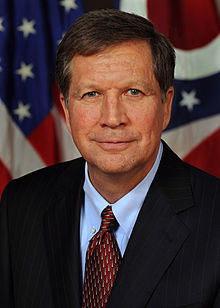 John Kasich

The Governor of Ohio John Kasich has entered the race for the US presidency:
July 16, 2015

Mixing the secular and spiritual, Ohio Gov. John Kasich Tuesday became the 16th major Republican candidate to formally join the race for president.

In a lengthy announcement speech in Columbus, at his Ohio State alma mater, Kasich cited his experience as a former member of Congress and a chief executive to suggest that he brings a unique skill set to the crowded contest.

"I know what needs to be done," he said. "I've been there at all levels, OK?"

Invoking religious faith, he also spoke at length about the need for a society that is more caring and compassionate, citing programs in Ohio to help drug addicts, the mentally ill and the economically hard-pressed. His expansion of healthcare access under the federal Affordable Care Act is a sore point among conservatives, who attacked Kasich ahead of his announcement.

Shunning high-flown rhetoric for a more conversational, plain-spoken style, Kasich took issue with the purists and hard-liners in both political parties.

"Policy is more important than politics, ideology or any of the other nonsense we see," said Kasich, who is known for his blunt, sometimes abrasive style. Strategists hope to turn that quality into an asset, calling his candor a sign of authenticity.  http://www.latimes.com/nation/politics/trailguide/la-na-trailguide-07212015-htmlstory.html

July 21, 2015

Ask the governor of Ohio about drug addiction, and he'll give you a sermon. Ask about the environment, and he'll say it matters because "the Lord gave it to us." Ask about his controversial (for a Republican) decision to expand Medicaid under the Affordable Care Act, and he'll talk about helping the "downtrodden."  …

He could be the wild card of the 2016 race. Kasich is the two-term governor of the seventh-largest state in the country, a must-win battleground state. And unlike the other sitting governors in the race, he's popular at home, his famously short fuse notwithstanding.

Kasich also faces massive competition. He's the 16th Republican to announce for 2016, and with an average of 1.6 percent in national polls of GOP voters, he's in 12th place. As of now, that's not good enough to make the main stage in the first Republican debate Aug. 6 on Fox News, which is inviting just the top 10 candidates in the polls.

But speaking to the three reporters covering him in Newmarket last week, Kasich disagrees he's getting in too late.  http://www.csmonitor.com/USA/Politics/2015/0721/Preacher-John-Kasich-why-he-could-be-wild-card-of-2016

Ohio Gov. Kasich Is 16th Notable Entry Into GOP Race

July 21, 2015
His entry nearly rounds out an unusually diverse Republican lineup with two Hispanics, an African-American, one woman and several younger candidates alongside older white men such as Kasich, 63, and Jeb Bush, 62. The field is so crowded it's unclear whether Kasich will qualify for the GOP's first debate in his home state in just two weeks.

"How did we end up with 20 people running for president?" Kasich asks with a smile in a video recently released by his political action committee. He cites his experience with the federal budget, national security and his leadership of Ohio. "Of all those people running, there's not one that has experience in all those critical three areas."

Kasich (pronounced KAY'-sik) ran for president once before, briefly seeking the 2000 nomination after he helped seal a federal balanced budget deal as House Budget chairman in 1997. Since then he put in nearly a decade as an investment executive and more than four years of strong-willed and often abrasive leadership as governor.  http://www.my9nj.com/story/29592948/ohio-gov-kasich-is-16th-notable-entry-into-gop-race

July 21, 2015

John Kasich enters a crowded field of Republican candidates Tuesday, as he becomes the 16th person to declare he is running for president.

It will be an uphill climb for the Ohio governor, who's in the three percent range in national polls. But he does bring three distinct advantages to the race: he'll be the most popular sitting governor running, with a 60-percent approval rating in his state, a June Quinnipiac poll says, a presidential operation with more than $11 million in the bank, and a long resume that includes nearly 20 years in Congress, the statehouse in Ohio and time in the private sector.

Kasich's shot at moving up in the polls may come if one of his opponents starts sinking. He's a business-friendly governor that will appeal to the same crowd as former Florida Gov. Jeb Bush and New Jersey Gov. Chris Christie. Plus, he has Christie's brash style that appeals to some voters, but with a better state economic record to back up his leadership.

"Republican voters do like the style that Chris Christie made famous back in 2012, the style of where you just don't take criticism sitting down," Ohio State University Political Science Professor Paul Beck told CBS News. "Kasich may be able to differentiate himself from Bush within that same niche as being more like Chris Christie and less like Jeb Bush." http://www.cbsnews.com/media/five-things-to-know-about-john-kasich/
So, John Kasich basically seems to feel that the other candidates are incompetent or otherwise not truly qualified to be the President of the USA.  Even if that is so, that does not mean that he is.  I heard much of his announcement speech on CNN radio today, and will state that his announcement seemed to be focused on trying to reach out to multiple possible support groups.
John Kasich is entering a very crowded field. FOX is planning on a debate between the top ten candidates per some poll next month and we will see if John Kasich get enough attention and support to be part of that debate. Now, in the past couple of weeks, Donald Trump has probably gotten the most media attention for the Republican candidacy, followed by Jeb Bush and Scott Walker. The three of whom are polling high amongst the Republican presidential hopefuls.
Mother Jones reported this about John Kasich:
July 21, 2015

He's different from the current GOP on some big issues: In November Kasich said he was open to Obama's immigration plan, which would temporarily protect 5 million immigrants from deportation. This stance sets him apart other GOP candidates, including Trump and Cruz, who have fiercely assailed immigration reform. He seems more liberal when it comes to gay marriage, saying in a spring CNN interview that if the Supreme Court ruled in favor of same-sex marriage he would have no problem attending a gay friend's wedding.  (He stayed true to his word, attending a gay marriage on July 3, a week following the Supreme Court's groundbreaking ruling). …

Kasich has a temper: He is not one to bother with pleasantries. According to Politico, in 2014 during a donor dinner, Kasich was asked by the wife of a major financial backer about his support of expanded Medicaid. Kasich lashed out: "I don't know about you, lady. But when I get to the Pearly Gates, I'm going to have an answer for what I've done for the poor." Twenty possible donors walked out of the room. According to an Atlantic profile on Kasich, once a top Ohio GOP donor swore he would never donate a dime to Kasich's campaign because he found the governor "unpleasantly arrogant."  http://www.motherjones.com/politics/2015/07/john-kasich-candidate-president-background
Here is a listing of some of John Kasich's political positions and accomplishments:
Budget and economic legislation

As Chairman of the House Budget Committee, Kasich was the lead architect of the 1997 balanced budget deal. This marked the first time the federal budget achieved balance since 1969 and ultimately led to a federal budget surplus.  …

Foreign policy and defense

While in congress, Kasich participated in nine international trips where he visited ten foreign countries. He also played a key role in passage of the Goldwater-Nichols Act, the most significant restructuring and streamlining of the military command structure since the creation of the Department of Defense in 1947. He was invited by President Reagan to be one of four House members present at the bill signing. …

Economy

Kasich's first priority when he came into office was the elimination of the projected $6–8 billion state budget shortfall.[55] Kasich utilized a number of cost-saving reforms without raising taxes and signed the new balanced budget on June 30, 2011. The budget included the elimination of the estate tax and the continuation of a previously passed income tax cut for all Ohioans.

Kasich's first major piece of legislation signed into law was the creation of JobsOhio, a private, non-profit organization designed to manage economic development in Ohio.

As a result of Kasich's budgeting efforts throughout his first term, Ohio's rainy-day fund (or surplus) went from $0.89 to $1.5 billion today. …

Health care

Kasich has taken advantage of Obamacare funding to expand Medicaid in Ohio, he says he wishes to keep that part of the law, and "repeal and replace" the rest of the law.  …

Labor laws
On November 8, 2011, Ohio voters strongly (61 percent to 39 percent) rejected the restrictive new collective bargaining law for public employees that Kasich had championed. …
Abortion
Also in June 2013, Kasich received both criticism and praise for signing into effect a bill that included controversial anti-abortion measures such as mandating any woman seeking an abortion to have an ultrasound and cutting funding to Planned Parenthood. Meanwhile, the bill provided funding to crisis pregnancy centers, which do not provide abortion referrals and are often run by religious groups. Further, under this bill, rape crisis centers received funding for the first time in Ohio history, but a requirement instituted by the legislature stated that in order to collect the funds they would not be allowed to inform sexual assault victims about abortion options(John Kasich, Wikipedia, accessed 07/21/15)
Certainly, I agree that abortion is wrong.  And of course, homosexual marriage is wrong, though John Kasich may not think so.
That being said, if John Kasich were to win the Republican nomination and potentially face Hillary Clinton, there would be major differences between parts of their their platforms and goals for the USA.
Of course, I do not believe that John Kaish is the real answer for the USA. The USA needs national repentance and the return of Jesus and the Kingdom of God.
Several items of possibly related interest may include:
Anglo – America in Prophecy & the Lost Tribes of Israel Are the Americans, Canadians, English, Scottish, Welsh, Australians, Anglo-Saxon (non-Dutch) Southern Africans, and New Zealanders descendants of Joseph? Where are the lost ten-tribes of Israel? Who are the lost tribes of Israel? What will happen to Jerusalem and the Jews in Israel? Will God punish the U.S.A., Canada, United Kingdom, and other Anglo-Saxon nations? Why might God allow them to be punished first? Here is a link to the Spanish version of this article: Anglo-América & las Tribus Perdidas de Israel. Information is also in the YouTube sermons titled Where are the Ten Lost Tribes? Why does it matter? and British are the Covenant People. A short YouTube of prophetic interest may be Barack Obama and the State of the Apocalypse.
Can you see the 'Handwriting on the Wall'? Thousands of years ago, King Belshazzar saw a hand appear at a big party he was hosting. The hand wrote Mene, Mene, Tekel, Upharsin. Shortly after the Prophet Daniel explained it, his empire was taken over and King Belshazzar died. Is this applicable today? Are there signs right before our eyes that show that the end is coming to the United States and its Anglo-descended allies. Do abortions, sexual immorality, celebrity pornography, and increased debt mean anything? What does the Bible show?
Hillary Clinton in Prophecy Prophecy, Hillary Clinton? Are there prophecies that Hillary Clinton may fulfill? Are there any prophecies that she has already helped fulfill? Could Hillary Clinton be apocalyptic? Could Hillary Clinton be the final Antichrist? A video of related interest is titled Hillary Clinton and Bible Prophecy.
Should a Christian Vote? This article gives some of the Biblical rationale on this subject. Would Jesus vote for president/prime minister? Is voting in the Bible? This is a subject Christians need to understand.
When Will the Great Tribulation Begin? 2015, 2016, or 2017? Can the Great Tribulation begin today? What happens before the Great Tribulation in the "beginning of sorrows"? What happens in the Great Tribulation and the Day of the Lord? Is this the time of the Gentiles? When is the earliest that the Great Tribulation can begin? What is the Day of the Lord? Who are the 144,000? Here is a version of the article in the Spanish language: ¿Puede comenzar la Gran Tribulación en 2014 o 2015? ¿Es el Tiempo de los Gentiles? You can also see the English language sermon video: The Great Tribulation from the Mount of Olives.
Abortion, the Bible, and a Woman's Right to Choose Do you know what the Bible teaches on this? Has the Roman Catholic Church allowed abortions? What about the real Church of God? Some may also, or instead, wish to view the YouTube video Abortion, the Bible, and US Debt.
Cross-dressing and other assaults against your children. What should you do? Is there an agenda to turn your children and/or grandchildren away from biblical morality and towards practices promoted by homosexuals? What does the Bible teach about cross-dressing? What should parents do? If there is an agenda, what has been going on? There is also a YouTube video on this, titled Cross dressing and Other Assaults Against Your Children.
The Bible Condemns Homosexuality "Same-sex marriage" for "gays" and lesbians is becoming more acceptable to many. What does the Bible teach about homosexuality? Can homosexuals change? A related video sermon is titled What Does the Bible Really Teach about Homosexuality?
Just What Do You Mean — Repentance? Do you know what repentance is? Have you truly repented? Repented of what? Herbert W. Armstrong wrote this as a booklet on this important subject.
The Gospel of the Kingdom of God was the Emphasis of Jesus and the Early Church Did you know that? Do you even know what the gospel of the kingdom is all about? You can also see a YouTube video sermon The Gospel of the Kingdom.
Just What Do You Mean the Kingdom of God? A booklet that was written by Herbert Armstrong answers questions about the Kingdom.
Barack Obama, Prophecy, and the Destruction of the United States-Second Edition for Second Obama Term This is a 160 page book for people truly interested in prophecies related to Barack Obama and the United States, including learning about many that have already been fulfilled (which the book documents in detail) and those that will be fulfilled in the future. It also has a chapter about a Republican choice. This book is available to order at www.barackobamaprophecy.com. The physical book can also be purchased at Amazon from the following link: Barack Obama, Prophecy, and the Destruction of the United States: Is Barack Obama Fulfilling Biblical, Islamic Catholic, Kenyan, and other America-Related Prophecies? What About Republican Leaders? Second Edition for Second Obama Term.
Barack Obama, Prophecy, and the Destruction of the United States-Second Term-Amazon Kindle edition. This electronic version is available for only US$2.99. And you do not need an actual Kindle device to read it. Why? Amazon will allow you to download it to almost any device: Please click HERE to download one of Amazon s Free Reader Apps. After you go to for your free Kindle reader and then go to Barack Obama, Prophecy, and the Destruction of the United States-Second Term-Amazon Kindle edition.
nited States, including learning about many that have already been fulfilled and those that will be fulfilled in the future. It also discusses Republicans. The physical book can be purchased at Amazon from the following link: Hillary Clinton, Prophecy, and the Destruction of the United States: Is Hillary Clinton Fulfilling Biblical, Islamic Catholic, Hopi, and other America-Related Prophecies? $11.99.
Hillary Clinton, Prophecy, and the Destruction of the United States-Amazon Kindle edition. This electronic version of the 188 page print edition is available for only US$3.99. And you do not need an actual Kindle device to read it. Why? Amazon will allow you to download it to almost any device: Please click HERE to download one of Amazon s Free Reader Apps. After you go to for your free Kindle reader and then go to Hillary Clinton, Prophecy, and the Destruction of the United States-Amazon Kindle edition.