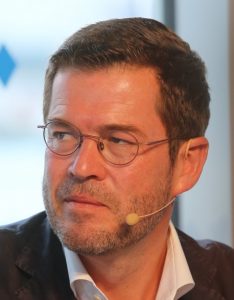 Karl-Theodor zu Guttenberg (photo by Michael Lucan)

A supporter in Europe tipped me off to the following article (originally titled Der Fernsehkonzern RTL nimmt den früheren Verteidigungsminister Karl-Theodor zu Guttenberg unter Vertrag. Er führt im Streamingportal RTL+ durch zwei Unterhaltungsdokus.  URL: https://www.sueddeutsche.de/bayern/fernsehen-koeln-karl-theodor-zu-guttenberg-bei-rtl-unter-vertrag-dpa.urn-newsml-dpa-com-20090101-220627-99-817625) which I machine-translated into English several hours ago:
Cologne (dpa) – Ex-Defense Minister Karl-Theodor zu Guttenberg (50) is now under contract with the television company RTL. He should lead as a moderator through streaming documentaries. This was reported on Monday by RTL Germany. They are working together on "high-end documentaries for the streaming offer RTL +", it said in the message from Cologne. "Zu Guttenberg will act as moderator and interviewer through two 90-minute docutainment programs. These will be included in the program later this year." RTL did not initially reveal any details about the content. 06/27/22
I responded to the supporter who mentioned this that perhaps Barron Guttenberg was setting himself up like Donald Trump did.
Of course, Donald Trump was not known as a political commentator, but more of an entertainer and celebrity.
Few would have thought one with a background like Donald Trump would actually become the President of the United States–but he did.
It is not just in the USA that name recognition and publicity can help one politically.
Could Karl-Theodor zu Guttenberg be laying a media foundation that he may later build upon?
Yes.
Herr Guttenberg was disgraced by a plagiarism scandal and resigned his position as Germany's Defense Minister back in 2011.
He has sometimes been made fun of in the German press since then.
However, not everyone has written him off. And, he is considered to be a respected commentator by several in the international press.
Interestingly, the Bible tells about a leader who was once disgraced that prophesied to rise up:
21 And there shall stand up in his place one despised, and the kingly honour shall not be given him: and he shall come privately, and shall obtain the kingdom by fraud. (Daniel 11:21, Douay-Rheims)

21 "'His place will be taken by a reject, a man spurned and passed over for advancement. He'll surprise everyone, seemingly coming out of nowhere, and will seize the kingdom. (Daniel 11:21 from THE MESSAGE: The Bible in Contemporary Language © 2002 by Eugene H. Peterson. All rights reserved.)

21 And in his place shall stand up a contemptible person, to whom they had not given the honor of the kingdom: but he shall come in time of security, and shall obtain the kingdom by flatteries. (Daniel 11:21, ASV)
By being considered as a respected commentator, and now having the opportunity to reach a lot of people on a regular basis, Herr Guttenberg looks like he is placing himself in a position to at least partially restore his reputation.
And, he may rise up more than almost anyone thinks he could.
Related to him and the Middle East, the Continuing Church of God (CCOG) recently put together the following video on our Bible News Prophecy YouTube channel:
Iran and Israel have been involved with various attacks and threats against each other. Does the Bible seem to prophesy that Iran and Syria will attack Israel? Will God always protect Israel? Will Israel's 'Iron Dome' protect it? Is "great damage" prophesied to come to Jerusalem? What about damage to Syria's capital Damascus? What was Isaiah inspired to write? Could a peace deal come after a regional conflict in the Middle East? Could Baron Karl-Theodor Maria Nikolaus Johann Jacob Philipp Franz Joseph Sylvester Freiherr von und zu Guttenberg (KT) be the "prince" of Daniel 9:26-27, who becomes the King of the North of Daniel 11? Was KT spurned, rejected, and passed over for advancement consistent with one rendering of Daniel 11:21? Does KT have the ancestral and religious background to be the "Great Monarch" of Greco-Roman Catholic prophecies? Does KT have the digital background to be able to be involved in the 666 controlling of buying and selling (Revelation 13:16-18)? Should you be watching the Middle East and Karl-Theodor zu Guttenberg? Dr. Thiel answers these questions and more.
Here is a link to our video: The Middle East, Prophecy, and Karl Theodor zu Guttenberg.
Some items of possibly related interest may include:
Might German Baron Karl-Theodor zu Guttenberg become the King of the North? Is the former German Defense Minister (who is also the former German Minister for Economics and Technology) one to watch? What do Greco-Roman Catholic, Byzantine, and biblical prophecies suggest? A video of related interest would be: Karl-Theodor zu Guttenberg and Europe's Future. A shorter one is also available: The Middle East, Prophecy, and Karl Theodor zu Guttenberg.
Blockchain, Karl Guttenberg, and 666 American Express just announced a deal with Ripple related to using its blockchain technology. No longer confined to Bitcoin, blockchain technology is moving towards the mainstream. Former German Economic and later Defense Minister, Karl-Theodor zu Guttenberg has long been an adviser to Ripple and has plans for internationally-expanding the use of blockchain money. Jim Rickards, Doug Casey, and others have expressed concerns that blockchain money will give governments too much control over buying and selling. Could any of this be related to biblical prophecies in the Books of Daniel and Revelation? Could any of this help fulfill the prophecies related to buying and selling and 666 in Revelation 13? Dr. Thiel addresses these issues and more in this video. A related written article is also available: Amex launches blockchain-based business payments using Ripple: Prelude to the Beast and 666?
Who is the King of the North? Is there one? Do biblical and Roman Catholic prophecies for the Great Monarch point to the same leader? Should he be followed? Who will be the King of the North discussed in Daniel 11? Is a nuclear attack prophesied to happen to the English-speaking peoples of the United States, Great Britain, Canada, Australia, and New Zealand? When do the 1335 days, 1290 days, and 1260 days (the time, times, and half a time) of Daniel 12 begin? When does the Bible show that economic collapse will affect the United States? In the Spanish language check out ¿Quién es el Rey del Norte? Here are links to two related videos: The King of the North is Alive: What to Look Out For and The Future King of the North.
The Great Monarch: Biblical and Greco-Roman Catholic Prophecies Is the 'Great Monarch' of Catholic prophecies endorsed or condemned by the Bible? Two sermons of related interest are also available: Great Monarch: Messiah or False Christ? and Great Monarch in 50+ Beast Prophecies.
Europa, the Beast, and the Book of Revelation discusses the largest church since the second/third century, which in a real sense is the eighth church mentioned in the Book of Revelation (it also endorses "eighth day" worship). What church would support the Beast? Here is a link to a video titled: Europe and the 'Holy Roman Empire'.
European Technology and the Beast of Revelation Will the coming European Beast power would use and develop technology that will result in the taking over of the USA and its Anglo-Saxon allies? Is this possible? What does the Bible teach? Here is a related YouTube video: Military Technology and the Beast of Revelation.
Does God Have a 6,000 Year Plan? What Year Does the 6,000 Years End? Was a 6000 year time allowed for humans to rule followed by a literal thousand year reign of Christ on Earth taught by the early Christians? Does God have 7,000 year plan? What year may the six thousand years of human rule end? When will Jesus return? 2030 or 20xx? There is also a video titled 6000 Years: When will God's Kingdom Come? Here is a link to the article in Spanish: ¿Tiene Dios un plan de 6,000 años?
Iran in Prophecy Is Iran in Bible prophecy? If so, what does the Bible teach? What names, other than Persia, may be used to describe Iran? There is also a related YouTube video titled Iran In Prophecy.
The 'Peace Deal' of Daniel 9:27 This prophecy could give up to 3 1/2 years advance notice of the coming Great Tribulation. Will most ignore or misunderstand its fulfillment? Here is a link to a related sermon video Daniel 9:27 and the Start of the Great Tribulation. A short video is also available titled Trump's Deal of the Century and Daniel 9 27? Here is a link to something related in the Spanish language: Estados Árabes emiratos unidos y el tratado de paz en el medio este.