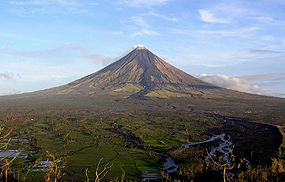 US Secretary of State John Kerry is in Indonesia warning about climate change:
February 16, 2014

U.S. Secretary of State John Kerry has told an audience in Jakarta, Indonesia, that climate change is a threat to the entire world.

Kerry said the science of climate change is compelling the world to act and that the science is absolutely certain.

He stressed that 97 percent of scientists agree that climate change is happening and that it is caused by human activity.

Many scientists say a warmer planet means a rise in sea levels, which could have a dangerous impact on island nations like Indonesia.

Kerry arrived in Indonesia Saturday from China where he talked about global warming and other matters with President Xi Jinping…

Many scientists believe burning fossil fuels in cars and factories is a major cause of global warming.  http://www.voanews.com/content/kerry-warns-about-global-climate-change/1852310.html
It should be noted that not all scientists believe that burning fossil fuels is causing global warming and some scientists believe that the data supports that the planet is cooling.  But I will add that pollution is not good for the environment and proper steps to reduce pollution are wise to consider.
That being said, yes, I do agree with the assessment that human activity contributes to climate change.  While I do not wish to now get in the debate about the impact of fossil fuels of the climate, I will state that the Bible is clear that God does use 'climate change' as a warning.
By pushing the homosexual agenda and other sins, as the Obama Administration and others have been doing, this results in 'climate change.'  But that is not something that people like John Kerry wish to seriously consider.
Notice the following scriptures from the Old Testament:
7 Thus says the Lord of hosts: "Consider your ways! 8 Go up to the mountains and bring wood and build the temple, that I may take pleasure in it and be glorified," says the Lord. 9 "You looked for much, but indeed it came to little; and when you brought it home, I blew it away. Why?" says the Lord of hosts. "Because of My house that is in ruins, while every one of you runs to his own house. 10 Therefore the heavens above you withhold the dew, and the earth withholds its fruit. 11 For I called for a drought on the land and the mountains, on the grain and the new wine and the oil, on whatever the ground brings forth, on men and livestock, and on all the labor of your hands." (Haggai 1:7-11)

12 O My people! Those who lead you cause you to err, And destroy the way of your paths. (Isaiah 3:12)

23 'The whole land is brimstone, salt, and burning; it is not sown, nor does it bear, nor does any grass grow there, like the overthrow of Sodom and Gomorrah, Admah, and Zeboiim, which the Lord overthrew in His anger and His wrath.' 24 All nations would say, 'Why has the Lord done so to this land? What does the heat of this great anger mean?' 25 Then people would say: 'Because they have forsaken the covenant of the Lord God of their fathers…(Deuteronomy 29:23-25)

38 A drought is against her waters, and they will be dried up. For it is the land of carved images, And they are insane with their idols. 39 "Therefore the wild desert beasts shall dwell there with the jackals, And the ostriches shall dwell in it. It shall be inhabited no more forever, Nor shall it be dwelt in from generation to generation. 40 As God overthrew Sodom and Gomorrah And their neighbors," says the Lord, "So no one shall reside there, Nor son of man dwell in it. (Jeremiah 50:38-40)
7 "I also withheld rain from you, When there were still three months to the harvest. I made it rain on one city, I withheld rain from another city. One part was rained upon, And where it did not rain the part withered. 8 So two or three cities wandered to another city to drink water, But they were not satisfied; Yet you have not returned to Me,"Says the Lord. 9 "I blasted you with blight and mildew. When your gardens increased, Your vineyards, Your fig trees, And your olive trees, The locust devoured them; Yet you have not returned to Me,"Says the Lord. 10 "I sent among you a plague after the manner of Egypt; Your young men I killed with a sword, Along with your captive horses; I made the stench of your camps come up into your nostrils; Yet you have not returned to Me, "Says the Lord. 11 "I overthrew some of you,As God overthrew Sodom and Gomorrah, And you were like a firebrand plucked from the burning; Yet you have not returned to Me, "Says the Lord. 12 "Therefore thus will I do to you, O Israel; Because I will do this to you, Prepare to meet your God, O Israel!" 13 For behold, He who forms mountains, And creates the wind, Who declares to man what his thought is, And makes the morning darkness, Who treads the high places of the earth — The Lord God of hosts is His name. (Amos 4:7-13)
6 And it shall be at an instant suddenly. A visitation shall come from the Lord of hosts in thunder, and with earthquake, and with a great noise of whirlwind and tempest, and with the flame of devouring fire. (Isaiah 29:6, DRB)
Furthermore, notice some of what the New Testament teaches:
18 The nations were angry, and Your wrath has come, And the time of the dead, that they should be judged, And that You should reward Your servants the prophets and the saints, And those who fear Your name, small and great, And should destroy those who destroy the earth. (Revelation 11:18)

22 And unless those days were shortened, no flesh would be saved; but for the elect's sake those days will be shortened. (Matthew 24:22)

8 Then the fourth angel poured out his bowl on the sun, and power was given to him to scorch men with fire. 9 And men were scorched with great heat, and they blasphemed the name of God who has power over these plagues; and they did not repent and give Him glory…every island fled away (Revelation 16:8-9)

21 And great hail from heaven fell upon men, each hailstone about the weight of a talent. Men blasphemed God because of the plague of the hail, since that plague was exceedingly great.  (Revelation 16:21)

18 And there were noises and thunderings and lightnings; and there was a great earthquake, such a mighty and great earthquake as had not occurred since men were on the earth. 19 Now the great city was divided into three parts, and the cities of the nations fell. And great Babylon was remembered before God, to give her the cup of the wine of the fierceness of His wrath. 20 Then every island fled away, and the mountains were not found. (Revelation 16:18-20)
Notice that the above earthquake is so big that the cities of the nations will fall. Mountains will be leveled and islands "fled away" (more on this can be found in the article Islands and Bible Prophecy).
So, yes, island nations such as Indonesia are going to be affected by 'climate change.'  But the major final trigger, a massive earthquake, will be from God.
The Bible is clear that various aspects of weather will be used by God prior to Jesus' return. As warnings and as punishments.
Of course there is good news, as ultimately God's kingdom will come and those issues will be gone (Revelation 7:16).
Some items of possibly related interest may include:
Weather Blessings and Sorrows Are weather problems a warning? What should be done? What does the Bible teach about weather? What about floods, droughts, heat, earthquakes, tornadoes, and solar storms? Here is a related YouTube video Does God Use Weather? A related item in the Spanish language would be Bendiciones y maldiciones del clima.
What is the Gospel? True religion should be based upon the true gospel. What are some of the different gospels and where did they come from? Do you believe the true or a false gospel? Who is preaching the gospel? Here is a version in Korean 복음이란 무엇인가?
The Gospel of the Kingdom of God was the Emphasis of Jesus and the Early Church Did you know that? Do you even know what the gospel of the kingdom is all about? You can also see a YouTube video sermon The Gospel of the Kingdom.
Just What Do You Mean the Kingdom of God? A booklet that was written by Herbert Armstrong answers questions about the Kingdom.
Islands and Bible Prophecy What's ahead for islands? What does the Bible prophesy about them?
Just What Do You Mean — Repentance? Do you know what repentance is? Have you truly repented? Repented of what? Herbert W. Armstrong wrote this as a booklet on this important subject.
When You Sin: Do You Really Repent? This is an article by Charles F. Hunting. A related sermon is Confess to God and truly repent .
Asia in Prophecy What is Ahead for Asia? Who are the "Kings of the East"? What will happen to nearly all the Chinese, Russians, Indians, Japanese, and others of Asia? Who has the 200,000,000 man army related to Armageddon?
Does God Have a 6,000 Year Plan? What Year Does the 6,000 Years End? Was a 6000 year time allowed for humans to rule followed by a literal thousand year reign of Christ on Earth taught by the early Christians? When does the six thousand years of human rule end?
When Will the Great Tribulation Begin? 2014, 2015, or 2016? Can the Great Tribulation begin today? What happens before the Great Tribulation in the "beginning of sorrows"? What happens in the Great Tribulation and the Day of the Lord? Is this the time of the Gentiles? When is the earliest that the Great Tribulation can begin? What is the Day of the Lord? Who are the 144,000? Here is a version of the article in the Spanish language: ¿Puede comenzar la Gran Tribulación en 2013 o 2014? ¿Es el Tiempo de los Gentiles? You can also see the English language video The Great Tribulation Will Not Begin Before 2017.