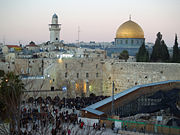 Jerusalem
UN Chief Ban Ki-moon is calling for the division of Jerusalem:
WASHINGTON

– United Nations Secretary-General Ban Ki-moon slammed Israel's policy and called for the division of Jerusalem on Tuesday. In a message delivered by his assistant at a UN regional meeting in Uruguay, Ban said: "The target date for completing the Palestinian Authority's two-year State-building program is fast-approaching."   http://www.ynetnews.com/articles/0,7340,L-4049602,00.html
Ban Ki-moon is from South Korea and has taken a position consistent with one some in the EU have also taken.
This  position on Jerusalem also seems to be consistent with the following biblical prophecy:
2 For I will gather all the nations to battle against Jerusalem;
The city shall be taken,
The houses rifled,
And the women ravished.
Half of the city shall go into captivity,
But the remnant of the people shall not be cut off from the city. (Zechariah 14:2, NKJV)
If half the city is Jewish and the other half not, then there would be a reason for only one half the city to go into captivity.
World events continue to align with Bible prophecy.  A peace deal will come (Daniel 9:27) and it may involve the enforced dividing of Jerusalem.
To learn more about what will happen to the descendants of Israel, please check out the first two articles (there is also information on Korea in the articles that follow them):
Anglo – America in Prophecy & the Lost Tribes of Israel Are the Americans, Canadians, British, Scottish, Welsh, Australians, Anglo-Southern Africans, and New Zealanders descendants of Joseph? Where are the lost ten-tribes of Israel? Who are the lost tribes of Israel? What will happen to Jerusalem and the Jews in Israel?  Will God punish the U.S.A., Canada, United Kingdom, and other Anglo nations? Why might God allow them to be punished first?
Will the Anglo-Nations be Divided? Will the lands of the United States, United Kingdom, Canada, Australia, and New Zealand be divided? What about Jerusalem?  What does Bible prophecy teach? Are there non-biblical prophecies that support this idea? Who will divide those lands? Who will end up with the lands and the people?
Asia in Prophecy What is Ahead for Asia? Who are the "Kings of the East"? What will happen to nearly all the Chinese, Russians, Indians, and others of Asia? China in prophecy, where? Who has the 200,000,000 man army related to Armageddon?
Korea in Prophecy, Any Witness? Where did the Korean people come from? Does God have a plan for the Koreans? Is Korea mentioned in any prophecies? Will Koreans be among the first in the Kingdom of God? 한국의 언어로 : 한국 예언, 모든 증인에?