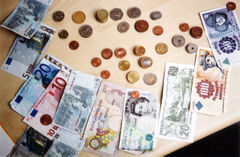 World Currencies
The world economy situation is changing and the USA will not remain on top.  First notice two reports related to Russia's goals:
Medvedev Pushes Ruble Reserve Currency to Cut Dollar Dominance

Bloomberg – June 19, 2010

Russia wants the ruble to be one of the world's reserve currencies as President Dmitry Medvedev renews his push to reduce the dollar's dominance and make Moscow a global financial hub.

"Only three, five years ago it seemed like a fantasy" to create a new reserve currency, Medvedev said yesterday in a speech in St. Petersburg, Russia. "Now we are seriously discussing it."

Medvedev, who has repeatedly called for a supranational currency to match the dollar, said discussions with China are continuing on broadening the global options. Russia sold U.S. Treasuries for a fifth consecutive month in April, the U.S. Treasury Department said June 15. The world may need as many as six reserve currencies, Medvedev said.

"It's something that's obviously needed," he said at the St. Petersburg International Economic Forum. "Developing a financial center in Moscow will considerably help to strengthen the ruble's position as one of the reserve currencies."

Medvedev's comments underline Russia's ambition to reassert its global power following the financial crisis. http://www.businessweek.com/news/2010-06-18/medvedev-pushes-ruble-reserve-currency-to-cut-dollar-dominance.html

Medvedev sees chance for new world order

Financial Times – June 18, 2010

Dmitry Medvedev, the Russian president, said Moscow was bidding to help lead efforts to build a new world economic order after the old system collapsed in the global financial crisis.

Opening Russia's annual economic forum in St Petersburg where hundreds of global chief executives have flocked, Mr Medvedev said the renewed interest in Russia this year was a sign of a changing world in which the institutions of the western-dominated world order had had their day amid thousands of corporate defaults and the threat of sovereign defaults.

"What had seemed untouchable has collapsed. The bubbles that created the illusion of flourishing economies have burst," Mr Medvedev said. "For Russia this situation is a challenge and an opportunity. We are living in a unique time. And we should use it to build a modern, flourishing and strong Russia … which will be a co-founder of the new world economic order and a full participant in the collective political leadership of the post-crisis world." http://www.ft.com/cms/s/0/81a03be0-7ac0-11df-8549-00144feabdc0.html
So, Russia is trying to eliminate the US dollar as the world's reserve currency.
Now, notice what the former US Federal Reserve Chairman is saying:
Greenspan Says U.S. May Soon Reach Borrowing Limit

Bloomberg – June 17, 2010

Former Federal Reserve Chairman Alan Greenspan said the U.S. may soon face higher borrowing costs on its swelling debt and called for a "tectonic shift" in fiscal policy to contain borrowing.

"Perceptions of a large U.S. borrowing capacity are misleading," and current long-term bond yields are masking America's debt challenge, Greenspan wrote…"Long-term rate increases can emerge with unexpected suddenness," such as the 4 percentage point surge over four months in 1979-80, he said.

Greenspan rebutted "misplaced" concern that reducing the deficit would put the economic recovery in danger, entering a debate among global policy makers about how quickly to exit from stimulus measures adopted during the financial crisis…

"The federal government is currently saddled with commitments for the next three decades that it will be unable to meet in real terms," Greenspan said…

The swing in demand toward American government debt and away from euro-denominated bonds is "temporary," he said.

"Our economy cannot afford a major mistake in underestimating the corrosive momentum of this fiscal crisis," Greenspan said.


http://preview.bloomberg.com/news/2010-06-18/greenspan-says-u-s-nearing-limits-on-borrowing-capacity-restraint-needed.html
Now, carefully notice what the Bible predicts:
3 For the vision is yet for an appointed time; But at the end it will speak, and it will not lie. Though it tarries, wait for it; Because it will surely come, It will not tarry…
6 "Will not all these take up a proverb against him, And a taunting riddle against him, and say, 'Woe to him who increases
What is not his–how long? And to him who loads himself with many pledges'? 7 Will not your creditors rise up suddenly? Will they not awaken who oppress you? And you will become their booty. 8 Because you have plundered many nations, All the remnant of the people shall plunder you (Habakkuk 2:3,6-8).
The above prophecy will be fulfilled at the time of the end.  While Alan Greenspan correctly recognizes that the dollar is likely to drop suddenly and cause American problems, he does not seem to realize how badly this really will affect the USA–it will be much more than increased borrowing costs.  The USA itself will be eliminated as a country.
The reality is that because the US dollar has functioned so long as THE world's reserve currency, it is currently "benefiting" from that status which is allowing it to borrow at unprecedented levels.  This is putting the USA at even greater risk than any other country in the history of the world probably has ever been at in the same way.
But eventually, the USA will end up with massive problems.  What Alan Greenspan neglected to say is that if the US has to pay 4-5 percentage points more to borrow, this will squeeze the USA to a breaking point.  This will result in even higher interest rates, and finally creditors will understand that there is no possible way that they will be paid back in a currency worth what their investments were worth.  And the creditors will rise up suddenly according the Bible.
While some sources point to problems in Europe, the reality is that the Europeans are taking steps to reduce their government spending–much more so than Washington, D.C. seems to be doing.  This does not mean that Europe will not have problems–I strongly believe it will have problems and have been reporting that for years.  But another reality is that although Europe will always tend to be strong and fragile (Daniel 2:42), Europe's currency (which may or may not be the Euro) only has to be perceived as better than the US dollar for the US dollar to be dropped as THE world's reserve currency.
In the coming new world order, the USA which has been on top in the past, will not be in the future.
Some articles of possibly related interest may include:
Russia: Its Origins and Prophesied Future Where do the Russians come from? What is prophesied for Russia? What will it do to the Europeans that supported the Beast in the end?
Is Russia the King of the North? Some claim it is. But what does the Bible teach?
Europa, the Beast, and Revelation Where did Europe get its name? What might Europe have to do with the Book of Revelation? What about "the Beast"? Is an emerging European power "the daughter of Babylon"? What is ahead for Europe?
Does God Have a 6,000 Year Plan? What Year Does the 6,000 Years End? Was a 6000 year time allowed for humans to rule followed by a literal thousand year reign of Christ on Earth taught by the early Christians? When does the six thousand years of human rule end?
Anglo – America in Prophecy & the Lost Tribes of Israel Are the Americans, Canadians, British, Scottish, Welsh, Australians, Anglo-Southern Africans, and New Zealanders descendants of Joseph? Where are the lost ten-tribes of Israel? Who are the lost tribes of Israel? Will God punish the U.S.A., Canada, United Kingdom, and other Anglo nations? Why might God allow them to be punished first?