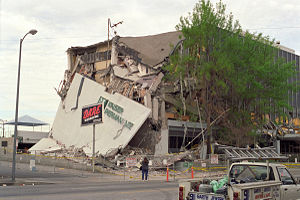 6.7 Earthquake in Northridge California Destroyed the Above Building of Kaiser Permanente
As Well as Various Freeway Overpasses and other Buildings on January 17, 1994.

The following claim is being made:
January 22, 2012

Megaquake Warning Issued For US-Mexican Pacific Coast

By: Sorcha Faal, and as reported to her Western Subscribers

A disturbing report prepared by the Schmidt Institute of Physics of the Earth (IPE) in Moscow that is circulating in the Kremlin today warns that the 6.2 magnitude earthquake that struck the Chiapas region of Mexico yesterday is a 'potential precursor' to a 'megaquake' of at least 7.5-8.3 expected to hit the US-Mexican Pacific coastline within the next fortnight (+/- 7 days).   http://www.whatdoesitmean.com/index1556.htm
Though I do not know if a major earthquake will hit Mexico and/or California within the next week, I do believe that a megaquake, which locally tends to be called "the big one," will at some point in time hit California.  And by that, I specifically mean one that is quite large and one that would be even more devastating than the Northridge quake of 1994.
As LCG has reported before:
Christ revealed that as the end of the age approaches, earthquakes will occur in "various places," and the winds and seas will roar─resulting in the hearts of people becoming faint (Luke 21:25-26). We should expect to see increasing natural disasters as we draw closer to Christ's return.
Jesus, of course, warned about a time earthquakes and troubles:
8 … And there will be earthquakes in various places, and there will be…troubles. These are the beginnings of sorrows. (Mark 13:8)
We may be at this prophetic point as all the earthquakes and other problems that have happened in the past year or so could be considered as "troubles."
Perhaps the earthquake warnings and weather problems can serve as another wake-up call to people everywhere that the world can change very quickly and that the time to repent is now:
30 Truly, these times of ignorance God overlooked, but now commands all men everywhere to repent, 31 because He has appointed a day on which He will judge the world in righteousness by the Man whom He has ordained. He has given assurance of this to all by raising Him from the dead. (Acts 17:30-31)
There are troubles and repentance is needed. Things are going to get much worse than they have already.
Some articles of possibly related interest may include:
Are You Saved? Do You Love Jesus? What is a True Christian? What is the Gospel? Evangelist Richard Ames answers those important questions.
Can the Great Tribulation Begin in 2012, 2013, or 2014? Can the Great Tribulation begin today? When is the earliest that the Great Tribulation can begin? What is the Day of the Lord? What is "the beginning of sorrows"? Have we begun or are we about ready for "the beginning of sorrows" to begin.
Physical Preparation Scriptures for Christians. We all know the Bible prophecies famines. Should we do something?
Mexico, Central America, South America, Brazil, and the Caribbean in Prophecy [Español: México, America Central, Suramérica, y el Brasil en profecíal] [Português: México, América Central, Ámérica do Sul, e Brasil na profecia] What will happen to those of Latin America? Will they have prosperity? Will they cooperate with Europe? Will they suffer in the future? What role might the various Caribbean nations/territories play?
Anglo – America in Prophecy & the Lost Tribes of Israel Are the Americans, Canadians, English, Scottish, Welsh, Australians, Anglo (non-Dutch) Southern Africans, and New Zealanders descendants of Joseph? Where are the lost ten-tribes of Israel? Who are the lost tribes of Israel? What will happen to Jerusalem and the Jews in Israel? Will God punish the U.S.A., Canada, United Kingdom, and other Anglo nations? Why might God allow them to be punished first?
Earthquakes Today and Bible Prophecy Contains a cool up-to-the-hour update of earthquakes around the world from USGS. It also explains what did Jesus teach about earthquakes and how the Bible describes "the big one" (as well as when it is expected).