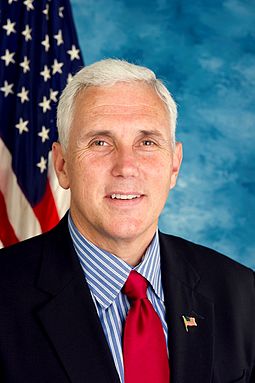 Mike Pence

United States' Vice President Michael Pence spoke at the Republican National Convention last night, where he also accepted the nomination to again be a candidate to be US Vice President:
Pence Assails Biden on Police Funding Amidst US Racial Unrest

August 27, 2020

With more racial unrest roiling the United States, Vice President Mike Pence on Wednesday night told voters that "you won't be safe in Joe Biden's America," attacking the Democratic presidential candidate as a willing partner of those who want to curb police funding.

"Joe Biden says America is systemically racist," Pence said on the third night of the Republican National Convention. "And that law enforcement in America has a quote, 'implicit bias,' against minorities. And when asked whether he'd support cutting funding to law enforcement, and he replied, 'Yes, absolutely.'"

"The hard truth is…you won't be safe in Joe Biden's America," Pence said in an address at Baltimore's Fort McHenry, where U.S. troops repelled a British attack in 1814 in the country's early years. That battle inspired the writing of the U.S. national anthem, "The Star-Spangled Banner."

President Donald Trump and many of his supporters have charged that Biden supports Black Lives Matter and other liberal activists' call for "defunding" local police departments, an assertion Biden has strenuously denied. But Pence was right in saying Biden and his running mate, California Senator Kamala Harris, are open to trimming police spending and using the savings for other community agencies to help curb crime.

"I don't want to defund police," Biden said earlier this month. "I want to get police more money in order to deal with the things they badly need, from making sure they have access to community policing, that they have also in the departments social workers, psychologists, people who in fact can handle those god-awful problems that a cop has to have four degrees to handle."

Nomination

Pence formally accepted renomination to a second term as Trump's second in command if they win reelection November 3. With his wife, Karen, and about 130 people listening, Pence vowed that he and Trump "will stand with those who stand on the Thin Blue Line, and we're not going to defund the police — not now, not ever." …

In the midst of the convention, racial turmoil has erupted in the 100,000-resident Midwestern city of Kenosha, Wisconsin, where the police shooting Sunday of a Black man, Jacob Blake, touched off street protests against police while some buildings were set afire. A 17-year-old youth from the neighboring state of Illinois was arrested in the killing of two protesters and the shooting of a third.

Trump and Pence, along with numerous convention speakers, have portrayed their administration as a staunch supporter of law enforcement, standing against violent protests that have erupted against racial injustice and police abuse of minorities since the May 25 death of a Black man, George Floyd, while in police custody in Minneapolis, Minnesota.

Pence declared: "The violence must stop, whether in Minneapolis, Portland or Kenosha," and that the Trump administration would guarantee "law and order" for every citizen.

In his remarks, he said "President Trump and I know the men and women that put on the uniform of law enforcement are the best of us. They put their lives on the line every day."

"The American people know we don't have to choose between supporting law enforcement and standing with African American neighbors to improve the quality of life in our cities and towns. From the first days of this administration, we have done both. And we will keep doing both for four more years in the White House," he said. https://www.voanews.com/2020-usa-votes/pence-assails-biden-police-funding-amidst-us-racial-unrest

Pence Warns Of An Unsafe America Under Biden: Takeaways From Day 3 Of The RNC

August 27, 2020

Pence was the one speaker who did make a reference to the situation in Wisconsin, but he didn't acknowledge the serious blowback that it triggered in communities across the country, or offer any commitment to address the underlying issues.

Instead he grouped it in with mentions of other incidents across the country in recent weeks. "Let me be clear: the violence must stop — whether in Minneapolis, Portland or Kenosha," he said.

He vowed that the Trump administration stood for cracking down while Democrats didn't favor a hard line. "We will have law and order on the streets of America. Joe Biden would double down on the very policies that are leading to unsafe streets and violence in America's cities."

He also warned, "You won't be safe in Joe Biden's America." …

"From Seattle and Portland to Washington and New York, Democrat-run cities across this country are being overrun by violent mobs. The violence is rampant. There's looting, chaos, destruction and murder. People that can afford to flee have fled. But the people that can't — good, hard-working Americans — are left to fend for themselves," South Dakota Gov. Kristi Noem said. https://www.npr.org/2020/08/27/906493194/pence-warns-of-an-unsafe-america-under-biden-takeaways-from-day-3-of-the-rnc
Whether or not a Biden Administration would be less safe than another Trump Administration can be debated.
Notice also the following:
After Kenosha — Divided We Stand

It would always come to this. At some point there would be a reckoning for BLM and Antifa.

The shootings in Kenosha, WI are a dividing line for America.

This is the moment where normal people finally said, "Enough. There will be consequences."

This is a war between radicalized lunatics bathed in unquenchable envy and self-pity and those who refuse to act like victims.

But they are victims.

All of us are. On both sides of the divide.

We are victims of a vicious program to divide and conquer the U.S. through a culture war designed to dehumanize each other.

We fight among ourselves over scraps while the people who manipulated events to this point walk away laughing at the destruction.

They want the violence. They love it. They relish it. It brings them power and prestige.

To maintain their power, as the systems they've built fail, they have set us against each other: paid looters and rioters to become cannon fodder in their war against common decency, culture, communities and family.

All for control over the levers of political power. …

The sad truth is that this is only the beginning of what's to come. The line is crossed and from town to town, that line will be more difficult to assess than ever before. https://tomluongo.me/2020/08/26/kenosha-divided-states-of-america/
Yes, worse is coming as Jesus foretold of a time of sorrows and troubles (Mark 13:8). Jesus also said:
25 Every kingdom divided against itself is brought to desolation, and every city or house divided against itself will not stand. (Matthew 12:25)
We are seeing more divide in the USA and parts of it certainly appear to be politically intentional.
Politics aside, here is what the USA really needs to heed:
30 "Repent, and turn from all your transgressions, so that iniquity will not be your ruin. 31 Cast away from you all the transgressions which you have committed, and get yourselves a new heart and a new spirit. For why should you die, O house of Israel? 32 For I have no pleasure in the death of one who dies," says the Lord God. "Therefore turn and live!"  (Ezekiel 18:30-32)
Although Jesus said that the 'peacemakers' are blessed (Matthew 5:9), the Bible warns that some will declare "peace," when there is no peace. Notice something from the New and Old Testaments:
3 For when they say, "Peace and safety!" then sudden destruction comes upon them, as labor pains upon a pregnant woman. And they shall not escape. 4 But you, brethren, are not in darkness, so that this Day should overtake you as a thief. (1 Thessalonians 5:3-4)

8 Therefore thus says the Lord God: "Because you have spoken nonsense and envisioned lies, therefore I am indeed against you," says the Lord God. 9 "My hand will be against the prophets who envision futility and who divine lies; they shall not be in the assembly of My people, nor be written in the record of the house of Israel, nor shall they enter into the land of Israel. Then you shall know that I am the Lord God.

10 "Because, indeed, because they have seduced My people, saying, 'Peace!' when there is no peace — and one builds a wall, and they plaster it with untempered mortar — 11 say to those who plaster it with untempered mortar, that it will fall. There will be flooding rain, and you, O great hailstones, shall fall; and a stormy wind shall tear it down. 12 Surely, when the wall has fallen, will it not be said to you, 'Where is the mortar with which you plastered it?'" (Ezekiel 13:8-12)
Yes, people and politicians like to promise peace, but without living God's way it will not be coming (though a temporal peace per Daniel 9:27 is expected).
No matter who or which future Administration you may think is better, national repentance is what is needed.
Also, remember the lesser of two evils is still evil.
Related to that, the Continuing Church of God (CCOG) put together the following video on our Bible News Prophecy YouTube channel:
The USA presidential campaign is in full swing. Though Democratic party candidate Joe Biden and Republican party candidate Donald Trump have differing economic and climate policies as well as different views on abortion and racial matters, there are many similarities both share. Do they have policies that they share that are leading to the destruction of the USA? What do Bible prophecies reveal about sexual immorality, debt, and hypocrisy? What are some of the national sins of the USA? Does the Bible endorse voting? What did Jesus teach related to what to seek and pray for? What does the New Testament teach that Christians are to do related to leaders? Is the lesser of two evils still evil? Dr. Thiel goes over these matters, including going over eleven similarities the two major party candidates share and some of what the Bible teaches about evil.
Here is a link to our sermonette video: Biden, Trump, and the Bible.
The winner of the next USA presidential election is not the solution for the USA–the Kingdom of God is.
The USA needs to repent. But its top political leaders do not seem to understand that.
Some items of possibly related interest may include:
The Gospel of the Kingdom of God This free online pdf booklet has answers many questions people have about the Gospel of the Kingdom of God and explains why it is the solution to the issues the world is facing. Here are links to three related sermons: The World's False Gospel, The Gospel of the Kingdom: From the New and Old Testaments, and The Kingdom of God is the Solution.
Should a Christian Vote? This article gives some of the Biblical rationale on this subject. Would Jesus vote for president/prime minister? Is voting in the Bible? This is a subject Christians need to understand. A video of related interest is available titled: Should Christians Vote? Another video is Sorry state of the 2020 presidential campaign.
Crime can be stopped…here's how! This was a booklet that was edited with some updates by Dr. Thiel. Here is a link to a related sermon: Crime and How it Will be Stopped!
God's Grace is For All Is being Jewish a hindrance to salvation? What about not being a descendant of Israel? What does the Bible really teach? Here is a link to a related sermon titled Race and Grace; Do you view race as God does?
Predestination: Did God really call You? Why? Predestination? Is your ultimate fate decided for you in advance? Here is a link to a related video sermon: Predestination: What it is and what it is not. Another related video is Predestination and Pentecost.
Is God Calling You? This booklet discusses topics including calling, election, and selection. If God is calling you, how will you respond? Here is a link to a related sermon: Could God be Calling You? A short animation is also available: Is God Calling You?
Christian Repentance Do you know what repentance is? Is it really necessary for salvation? A related sermon is also available titled: Real Christian Repentance.
Just What Do You Mean — Repentance? Do you know what repentance is? Have you truly repented? Repented of what? Herbert W. Armstrong wrote this as a booklet on this important subject.
When You Sin: Do You Really Repent? This is an article by Charles F. Hunting. A related sermon is Confess to God and truly repent.
Do Christians Sin? This is an article by Herbert W. Armstrong.
Overcoming Sin What is sin? How are Christians suppose to overcome it? Here is a link to a version in Mandarin Chinese: QKg f/'͉v". Here is a link to a version in Spanish: Vencer al pecado. Here is also a link to a video in English titled How YOU Can Overcome Sin.
Who is the King of the West? Why is there no Final End-Time King of the West in Bible Prophecy? Is the United States the King of the West? Here is a version in the Spanish language: ¿Quién es el Rey del Occidente? ¿Por qué no hay un Rey del Occidente en la profecía del tiempo del fin? A related sermon is also available: The Bible, the USA, and the King of the West.
USA in Prophecy: The Strongest Fortresses Can you point to scriptures, like Daniel 11:39, that point to the USA in the 21st century? This article does. Two related sermon are available: Identifying the USA and its Destruction in Prophecy and Do these 7 prophesies point to the end of the USA?
Who is the King of the North? Is there one? Do biblical and Roman Catholic prophecies for the Great Monarch point to the same leader? Should he be followed? Who will be the King of the North discussed in Daniel 11? Is a nuclear attack prophesied to happen to the English-speaking peoples of the United States, Great Britain, Canada, Australia, and New Zealand? When do the 1335 days, 1290 days, and 1260 days (the time, times, and half a time) of Daniel 12 begin? When does the Bible show that economic collapse will affect the United States? In the Spanish language check out ¿Quién es el Rey del Norte? Here is a link to a video titled: The Future King of the North.
Anglo – America in Prophecy & the Lost Tribes of Israel Are the Americans, Canadians, English, Scottish, Welsh, Australians, Anglo-Saxon (non-Dutch) Southern Africans, and New Zealanders descendants of Joseph? Where are the lost ten-tribes of Israel? Who are the lost tribes of Israel? What will happen to Jerusalem and the Jews in Israel? Will God punish the U.S.A., Canada, United Kingdom, and other Anglo-Saxon nations? Why might God allow them to be punished first? Here is a link to the Spanish version of this article: Anglo-América & las Tribus Perdidas de Israel. Information is also in the YouTube sermons titled Where are the Ten Lost Tribes? Why does it matter? and British are the Covenant People. A short YouTube of prophetic interest may be: Are Chinese threats against Australia for real?
Will the Anglo-Saxon-Celtic Nations be Divided and Have People Taken as Slaves? Will the lands of the United States, United Kingdom, Canada, Australia, and New Zealand be divided? What about Jerusalem? What does Bible prophecy teach? Are there non-biblical prophecies that support this idea? Who will divide those lands? Who will end up with the lands and the people? Here is a link to a video titled Will the USA and other Anglo-nations be Divided and Their People Made Slaves? Here is a related item in the Spanish language ¿Serán divididas las naciones anglosajonas?
Does God Have a 6,000 Year Plan? What Year Does the 6,000 Years End? Was a 6000 year time allowed for humans to rule followed by a literal thousand year reign of Christ on Earth taught by the early Christians? Does God have 7,000 year plan? What year may the six thousand years of human rule end? When will Jesus return? 2027 or 20xx? There is also a video titled 6000 Years: When will God's Kingdom Come? Here is a link to the article in Spanish: ¿Tiene Dios un plan de 6,000 años?
When Will the Great Tribulation Begin? 2020, 2021, or 2022? Can the Great Tribulation begin today? What happens before the Great Tribulation in the "beginning of sorrows"? What happens in the Great Tribulation and the Day of the Lord? Is this the time of the Gentiles? When is the earliest that the Great Tribulation can begin? What is the Day of the Lord? Who are the 144,000? Here is a version of the article in the Spanish language: ¿Puede la Gran Tribulación comenzar en el 2020 o 2021? ¿Es el Tiempo de los Gentiles? You can also see the English language sermon videos: The Great Tribulation from the Mount of Olives and Can the Great Tribulation begin before 2020? A shorter and newer video is: Could the Great Tribulation Begin in 2020?
The Times of the Gentiles Has there been more than one time of the Gentiles? Are we in it now or in the time of Anglo-America? What will the final time of the Gentiles be like? A related sermon is available and is titled: The Times of the Gentiles.
Armageddon Who is involved and when will this gathering happen? Here is also a video from Dr. Thiel, from Tel Megiddo in Israel: Armageddon. Other videos include: Armageddon Will it come on Trump's watch?, Iraq, Armageddon, & Prophecy, Freemasonry, Armageddo
Donald Trump in Prophecy Prophecy, Donald Trump? Are there prophecies that Donald Trump may fulfill? Are there any prophecies that he has already helped fulfill? Is a Donald Trump presidency proving to be apocalyptic? Two related videos are available: Donald: 'Trump of God' or Apocalyptic? and Donald Trump's Prophetic Presidency.
Trump Presidency Magic 8 Ball or Bible Prophecy? BBC reported that one might as well use a 'Magic Eight-Ball' to try to predict what will happen in the remaining time of Donald Trump's presidency. What is a 'Magic Eight-Ball'? Dr. Thiel not only explains that, but also briefly goes over 10 biblically-based warnings he wrote would happen if Donald Trump were elected that have already began to come to pass. He also goes over something he wrote back in 2008 that the Trump presidency is also helping lead to fulfillment. Should you trust Bible prophecy or not? Dr. Thiel says that Bible prophecy can be trusted, despite the view of skeptics and others that either overlook or despise the Bible. This is a video.
Donald Trump and America's Apocalypse This 188 page book is for people truly interested in prophecies related to Donald Trump and the United States, including learning about several that have already been fulfilled and those that will be fulfilled in the future. The physical book can be purchased at Amazon for $12.99 from the following link: Donald Trump and America's Apocalypse.
Donald Trump and America's Apocalypse-Kindle Edition This electronic version of the 188 page print edition is available for only US$3.99. And you do not need an actual Kindle device to read it. Why? Amazon will allow you to download it to almost any device: Please click HERE to download one of Amazon s Free Reader Apps. After you go to for your free Kindle reader and then go to Donald Trump and America's Apocalypse-Kindle Edition.