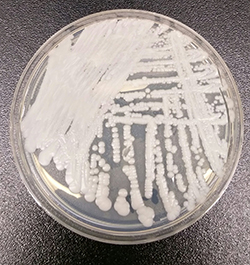 Candida auris
COVID is not the only infection there are concerns about. Another is the fungal superbug Candida Auris: Here is something from the US Centers for Disease Control:
Candida auris is an emerging fungus that presents a serious global health threat. CDC is concerned about C. auris for three main reasons:

It is often multidrug-resistant, meaning that it is resistant to multiple antifungal drugs commonly used to treat Candida infections. Some strains are resistant to all three available classes of antifungals.
It is difficult to identify with standard laboratory methods, and it can be misidentified in labs without specific technology. Misidentification may lead to inappropriate management.
It has caused outbreaks in healthcare settings. For this reason, it is important to quickly identify C. auris in a hospitalized patient so that healthcare facilities can take special precautions to stop its spread. https://www.cdc.gov/fungal/candida-auris/index.html accessed 07/26/21

C. auris can survive for weeks on surfaces, has reduced susceptibility to quaternary ammonia disinfectants, and can colonize skin. … products with C. albicans or fungicidal claims may not be effective against C. auris, https://www.cdc.gov/fungal/candida-auris/c-auris-guidance.html accessed 07/26/21

Here is a report from ZeroHedge:
Move Over COVID: A Drug Resistant Super Bug Fungus Is Now Being Reported In Texas And Washington D.C.

Just when you thought things couldn't get any better on the global health landscape, along comes one of those pesky drug-resistant superbug fungi.

An outbreak of such a "superbug" has spread among patients in hospitals and long-term care facilities in Texas and Washington, D.C., according to CBS News. The 30 day mortality rate for the outbreaks, combined, was 30% the report said.

The Centers for Disease Control and Prevention said late last week that the Candida auris fungus preys on people with weak immune systems and that cases were the result of person-to-person transmission. …

The CDC report concluded: "Surveillance, public health reporting, and infection control measures are critical to containing further spread."

There's been no word on whether or not locking down the entire country and economy, along with double, triple and quadruple masking, are options. We'll wait to hear from Dr. Fauci on that. 07/25/21 https://www.zerohedge.com/markets/move-over-covid-drug-resistant-super-bug-fungus-now-being-reported-texas-and-washington-dc
It is good that the above pointed out that it is those with weak immune systems that are the most susceptible. This should have been a major part of the message related to COVID-19, but it was not.
Candida auris  is a risk.
I have warned about Candida auris at this COGwriter Church of God News page back in 2019 and 2018 (see BBC: Candida auris: The new superbug on the block and  'Fungal superbug Candida auris found in Victoria, health authorities on high alert').
While most fungal issues are not deadly, this one is–for more details about mycotic infections, see my paper published in The Original Internist paper titled: Systemic Mycoses (Yeast): An Overview for Modern Health Professionals.
That being said, deadly infectious diseases are expected.
Notice something published by the old Worldwide Church of God decades ago:
4 Horsemen of the Apocalypse – The Pale Horse – Disease Epidemics
In the book of Revelation we find a disturbing vision of four fearsome horsemen (Rev. 6:1-8). Each of these horsemen is a symbol of the four major punishments to be inflicted upon a rebellious mankind — probably in the not-too-distant future! …
Over the entire course of history, disease has undoubtedly been man's greatest enemy in terms of sheer loss of life. According to Folke Henschen, a leading Swedish pathologist: "Infectious diseases… have probably been the most dangerous enemies of mankind, much more so than war and mass murder. …
Hans Zinsser, writing in Rats, Lice, and History, like wise explained: "Swords and lances, arrows, machine guns, and even high explosives have had far less power over fates of the nations than the typhus louse, the plague flea, and the yellow fever mosquito…. War and conquest and that herd existence which is an accompaniment of what we call civilization have merely set the stage for these more powerful agents of human tragedy." …
Infectious disease is neither a respecter of men nor nations. No part of the world is immune. For example, in the United States malaria cases have cropped up in California, Alabama and Texas in the last few years. Tuberculosis is widespread among Latins and Asians in Los Angeles County, and a strain of typhoid fever currently resistant to antibiotics is being imported into the United States by illegal aliens from Mexico. …
The Roman Empire also had its share of pestilential woes. During the first century B.C., a severe attack of malaria resulted in a drastic drop in the native birthrate. Rome was forced to augment its armies with foreign mercenaries. …

But by far and away the most devastating disease ever to hit the human race was the Black Plague. It was the greatest of all pandemics and was perhaps the worst single disaster the world has experienced since Noah's Flood. The exact toll it took remains a mystery, but various estimates place it at anywhere from 40 to 60 million souls. …

Disease, rather than superior numbers or generalship, often decided the outcome of many a battle. In 1528, during the pivotal siege of Naples, the French army was destroyed not by the enemy, but by an outbreak of typhoid fever. Thanks to this timely epidemic, Charles V of Spain was able to be crowned Emperor of the Holy Roman Empire. …

The world has yet to see the last of widespread disease epidemics. That, in effect, was what Jesus Christ told His disciples in the pivotal Olivet prophecy recorded in Matthew 24 and Luke 21. Right along with wars and famine came pestilence: "For nation shall rise against nation, and kingdom against kingdom: and there shall be famines, and pestilences, and earthquakes, in divers places" (Matt. 24:7). These were some of the prophetic signs that Christ listed in answering the question, "What shall be the sign of thy coming, and of the end of the world [age]?" (Verse 3.) Granted, pestilence, famine and war have been ongoing problems that have plagued mankind ever since the dawn of history. But the main thrust of Christ's message is futuristic. The overall context of the Olivet prophecy readily attests to this fact. In verses 21 and 22 of Matthew 24, Christ referred to a time when the total annihilation of human life would be a distinct possibility. Only with the recent development of multiple-megaton nuclear weaponry could such an event have become a reality. (Ritter G. 4 Horsemen of the Apocalypse – The Pale Horse – Disease Epidemics. Worldwide Church of God (c) 1975, Ambassador College Press)
Since the above booklet related to the fourth horseman was published, human beings are directly causing antimicrobial resistance–and also were involved with COVID-19 (watch also Biological Warfare and Prophecy).
Now, because of overuse of antibiotics, many now realize that the USA and many other parts of the world are setting themselves up for the possibility of getting infections from bacteria that are resistant to various antibiotics (yet, the Europeans and their animals are not quite in the same situation). I have warned about this for some time, and even made a YouTube video about this: Are Americans & Asians setting themselves up for destruction from antibiotic use?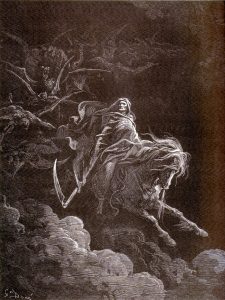 Gustave Doré's The fourth Horseman, Death on the Pale Horse (1865)
The Bible teaches that famines and pestilences will happen PRIOR to the start of the Great Tribulation:
4 And Jesus answered and said to them: "Take heed that no one deceives you. 5 For many will come in My name, saying, 'I am the Christ,' and will deceive many. 6 And you will hear of wars and rumors of wars. See that you are not troubled; for all these things must come to pass, but the end is not yet. 7 For nation will rise against nation, and kingdom against kingdom. And there will be famines, pestilences, and earthquakes in various places. 8 All these are the beginning of sorrows. (Matthew 24:4-8)
As far as the fourth horseman of the Apocalypse goes, the Apostle John was inspired to write the following:
7 When He opened the fourth seal, I heard the voice of the fourth living creature saying, "Come and see." 8 So I looked, and behold, a pale horse. And the name of him who sat on it was Death, and Hades followed with him. And power was given to them over a fourth of the earth, to kill with sword, with hunger, with death, and by the beasts of the earth. (Revelation 6:7-8)
A fourth of the earth–that is something in the neighborhood of 2,000,000,000 people–a huge amount–though scripture does not specify how many will die from infections directly (warfare will be part of the cause of death).
Since this horseman's ride begins prior to the start of the Great Tribulation, it is likely that the USA and at least some of its Anglo-Saxon dominated allies would be affected–which are end time descendants of Israel, and also sometimes prophetically referred to as Israel (cf. Genesis 48; see also Anglo – America in Prophecy & the Lost Tribes of Israel). They will also be affected AFTER the start of the Great Tribulation.
Ezekiel was inspired to write the following:
2 "And you, son of man, thus says the Lord God to the land of Israel:

'An end! The end has come upon the four corners of the land. 3 Now the end has come upon you, And I will send My anger against you; I will judge you according to your ways, And I will repay you for all your abominations. (Ezekiel 7:2-3)

5 The sword is outside,
And the pestilence and famine within.
Whoever is in the field
Will die by the sword;
And whoever is in the city,
Famine and pestilence will devour him. (Ezekiel 7:15)

12 One-third of you shall die of the pestilence, and be consumed with famine in your midst; and one-third shall fall by the sword all around you; and I will scatter another third to all the winds, and I will draw out a sword after them. (Ezekiel 5:12)
Why should Ezekiel's warning to 'Israel' include the USA and its Anglo-Saxon allies?
Well in addition to prophecies in Genesis 48 & 49, consider that Ezekiel 7:2 points to problems in the "four corners of the land." While some may point to the tiny nation called Israel, consider that the USA, UK, Canada, Australia, and New Zealand are spread around the corners of the earth.
It is apparent, that like others in the past, the USA and at least some of its Anglo-Saxon allies will be weakened by pestilences before they are finally taken over (cf. Daniel 11:39; 8:24-25; see also USA in Prophecy: The Strongest Fortresses) by the final 'revival' of the old 'Holy Roman Empire' (watch also Europe and the 'Holy Roman Empire').
COVID-19 was only a prelude.
Time is getting shorter.
Are you really doing what Jesus would have you do now?
Some items of possibly related interest may include:
Fourth Horseman of the Apocalypse What is the pale horse of death and pestilences? What will it bring and when? Here is a link to a related sermon:
Fourth Horseman, COVID, and the Rise of the Beast of Revelation. Here is a version of that sermon in Spanish: El Cuarto Caballo, El COVID y El Surgimiento de la Bestia del Apocalipsis. Some shorter related videos may include Amphibian Apocalypse: Threat to Humans? and Zombie Deer Disease is Here! Are the 10 Plagues on Egypt Coming? Here is a version of the article in Spanish: El cuarto jinete de Apocalipsis, el caballo pálido de muerte y pestilencia.
Are Americans & Asians setting themselves up for destruction from antibiotic use? In the Spring of 2015, a study came out highlighting the increasing use of antibiotics fed to livestock in order to decrease production costs. This was mainly affecting livestock in the Americas and Asia, but not in Europe. Excessive antibiotic use increases the risks of 'super bugs' and presents health risks to humans and livestock. Could those in the USA, Canada, UK, Russia, China, India, Brazil, and South Africa be setting themselves up for pestilence and/or famine? Could Europe miss some plague because of this? What does the Bible prophesy?
COVID 19 is NOT the End, but could it be TEOTWAWKI? The novel coronavirus called COVID-19 is wreaking havoc around the world. Many states of the USA as well as countries in Europe are on lockdown with shelter in place /shelter in residence requirements. In France, a form is required when you are not at your house. In Spain, drones are being used to warn people who are outside to got back to their homes–does that bring up feelings of 'Big Brother'? Italy, France, and other areas are using police and/or military force to encourage people to stay inside. According to the Bible could this be the end? If not, what has to happen first? Have the second and third of the four horsemen of the Apocalypse started their ride? Could COVID-19 be the fourth horseman? Why or why not? Could we be seeing The End of the World as We Know It (TEOTWAWKI) like the R.E.M.'s 1987 single song discussed? Do Christians need to fear? What did Jesus teach? What did the Psalmist teach? This is a video. Here is a link to a version in the Spanish language: Corona 19 no es el final PERO es el TEOTWAWKI.
COVID-19 Leading to 666? The novel coronavirus of Wuhan, China fame, is now called COVID-19. It has also been called the 'Coronapocalypse.' Does COVID-19 have any prophetic ramifications? What did Jesus teach about pestilences and sorrows in the Olivet prophecy in Matthew 24? Could COVID-19 be the ride of the fourth horseman of the Apocalypse? Why was this type of disease expected according to the O. Here is a link to a version in the Spanish language: ld Testament prophecies in Deuteronomy and Leviticus? What has the US Centers for Disease Control warned about? What has the CDC reported about the flu? Were there lessons about fear and infections in the 2011 movie 'Contagion'? Because of COVID-19, the World Health Organization (WHO), nation of Iran, and certain French locations are telling people not to use cash, but instead electronic forms of payment. The US Federal Reserve is now quarantining money repatriated from Asia to reduce the potential spread of the coronavirus on US currency bills. Is COVID-19 worse than we have been told or could this all be a 'false flag' event to encourage people to move towards a cashless society? If the thousands of deaths associated with COVID-19 are pushing parts of the world towards cashlessness, how much more likely will the ride of the fourth horseman and over a billion human deaths motivate people to move to making electronic payments that can be monitored? The Bible tells of a soon coming society that controls buying and selling to force allegiance to a coming European Beast power, known as 666 (Revelation 13:16-18). Does the 'great tribulation' begin before ride of the fourth horseman or with the opening of the fifth seal of Revelation 6? Do the words of Jesus helps us better understand the sequence of the four horsemen of the Apocalypse and the start of the Great Tribulation? Will the ride of the fourth horseman help lead to the rise of 666? Is that ride very close? Dr. Thiel addresses these issues and more in this video. Here is a link to a version in the Spanish language: El COVID-19 ¿Conduce al 666?
Biological Warfare and Prophecy Is biological warfare possible? Was it prophesied? Scientists have long warned that pathogenic organisms like the coronavirus could be weaponized. Furthermore, back in 2017, there were concerns that the biological research facility being constructed in Wuhan, China was risky and that a coronavirus from it could be released. On January 25, 2020, China's President Xi Jinping publicly stated that the situation with the Wuhan-related strain of the coronavirus was grave. Did Church of God writers like the late evangelist Raymond McNair warn that engineered viruses (the "Doomsday bug") were consistent with prophecies from Jesus? Did a warning from CCOG leader Bob Thiel warn about risks of genetically-modified (GMO) mosquitoes come to pass? Could human research and/or the consumption of biblically-unclean animals such as bats and snakes be a factor in current outbreaks or coming future pestilences? What about famines? How devastating have pestilences been? How devastating are the prophesied ones going to be? Dr. Thiel addresses these issues and more in this video.
Four Horsemen of the Apocalypse What do each of the four horseman of the Apocalypse represent? Have they began their ride? Did Jesus discuss the any of this? Might their rides coincide with the "beginning of sorrows? Do they start their ride prior to the Great Tribulation? Did Nostradamus or any other 'private prophets' write predictions that may mislead people so that they may not understand the truth of one or more of the four horseman? There is also a related YouTube video titled Sorrows and the Four Horsemen of the Apocalypse.
Ten Simple Rules that Lead to Health Herbert Armstrong gives his opinions on this.
Physical Preparation Scriptures for Christians. We all know the Bible prophecies famines. Should we do something? Here is a version in the Spanish language Escrituras sobre Preparación física para los Cristianos. Here is a link to a related sermon: Physical preparedness for Christians.
When Will the Great Tribulation Begin? 2021, 2022, or 2023? Can the Great Tribulation begin today? What happens before the Great Tribulation in the "beginning of sorrows"? What happens in the Great Tribulation and the Day of the Lord? Is this the time of the Gentiles? When is the earliest that the Great Tribulation can begin? What is the Day of the Lord? Who are the 144,000? Here is a version of the article in the Spanish language: ¿Puede la Gran Tribulación comenzar en el 2020 o 2021? ¿Es el Tiempo de los Gentiles? A related video is: Great Tribulation: 2026 or 2027? Here is a video in the Spanish language: Es El 2021 el año  de La Gran Tribulación o el Grande Reseteo Financiero.
GMOs and Bible Prophecy What are GMOs? Since they were not in the food supply until 1994, how could they possibly relate to Bible prophecy? Do GMOs put the USA and others at risk? Here is a related YouTube video GMO Risks and the Bible.
Anglo – America in Prophecy & the Lost Tribes of Israel Are the Americans, Canadians, English, Scottish, Welsh, Australians, Anglo-Saxon (non-Dutch) Southern Africans, and New Zealanders descendants of Joseph? Where are the lost ten-tribes of Israel? Who are the lost tribes of Israel? What will happen to Jerusalem and the Jews in Israel? Will God punish the U.S.A., Canada, United Kingdom, and other Anglo-Saxon nations? Why might God allow them to be punished first? Here is a link to the Spanish version of this article: Anglo-América & las Tribus Perdidas de Israel. Information is also in the YouTube sermons titled Where are the Ten Lost Tribes? Why does it matter? and British are the Covenant People. A short YouTube of prophetic interest may be: Are Chinese threats against Australia for real?
Will the Anglo-Saxon Nations be Divided and Have People Taken as Slaves? Will the lands of the United States, United Kingdom, Canada, Australia, and New Zealand be divided? What about Jerusalem? What does Bible prophecy teach? Are there non-biblical prophecies that support this idea? Who will divide those lands? Who will end up with the lands and the people? Here is a link to a video titled Will the USA and other Anglo-nations be Divided and Their People Made Slaves? Here is a related item in the Spanish language ¿Serán divididas las naciones anglosajonas?
The Gospel of the Kingdom of God This free online pdf booklet has answers many questions people have about the Gospel of the Kingdom of God and explains why it is the solution to the issues the world is facing. Here are links to three related sermons: The World's False Gospel, The Gospel of the Kingdom: From the New and Old Testaments, and The Kingdom of God is he solution.
Is God Calling You? This booklet discusses topics including calling, election, and selection. If God is calling you, how will you respond? Here is are links to related sermons: Christian Election: Is God Calling YOU? and Predestination and Your Selection. A short animation is also available: Is God Calling You?
There is a Place of Safety for the Philadelphians. Why it May Be Near Petra This article discusses a biblical 'place of safety,' Zephaniah 2 to 'gather together,' and includes quotes from the Bible and Herbert W. Armstrong on fleeing to a place–thus, there is a biblically supported alternative to the rapture theory. Two sermon-length videos of related interest are available Physical Protection During the Great Tribulation and Might Petra be the Place of Safety?  Here is something related in the Spanish language: Hay un lugar de seguridad para los Filadelfinos. ¿Puede ser Petra?