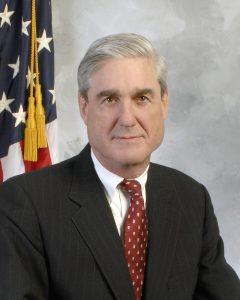 Robert Mueller III

If you have paid much attention to charges of Russian collusion and the investigation by Robert Mueller, and do not confine yourself to either left or right leaning media, you get the impression that the USA is a highly divided nation.
Here are some recent reports related to Robert Mueller's  investigation:
December 17, 2017

An organization that was part of President Trump's transition team claimed Saturday that special counsel Robert S. Mueller III improperly obtained a trove of transition emails as part of the inquiry into Russian influence in the 2016 election and other matters.

The batch of emails totaling thousands of pages of communications was improperly provided to Mueller by the federal General Services Administration, the organization claimed in a letter delivered to congressional investigators.

"This morning we sent a letter to Congress concerning the unauthorized sharing of private and transition emails with the Mueller team," lawyer Kory Langhofer said in an interview.  …

Trump for America alleges that Mueller acquired private records without a warrant or subpoena.

"When we have obtained emails in the course of our ongoing criminal investigation, we have secured either the account owner's consent or appropriate criminal process," said Peter Carr, a spokesman for Mueller's office. … Mueller's investigation has produced four criminal cases so far, including charges to which Flynn has agreed to plead guilty. https://www.washingtonpost.com/politics/mueller-unlawfully-obtained-emails-trump-transition-team-says/2017/12/16/6162f350-e2cc-11e7-8679-a9728984779c_story.html?utm_term=.bc2b2a8c9c43

If you're looking for a Justice Department scandal regarding Robert Mueller's investigation into Russia's influence of the 2016 election, it's hiding in plain sight. Look no further than the government's release of the private texts between Peter Strzok and Lisa Page.

Both Strzok, an FBI counter-intelligence agent, and Page, an FBI lawyer, were involved in the 2016 investigation into Hillary Clinton's private email server, and were both briefly on Mueller's team investigating Russia's influence of the 2016 election. In the texts from 2015 and 2016, they complained about the Republican presidential nominee's intelligence and demeanor (including in unprintable terms). In July, those private texts came to the attention of the Justice Department's inspector general. The FBI reassigned Strzok to human resources, while Page left the special counsel's probe.

The inspector general's investigation is ongoing. Perhaps more evidence will emerge that the privately held opinions of two investigators contributed to then-FBI director James Comey's decision in July 2016 not to charge Clinton with a crime. (That was when the Republicans said the FBI was pro-Clinton. Before Comey called the finality of that inquiry into question just days before the 2016 election and the Democrats said the FBI was anti-Clinton.) Until charges are pressed and evidence is considered, however, Page and Strzok are owed some due process. …

Strzok wrote to Page: "I want to believe the path you threw out for consideration in Andy's office — that there's no way he gets elected — but I'm afraid we can't take that risk. It's like an insurance policy in the unlikely event you die before you're 40."  In this text, "Andy" is deputy FBI director, Andrew McCabe.

That doesn't look great. It's also inconclusive. It's something the Justice Department's inspector general should be running down. It's also something that would be appropriate for oversight committees in Congress to examine. What is this "insurance plan? Is this a reference to the FBI's investigation, which started a few weeks earlier, into the Trump campaign's possible collusion with Russian efforts to influence the election? From that text alone, it's impossible to know.

What is possible to know in this case is that officials more senior than Strzok and Page did appear to exercise influence on the Clinton email probe. There was the instruction from President Barack Obama's attorney general, Loretta Lynch, to former FBI director James Comey, for example, to refer to his investigation as a "matter." There was also Obama's own statement to the media before that "matter" was closed, saying that none of the material on Clinton's private server amounted to a serious breach of classified information. https://www.bloomberg.com/view/articles/2017-12-14/the-fbi-scandal-hiding-in-plain-sight
Sources like Fox News put out information essentially showing corruption in the 'deep state' that supported Democrat Hillary Clinton. At the same time, sources like MSNBC put out information that incriminates some associated with Republican Donald Trump.
Both sides make their points appear clear and obvious. For one side, they tend to show that the Democrats are clearly criminals and liars, while on the other side they tend to show that the Republicans are clearly criminals and liars.
Of course, there are criminals and liars on both sides.
And I pray that the truth will prevail in the USA and justice will prevail.
The Apostle Paul warned:
1 But know this, that in the last days perilous times will come: 2 For men will be lovers of themselves, lovers of money, boasters, proud, blasphemers, disobedient to parents, unthankful, unholy, 3 unloving, unforgiving, slanderers, without self-control, brutal, despisers of good, 4 traitors, headstrong, haughty, lovers of pleasure rather than lovers of God, 5 having a form of godliness but denying its power. And from such people turn away! …

13 But evil men and impostors will grow worse and worse, deceiving and being deceived. (2 Timothy 3:1-5, 13)

Now, I should add that while I believe that one side has been more criminal and deceptive than the other related to collusion, etc., I see criminal and deceptive behaviors on both sides (and believe that this has been proven).
Many associated with politics are afraid of the truth.
Christians, instead, should walk in the light:
5 This is the message which we have heard from Him and declare to you, that God is light and in Him is no darkness at all. 6

If we say that we have fellowship with Him, and walk in darkness, we lie and do not practice the truth. 7

But if we walk in the light as He is in the light, we have fellowship with one another, and the blood of Jesus Christ His Son cleanses us from all sin.

(1 John 1:5-7)

Many US leaders (as well as leaders elsewhere) do not walk in the light or practice the truth.
Jesus said to those who would actually follow Him:
32 And you shall know the truth, and the truth shall make you free. (John 8:32)

Consider the following from Jesus related to what has been happening in the USA:
25 Every kingdom divided against itself is brought to desolation, and every city or house divided against itself will not stand. (Matthew 12:25)

17 Every kingdom divided against itself is brought to desolation, and a house divided against a house falls. (Luke 11:17)
Former US President Abraham Lincoln cited one of these scriptures in a famous speech he gave prior to becoming USA president. The situation worsened and the American civil war began not too long afterwards.
There is division in the USA.
Increasingly, there is a cultural divide between those who profess some type of morality based upon scripture and those that have decided that political issues matter more than moral ones. Many are outraged about matters such as homosexual marriage and abortion, while others are outraged that everyone will not support homosexual marriage and abortion.
There is an increasing divide between the rich and the poor, the haves and the have nots.
A divide between many of the rural and many of the city dwellers. A look at the electoral map from the November 2016 presidential election clearly showed that it was mainly several large city county-regions that supported Hillary Clinton and the rest of the counties that supported Donald Trump.
Increasingly, the political parties are becoming more polarized. While politicians were always partisan, there is less they seem willing to do for the 'good of the country' together.
While few commentators believe that yet, more and more are noticing that the USA has serious problems of division. This will not end well for the USA.
Jesus warned about wars and disturbances during the "beginning of sorrows" that precede the Great Tribulation (Matthew 24:4-8,21):
6 And you will hear of wars and rumors of wars. See that you are not troubled; for all these things must come to pass, but the end is not yet. 7 For nation will rise against nation, and kingdom against kingdom. (Matthew 24:6-7a)
"Nation … against nation" is literally "ethnos … against ethnos" in the original Greek. Notice how the Orthodox Jewish Bible translates the first half of Matthew 24:7:
For there will be an intifada of ethnic group against ethnic group,
Look for ethnic and racial strife in 2018.
Various ones in the media have been fanning the flames of strife and division.
The USA is not exempt from falling, and " a house divided against a house falls" (Luke 11:17).
Ultimately, the USA will fall.
Some items of possibly related interest may include:
Will the Anglo-Saxon Nations be Divided and Have People Taken as Slaves? Will the lands of the United States, United Kingdom, Canada, Australia, and New Zealand be divided? What about Jerusalem? What does Bible prophecy teach? Are there non-biblical prophecies that support this idea? Who will divide those lands? Who will end up with the lands and the people? Here is a link to a video titled Will the USA and other Anglo-nations be Divided and Their People Made Slaves?
Anglo – America in Prophecy & the Lost Tribes of Israel Are the Americans, Canadians, English, Scottish, Welsh, Australians, Anglo-Saxon (non-Dutch) Southern Africans, and New Zealanders descendants of Joseph? Where are the lost ten-tribes of Israel? Who are the lost tribes of Israel? What will happen to Jerusalem and the Jews in Israel? Will God punish the U.S.A., Canada, United Kingdom, and other Anglo-Saxon nations? Why might God allow them to be punished first? Here is a link to the Spanish version of this article: Anglo-América & las Tribus Perdidas de Israel. Information is also in the YouTube sermons titled Where are the Ten Lost Tribes? Why does it matter? and British are the Covenant People. A short YouTube of prophetic interest may be: Are Chinese threats against Australia for real?
The Bible Condemns Homosexuality "Same-sex marriage" for "gays" and lesbians is becoming more acceptable to many. What does the Bible teach about homosexuality?  Can homosexuals change? A related video sermon is titled: What Does the Bible Really Teach about Homosexuality?
Pornography: A scourge on society Is pornography harmless fun? Does the Bible teach anything about it? What are the views of some involved with it? A related sermons is titled: Pornography, False Comfort, and False Religion. Here a shorter YouTube video Pornography: Harmless Fun or a Scourge on Society?
Who is the King of the West? Why is there no End-Time King of the West in Bible Prophecy? Is the United States the King of the West?
God's Grace is For All Is being Jewish a hindrance to salvation? What about not being a descendant of Israel? What does the Bible really teach? Here is a link to a related sermon titled Race and Grace; Do you view race as God does?
Does God Have a 6,000 Year Plan? What Year Does the 6,000 Years End? Was a 6000 year time allowed for humans to rule followed by a literal thousand year reign of Christ on Earth taught by the early Christians? Does God have 7,000 year plan? What year may the six thousand years of human rule end? When will Jesus return? 2021 or 20xx? There is also a video titled The 6000 Year Plan: Is the end of humanity's reign almost up?
When Will the Great Tribulation Begin? 2018, 2019, or 2020? Can the Great Tribulation begin today? What happens before the Great Tribulation in the "beginning of sorrows"? What happens in the Great Tribulation and the Day of the Lord? Is this the time of the Gentiles? When is the earliest that the Great Tribulation can begin? What is the Day of the Lord? Who are the 144,000? Here is a version of the article in the Spanish language: ¿Puede comenzar la Gran Tribulación en 2018 o 2019? ¿Es el Tiempo de los Gentiles? You can also see the English language sermon videos: The Great Tribulation from the Mount of Olives and Can the Great Tribulation begin before 2020? A shorter video is: Can the Great Tribulation begin in 2018?
Who is the King of the West? Why is there no Final End-Time King of the West in Bible Prophecy? Is the United States the King of the West? Here is a version in the Spanish language: ¿Quién es el Rey del Occidente? ¿Por qué no hay un Rey del Occidente en la profecía del tiempo del fin?
Who is the King of the North? Is there one? Do biblical and Roman Catholic prophecies for the Great Monarch point to the same leader? Should he be followed? Who will be the King of the North discussed in Daniel 11? Is a nuclear attack prophesied to happen to the English-speaking peoples of the United States, Great Britain, Canada, Australia, and New Zealand? When do the 1335 days, 1290 days, and 1260 days (the time, times, and half a time) of Daniel 12 begin? When does the Bible show that economic collapse will affect the United States? Here is a link to a video titled: The Future King of the North.
Donald Trump in Prophecy Prophecy, Donald Trump? Are there prophecies that Donald Trump may fulfill?  Are there any prophecies that he has already helped fulfill?  Could a Donald Trump presidency be apocalyptic?  A related video is titled: Donald: 'Trump of God' or Apocalyptic?
Trump Presidency Magic 8 Ball or Bible Prophecy? BBC reported that one might as well use a 'Magic Eight-Ball' to try to predict what will happen in the remaining time of Donald Trump's presidency. What is a 'Magic Eight-Ball'? Dr. Thiel not only explains that, but also briefly goes over 10 biblically-based warnings he wrote would happen if Donald Trump were elected that have already began to come to pass. He also goes over something he wrote back in 2008 that the Trump presidency is also helping lead to fulfillment. Should you trust Bible prophecy or not? Dr. Thiel says that Bible prophecy can be trusted, despite the view of skeptics and others that either overlook or despise the Bible. This is a video.
Donald Trump and America's Apocalypse This 188 page book is for people truly interested in prophecies related to Donald Trump and the United States, including learning about several that have already been fulfilled and those that will be fulfilled in the future. The physical book can be purchased at Amazon for $12.99 from the following link: Donald Trump and America's Apocalypse.
Donald Trump and America's Apocalypse-Kindle Edition This electronic version of the 188 page print edition is available for only US$3.99. And you do not need an actual Kindle device to read it. Why? Amazon will allow you to download it to almost any device: Please click HERE to download one of Amazon s Free Reader Apps. After you go to for your free Kindle reader and then go to Donald Trump and America's Apocalypse-Kindle Edition.