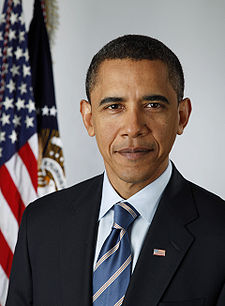 In a move consistent with his previous positions, USA President Barack Obama is apparently trying to distance the USA from Israel a little bit more:
Obama suspends moving embassy to Jerusalem

Jerusalem Dispatch – June 3, 2010

US President Barack Obama on Wednesday announced his decision to suspend for six months the process of moving the US embassy from Tel Aviv to Jerusalem. In a memorandum to Secretary of State Hillary Clinton, Obama said the decision was "necessary, in order to protect the national security interests of the United States."

"You are hereby authorized and directed to transmit this determination to the Congress…This suspension shall take effect after transmission of this determination and report to the Congress," Obama said.

Former US presidents Bill Clinton and George W. Bush routinely issued similar memos. Obama followed in their footsteps in in June and December of 2009, but in the December memo he axed a key sentence, which, according to speculation, signaled a shift in Washington's stance on the status of the capital…

Nearly identical memos have been signed every six months for the past decade, with sentences such as, "My administration remains committed to the process of moving our embassy to Jerusalem." Yet in December the Obama team left that sentence out.

http://www.jerusalemdispatch.com/2010/06/342-obama-suspends-embassy-move/
So, his Administration is apparently NOT committed to moving the US embassy to Jerusalem.  This move is of no surprise as President Obama has taken many steps to attempt to appease the opponents of Israel in the Middle East.  While he believes he means well, he needs our prayers.
For more information, please check out the following:
Prophecies of Barack Obama? Are there biblical and non-biblical prophecies about Barack Obama. Did Nostradamus predict Barack Obama dealing with the Antichrist?  This is a lengthy article with many prophecies that Barack Obama may end up fulfilling.
Barack Obama, Prophecy, and the Destruction of the United States Some claim that Barack Obama is the prophesied "son of Kenya". Might Bible prophecy be fulfilled by him?
Barack Obama in Islamic Prophecy? There is actually a 17th century Shiite prophecy that some believe that Barack Obama will fulfill that will lead to a rising up of Islam.
Is There an Islamic Antichrist? Is Joel Richardson correct that the final Antichrist will be Islamic and not European? Find out.
Anglo – America in Prophecy & the Lost Tribes of Israel Are the Americans, Canadians, British, Scottish, Welsh, Australians, Anglo-Southern Africans, and New Zealanders descendants of Joseph? Where are the lost ten-tribes of Israel? Who are the lost tribes of Israel? Will God punish the U.S.A., Canada, United Kingdom, and other Anglo nations? Why might God allow them to be punished first?
Who is the King of the North? Is there one? Do biblical and Roman Catholic prophecies point to the same leader? Should he be followed? Who will be the King of the North discussed in Daniel 11? Is a nuclear attack prophesied to happen to the English-speaking peoples of the United States, Great Britain, Canada, Australia, and New Zealand? When do the 1335 days, 1290 days, and 1260 days (the time, times, and half a time) of Daniel 12 begin? When does the Bible show that economic collapse will affect the United States?