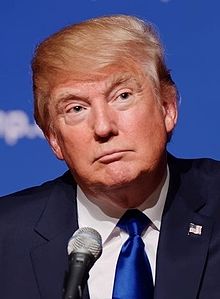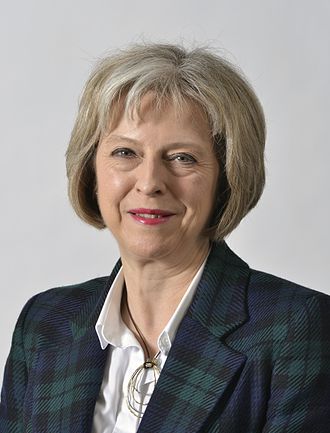 Donald Trump and Theresa May

There have been protests against US President Donald Trump's decision to pull out of the Paris accords:
June 2, 2017

BRUSSELS (AP) — Environmental campaigners protested Friday against President Donald Trump's decision to pull the United States out of the Paris climate accord, while nations around the world pledged to double down on their efforts to curb global warming in response to the U.S. move.

In Berlin, Greenpeace activists projected Trump's silhouette onto the side of the U.S. embassy along with the words "#TotalLoser, so sad!" …

Climate issues were expected to dominate discussions Friday between Chinese Premier Li Keqiang, who is leading a large delegation of ministers to Brussels, and EU Council President Donald Tusk and European Commission President Jean-Claude Juncker.

Speaking to European business leaders alongside Li, Juncker said EU-China ties are underpinned by "a rules-based international system."

Brussels and Beijing believe in "the full implementation, without nuances, of the Paris climate agreement," Juncker said, and underlined that there can be "no backsliding."

While Trump said the United States would be willing to rejoin the accord if it could obtain more favorable terms, the leaders of France, Germany and Italy said in a joint statement Thursday that the agreement cannot be renegotiated, "since it is a vital instrument for our planet, societies and economics."

Germany's environment minister, Barbara Hendricks, told reporters in Berlin that other countries will fill the leadership vacuum but none will be expected to make up the shortfall in emissions reductions caused by Washington's exit.

Hendricks said the absence of $500 million contributions from the United States to the Green Climate Fund will be felt from 2018, but suggested the gap could be filled with "other financing mechanisms, for example through the World Bank."

The Green Fund is designed to help poor countries adapt to climate change and bypass some of the heavily polluting technologies formerly used by rich countries.

Poor countries are predicted to be among the hardest hit by global warming, with some foreseeing tens of millions of "climate refugees" in coming decades.

South Africa called the U.S. pullout "an abdication of global responsibility."

The government of one of Africa's largest economies said the decision damaged the rule of law and "trust between nations," adding that the U.S. has a "moral obligation" to support poorer countries in the global effort against climate change.

The U.S. decision also prompted irate reactions in Asia and Latin America.

Japan's environment minister, Koichi Yamamoto, said in Tokyo: "I'm not just disappointed, but also feel anger."

Former Mexican President Vicente Fox also criticized Trump's move, saying on Twitter: "He's declaring war on the planet itself."

A top atmospheric scientist at the U.N.'s weather agency said Friday that the "worst-case scenario" caused by the planned U.S. pullout from the Paris climate deal would be a further 0.3-degree Celsius (0.5 Fahrenheit) rise in global temperatures by 2100. http://hosted.ap.org/dynamic/stories/E/EU_CLIMATE_GLOBAL_REACTION?SITE=AP&SECTION=HOME&TEMPLATE=DEFAULT&CTIME=2017-06-02-09-16-36

June 2, 2017

Following President Donald Trump's decision to pull the United States out of the Paris climate accord, dozens of Central New Yorkers took part in what they billed as an emergency rally to protest the decision in Syracuse.

They say they believe it's now up to citizens to push toward actions that will reduce emissions and improve sustainability.

One person we spoke with called the move "a crime against the next generation." Governor Andrew Cuomo, a Democrat, has also come out against the president's move, saying this will have devastating repercussions for the country and our planet. http://cnycentral.com/news/local/some-cnyers-rally-in-protest-of-decision-to-leave-paris-climate-accord
The UK's Theresa May is also facing protests of her own:
June 2, 2017

Prime Minister Theresa May on Friday faced accusations of being subservient to the US and of dereliction of duty by not being part of a protest by European G7 members against President Donald Trump's decision to withdraw from the Paris climate agreement.

Downing Street said May expressed her disappointment during a phone conversation with Trump on Thursday evening, but did not respond to queries on whether she was asked to sign the protest letter by France, Germany and Italy.

Labour leader Jeremy Corbyn called Trump's decision "absolutely shocking" and said May not being part of the G7 letter showed her as subservient to the US President. Given the special US-UK relationship, May adding her signature to the letter would have given it more weight.

Recalling both leaders holding hands during May's visit to the US in January, Corbyn said: "Pulling out of the Paris climate deal is reckless and regressive. Instead of hand-holding, I'll work for a sustainable future for our planet."

A Downing Street spokesperson said: "The Prime Minister expressed her disappointment with the decision and stressed that the UK remained committed to the Paris Agreement, as she set out recently at the G7.

"She said that the Paris Agreement provides the right global framework for protecting the prosperity and security of future generations, while keeping energy affordable and secure for our citizens and businesses.

"The President made clear that the door remains open to future US involvement in the Agreement. The Prime Minister and President agreed on the importance of continued cooperation on wider energy issues." http://www.hindustantimes.com/world-news/paris-accord-pm-may-under-fire-for-not-signing-g7-protest/story-FBKOoeGlEY3SoGMfZgV4xN.html
So, the UK Prime Minister is facing flack for not coming out stronger against Donald Trump on this. This may also be a position of some in continental Europe, despite the Prime Minister's position on the Paris accords.
When driving home yesterday, as well as seeing some of the news last night and today, it was clear to me that some in the mainstream media wanted to stir up protests on this.
This is not unexpected.
Here is something I warned about here in September 2016:
For years I have warned that more civil unrest was coming to the USA. We have already seen a re-emergence of civil unrest already in 2015 and 2016.

That does not mean that I agree that globalists will necessarily trigger it etc. But the media certainly has fanned the flames in the past and I expect them to do more such fanning in the future if Donald Trump were to win. (Thiel B. 'Chaos will erupt across America in less than 100 days… no matter who wins the election'. COGwriter, September 5, 2016)
That has happened. Furthermore, with Donald Trump's trashing the mainstream media as the "Enemy of the American people" (see, for two examples Trump Calls the News Media the 'Enemy of the American People' and Berkeley turns violent against Donald Trump supporters: Is violent protesting being advocated?), expect various ones in the mainstream media to help provoke more protests and civil unrest against Donald Trump. The Bible warns, "There shall be terror within" (Deuteronomy 32:25)–and the mainstream media seems inclined to provoke some of that itself.
Expect to see more protests against Donald Trump.
Some items of possibly related interest may include:
United Nations: Humankind's Last Hope or New World Order? Is the UN the last hope for humanity? Or might its goals end up with sinister results? Two related videos include UN's 'New Universal Agenda' is a False Gospel! and United Nations and Vatican Are Planning the New World Order.
Laudato Si: Pope's Agenda or Kingdom of God? Pope Francis' 2nd encyclical is titled 'Laudato Si.' In it, he goes over his views related to environmental, economic, social, moral, agricultural, and spiritual issues. He advocates international cooperation to solve various problems he believes are affecting humanity. Is that Pope's agenda the solution? What about the Kingdom of God? does the Bible teach? Two related articles include Laudato Si: Will Pope Francis' economic actions match his words? and Laudato Si: A call for a one-world government?
The Bible, Christians, and the Environment How should Christians view the environment? Does the Bible give any clues? What are some of the effects of air, water, and land pollution? Is environmental pollution a factor in autism and death? Do pollutants seem to double the autism risk? What will Jesus do? Here is a link to a related sermon:  Christians and the Environment (there is also YouTube video available titled Air Pollution, Autism, and Prophecy).
Do You Know That Babylon is Forming? How is the final Babylon forming? Are Protestants such as Joel Osteen and Kenneth Copeland are endorsing something dangerous? Could Pope Francis be the 'False Prophet' that the Bible warns against? Is an antipope expected to endorse a one-world religion? Here is a link to a related written article In Vatican City: New Babylon more openly forming!
The Gospel of the Kingdom of God This free online pdf booklet has answers many questions people have about the Gospel of the Kingdom of God and explains why it is the solution to the issues the world is facing. Here are links to three related sermons: The World's False Gospel, The Gospel of the Kingdom: From the New and Old Testaments, and The Kingdom of God is the Solution.
Christian Repentance Do you know what repentance is? Is it really necessary for salvation? A related sermon is also available titled: Real Christian Repentance.
When You Sin: Do You Really Repent? This is an article by Charles F. Hunting. A related sermon is Confess to God and truly repent.
Is There an Islamic Antichrist? Is Joel Richardson correct that the final Antichrist will be Islamic and not European? Find out.
Christ or Antichrist? 1961 article by David Jon Hill, originally published in the old Good News magazine.
Will You Be Deceived by Antichrist? 1964 article by David Jon Hill, originally published in the old Good News magazine.
Satan's Plan Does Satan have a plan? What is it? Has it already been successful? Will it be successful in the future? Here are links to a two-part sermon series: What are Some of the Parts of Satan's Plan? and Satan's Plan is More Dramatic than Many Realize.
Do Certain Catholic Prophecies About Antichrist Warn Against Jesus? Will the final "Anti-Christ" be Jewish, insist on Saturday, be opposed to the trinity, and bring in the millennium? Certain Catholic writings indicate this, while others take a different view, but what does the Bible show?
Why Should American Catholics Fear Unity with the Orthodox? Are the current ecumenical meetings a good thing or will they result in disaster? Is doctrinal compromise good? Here is a link to a related video Should you be concerned about the ecumenical movement?
Will the Interfaith Movement Lead to Peace or Sudden Destruction? Is the interfaith movement going to lead to lasting peace or is it warned against? A video sermon of related interest is: Will the Interfaith Movement lead to World War III? and a video sermon is also available: Do You Know That Babylon is Forming?
Some Similarities and Differences Between the Eastern Orthodox Church and the Continuing Church of God Both groups claim to be the original church, but both groups have differing ways to claim it. Both groups have some amazing similarities and some major differences. Do you know what they are?
Orthodox Must Reject Unity with the Roman Catholics Unity between these groups will put them in position to be part of the final end time Babylon that the Bible warns against as well as require improper compromise.
The Bible, Christians, and the Environment How should Christians view the environment? Does the Bible give any clues? What are some of the effects of air, water, and land pollution? Is environmental pollution a factor in autism and death? Do pollutants seem to double the autism risk? What will Jesus do? A YouTube video is available titled Air Pollution, Autism, and Prophecy.
Weather Blessings and Sorrows Are weather problems a warning? What should be done? What does the Bible teach about weather? What about floods, droughts, heat, earthquakes, tornadoes, and solar storms? Here is a related YouTube video Does God Use Weather? A related item in the Spanish language would be Bendiciones y maldiciones del clima.
China, Its Biblical Past and Future, Part 1: Genesis and Chinese Characters Where did the Chinese people come from? This article provides information showing that the Chinese peoples must have known about various accounts in the Book of Genesis up until their dispersion after the Tower of Babel. Here is a link to a version of this article in Spanish: ¿Prueban los caracteres chinos la exactitud de la Biblia?
China, Its Biblical Past and Future, Part 2: The Sabbath and Some of God's Witness in China When did Christianity first come to China? And is there early evidence that they observed the seventh day sabbath?
Asia in Prophecy What is Ahead for Asia? Who are the "Kings of the East"? What will happen to nearly all the Chinese, Russians, Indians, and others of Asia? China in prophecy, where? Who has the 200,000,000 man army related to Armageddon? A YouTube video of interest may be Is China THE Threat to the United States of America?
When Will the Great Tribulation Begin? 2017, 2018, or 2019? Can the Great Tribulation begin today? What happens before the Great Tribulation in the "beginning of sorrows"? What happens in the Great Tribulation and the Day of the Lord? Is this the time of the Gentiles? When is the earliest that the Great Tribulation can begin? What is the Day of the Lord? Who are the 144,000? Here is a version of the article in the Spanish language: ¿Puede comenzar la Gran Tribulación en 2016 o 2017? ¿Es el Tiempo de los Gentiles? You can also see the English language sermon videos: The Great Tribulation from the Mount of Olives and Can the Great Tribulation begin before 2020? A shorter video is: Will the Great Tribulation Start in 2017?
Some Doctrines of Antichrist Are there any doctrines taught outside the Churches of God which can be considered as doctrines of antichrist? This article suggests at least three. It also provides information on 666 and the identity of "the false prophet." Plus it shows that several Catholic writers seem to warn about an ecumenical antipope that will support heresy. You can also watch a video titled What Does the Bible teach about the Antichrist?
Europa, the Beast, and the Book of Revelation discusses the largest church since the second/third century, which in a real sense is the eighth church mentioned in the Book of Revelation (it also endorses "eighth day" worship). What church would support the Beast? Here is a link to a video titled: Can You Prove that the Beast to Come is European?
Did The Early Church Teach Millenarianism? Was the millennium (sometimes called chiliasm) taught by early Christians? Who condemned it? Will Jesus literally reign for 1000 years on the earth? Is this time near? A related sermon is titled The Millennium.
Donald Trump in Prophecy Prophecy, Donald Trump? Are there prophecies that Donald Trump may fulfill?  Are there any prophecies that he has already helped fulfill?  Could a Donald Trump presidency be apocalyptic?  A related video is titled: Donald: 'Trump of God' or Apocalyptic?
Trump Presidency Magic 8 Ball or Bible Prophecy? BBC reported that one might as well use a 'Magic Eight-Ball' to try to predict what will happen in the remaining time of Donald Trump's presidency. What is a 'Magic Eight-Ball'? Dr. Thiel not only explains that, but also briefly goes over 10 biblically-based warnings he wrote would happen if Donald Trump were elected that have already began to come to pass. He also goes over something he wrote back in 2008 that the Trump presidency is also helping lead to fulfillment. Should you trust Bible prophecy or not? Dr. Thiel says that Bible prophecy can be trusted, despite the view of skeptics and others that either overlook or despise the Bible. This is a video.
Donald Trump and America's Apocalypse This 188 page book is for people truly interested in prophecies related to Donald Trump and the United States, including learning about several that have already been fulfilled and those that will be fulfilled in the future. The physical book can be purchased at Amazon for $12.99 from the following link: Donald Trump and America's Apocalypse.
Donald Trump and America's Apocalypse-Kindle Edition This electronic version of the 188 page print edition is available for only US$3.99. And you do not need an actual Kindle device to read it. Why? Amazon will allow you to download it to almost any device: Please click HERE to download one of Amazon s Free Reader Apps. After you go to for your free Kindle reader and then go to Donald Trump and America's Apocalypse-Kindle Edition.