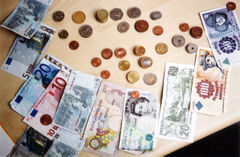 World Currencies
In his commentary today, LCG's Roger Meyer wrote the following:
Recessions, unemployment, mortgage defaults, bankruptcies, debt and poverty: these negative, economically-related terms appear in today's headlines across the globe. Why? What's wrong with the world's economies?
An economy is about producing and consuming goods and services. There are plenty of goods and services available, and plenty of consumers with a world population at nearly seven billion. Yet, the world's economies are stumbling and even teetering on the edge of collapse in some cases. And many people are without even basic necessities.

The world's economies need to be fixed. Some say that to cure the economies we need more laws, more government intervention, more regulation, better fiscal controls and so on. Some say we need more economic stimulus—more spending. Others say the opposite, that we need less government interference, regulations and spending to let free enterprise reign.

Some blame business and manufacturing for the current state of economic affairs. Some blame government for stymieing business investment, risk taking and hiring. Some blame consumers for being fearful and not spending. What is the real cause of these economic problems and how can it be fixed?

There are definite reasons why we find so many problems in the global economy. There are basic economic laws and principles which, if followed, produce positive results. Unfortunately, these principles are not taught in the schools and colleges. Economic professors would likely scoff at these laws as naïve, unsophisticated and impractical.

These principles are in a book that, though a best seller, is largely ignored and rejected. But these are principles that work because the Creator has declared it to be so. The book is the Bible.

Unlike man's laws, God's laws are simple, broad principles. In fact, all of God's laws are summed up in the two broad principles of love toward God and love toward neighbor (Matthew 22:34-40; Leviticus 19:18). God's economic laws also apply to these broad principles.

Concerning love toward God, Christ said, "Render therefore to Caesar the things that are Caesar's, and to God the things that are God's" (Matthew 22:21). To render means to give, acknowledging the obligation.

What belongs to God? "And all the tithe of the land, whether of the seed of the land or of the fruit of the tree, is the Lord's. It is holy to the Lord… And concerning the tithe of the herd or the flock, of whatever passes under the rod, the tenth one shall be holy to the Lord" (Leviticus 27:30, 32).

This principle is reiterated in Proverbs. "Honor the Lord with your possessions, and with the first fruits of all your increase; so your barns will be filled with plenty, and your vats will overflow with new wine" (Proverbs 3:9–10).

Christ said: "It is more blessed to give than to receive" (Acts 20:35). This reflects the law that says, "When you reap the harvest of your land, you shall not wholly reap the corners of your field, nor shall you gather the gleanings of your harvest" (Leviticus 19:9; 23:22). Also, "When you reap your harvest in your field, and forget a sheaf in the field, you shall not go back to get it; it shall be for the stranger, the fatherless, and the widow, that the Lord your God may bless you in all the work of your hands" (Deuteronomy 24:19).

There are other laws of God which, if followed, would fundamentally change the world's economies. God gave laws concerning possessing land, resting the land once every seven years and the Jubilee year. God's laws cover lending of money. "If you lend money to any of My people who are poor among you, you shall not be like a moneylender to him; you shall not charge him interest" (Exodus 22:25; Leviticus 25:36; Deuteronomy 23:19).

Man's ways are not God's ways. God's better way is coming. Order your free copy of The World Ahead: What Will It Be Like? or read it online.
The economies of the world will change.
First the current world order with the USA and the Anglo-descended nations will change–and this is starting to happen.  Second, a power in Europe will control much of the world's economies for a while–and some of the steps for this to occur have already happened.  And third, after massive devastation, Jesus will return and establish His kingdom.
And Jesus will return relatively soon.
For some items of possibly related interest, please check out the following:
The Gospel of the Kingdom of God was the Emphasis of Jesus and the Early Church Did you know that? Do you even know what the gospel of the kingdom is all about?
Did The Early Church Teach Millenarianism? Was the millennium (sometimes called chiliasm) taught by early Christians? Who condemned it? Will Jesus literally reign for 1000 years on the earth? Is this time near?
Europa, the Beast, and Revelation Where did Europe get its name? What might Europe have to do with the Book of Revelation? What about "the Beast"? What is ahead for Europe?
The Plain Truth About Gold in Prophecy. How Should a Christian View Gold? What do economists and the Bible teach about gold? Gold and silver may drop in value. Inflation/deflation? What do Christians need to know about gold?
Anglo – America in Prophecy & the Lost Tribes of Israel Are the Americans, Canadians, British-English, Scottish, Welsh, Australians, Anglo (non-Dutch) Southern Africans, and New Zealanders descendants of Joseph? Where are the lost ten-tribes of Israel? Who are the lost tribes of Israel? What will happen to Jerusalem and the Jews in Israel? Will God punish the U.S.A., Canada, United Kingdom, and other Anglo nations? Why might God allow them to be punished first?
Will the Anglo-Nations be Divided and Have People Taken as Slaves? Will the lands of the United States, United Kingdom, Canada, Australia, and New Zealand be divided? What about Jerusalem? What does Bible prophecy teach? Are there non-biblical prophecies that support this idea? Who will divide those lands? Who will end up with the lands and the people?
Canada in Prophecy: What Does Bible Prophecy, Catholic Prophecy, and other Predictions Suggest About the Future of Canada? There are prophecies that suggest involvement with Canada. And many are not positive about its future.
Who is the King of the West? Why is there no End-Time King of the West in Bible Prophecy? Is the United States the King of the West?
Barack Obama, Prophecy, and the Destruction of the United States This is a 160 page book for people truly interested in prophecies related to Barack Obama and the United States, including learning about many that have already been fulfilled (which the book documents in detail) and those that will be fulfilled in the future. It also has a chapter about Mitt Romney. This book is available to order at www.barackobamaprophecy.com. The physical book can also be purchased at Amazon from the following link:  Barack Obama, Prophecy, and the Destruction of the United States: Is Barack Obama Fulfilling Biblical, Islamic, Catholic, Kenyan, and other America-Related Prophecies? What About Mitt Romney?
Barack Obama, Prophecy, and the Destruction of the United States–Amazon Kindle edition. This electronic version is available for only US$2.99. And you do not need an actual Kindle device to read it. Why? Amazon will allow you to download it to almost any device: Please click HERE to download one of Amazon's Free Reader Apps.  After you go to for your free Kindle reader and then go to Barack Obama, Prophecy, and the Destruction of the United States–Amazon Kindle edition.)
Does God Have a 6,000 Year Plan? What Year Does the 6,000 Years End? Was a 6000 year time allowed for humans to rule followed by a literal thousand year reign of Christ on Earth taught by the early Christians? When does the six thousand years of human rule end?
Can the Great Tribulation Begin in 2012, 2013, or 2014? Can the Great Tribulation begin today? When is the earliest that the Great Tribulation can begin? What is the Day of the Lord?
2012 and the Rise of the Secret Sect This is a link related to a book by Bob Thiel (COGwriter). This link also has YouTube videos. This book documents and explains hundreds of prophecies. And since it was published, world events have aligned with at least 24 predictions in the book and many more will to come to pass. Those who purchase the book at the www.thesecretsect.com website receive a lengthy bonus report documenting world events that aligned with the book.
2012 and the Rise of the Secret Sect (English Kindle edition). This is the 2nd edition of the book, released in January 2012, and includes a summary of many of the predictions that world events have aligned with since the book originally came out in September 2009.
2012 y el surgimiento de la secta secreta 2012 libro del Dr. Thiel en Español.
2012 und das Auftreten der geheimen Sekte (German Edition) 2012 Buch von Dr. Thiel in deutscher Sprache. 2012 und das Auftreten der geheimen Sekte (German Kindle Edition)
2012 e o Surgimento da Seita Secreta (Portuguese Edition) 2012 livro do Dr. Thiel em português. Este livro documenta e explica centenas de profecias. E desde que foi publicado pela primeira vez, pelo menos 24 já começaram a acontecer.
2012 e o Surgimento da Seita Secreta (Brazilian Portuguese Edition) 2012 livro do Dr. Thiel. Edição em português do Brasil. Este livro documenta e explica centenas de profecias. E desde que foi publicado pela primeira vez, pelo menos 24 já começaram a acontecer.