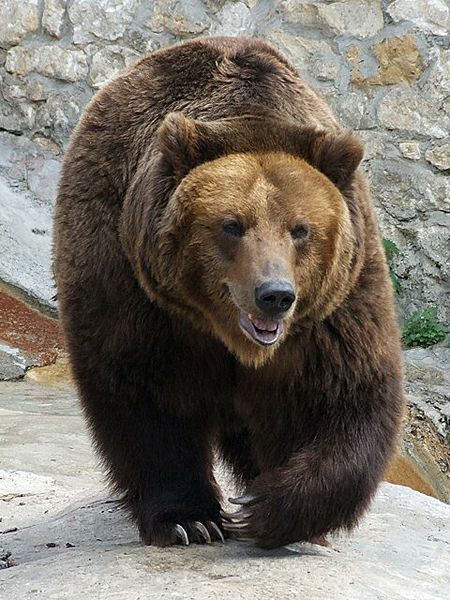 Russian Brown Bear

Russia has decided to remove many US diplomats. Here is a report from the USA followed by one from Russia:
July 31, 2017

MOSCOW — Russia urged the United States Monday to show "political will" to mend ties even as it ordered sweeping cuts of U.S. embassy personnel unseen since Cold War times.

President Vladimir Putin's spokesman, Dmitry Peskov, said it will take time for the U.S. to recover from what he called "political schizophrenia," but added that Russia remains interested in constructive cooperation with the U.S.

"We are interested in a steady development of our ties and are sorry to note that we are still far from that," he said.

Peskov's statement followed Sunday's televised comments by Putin, who said the U.S. would have to cut 755 of its embassy and consulate staff in Russia, a massive reduction he described as a response to new U.S. sanctions.

The Russian Foreign Ministry had previously said that the U.S. should cut its embassy and consular employees to 455, the number that Russia has in the United States. Along with the caps on embassy personnel announced Friday, it also declared the closure of a U.S. recreational retreat on the outskirts of Moscow and warehouse facilities. https://www.washingtonpost.com/world/europe/putin-lays-down-a-number-us-must-cut-755-moscow-diplomats/2017/07/31/2f4bf814-75d3-11e7-8c17-533c52b2f014_story.html?utm_term=.483013bbcda5

31 July 2017

Russia held back on introducing sanctions "for quite some time," but lost hope after Washington's "unprovoked move," President Vladimir Putin said in a state television broadcast on Sunday.

The interview with prominent presenter Vladimir Solovyov on state television Rossia-1 came two days after news broke that Russia would take counter-measures in response to new sanctions passed by the U.S. Senate, which the White House has said President Donald Trump intends to sign.

The number of American diplomatic personnel in Russia will be slashed by 755 people by September. Moscow will also close off access to two U.S. diplomatic facilities in Moscow.

Putin told Solovyov that the measures were in response to the U.S. taking "an unprovoked step towards worsening Russian-American relations."

In late 2016, Obama expelled 35 Russian diplomats and toughened economic sanctions already in place over Russia's annexation of Crimea in 2014, in response to alleged Russian interference in the 2016 presidential election.

"We have many times offered to work together with the Americans," said Putin during the broadcast. "But instead of constructive work, we only hear unfounded accusations about interference in the domestic affairs of the United States." https://themoscowtimes.com/news/putin-says-held-back-counter-sanctions-for-long-time-58533
Vladimir Putin's comments reminded me of something that he said nearly three years ago:
Russian President Vladimir Putin has commented on the West's position on Crimea's reunification by likening it to the Latin proverb, "What is permissible for Jove is not permissible for an ox."

Putin pointed out that Western countries consider Kosovo's declaration of independence legitimate, while refusing to accept Crimea's right to self-determination, granted to any nation by the UN charter. The decision to hold a referendum in Crimea was made by a legitimate representative body of power, the Crimean parliament, following a coup in Ukraine, the Russian president reiterated.

Crimea's reunification with Russia is in accordance with international law whatever some might say. In that respect, the Russian president recalled the saying "Quod licet Jovi (Iovi) non licet bovi", stressing that "we cannot agree with such definitions".

"Maybe it is not permissible for an ox, but I have to say a bear will not ask anyone for permission," Putin said in response to a question during the 11th meeting of the Valdai International Discussion Club in Sochi. The president added that a bear is considered "the master of taiga" and does not intend to give it away.

Vladimir Putin also stated that Western countries had decided Russia is no longer a force to reckon with after the collapse of the Soviet Union, emphasizing that the West had"started doing anything they wanted with no regard to any rules."  http://en.ria.ru/world/20141024/194576713/Putin-Slams-West-for-Refusing-to-Accept-Legitimacy-of-Crimeas-Reunification-With-Russia.html
Russia's President is again saying that he in only taking actions because the USA has forced him to.
And, he likely does not think it to is unreasonable that Russia limit the number of US diplomats in his country to the number Russia officially has in the USA.
Vladimir Putin probably feels that he has nothing to lose from his rhetoric at this time as the West will still talk with him on various topics of Western interests. Europe, for example, has not pleased with its understanding of the new Russian sanctions' bill approved by the US Congress (see US Congress offends Europe and Russia).
Notice something that the late Hebert W. Armstrong wrote decades ago, during the time of the old Soviet Union, titled Why Russia Will Not Attack the United States:
For decades now, the prospect of war between Russia and the United States has continually heightened and lessened.

Many who claim to be authorities on prophecy assure people a war involving Russia and the United States, Canada and England is prophesied in Ezekiel 38.

The United States, Britain and other democracies of north-western Europe, they recognize, are nations descended from the lost Ten Tribes. Therefore, they conclude, the prophecy of Ezekiel 38 foretells a military invasion of the North American continent from the Soviet Union. But this is not what prophecy says…

But this very fact – that this invasion will not come until after the Second Coming of Christ – will seem preposterous to many, at first thought.

That is because we have been accustomed merely to assume things that are not true. We have blindly assumed that when Christ comes, there will be no opposition. Every person and power on earth, we have thought, will simply submit meekly and instantly to him and his power. But that is not true!

Some gentile nations understandably shall not submit until forced to. The final restoration of the Roman Empire shall be subdued and conquered at a battle commonly called "Armageddon." But the populous nations of Eurasia that the Almighty God up to this point has not dealt with shall still have to be brought to submission.

"Gog" Identified

"Gog in the land of "Magog" is the vast regions of the U.S.S.R. in northern Eurasia extending from the Baltic to the Pacific. "Meshech" is Moscow, "Tubal" is Tobol'sk.

Notice the allies who come with them in this future battle. You will find "Gomer" "Togarmah," "Magog," "Meshech" "Tubal" identified in Genesis 10 as the sons of Japheth, father of the Eurasians. Ethiopia and Phut (mistranslated Libya) are descended from Ham.

Therefore, this prophecy of Ezekiel 38 shows who shall finally succeed in marshaling peoples of each major race into a gigantic invasion upon our people.

When God begins to rule the world, through Christ – with His chosen people restored to prosperity in the land of Israel, the very center of the land surface of the earth (verse 12, Moffatt translation) – this, great Eurasian union of nations shall finally be tempted to use their mighty air force. (Armstrong HW. Why Russia Will Not Attack the United States, article).

Some Bible scholars assert falsely that these prophecies of Ezekiel were fulfilled anciently. They never were. Others believe they are about to occur but some years before Armageddon. Both views are erroneous. The events of Ezekiel 38 and 39 are without question still future – for the "latter days" (38: 16) and "latter years" (38:8). Moreover, Ezekiel 38:14 describes the time setting as being "in that day when my people of Israel dwelleth safely." This is certainly not the situation in the State of Israel to- day! The Israel described by Ezekiel is a nation that dwells in security, in unwalled villages, totally unprepared for war (38:8, 11, 14). Read it for yourself! (Why Russia Will Not Attack the United States. WCG booklet)
Russia and the USA are not about to go to a massive 'hot' war. Ezekiel 38 is for the distant future–and right at/after the millennium (cf. Revelation 20:7-9; see also Ezekiel 38: For Russia & Iran in Our Day?; a related video is also available titled Ezekiel 38: For Russia, Ukraine, & Iran Now?).  But that does not mean that there cannot be military conflict between the USA and Russia now (and there may be some).
Yet, while Russia will not be the dominant force in the world for the next several years (Europe will), the time will come when the USA will not be.
But, I do believe that Russia will wish to cooperate with Europe to assist in ending the existence of the USA.  I believe it may well end up with Alaska, as well as parts of Canada (see Russia and Ukraine: Their Origins and Prophesied Future and Will the Anglo-Nations be Divided?))
However, as various prophetic matters have not happened (for details, check out the article When Will the Great Tribulation Begin?), it is fair to say that the USA will remain a nation until sometime AFTER the first term of Donald Trump's presidency. And that will be irrespective of the US sanctions or Russia's expulsion of US diplomats.
Some items of possibly related interest may include:
Is Russia the King of the North? Some claim it is. But what does the Bible teach? Here is a link to a video, also titled Is Russia the King of the North?
Russia and Ukraine: Their Origins and Prophesied Future Russia in prophecy. Where do the Russians come from? What about those in the Ukraine? What is prophesied for Russia and its allies? What will they do to the Europeans that supported the Beast in the end? There is also a video sermon available: Russia in the Bible and in Prophecy and a video sermonette available: Ukraine in Prophecy?
Ezekiel 38: For Russia & Iran in Our Day? Is Ezekiel 38 about to be fulfilled? A related video is available titled Ezekiel 38: For Russia, Ukraine, & Iran Now? Another could be Russia, Iran, Syria, & the Bible (Code).
The Eurasian Union, the Kings of the East, and Bible Prophecy Is there a Eurasian union that will be formed? Is one being formed right now? Are any leaders working on that in the 21st century? Does the Bible teach that there will be a Eurasian union? If some type of Eurasian union is formed, who might it benefit and who will it destroy? A related video would be Is The Eurasian Union Rising?
When Will the Great Tribulation Begin? 2017, 2018, or 2019? Can the Great Tribulation begin today? What happens before the Great Tribulation in the "beginning of sorrows"? What happens in the Great Tribulation and the Day of the Lord? Is this the time of the Gentiles? When is the earliest that the Great Tribulation can begin? What is the Day of the Lord? Who are the 144,000? Here is a version of the article in the Spanish language: ¿Puede comenzar la Gran Tribulación en 2016 o 2017? ¿Es el Tiempo de los Gentiles? You can also see the English language sermon videos: The Great Tribulation from the Mount of Olives and Can the Great Tribulation begin before 2020? A shorter video is: Will the Great Tribulation Start in 2017?
Two Horned Beast of Revelation and 666 Who is 666? This article explains how the COG views this, and compares this to Ellen White.
Europa, the Beast, and Revelation Where did Europe get its name? What might Europe have to do with the Book of Revelation? What about "the Beast"? Is an emerging European power "the daughter of Babylon"? What is ahead for Europe? Here is a link to a video titled: Can You Prove that the Beast to Come is European?
Who is the King of the North? Is there one? Do biblical and Roman Catholic prophecies for the Great Monarch point to the same leader? Should he be followed? Who will be the King of the North discussed in Daniel 11? Is a nuclear attack prophesied to happen to the English-speaking peoples of the United States, Great Britain, Canada, Australia, and New Zealand? When do the 1335 days, 1290 days, and 1260 days (the time, times, and half a time) of Daniel 12 begin? When does the Bible show that economic collapse will affect the United States? Here is a link to a video titled: The Future King of the North.
Anglo – America in Prophecy & the Lost Tribes of Israel Are the Americans, Canadians, English, Scottish, Welsh, Australians, Anglo-Saxon (non-Dutch) Southern Africans, and New Zealanders descendants of Joseph? Where are the lost ten-tribes of Israel? Who are the lost tribes of Israel? What will happen to Jerusalem and the Jews in Israel? Will God punish the U.S.A., Canada, United Kingdom, and other Anglo-Saxon nations? Why might God allow them to be punished first? Here is a link to the Spanish version of this article: Anglo-América & las Tribus Perdidas de Israel. Information is also in the YouTube sermons titled Where are the Ten Lost Tribes? Why does it matter? and British are the Covenant People. A short YouTube of prophetic interest may be Barack Obama and the State of the Apocalypse.
Will the Anglo-Saxon Nations be Divided and Have People Taken as Slaves? Will the lands of the United States, United Kingdom, Canada, Australia, and New Zealand be divided? What about Jerusalem? What does Bible prophecy teach? Are there non-biblical prophecies that support this idea? Who will divide those lands? Who will end up with the lands and the people? Here is a link to a video titled Will the USA and other Anglo-nations be Divided and Their People Made Slaves? Here is a related item in the Spanish language ¿Serán divididas las naciones anglosajonas?
Donald Trump in Prophecy Prophecy, Donald Trump? Are there prophecies that Donald Trump may fulfill?  Are there any prophecies that he has already helped fulfill?  Could a Donald Trump presidency be apocalyptic?  A related video is titled: Donald: 'Trump of God' or Apocalyptic?
Trump Presidency Magic 8 Ball or Bible Prophecy? BBC reported that one might as well use a 'Magic Eight-Ball' to try to predict what will happen in the remaining time of Donald Trump's presidency. What is a 'Magic Eight-Ball'? Dr. Thiel not only explains that, but also briefly goes over 10 biblically-based warnings he wrote would happen if Donald Trump were elected that have already began to come to pass. He also goes over something he wrote back in 2008 that the Trump presidency is also helping lead to fulfillment. Should you trust Bible prophecy or not? Dr. Thiel says that Bible prophecy can be trusted, despite the view of skeptics and others that either overlook or despise the Bible. This is a video.
Donald Trump and America's Apocalypse This 188 page book is for people truly interested in prophecies related to Donald Trump and the United States, including learning about several that have already been fulfilled and those that will be fulfilled in the future. The physical book can be purchased at Amazon for $12.99 from the following link: Donald Trump and America's Apocalypse.
Donald Trump and America's Apocalypse-Kindle Edition This electronic version of the 188 page print edition is available for only US$3.99. And you do not need an actual Kindle device to read it. Why? Amazon will allow you to download it to almost any device: Please click HERE to download one of Amazon s Free Reader Apps. After you go to for your free Kindle reader and then go to Donald Trump and America's Apocalypse-Kindle Edition.