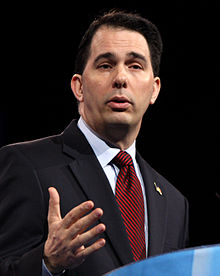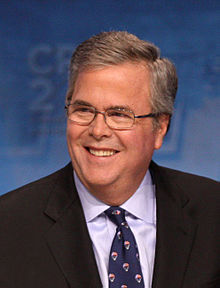 Scott Walker and Jeb Bush (both photos by Gage Skidmore)
Recently re-elected Republican Governor Scott Walker seems to believes that it will take a governor to beat potential Democratic party presidential contender Hillary Clinton:
November 10, 2014

The questions keep coming for Gov. Scott Walker on his potential for a 2016 presidential run.

The answers sound the same after his third Wisconsin gubernatorial election victory in four years as they did a year ago.

Appearing on NBC's "Meet the Press" Sunday, Walker repeated a familiar refrain in his TV statements about the 2016 race: the GOP ticket should include governors, not members of Congress.

"I do think if we're going to beat Hillary Clinton in this next election, we've got to have a message that says Hillary Clinton is all about Washington," Walker said from Milwaukee on the show. "I think in big ways she was the big loser on Tuesday because she embodies everything that's wrong with Washington.

"We offer a fresh approach. Any of us — now 31 governors across the country — have the executive experience from outside of Washington to provide a much better alternative to the old, tired, top-down approach you see out of Washington, D.C. We need something fresh, organic, from the bottom up, and that's what you get with states."

Walker again emerged as a potential star of the Republican Party on Tuesday when he won comfortably re-election by beating Democrat Mary Burke.

He has long been a potential presidential candidate, and some see it as a pretty solid bet that he'll be in the race. http://chippewa.com/news/local/writers/todd-milewski/gov-scott-walker-again-says-gop-needs-a-governor-for/article_900ffaa1-3686-50a8-8a10-f68a25350922.html
Former President George Bush believes that his brother Jeb, a former governor, may be a candidate:
Former President George W. Bush said the chances his brother and former Florida Governor Jeb Bush will run for president in 2016 are "50-50."

"He's not here knocking on my door, you know, agonizing about the decision," he said in a Sunday Face the Nation interview. "He knows exactly — you know, the ramifications on family, for example. He's seen his dad and his brother go through the presidency. I'd give it a toss up."

Bush said his father and fellow former president, George H. W. Bush, taught him that the presidency is still a worthy pursuit despite those "ramifications." http://time.com/3574665/george-w-bush-jeb-bush-president-2016/
Scott Walker's references to governors probably has a reference to himself and NOT Jeb Bush.  Despite being a governor, many would consider that because of his family connections (both his father and brother were USA presidents) that Jeb Bush would not be characterized as a Washington outsider, hence that could be an issue.
What about Republicans?
Do they have any good ideas?
Yes?
But so do various Democrats.
Will not the more religiously-oriented Republicans help?
Some ways in which some Republican tend to differ from some Democrats might include the amount of defense spending cuts, the amount of debt, abortion issues, and how Europe and the Middle East are treated. But it will be too little, too late. And that will be the case of any U.S.A. leader without real national repentance. No Republican is expected to overturn the move towards homosexual marriage. The mainstream press will not really allow it.
Notice some observations I reported before from Mark Steyn, prior to last Tuesday's election:
According to the conservative columnist, even though conservatives and Republicans may do well on Nov. 4, liberals are winning the other 364 days throughout the year, or the "culture stakes," with tremendous effect on our society.

"Election Day is one day a year, and the culture is the other 364 days a year," said Steyn. "So if you're not in there competing in the schools, competing in the pop culture, competing in the media, competing in the main-line churches, then the air we breathe becomes liberal."

"That's the default setting in society. Whoever gets elected on a Tuesday morning in November doesn't actually make much difference." …

The left is brilliant at framing the debate," Steyn told Kilmeade, noting specific buzz words for being "anti-women," "racist," and "homophobic," according to the left.

"When you let the left win the language wars…when you make it impossible even to bring up those subjects, you basically ensure that you're going to lose no matter who wins in November," he concluded
While some are hopeful that Republicans or Democrats like Hillary Clinton will save the USA–that will not be the case.
Furthermore, the prophetic reality is that a future U.S.A. president will likely, at least partially, offend the Europeans once the Europeans are strong enough to support the destruction of the U.S.A. (even though the Europeans will, for a while, think that this is not their intent or plan per Isaiah 10:5-11).
Neither Republicans nor Democrats will be able to fix the problems that the USA has. Jesus and His kingdom  will solve what needs to happen in the USA.
The USA needs national repentance, otherwise it is doomed. The USA needs the return of Jesus Christ and the Kingdom of God.
Several items of possibly related interest may include:
Anglo – America in Prophecy & the Lost Tribes of Israel Are the Americans, Canadians, English, Scottish, Welsh, Australians, Anglo-Saxon (non-Dutch) Southern Africans, and New Zealanders descendants of Joseph? Where are the lost ten-tribes of Israel? Who are the lost tribes of Israel? What will happen to Jerusalem and the Jews in Israel? Will God punish the U.S.A., Canada, United Kingdom, and other Anglo-Saxon nations? Why might God allow them to be punished first? Here is a link to the Spanish version of this article: Anglo-América & las Tribus Perdidas de Israel. A video of possible interest may be Will Will USA Spying Help the Beast Power?
Can you see the 'Handwriting on the Wall'? Thousands of years ago, King Belshazzar saw a hand appear at a big party he was hosting. The hand wrote Mene, Mene, Tekel, Upharsin. Shortly after the Prophet Daniel explained it, his empire was taken over and King Belshazzar died. Is this applicable today? Are there signs right before our eyes that show that the end is coming to the United States and its Anglo-descended allies. Do abortions, sexual immorality, celebrity pornography, and increased debt mean anything? What does the Bible show?
Hillary Clinton in Prophecy Are there prophecies that Hillary Clinton may fulfill? Are there any prophecies that she has already helped fulfill? Could Hillary Clinton be apocalyptic? Could Hillary Clinton be the final Antichrist?
When Will the Great Tribulation Begin? 2014, 2015, or 2016? Can the Great Tribulation begin today? What happens before the Great Tribulation in the "beginning of sorrows"? What happens in the Great Tribulation and the Day of the Lord? Is this the time of the Gentiles? When is the earliest that the Great Tribulation can begin? What is the Day of the Lord? Who are the 144,000? Here is a version of the article in the Spanish language: ¿Puede comenzar la Gran Tribulación en 2013 o 2014? ¿Es el Tiempo de los Gentiles? You can also see the English language sermon video: The Great Tribulation from the Mount of Olives.
Abortion, the Bible, and a Woman's Right to Choose Do you know what the Bible teaches on this? Has the Roman Catholic Church allowed abortions? What about the real Church of God? Some may also, or instead, wish to view the YouTube video Abortion, the Bible, and US Debt.
Cross-dressing and other assaults against your children. What should you do? Is there an agenda to turn your children and/or grandchildren away from biblical morality and towards practices promoted by homosexuals? What does the Bible teach about cross-dressing? What should parents do? If there is an agenda, what has been going on? There is also a YouTube video on this, titled Cross dressing and Other Assaults Against Your Children.
The Bible Condemns Homosexuality "Same-sex marriage" for "gays" and lesbians is becoming more acceptable to many. What does the Bible teach about homosexuality? Can homosexuals change?
Just What Do You Mean — Repentance? Do you know what repentance is? Have you truly repented? Repented of what? Herbert W. Armstrong wrote this as a booklet on this important subject.
The Gospel of the Kingdom of God was the Emphasis of Jesus and the Early Church Did you know that? Do you even know what the gospel of the kingdom is all about? You can also see a YouTube video sermon The Gospel of the Kingdom.
Just What Do You Mean the Kingdom of God? A booklet that was written by Herbert Armstrong answers questions about the Kingdom.
Barack Obama, Prophecy, and the Destruction of the United States-Second Edition for Second Obama Term This is a 160 page book for people truly interested in prophecies related to Barack Obama and the United States, including learning about many that have already been fulfilled (which the book documents in detail) and those that will be fulfilled in the future. It also has a chapter about a Republican choice. This book is available to order at www.barackobamaprophecy.com. The physical book can also be purchased at Amazon from the following link: Barack Obama, Prophecy, and the Destruction of the United States: Is Barack Obama Fulfilling Biblical, Islamic Catholic, Kenyan, and other America-Related Prophecies? What About Republican Leaders? Second Edition for Second Obama Term.
Barack Obama, Prophecy, and the Destruction of the United States-Second Term-Amazon Kindle edition. This electronic version is available for only US$2.99. And you do not need an actual Kindle device to read it. Why? Amazon will allow you to download it to almost any device: Please click HERE to download one of Amazon s Free Reader Apps. After you go to for your free Kindle reader and then go to Barack Obama, Prophecy, and the Destruction of the United States-Second Term-Amazon Kindle edition.