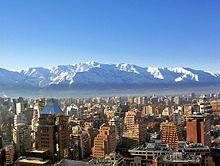 Santiago, Chile (victor san martin)

Chile got hit with a significant terrorist bombing:
Chilean President Michelle Bachelet has condemned a bomb attack on a shopping centre in a busy metro station in the capital Santiago on Monday.

The attack, in which 14 people were injured, is one of the worst since democracy was restored in 1990.

Ms Bachelet called it a "terrorist act, one of the most cowardly we have seen".

There have been around 200 bomb attacks in Santiago in the past decade, with anarchist groups claiming responsibility for many of them. …

The president said she would convene a meeting of her security committee on Tuesday to decide how to proceed.

"What's happened is horrible, an abominable act, but Chile is and will continue to be a safe country," Ms Bachelet said.

The explosive device went off at lunchtime at a fast-food restaurant in an underground shopping centre at the Escuela Militar metro station.

About 150,000 people pass through the station daily. …

Ms Bachelet said it was "one of the most cowardly acts we've seen because it had as its objective to maim, spread fear and even kill innocent people".  http://www.bbc.com/news/world-latin-america-29124307
Terrorism is horrible and wrong.
Over in the USA, children in the Midwest and elsewhere have been hit by entervirus 68:
September 9, 2014

Officials in 10 states are reporting cases of respiratory illness, some severe enough to send children to hospitals.

■ Related: Enterovirus may be culprit behind respiratory problems for Michigan kids

In Kansas City, Mo., more than 300 cases of respiratory illnesses were reported last month, according to the state Department of Health and Senior Services. About 15% of the illnesses resulted in children being placed in an intensive care unit… http://www.freep.com/article/20140909/FEATURES08/309090072/Enteroviruses-respiratory-illness-outbreak

September 9, 2014

INDIANA (WFIE) -Indiana Health officials say a severe respiratory illness that has sickened hundreds of children has possibly reached the Hoosier state.  The Indiana State Department of Health reported Monday that laboratory results show three people in northern Indiana recently tested positive for a virus similar to the germ that causes the common cold.

The CDC says the unusually high number of hospitalizations reported now could be "just the tip of the iceberg."

Ten states have contacted the CDC for assistance in investigating clusters of enterovirus.

"We've worked together with the Missouri health department and the Illinois Health Department in Chicago and in those two instances some of the increase in respiratory illness has been linked to enterovirus 68, that's an unusual type of enterovirus and one that we don't know much about as we like," said Dr. Ann Schuchat, CDC. http://www.14news.com/story/26483743/health-officials-say-illness-that-has-sickened-hundreds-of-kids-could-be-in-hoosier-state

"Dozens" of children between the ages of 6 weeks and 16 years tested positive for EV68 in a recent genetic sequencing effort undertaken by CDC staff. Because EV68 is so rare, there's no other way to test for it.

Most hospitalized children received fluids and medications to open their airways, but at least one was put on a ventilator.

The confirmed cases are localized in the Midwest, but a dozen other states have contacted the CDC to report potential outbreaks. The agency is still investigating those cases and declined to identify the states, but news reports have mentioned Colorado, Georgia, Iowa, Kansas, Kentucky, North Carolina, Ohio, and Oklahoma.  http://www.healthline.com/health-news/cdc-identifies-respiratory-illness-090814
Jesus warned of diseases and troubles that would come during the 'beginning of sorrows':
6 And you will hear of wars and rumors of wars. See that you are not troubled; for all these things must come to pass, but the end is not yet.  7 For nation will rise against nation, and kingdom against kingdom. And there will be famines, pestilences, and earthquakes in various places.  8 All these are the beginning of sorrows. (Matthew 24:6-8)

8 And there will be earthquakes in various places, and there will be famines and troubles. These are the beginnings of sorrows. (Mark 13:8)
As I told the prior COG group I was affiliated with in the Fall of 2009, I believe that the 'beginning of sorrows' started then.  We are still in that time.  The sorrows are not the end, but a signal that the end is getting closer.
Many agree that the end is getting closer, what do you plan to do about it?
Some items of possibly related interest may include:
When Will the Great Tribulation Begin? 2014, 2015, or 2016? Can the Great Tribulation begin today? What happens before the Great Tribulation in the "beginning of sorrows"? What happens in the Great Tribulation and the Day of the Lord? Is this the time of the Gentiles? When is the earliest that the Great Tribulation can begin? What is the Day of the Lord? Who are the 144,000? Here is a version of the article in the Spanish language: ¿Puede comenzar la Gran Tribulación en 2014 o 2015? ¿Es el Tiempo de los Gentiles? You can also see the English language sermon video: The Great Tribulation from the Mount of Olives.
Four Horsemen of the Apocalypse What do each of the four horseman of the Apocalypse represent? Have they began their ride? Did Jesus discuss the any of this? Might their rides coincide with the "beginning of sorrows? Do they start their ride prior to the Great Tribulation? Did Nostradamus or any other 'private prophets' write predictions that may mislead people so that they may not understand the truth of one or more of the four horseman? There is also a related YouTube video titled The Four Horsemen of the Apocalypse.
Fourth Horseman of the Apocalypse What is the pale horse of death and pestilences? What will it bring and when? Spanish: El cuarto jinete de Apocalipsis, el caballo pálido de muerte y pestilencia.
Does God Have a 6,000 Year Plan? What Year Does the 6,000 Years End? Was a 6000 year time allowed for humans to rule followed by a literal thousand year reign of Christ on Earth taught by the early Christians? Does God have 7,000 year plan? What year may the six thousand years of human rule end? When will Jesus return? 2021 or 20xx? There is also a video titled The 6000 Year Plan: Is the end of humanity's reign almost up?
Mexico, Central America, South America, Brazil, and the Caribbean in Prophecy [Español: México, América central, Suramérica, Brasil y el Caribe en la profecía] [Português: México, América Central, Ámérica do Sul, e Brasil na profecia] What will happen to those of Latin America? Will they have prosperity? Will they cooperate with Europe? Will they suffer in the future? What role might the various Caribbean nations/territories play?
CDLIDD.ES La Continuación de la Iglesia de Dios. This is the Spanish language website for the Continuing Church of God.
Just What Do You Mean — Repentance? Do you know what repentance is? Have you truly repented? Repented of what? Herbert W. Armstrong wrote this as a booklet on this important subject.
Who is the King of the West? Why is there no Final End-Time King of the West in Bible Prophecy? Is the United States the King of the West? Here is a version in the Spanish language: ¿Quién es el Rey del Occidente? ¿Por qué no hay un Rey del Occidente en la profecía del tiempo del fin?
Barack Obama, Prophecy, and the Destruction of the United States-Second Edition for Second Obama Term This is a 160 page book for people truly interested in prophecies related to Barack Obama and the United States, including learning about many that have already been fulfilled (which the book documents in detail) and those that will be fulfilled in the future. It also has a chapter about a Republican choice. This book is available to order at www.barackobamaprophecy.com. The physical book can also be purchased at Amazon from the following link: Barack Obama, Prophecy, and the Destruction of the United States: Is Barack Obama Fulfilling Biblical, Islamic Catholic, Kenyan, and other America-Related Prophecies? What About Republican Leaders? Second Edition for Second Obama Term.
Barack Obama, Prophecy, and the Destruction of the United States-Second Term-Amazon Kindle edition. This electronic version is available for only US$2.99. And you do not need an actual Kindle device to read it. Why? Amazon will allow you to download it to almost any device: Please click HERE to download one of Amazon s Free Reader Apps. After you go to for your free Kindle reader and then go to Barack Obama, Prophecy, and the Destruction of the United States-Second Term-Amazon Kindle edition.