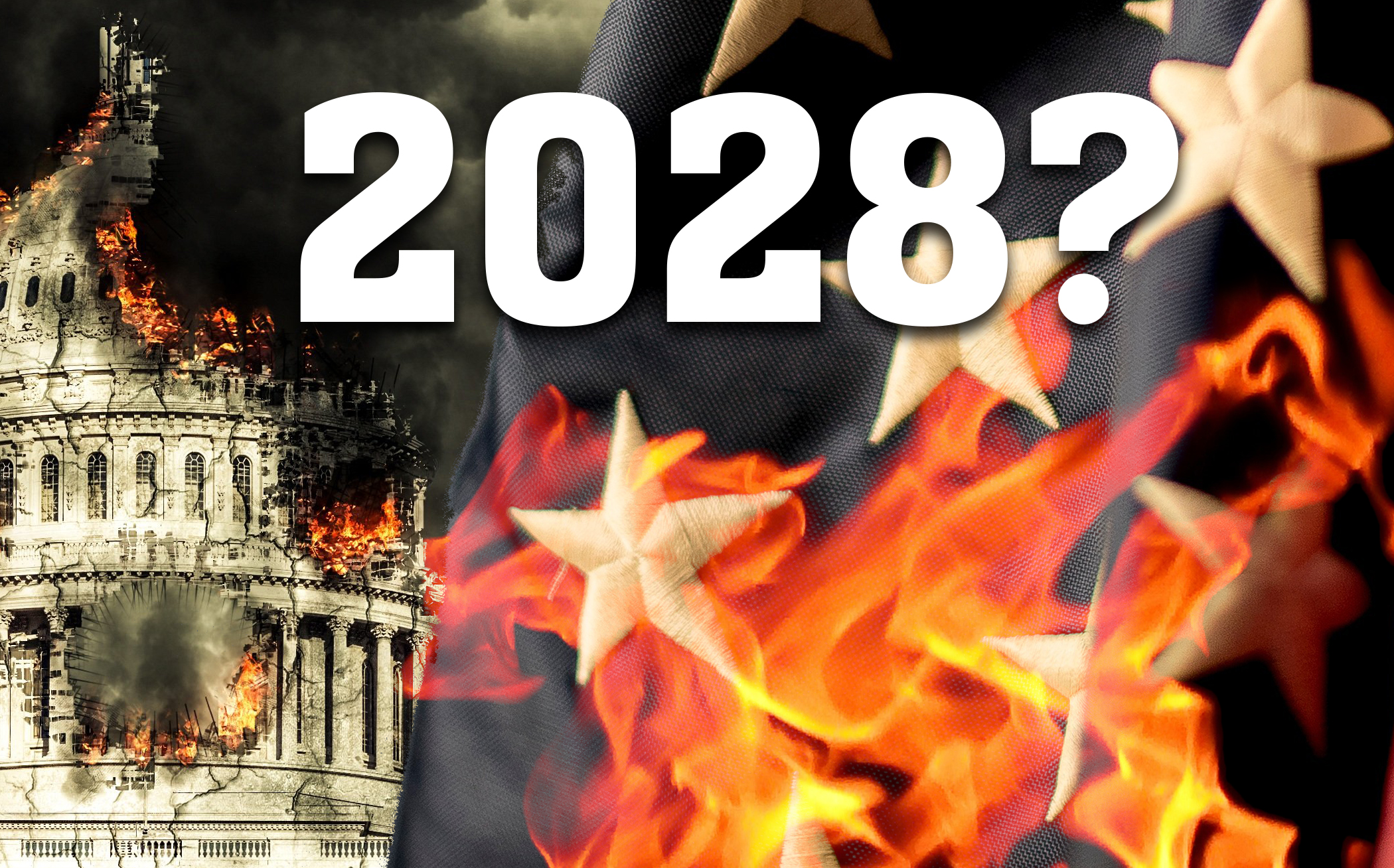 (Nazarene Books photo)
Is the end near for the USA and its British-descended allies of Australia, Canada, New Zealand, and the United Kingdom?
Yes.
Related to the USA, notice something related to something said by one who later because its president:
On Jan. 27, 1838, Lincoln spoke before the Young Men's Lyceum of Springfield, Illinois, about "the perpetuation of our political institutions." During that address, he said: "At what point then is the approach of danger to be expected? I answer, if it ever reach us, it must spring up amongst us. It cannot come from abroad. If destruction be our lot, we must ourselves be its author and finisher. As a nation of freemen, we must live through all time, or die by suicide." https://www.politifact.com/factchecks/2019/jul/26/viral-image/abraham-lincoln-quote-fake-its-close-something-he-/
Now notice the following:
The Defining Moments Of America's Descent Into Madness Requires Americans To Swallow Ever-Greater Absurdities As Things Play Out In Its Death-Wish Drive Toward National Nullity

March 11, 2023

The defining moment of the week was the White House ceremony with Dr. Jill Biden and her side-piece, Tony Blinken, presenting an International Women of Courage award to Ms. Alba Rueda of Argentina, a biological man. But, of course! Kisses all around. Mattias Desmet, author of The Psychology of Totalitarianism, pointed out some time ago that a psychotic political regime would require the people to swallow ever-greater absurdities as things played out in its death-wish drive toward national nullity.  …

For instance, the implosion of our financial markets along with sudden, shocking expiration of the US dollar as a credible currency. The mighty "woosh" heard from sea to shining sea will be the sound of capital going up in a vapor. …

Two other big deals are ripening now: America is discovering just how played the country was by the Covid-19 stunt, including the "vaccine" fraud, now burgeoning into a nightmare of escalating injury and all-causes death. Just this week the nation learned how the previous chief of the CDC, one Robert Redfield, was left entirely in the dark by Dr. Tony Fauci and his minions in discussions of how the novel coronavirus came to be, and who, exactly was responsible for this fiasco. Something went very wrong in American public health officialdom. Indictments, anyone?

The other shock will come when somebody at the FBI — if not Director Chris Wray himself — will finally be forced to disclose to a congressional committee that the January 6, 2021, riot at the US Capitol was fomented by a substantial band of US government agents working the crowd of hapless protesters to produce the perfect Trump-ending fiasco. https://allnewspipeline.com/The_Defining_Moments_Of_Americas_Descent_Into_Madness.php
Yes, the inability to identify males from females, the promotional acceptance of transgenderism, various financial implosions, increased debt, falsehoods about health, and other misreporting for political purposes is increasingly pushing the USA towards a faster destruction.
The political, academic, and media leadership in the USA brought the following scriptures to mind:
12 As for My people, children are their oppressors, And women rule over them. O My people! Those who lead you cause you to err, And destroy the way of your paths. (Isaiah 3:12)
16 For the leaders of this people cause them to err, And those who are led by them are destroyed (Isaiah 9:16).
Yes, major mainstream USA leaders are promoting err and policies that will help destroy the USA. Now, let's look again at Isaiah 3 and notice more of what it warns:
9 The look on their countenance witnesses against them,
And they declare their sin as Sodom;
They do not hide it.
Woe to their soul!
For they have brought evil upon themselves.

10 "Say to the righteous that it shall be well with them,
For they shall eat the fruit of their doings.
11 Woe to the wicked! It shall be ill with him,
For the reward of his hands shall be given him.
12 As for My people, children are their oppressors,
And women rule over them.
O My people! Those who lead you cause you to err,
And destroy the way of your paths." (Isaiah 3:9-12)
Notice the declaration of sins like Sodom. This is a reference to what has been called 'gay pride' and the LGBTQ+ agenda.
Biblically, the promoting the LGBTQ+ agenda involves the wrath of God and ends in death:
18 For the wrath of God is revealed from heaven against all ungodliness and unrighteousness of men, who suppress the truth in unrighteousness, 19 because what may be known of God is manifest in them, for God has shown it to them. 20 For since the creation of the world His invisible attributes are clearly seen, being understood by the things that are made, even His eternal power and Godhead, so that they are without excuse, 21 because, although they knew God, they did not glorify Him as God, nor were thankful, but became futile in their thoughts, and their foolish hearts were darkened. 22 Professing to be wise, they became fools, 23 and changed the glory of the incorruptible God into an image made like corruptible man — and birds and four-footed animals and creeping things.

24 Therefore God also gave them up to uncleanness, in the lusts of their hearts, to dishonor their bodies among themselves, 25 who exchanged the truth of God for the lie, and worshiped and served the creature rather than the Creator, who is blessed forever. Amen.

26 For this reason God gave them up to vile passions. For even their women exchanged the natural use for what is against nature. 27 Likewise also the men, leaving the natural use of the woman, burned in their lust for one another, men with men committing what is shameful, and receiving in themselves the penalty of their error which was due.

28 And even as they did not like to retain God in their knowledge, God gave them over to a debased mind, to do those things which are not fitting; 29 being filled with all unrighteousness, sexual immorality, wickedness, covetousness, maliciousness; full of envy, murder, strife, deceit, evil-mindedness; they are whisperers, 30 backbiters, haters of God, violent, proud, boasters, inventors of evil things, disobedient to parents, 31 undiscerning, untrustworthy, unloving, unforgiving, unmerciful; 32 who, knowing the righteous judgment of God, that those who practice such things are deserving of death, not only do the same but also approve of those who practice them.  (Romans 1:18-32)
The Bible condemns transgenderism and urges repentance:
5 A woman shall not wear anything that pertains to a man, nor shall a man put on a woman's garment, for all who do so are an abomination to the Lord your God. (Deuteronomy 22:5)

9 Know ye not that the unrighteous shall not inherit the kingdom of God? Be not deceived: neither fornicators, nor idolaters, nor adulterers, nor effeminate, nor abusers of themselves with mankind, 10 Nor thieves, nor covetous, nor drunkards, nor revilers, nor extortioners, shall inherit the kingdom of God. (1 Corinthians 6:9-10, KJV)

11 And such were some of you: but ye are washed, but ye are sanctified, but ye are justified in the name of the Lord Jesus, and by the Spirit of our God. (1 Corinthians 6:11, KJV)

5 Put to death, therefore, whatever belongs to your earthly nature: sexual immorality, impurity, lust, evil desires and greed, which is idolatry. 6 Because of these, the wrath of God is coming. 7 You used to walk in these ways, in the life you once lived. 8 But now you must also rid yourselves of all such things as these: anger, rage, malice, slander, and filthy language from your lips. 9 Do not lie to each other, since you have taken off your old self with its practices 10 and have put on the new self, which is being renewed in knowledge in the image of its Creator. (Colossians 3:5-10, NIV)
Instead of encouraging repentance from sinful abominations, many leaders in the USA are promoting and approving them–something that that Bible shows is deserving of death. The Bible also shows that increased debt will lead to destruction (cf. Habakkuk 2:6-8)–and that is happening.
Biblical prophecies point to the end of the 6,000 years for humanity to rule itself occurring around 2030-2033.
Furthermore, since the events in Acts 2 appear to have happened c. 31 A.D. (or 30 or 33 A.D.), this would suggest that the 6,000 years should be up by 2031. Though if those events occurred in 33 A.D. then the Great Tribulation would be expected to start two years past 2027.
The Anglo-American nations need repentance in order to delay what is coming (cf. Daniel 4:26).
However, the Bible points to them not sufficiently doing so:
5 …But the Assyrian shall be his king, Because they refused to repent. (Hosea 11:5b)
Just because your nation will not repent, that does not mean that you cannot.
Seek first the Kingdom of God (Matthew 6:33).
The end of the USA is coming soon.
Perhaps by 2028.
We also made a video:
Are there prophetic reasons to believe that the USA will not last two complete presidential terms? Yes. There is a tradition attributed to the Hebrew prophet Elijah that humanity had 6,000 years to live before being replaced by God's Kingdom. There are scriptures, writings in the Talmud, early Christian teachings that support this. Also, even certain Hindu writings support it.
Here is a link to the video: Is the USA prophesied to be destroyed by 2028?
Some items of possibly related interest may include:
Is God Calling You? This booklet discusses topics including calling, election, and selection. If God is calling you, how will you respond? Here is are links to related sermons: Christian Election: Is God Calling YOU? and Predestination and Your Selection. A short animation is also available: Is God Calling You?
Christian Repentance Do you know what repentance is? Is it really necessary for salvation? Two related sermons about this are also available: Real Repentance and Real Christian Repentance.
USA in Prophecy: The Strongest Fortresses Can you point to scriptures, like Daniel 11:39, that point to the USA in the 21st century? This article does. Two related sermon are available: Identifying the USA and its Destruction in Prophecy and Do these 7 prophesies point to the end of the USA?
Who is the King of the West? Why is there no Final End-Time King of the West in Bible Prophecy? Is the United States the King of the West? Here is a version in the Spanish language: ¿Quién es el Rey del Occidente? ¿Por qué no hay un Rey del Occidente en la profecía del tiempo del fin? A related sermon is also available: The Bible, the USA, and the King of the West.
Anglo – America in Prophecy & the Lost Tribes of Israel Are the Americans, Canadians, English, Scottish, Welsh, Australians, Anglo-Saxon (non-Dutch) Southern Africans, and New Zealanders descendants of Joseph? Where are the lost ten-tribes of Israel? Who are the lost tribes of Israel? What will happen to Jerusalem and the Jews in Israel? Will God punish the U.S.A., Canada, United Kingdom, and other Anglo-Saxon nations? Why might God allow them to be punished first? Here is a link to the Spanish version of this article: Anglo-América & las Tribus Perdidas de Israel. Information is also in the YouTube sermons titled Where are the Ten Lost Tribes? Why does it matter? and British are the Covenant People. A short YouTube of prophetic interest may be: Are Chinese threats against Australia for real?
Will the Anglo-Saxon-Celtic Nations be Divided and Have People Taken as Slaves? Will the lands of the United States, United Kingdom, Canada, Australia, and New Zealand be divided? What about Jerusalem? What does Bible prophecy teach? Are there non-biblical prophecies that support this idea? Who will divide those lands? Who will end up with the lands and the people? Here is a link to a video titled Will the USA and other Anglo-nations be Divided and Their People Made Slaves? Here is a related item in the Spanish language ¿Serán divididas las naciones anglosajonas?
British are the Covenant People What do 'British' and 'Britain' mean in Hebrew? Are the descendants of the Anglo-Saxons people of the covenant? Does the British royal family connect to the throne of David? What does the Bible teach? What does history show us? Is there any DNA evidence related to British-Israelism? When did Christianity make it to the British Isles? Could Jeremiah have made it to the British Isles? What type of Christians made it to the British Isles? Did the last King of England believe in British Israelism?
Canada in Prophecy: What Does Bible Prophecy, Catholic Prophecy, and other Predictions Suggest About the Future of Canada? There are prophecies that suggest involvement with Canada. And many are not positive about its future. A sermon of related interest is also available: Canada in Prophecy.
Australia and New Zealand in Prophecy Do biblical prophecies help explain the wealth blessings for Australia and New Zealand? Might cursings from disobedience come in the 21st century? Here is a link to a related sermon: Australia and New Zealand: Origins and Prophecy.
Does God Have a 6,000 Year Plan? What Year Does the 6,000 Years End? Was a 6000 year time allowed for humans to rule followed by a literal thousand year reign of Christ on Earth taught by the early Christians? Does God have 7,000 year plan? What year may the six thousand years of human rule end? When will Jesus return? 2031 or 20xx? There is also a video titled 6000 Years: When will God's Kingdom Come? Here is a link to the article in Spanish: ¿Tiene Dios un plan de 6,000 años?
Might the U.S.A. Be Gone by 2028? Could the USA be gone by the end of 2028 or earlier? There is a tradition attributed to the Hebrew prophet Elijah that humanity had 6,000 years to live before being replaced by God's Kingdom. There are scriptures, writings in the Talmud, early Christian teachings that support this. Also, even certain Hindu writings support it. Here is a link to a related video: Is the USA prophesied to be destroyed by 2028? In Spanish: Seran los Estados Unidos Destruidos en el 2028?
The Great Tribulation: What Happens First? What events have happened? What are some events that are now happening? And what events need to happen for the Great Tribulation to start? Here is a link to a related sermon video: Counting Down to the Great Tribulation. Here is a video in the Spanish language: Contando los eventos y el inicio de la Gran Tribulación.
When Will the Great Tribulation Begin? 2023, 2024, or 2025? Can the Great Tribulation begin today? What happens before the Great Tribulation in the "beginning of sorrows"? What happens in the Great Tribulation and the Day of the Lord? Is this the time of the Gentiles? When is the earliest that the Great Tribulation can begin? What is the Day of the Lord? Who are the 144,000? Here is a version of the article in the Spanish language: ¿Puede la Gran Tribulación comenzar en el 2020 o 2021? ¿Es el Tiempo de los Gentiles? A related video is: Great Tribulation: 2026 or 2027? A shorter video is: Can the Great Tribulation start in 2022 or 2023? Notice also: Can Jesus return in 2023 or 2024? Here is a video in the Spanish language: Es El 2021 el año  de La Gran Tribulación o el Grande Reseteo Financiero.