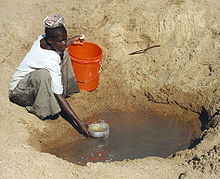 Many in Africa and elsewhere do not have safe drinking water.
Today is called World Water Day:
World Water Day, on 22 March every year, is about focusing attention on the importance of water. The theme for World Water Day 2018 is 'Nature for Water' – exploring nature-based solutions to the water challenges we face in the 21st century.

Damaged ecosystems affect the quantity and quality of water available for human consumption. Today, 2.1 billion people live without safe drinking water at home; affecting their health, education and livelihoods.

Sustainable Development Goal 6 commits the world to ensuring that everyone has access to safe water by 2030, and includes targets on protecting the natural environment and reducing pollution. http://worldwaterday.org/

The day was first observed in 1993 when the United Nations General Assembly declared March 22 as World Day for Water. This day was first formally proposed in Agenda 21 of the 1992 United Nations Conference on Environment and Development (UNCED) in Rio de Janeiro, Brazil. Observance began in 1993 and has grown significantly ever since.The UN and its member nations devote this day to implementing UN recommendations and promoting concrete activities within their countries regarding the world's water resources. Each year, one of various UN agencies involved in water issues takes the lead in promoting and coordinating international activities for World Water Day. Since its inception in 2003, UN-Water has been responsible for selecting the theme, messages and lead UN agency for the World Day for Water.In addition to the UN member states, a number of NGOs promoting clean water and sustainable aquatic habitats have used World Day for Water as a time to focus public attention on the critical water issues of our era. The text "World Water Day" has been taken from www.cute-calendar.comFebruary 12, 2016Four billion people — or two out of every three on the planet — do not have enough water to meet their basic needs. That is far greater than previously understood, according to a new study that presents a more accurate picture of the problem.

Water scarcity is fueled by population growth, consumption habits and demands from agriculture. http://www.voanews.com/content/four-billion-people-lack-fresh-water/3188751.html

To celebrate water's big day, here are some facts about access to water around the globe, courtesy of Water.org:

1. 1.8 billion people around the world lack access to safe water.

2. Globally, a third of all schools lack access to safe water and adequate sanitation.

3. In low- and middle-income countries, a third of all healthcare facilities lack a safe water source.

4. The World Economic Forum in January 2015 ranked the water crisis as the No. 1 global risk based on impact to society (as a measure of devastation).

5. The incidence of children suffering from stunting and chronic malnutrition — at least 160 million — is linked to water and sanitation.

6. More than 840,000 people die from a water-related disease each year, including diarrhea caused by bad drinking water, hygiene and sanitation.

7. Eighty-two percent of people who don't have access to "improved" water live in rural areas.

8. More than one-third of people worldwide lack access to a toilet, more than the number of people who have a mobile phone.

9. Women and children spend 125 million hours collecting fresh water every day. Individual women and children spend as many as six hours collecting fresh water daily.

10. Every 90 seconds a child dies from a water-related disease.

11. Universal access to safe water and sanitation would result in $18.5 billion in economic benefits each year from deaths avoided alone, a return of $4 for every dollar spent on safe water access.

12. The amount of safe water could drop by 40 percent in 15 years if people do not change the way they use water. March 22, 2016 http://www.ibtimes.com/world-water-day-2016-12-facts-things-know-2340534
Many places in the world have water problems. Drinking water problems are probably the worst in parts of Africa and Asia.
Notice, for example, the following scriptures from the Book of Amos:
7 "I also withheld rain from you,
When there were still three months to the harvest.
I made it rain on one city,
I withheld rain from another city.
One part was rained upon,
And where it did not rain the part withered.
8 So two or three cities wandered to another city to drink water,
But they were not satisfied;
Yet you have not returned to Me,"
Says the Lord.

9 "I blasted you with blight and mildew.
When your gardens increased,
Your vineyards,
Your fig trees,
And your olive trees,
The locust devoured them;
Yet you have not returned to Me,"
Says the Lord. (Amos 4:7-9)
Keeping water clean is a major problem in much of the developing nations.
Here is more about the needs and issues in some of the 'have-not' places in the world, which has tended to be the major focus of past Global Water Days:
783 million people lack access to clean or relatively safe water and 37 percent of the world's population doesn't have access to toilets…

"Access to sanitation facilities around the world, more than any other service, provides a window into the vast difference between the 'haves' and the 'have-nots." Catarina de Albuquerque, UN Special Rapporteur on the human right to safe drinking water and sanitation, said in a press release.

In Africa alone, women and children spend 40 billion hours annually collecting water. While taking on this backbreaking effort, they're also subjected to harassment and sexual assault along the way in unprotected areas…

Water scarcity could cause major food shortages in the foreseeable future, experts have warned…

Diarrhea is the second biggest killer of kids globally — an issue that is completely preventable. Lack of clean water is the primary reason why more than 3,000 children under 5 years of age die every day from diarrhea and other water-related illnesses, the UN reports. http://www.huffingtonpost.com/2013/03/22/world-water-day-2013-facts_n_2927389.html?utm_hp_ref=impact

The United Nations has launched a campaign to lift a deadly taboo on talking about toilets and to turn the world into an "open defecation-free zone".

The move is part of activities to mark the World Water Day.

The initiative aims to cut the 3,000 children under five who die each day from water-borne diseases like cholera, dysentry and diarrhea, and the 2.5 billion people without access to a toilet.

"Here is a silent disaster which needs to have attention," UN Deputy Secretary-General Jan Eliasson, a pioneer in unsanitised talk about toilets, said on Friday…

The practice is "a fact of life" for the hundreds of millions of chronically poor people who have to go to toilet in the open air.

Can you imagine the lack of dignity around this act, the risk of being raped if you are a woman or a girl going out at night, but also the health risk for personal health and the environment?" the UN official asked.

Cutting by half the number of people with no access to fresh water by 2015 was one of the eight Millennium Development Goals on health and poverty set in 2000.

It is the target that is most off course. http://www.aljazeera.com/news/americas/2013/03/201332282815760712.html
Without mentioning here much about what the Bible teaches about weather and rain (some of which can be found in the article Weather Blessings and Sorrows), a point about sanitation should be considered now. Notice the following:
12 "Also you shall have a place outside the camp, where you may go out; 13 and you shall have an implement among your equipment, and when you sit down outside, you shall dig with it and turn and cover your refuse. 14 For the Lord your God walks in the midst of your camp, to deliver you and give your enemies over to you; therefore your camp shall be holy, that He may see no unclean thing among you, and turn away from you. (Deuteronomy 23:12-14)
So, the Bible teaches that there should be places designated for defecation and that human feces should be covered and not seen. This was written over three thousand years ago and still would improve human health today if places that do not heed this would now do so.
While obviously it would be helpful to have toilets in private locations, as far as the water-borne diseases like cholera, dysentery, and diarrhea that accompany poor elimination habits, if the biblical injunction to cover human feces was followed, the incidents of those diseases would be reduced.
The laws of God work and will be implemented around the world when Jesus returns and sets up His kingdom. But until then, there are even more troubles and sorrows expected (cf. Matthew 24:4-22).
Some items of possibly related interest may include:
The Gospel of the Kingdom of God This free online pdf booklet has answers many questions people have about the Gospel of the Kingdom of God and explains why it is the solution to the issues the world is facing. Here are links to three related sermons: The World's False Gospel, The Gospel of the Kingdom: From the New and Old Testaments, and The Kingdom of God is the Solution.
The Bible, Christians, and the Environment How should Christians view the environment? Does the Bible give any clues? What are some of the effects of air, water, and land pollution? Is environmental pollution a factor in autism and death? Do pollutants seem to double the autism risk? What will Jesus do? A YouTube video is available titled Air Pollution, Autism, and Prophecy.
Weather Blessings and Sorrows Are weather problems a warning? What should be done? What does the Bible teach about weather? What about floods, droughts, heat, earthquakes, tornadoes, and solar storms? Here is a related YouTube video Does God Use Weather? A related item in the Spanish language would be Bendiciones y maldiciones del clima.
United Nations: Humankind's Last Hope or New World Order? Is the UN the last hope for humanity? Or might its goals end up with sinister results? Two related videos include UN's 'New Universal Agenda' is a False Gospel! and United Nations and Vatican Are Planning the New World Order.
When Will the Great Tribulation Begin? 2018, 2019, or 2020? Can the Great Tribulation begin today? What happens before the Great Tribulation in the "beginning of sorrows"? What happens in the Great Tribulation and the Day of the Lord? Is this the time of the Gentiles? When is the earliest that the Great Tribulation can begin? What is the Day of the Lord? Who are the 144,000? Here is a version of the article in the Spanish language: ¿Puede comenzar la Gran Tribulación en 2018 o 2019? ¿Es el Tiempo de los Gentiles? You can also see the English language sermon videos: The Great Tribulation from the Mount of Olives and Can the Great Tribulation begin before 2020? A shorter video is: Can the Great Tribulation begin in 2018?
The Times of the Gentiles Has there been more than one time of the Gentiles? Are we in it now or in the time of Anglo-America? What will the final time of the Gentiles be like? A related sermon is available and is titled: The Times of the Gentiles.
Physical Preparation Scriptures for Christians. We all know the Bible prophecies famines. Should we do something? Here is a version in the Spanish language Escrituras sobre Preparación física para los Cristianos. Here is a link to a related sermon: Physical preparedness for Christians.
Anglo – America in Prophecy & the Lost Tribes of Israel Are the Americans, Canadians, English, Scottish, Welsh, Australians, Anglo-Saxon (non-Dutch) Southern Africans, and New Zealanders descendants of Joseph? Where are the lost ten-tribes of Israel? Who are the lost tribes of Israel? What will happen to Jerusalem and the Jews in Israel? Will God punish the U.S.A., Canada, United Kingdom, and other Anglo-Saxon nations? Why might God allow them to be punished first? Here is a link to the Spanish version of this article: Anglo-América & las Tribus Perdidas de Israel. Information is also in the YouTube sermons titled Where are the Ten Lost Tribes? Why does it matter? and British are the Covenant People. A short YouTube of prophetic interest may be Barack Obama and the State of the Apocalypse.
Europa, the Beast, and Revelation Where did Europe get its name? What might Europe have to do with the Book of Revelation? What about "the Beast"? Is an emerging European power "the daughter of Babylon"? What is ahead for Europe? Here is a link to a video titled: Can You Prove that the Beast to Come is European?
Africa: Its Biblical Past and Prophesied Future What does the Bible teach about Africa and its future? Did the early Church reach Africa? Will God call all the Africans? A video of possible interest is: Nairobi Conference: All About Love.